It's been almost 5 months since my last post, I know. No reason other than my getting too busy - I've still been out and about, but lack the time to write for leisure. I anticipate I'll be having more time to do so by mid-year; but, in the meantime, my posts will likely remain sporadic.
Yesterday's lunch, Saturday the 1st February 2014, was at
The Black Pig
, a relatively new restaurant in Alabang. I had been there once before but just had drinks there (they have Holgate Road Trip IPA & Hopinator Double IPA on tap) with friends and family. So, yesterday, Catha & I tried out some of their dishes.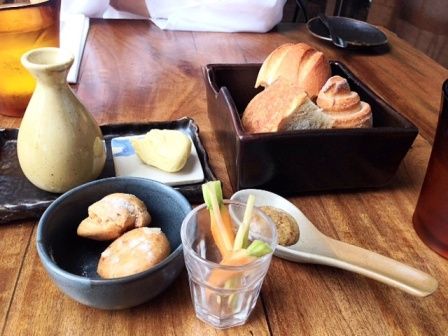 Complimentary Bread Basket & Crudités.
The place itself has a modern industrial-chic feel to it, the interior design done by my sister-in-law of
Design Hirayama+Quesada
(a.k.a., "Design HQ"). It also turns out that one of the owners, Anton Garriz, is an old friend of my brother. I opted for a table at their outdoor balcony area to take advantage of the current cool weather (and also to be able to smoke).
To start off, we ordered the
Charcuterie Board
(a chef's selection of their choice Spanish cold cuts) and a platter of
Jamón Ibérico de Bellota
(per 60 gms of silky jamón from the
pata negra
, a black-hoofed Iberian breed of pig which, during the
montañera
, fattens up almost exclusively on acorns it gathers in
dehesas
). Both items are priced at P850 each, which is very reasonable considering the quality of the products.
With the appetizers, we ordered from the wine list a glass each of the house cava
Enric Morató Cava Reserva
- which turned out to be a rosado cava (well, "rosat" in Catalan). Lively and appetizingly dry strawberry and cherry, we quickly drained our flutes, and immediately ordered a whole bottle thereafter.
Catha's chosen main course was the
Oven-Baked Local Pork Belly & Bone Marrow
. I had a couple of bites of this and it was pretty damn good - melts in your mouth. At a mere P480, it's a steal. I'll most likely have this for my main course next I'm there as I've always been a sucker for
liempo
.
The
45-Day Aged, Grass-Fed Rib-Eye Steak
was my main (rare). This was also quite pleasing; and, at P1200, offers a lot of bang-for-the-buck; plus both mains went nicely with...
...the bottle of
1994 Bodegas R. López de Heredia Viña Tondonia Gran Reserva
that I brought along (corkage charged is P500/bottle) -
now mellower than 3-4 years ago, it presents notes of cedar, violets, leather and balsamico with light touches of walnut skin and anise in its dark strawberry, raspberry and red cherry fruit. There is the whisper of oxidation that is the house's style. Medium-bodied, notable focus, clean lines, good length.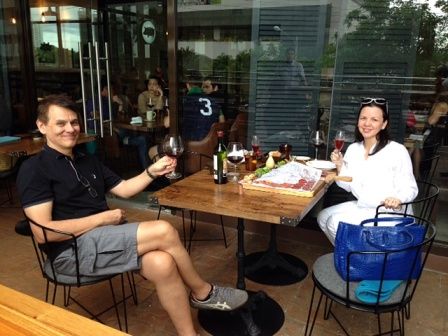 ¡Salud! from Anton & Catha.
We were very happy with our lunch, and fully intend to return soon to try the many other items on the menu. Best to call several days in advance for weekend dinner reservations, as the place gets packed then. Very happy to finally have a place to hang out in the neighborhood. ¡
Hasta la próxima
!