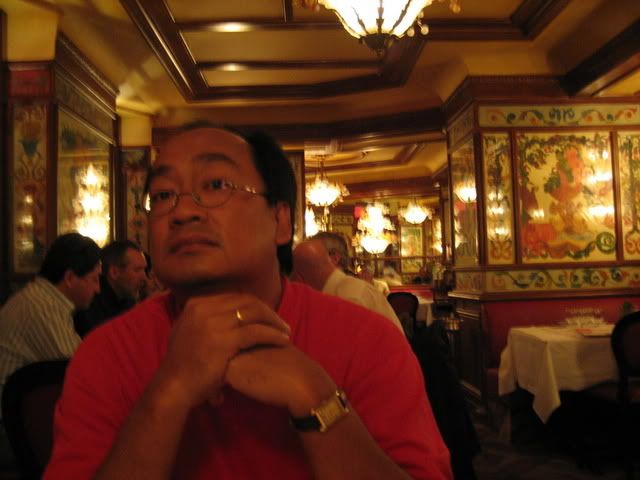 2006 Sancerre La Gravelière by Joseph Mellot
- at
Au Pied de Cochon
, Paris with sizzling
moules farci
(under a mildly spicy, garlicy tomato sauce),
os a moelle
(roasted beef marrow bone) and a huge platter of assorted fresh oysters.
Though I do not profess to have very extensive experience with Sancerre, I've tried several in Manila and immersed myself in the Loire for a week drinking a lot of it everyday, with virtually every meal except breakfast. The subject Sancerre is the one that stuck most in my mind. Offered as the only Sancerre on the restaurant's current wine list, I ordered a 375ml for my wife and I just to try.
We loved it so much with every dish, we ordered another at the first bottle's halfway point. Superbly clean, crisp, refreshing and palate-resuscitating, its alluringly flinty, minerally mild white grapefruit/mild gooseberry flavors cut the roasted marrow's richness, as well as that of the moules' sauce, and danced with the fresh oysters. There is the merest touch of grassiness to it - much unlike the usual more aggressive grassiness of NZ sauv blancs. The acidity is milder than many Sancerres I tried in my Loire immersion - and I think this is a good thing - made the wine much friendlier with the food. I really, really like this wine, and it is inexpensive to boot. The restaurant's price is a mere 20Euro for a 375ml and around 38Euro for a regular 750ml. So retail should be only around 20Euro or below.