Back on the 10th April 2008, through the kindness of JC de Terry, I attended
a stunning Vega Sicilia dinner at Terry's 2º Piso in honor of Pablo Álvarez, Vega Sicilia's Director General
.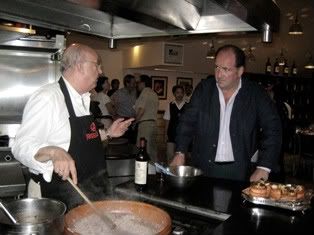 JC de Terry & Pablo Álvarez
Almost three and a half years later, on the 12th and 13th September 2011, Catha & I attended two more, both in honor of visiting Vega Sicilia Export Manager, Puri Mancebo.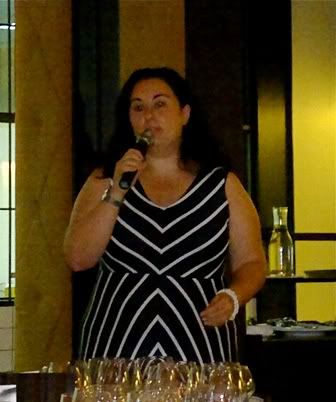 Puri Mancebo
Monday, the 12th September was a wine, food and music pairing affair at
Enderun College's Restaurant 101
; Chef Nicolas Cantrel's French pairing courses marked by studied precision.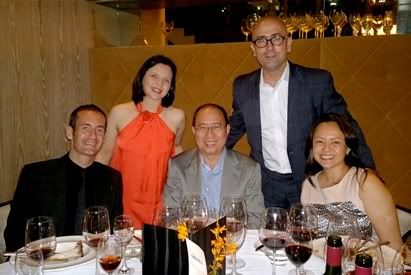 My table @ Restaurant 101 with Mikel Arriet, Catha,
David Lim, Javi Berenguer-Testa & Katrina Holigores.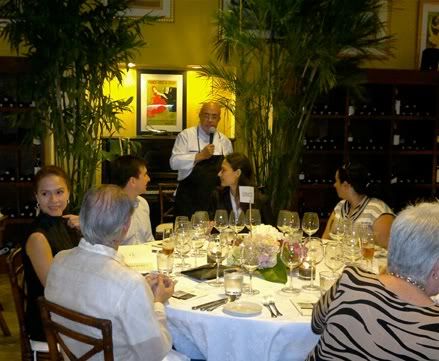 Tuesday's Spanish menu at
Terry's 2º Piso
bore JC's hallmark depth, complexity and passion.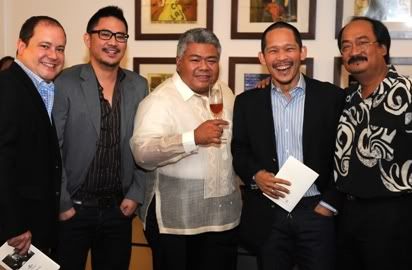 At Terry's: Usual Suspects Rene, Aaron, J-Lab, the Stockbroker & myself.
While both menus more than did justice to the wines, the following were my standouts:
2009 Oremus Mandolás Dry Tokaji
with the amuse bouche of
Crema de Queso de Cabra de Poitou al Perfume de Salchichón de Montánchez y Bálsamo de Arbequina
- In this marriage, the lush wine's complex, medium-bodied vanilla-touched fruit gave brightening lift to the rich goat cheese, while its long finish intertwined gracefully with the gamey breath of salchichón (Terry's dinner).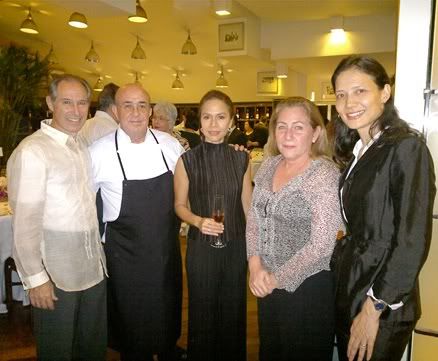 JC w/ Pedro & Regina Roxas, Gema Garcia & Barbara Aboitiz.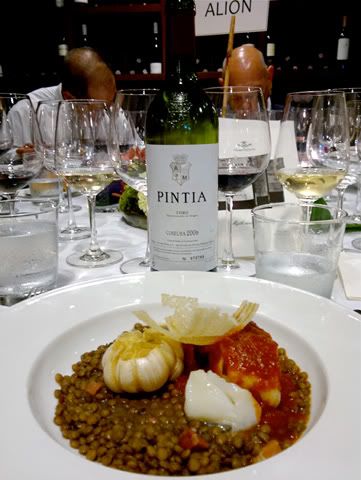 2006 Pintia
with
Medallones de Bacalao en Camita de Lentejas Estofadas al Humo de Panceta Ibérica
– The bacalao underscored the wine's bold, warm, well-ripened, sweetish dark berries; while the earthy lentejas played nicely the wine's judicious smoky oak-related spice undertones (Terry's dinner).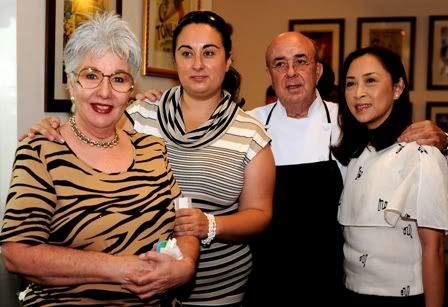 Mari de Terry, Puri Mancebo, JC & Heny Sison.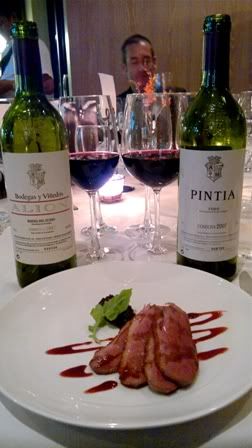 2007 Alión
with
Magret de Canard aux Cerises
– A French classic meets a modern interpretation on Ribera del Duero. The Alión's firm structure and masculine, self-possessed lush blackberry, black cherry, new leather, slight anise, violets and lavender notes made for a precisely balanced, naturally harmonious match (Enderun dinner).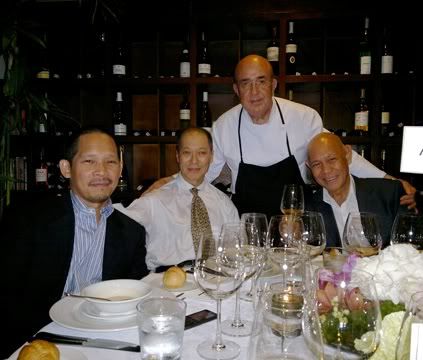 JC w/ the Stockbroker, Bernie Sim & Freddy Pio de Roda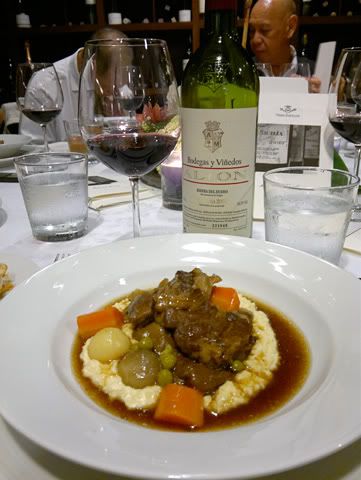 It was likewise up to the task for JC's generously earthy and deeply complex
Falda de Ternera en Salsa Española al Tempranillo Sobre Ragú de Boletus en Crema de Cuscús al Manchego Joven
(Terry's dinner).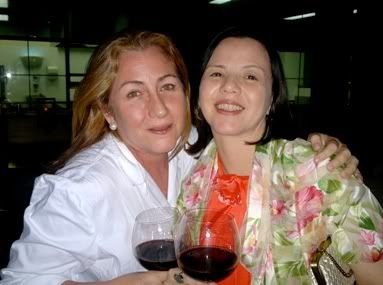 Gema Garcia & Catha enjoying the 2000 Único at Enderun.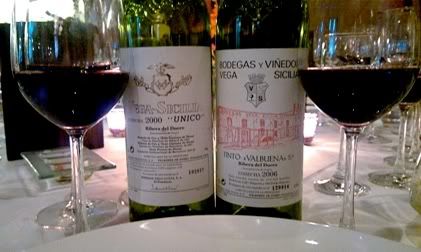 The
2006 Valbuena 5º
was, at this point, personally my favorite of all the wines of both dinners. It went beautifully with the respective meat courses of both dinners. With Cantrel's
Souris d'Agneau Braisée
, remarkable depth, neat focus, clarity, polish and balance mark this quietly dignified wine, its admirable structure lending precise counterpoint to the hearty, rustic dish (Enderun dinner). Elegance in a glass.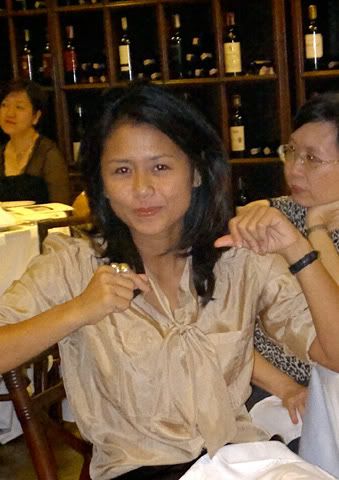 Abba Napa had just flown in from Paris, but made sure to attend the Terry's dinner.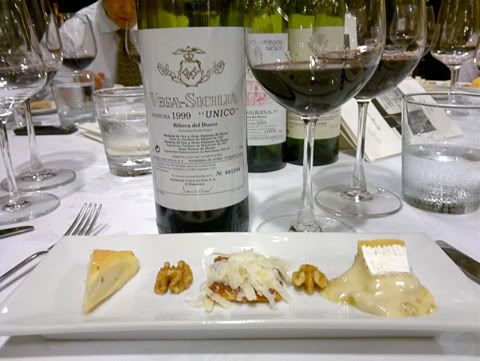 Vintages
2000 & 1999 of Vega Sicilia's flagship Único
were served with the cheese courses at both events:
Cancoillotte from the Franche-Comté
(with the 2000, Enderun dinner), and, a trio of
Manchego Viejo, Fleur de Surreau and Brie de Meaux with Black Perigord Truffles
(with the 1999, Terry's dinner). These wines are virtually immortal, typically released over a decade from harvest, they take many, many more years to mature; and they last for ages.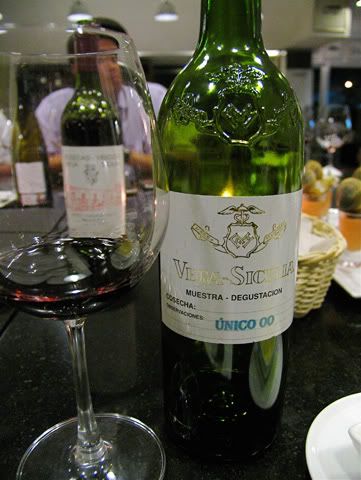 I first tried the
2000 Único a year and a half ago at Terry's
(it wasn't even officially labeled yet as you can see from the above photo, the bottle a gift to JC from Pablo Álvarez) and it was understandably reticent then, needing extended breathing and swirls to elicit intricate notes of deep red cherry, black currant, strawberry, violets, new leather, some raspberry, cedar, underlying minerality, licorice and plum. Now, despite its serious structure, it is more open and accessible. The 1999, on the other hand, has an inherently friendlier personality, showing more complexity now in a comparatively warmer, softer, velvety texture.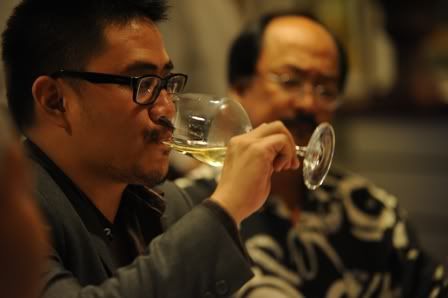 Aaron Palileo savors some white.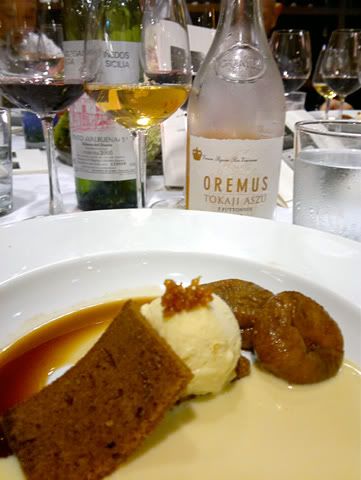 Both evenings ended on the sweet, floral notes of the
2002 Oremus Tokaji Aszú 5 Puttonyos
, respectively paired with
Pain Perdu aux Épices
(Enderun dinner) and
Una Sinfonía de Dulzáinas Hispano-Húngaras
(Terry's dinner; above photo). From Vega Sicilia's winery in the Hungarian Tokaj-Hegyalja region, this is a traditional sweet white made from botrytis cinerea affected furmint, hárslevelu and moscatel de grano menudo. Though intensely sweet with typical flavors of spicy dried/candied apricot, pineapple, peach and ripe pear with hints of vanilla and candied orange rind, it was gracefully balanced by bright acidity.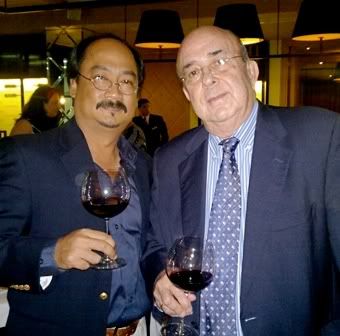 Reminiscing on these dinners, I cannot help but think how lucky we are that Vega Sicilia's entire line is locally available in Manila, albeit in limited quantities.
¡De nuevo un millón de gracias, Sr. Don de Terry!