I've been most intrigued by what I've read and heard about the Ballast Point Sculpin India Pale Ale (received an award for the best IPA of 2011 from The Full Pint and the 2009 Silver Medal for American-Style India Pale Ale during the Great American Beer Festival Awards). Jimmyton said it is best consumed within a few months, so I made it a point to have some the moment it became available at The Tasting Room: yesterday, the 28th April 2011.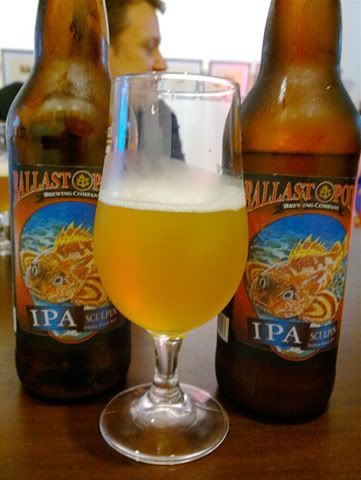 Jim said they start pouring at 5pm, Miguel, Richard and I made plans to see him there at that time - but I got there by around 5:30pm.



High school classmate Dino Jalandoni, a fixture at the Tasting Room, was there with his guys as well; and, thus, we immediately got down to business. Gino Garcia joined us after a while and quickly caught up; as did Ken Quintal (a good friend whose wife is Catha's 1st cousin, and, coincidentally, Ken is Jim's childhood a friend as well).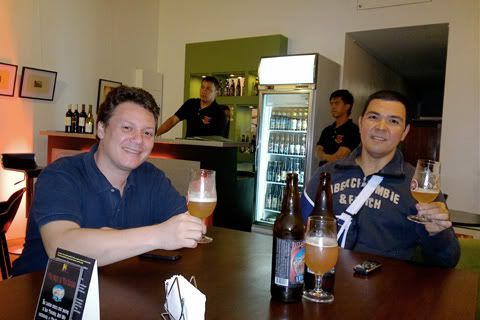 The Ballast Point Sculpin India Pale Ale is an exuberantly fresh, fruity (peach, mango) but dry, slightly floral, very hoppy pale ale with a long fruit finish with appetizing bitterness trailing. Nice brightness; smooth, it goes down very easily and is perfect for summer drinking. Easy to drink a lot of, and, at a mere 7% or so abv, one can slug it down all day at home, in a bar or at the beach.

Its fruity dryness made for a good foil for the platters of Vela de Lomo and Jamón Ibérico we started off with. As Richard eats no pork, we later on ordered for delivery a Quattro Formaggi Pizza and, eventually...



...Miguel, Richard, Gino and I had delivered (through Eric Jurado's kind intercession - he's my original batchmate at Ateneo after all) an order each of Foie Gras Burgers from Gaita Fores' nearby

Lusso

(talk about a luxurious belly-buster of a burger; promptly delivered on covered trays by 2 crisply white-uniformed waiters no less). The foie is cooked inside the dauntingly thick and juicy patty as one can see from the above photo. With our burgers, at Jim's recommendation, Richard and I switched to a couple of Ballast Point Calico Copper Amber Ales - Very nice; the added rounded heft and density, coupled with its slight creamy, toasty, caramel-laced maltiness making for a good match - and the surface hoppiness cleansing the palate between bites.

Needless to state, we went through so many of the Sculpins, I cannot now, for the life of me, remember how many bombers we laid to waste. By then, Alex Tiu had joined in, regaling us with how his craft beer therapy helped hasten healing of his recent biking injuries (a broken collarbone and 3 busted ribs, no less) - plus it helped him save money on pain-killers as well said he.



As the session neared its end, Ken and I "washed off" with a bottle each of the always clean and rejuvenating Rogue Juniper Pale Ale. Of course, I took home several bombers of the Sculpin for my teen-agers to enjoy. What a night! Until the next session!