Last night, 15th March 2010, we gathered at
Terry's 2ºPiso
for JC's
pre-release
tasting of the 2000 Vega Sicilia Único Gran Reserva. I was supposed to join the Stockbroker (who couldn't join us later that evening due to an early meeting the next day) and J-Lab at PWX for a bottle before this event, but, unfortunately, I got stuck at the office.
For those not familiar, Vega Sicilia is a legendary producer from Spain's Ribera del Duero region and Único is their top label. Made from the fruit of older vines, matured in oak for at least 7 years and in bottle for
at least
3 more before release
*
, the Único bottling is
always
grand reserva level. Único is not made every year, only when the harvest is deemed good enough in accordance with Vega Sicilia's perfectionist standards.
*
for regular 750ml bottles; larger formats are released even later.
We were 9 in all that night; aside from JC, in attendance were the Doc, Eric, J-Lab, Rene, Keiichi, Paco, my wife and I.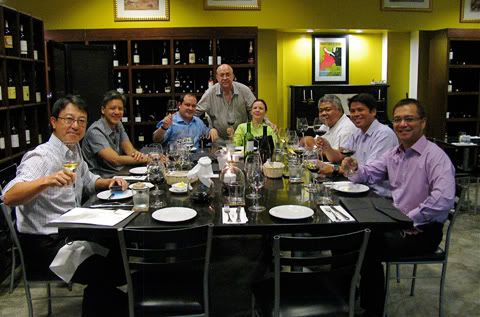 Antonio (owner of Mabolo Flowers and JC's brother-in-law) was holding court at another long table across the restaurant that evening. My wife and I were happy to see him as it's been several months since we got together.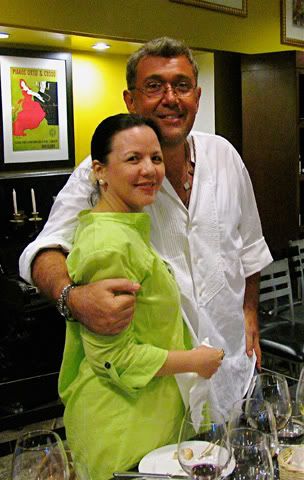 We started off with...
2005 Bastianich Tocai Plus (Magnum)
- Doc's bottle. Very deeply-veined, somewhat creamy pear, herbs, very slight grassy/gooseberry nuance with undertones of oak and (unsweetened) almond paste bitterness. The round, soft, fleshy fruit is very, very ripe - like a vendange tardive almost - and has a touch of sweet-ripeness until past mid-mouth where the almond paste bitterness creeps in and continues to a nicely dry finish. Always good to try something new. The wine was well-received - there was nothing left of the magnum and people were looking for more.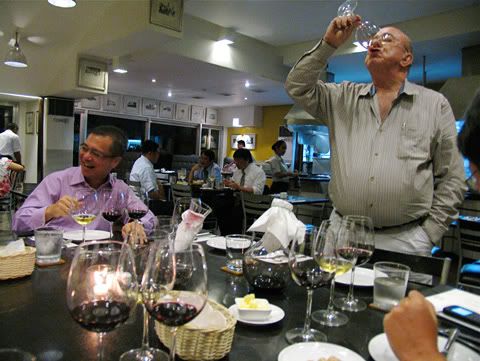 The preliminary red was...
2004 Castillo de Villafranca Bierzo
- JC's bottle, one from Bierzo, composed of pure mencía. j-lab's notes and mine are virtually identical - we certainly were smelling and drinking the same wine. It had a compelling aroma of dark fruit, rose petal, very slight toasty oak spice (bit of a cinnamon note), sweetish roasted herbs, thick/dark soy, nuance of roast meat. These were mirrored on the mouth in a smooth, medium body with a hint of caramel mixing with the unobtrusive toasty oak spice towards the back and in the finish. Nice and very easy to drink. Adequate complexity and notable balance. Available at Terry's Selection.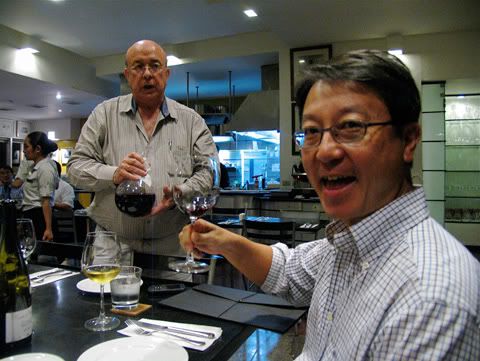 Next was the evening's raison d'être: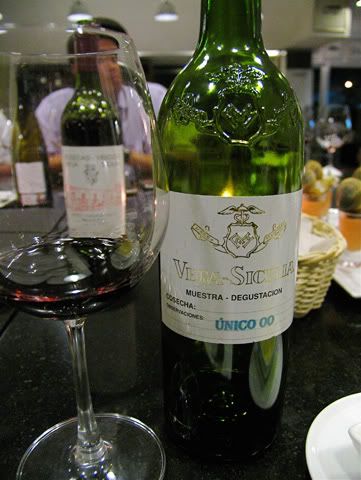 2000 Vega Sicilia Único
- JC's bottle. As mentioned earlier, this bottle, yet to be released to the public (but it will be most likely lin the latter part of the year), was given to JC by Vega Sicilia owner, Pablo Álvarez
when the latter was here over 2 years ago
.
The wine was decanted for aeration for around 45 minutes before poured, was initially a bit tight, so I let it sit in my glass for around 20 minutes more. The aroma, though a bit shy (it is very young for an Único, after all),was graceful - of intricately woven notes of deep red cherry, black currant, violets, vague whisper of new leather, some raspberry and mild cedar. On the palate, minor strawberry, discreet dark minerality, licorice and underlying plum notes joined in. Dignified, understated and complex, it readily showed more weight than the preceding red and brighter lifting acidity as well. Still young of course, but already pleasurable. Admirable poise, balance and over-all elegance.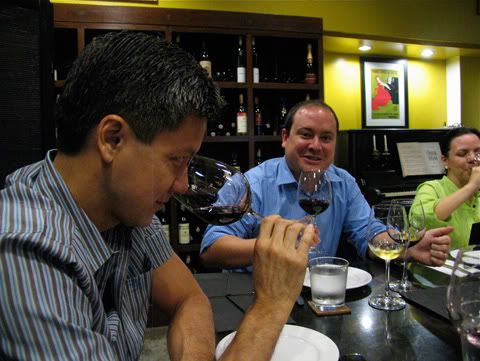 JC poured me a little more and J-Lab and I kept our bit of Único to see how it progresses. In sum, the wine opened/released sweetly in the nose, but remained pretty much the same on the palate when I re-visited it later in the evening. Another fine one from Vega Sicilia.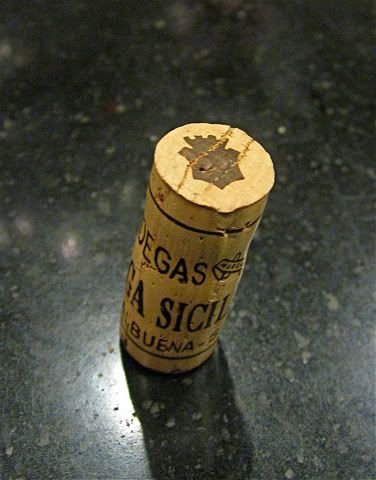 JC pointed out that the little design on the top of the cork is actually a micro-chip, there to make sure all corks are right side up, to enable the producer's name and wine's vintage to be printed horizontaly across the cork whereas all others (if printed at all) are printed vertically...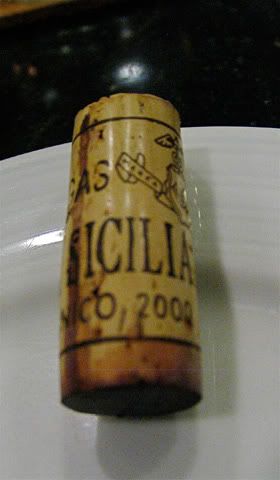 ...ready to be examined once pulled from the bottle - another indication of the producer's obsessive quest for perfection. This is aside from the fact that Vega Sicilia has the most stringent standards in choosing the corks for this wine.
Little did we know we were to be treated to yet another wine from Vega Sicilia that evening.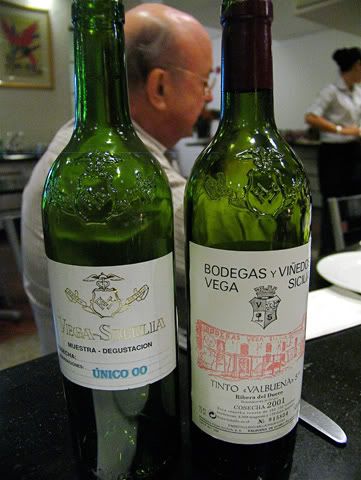 2001 Vega Sicilia Tinto Valbuena 5º
- Doc's bottle. He mentioned that there was no Único produced in 2001 and the fruit from the otherwise Único-designated vines went into the Valbuena 5º that year. Marginally leaner and not as deep than the Único and with strawberry and cedar making a relatively stronger statement. Firm structure and healthy acidity, tartish cherry and a hint of violets follow through in the moderate finish. Though nice enough now, I think this is still quite young and will show better with, say, 3-5 more years in bottle.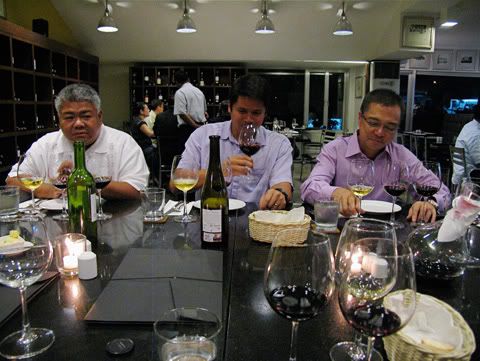 The
pintxos
(i.e., tapas) destined for Terry's 2ºPiso menu then started making their way to the table in succession...
...JC briefly introducing each dish to us with the depth and insight only he really manages to muster and verbalize.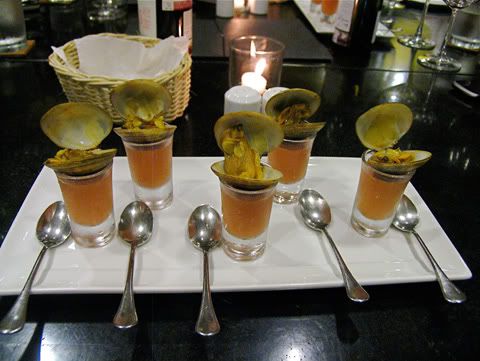 Perfect for the summer, fresh clams with a shot of cool, re-invigorating gazpacho.
This was easily one of my favorites of the night. I'd pair this with a nicely chilled bottle of 2008 Laxas Albariño from the downsatirs deli.
Rillettes of Pork and, the other, Goose Liver. Though we loved them both, it seemed that a few more preferred the pork rillettes. I, personally, will always have them bothm but do slightly favor the goose liver rillette. I believe Doc's 2005 Bastianich Tocai Plus could have paired well with both.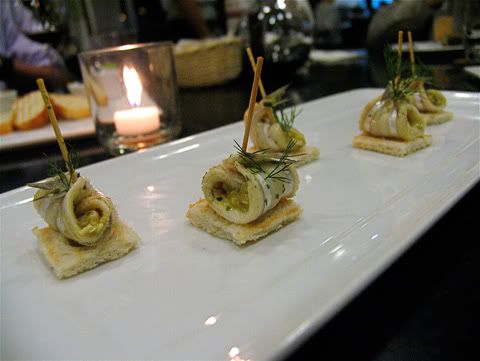 Fresh local anchovy stuffed with tapenade en croûte with a fresh dill garnish. Another big hit with the group, another of my favorites of the evening. This is the first time I've had fresh anchovies with a dab of tapenade, the olives' flavor gave a good, earthy underpinning to the fish and, I believe the olive oil used brought a slight, complexing nuance of pepper to the mix. Superb. Again, thoughts of albariño came to mind.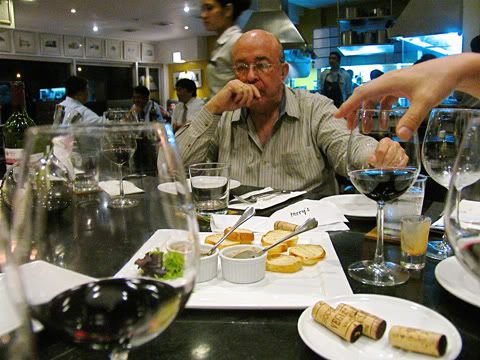 JC always seems to be deep in thought despite us noisily devouring his new dishes - most likely he is already mentally orchestrating flavors for new dishes to delight us with.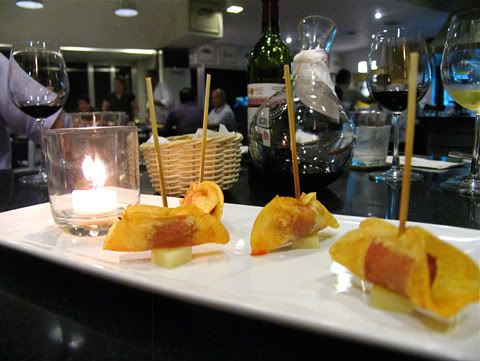 Chistorra wrapped in a thin, crunchy potato crisp, perched atop a cube of Manchego. Nothing more need be said. My children will demolish several platters of this, I'm sure.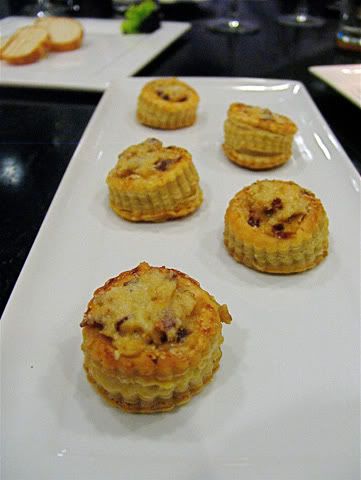 An hojaldrito stuffed chopped scallops with precise touch of savory bechamel-like sauce inside. Delicious. Nicely flakey outside, intensely flavorful and just slightly creamy inside.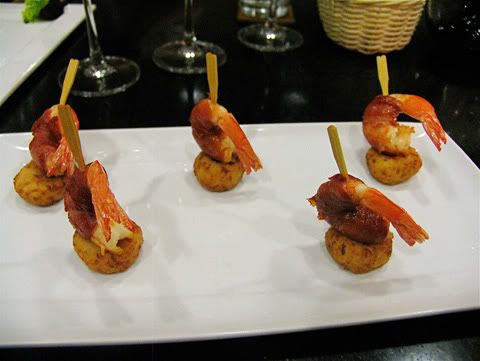 Prawns wrapped in
jamón de Teruel
atop delicately fried risotto balls (the latter a.k.a.,
arancini
). These went very fast.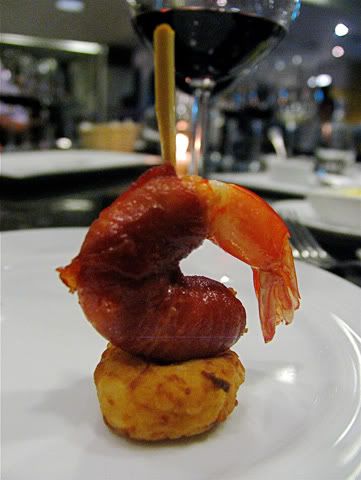 I'm sure this will be a popular dish. Prawn, ham and risotto. What's not to love?
A couple more reds were opened.
2001 Bodegas Olarra Cerro Añon Gran Reserva
- I ordered this from Terry's wine list. Though I've tried this before beside the '99 version, it was during a party at home during which I was cooking, so I wasn't really able to pay too much attention at the time though I did like it then. Always good to revisit a wine.
Though poured into a decanter, the wine didn't spend much time therein, so I let it breathe while I finished my share of the '01 Valbuena 5º. I committed the wine to memory, discussed it briefly with JC, re-read my previous notes, and they are consistent with my thoughts last night:
I finally get to try the currently available vintage of this favored Riojan producer. The flavors and scents are, of course, quite similar to the aforementioned '99 vintage, but this one is slightly less open (well, it is 2 years younger), the fruit seems a bit riper and, at this point, the dark fruit, licorice, hint of tobacco and slightly creamy oak hold sway over the red. Firm in structure, it comes off more masculine. Good wine. I'm sure it will age gracefully as well. Both were fine matches for the herb-encrusted roasted lamb racks.
This is a rare red in that it seems to easily pair with seafood. I recall that
the first time I tried the '99 version
, it was paired and married well with a Pan-Seared Scallop with Fricasée of Spring Vegetables in Cabernet Sauvignon Sauce. This time, both my wife and JC noted that the subject 2001 vintage paired well with the
Gratin de Ostras en Crema de Manchego y Espinacas
that we also previously enjoyed at
Una Noche Riojana
.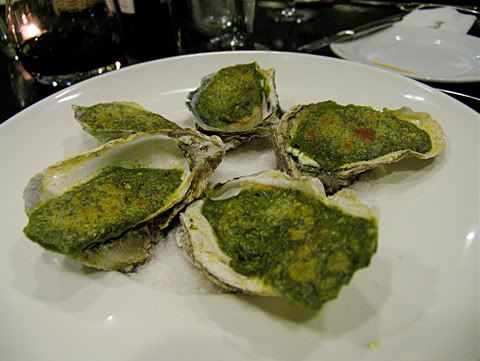 1996 Château Talbot
- Doc's bottle. Pungent with a rather aggressive sweaty character, with scents of iodine, ammonia and blood - fading after a while but still there for sure. Now I'm respectably experienced with Bordeaux, and I do love Bordeaux and appreciate a touch of bretty meat, blood and animal in my rouges, but this was a bit too much for me. I also found it a bit difficult suddenly switching to St-Julien after 3 good Riojas. That said, in the mouth, it seemed quite properly dry, austere, with loamy blackcurrant, black cherry, faint iron (vaguely sanguine), old leather, pinch of tobacco, whisper of anise and, of course, gentle cedar. Rigid in the way '96 Médocs generally are. I couldn't quite get past the aggressive pungency, though I did eventually finish my glass. Judgment reserved. I'll have to try this again to be fair to the wine...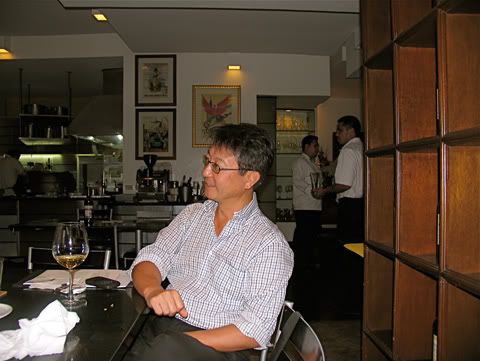 ...though Keiichi didn't perceive any flaws in it and favored the subject wine that evening. I brought and offered to open my bottle of
1995 La Rioja Alta Gran Reserva 890
, but it was decided that it would be saved for our next get-together at 2ºPiso; so we segued to...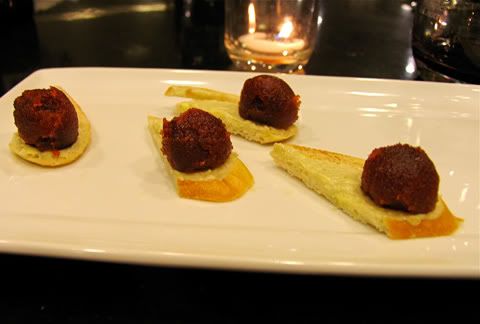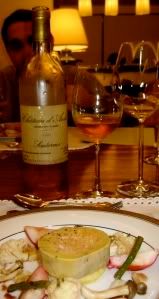 ..savory, fruity roquefort with membrillo from Jumilla, paired with a bottle of
1997 Château d'Arche
(file photo) - Keiichi's bottle, ordered from Terry's wine list. I've had this a little over a year ago during
the Alabang group's dinner by Ian Padilla
, paired with
Salt-Cured Torchon of Foie Gras Vegetables á la Greque, Port Reduction, Muscat Jelly
.
This is a mid-weight Sauternes that looks to be fully mature in color, though it is not old at all by Sauternes standards at just under 13 years from vintage. Lighter on its feet than I recall the last bottle, it is moderately sweet with an orange rind base. This spurred a brief discussion with JC on the old politics of Sauternes and Barsac and the basic differences between the 2 areas' respective wines.This is not a bombastic, "Hey, look at me"or "Get a load of this!" type of sweet wine; it is svelte, honest, with an air of wistfulness.
Thereafter, we had little pastries filled with real-deal, pure
marzipan
; so good that we gobbled them up before I got a chance to take a photo of it. I recall JC saying that the Doc's white would have been a good match (most probably because of the dry almond-paste notes of the latter with the moderately sweet marzipan of the former).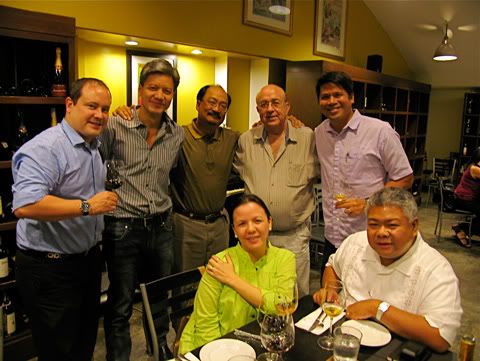 Thereafter, we were pretty much done, finishing up with a light, fresh, dry, yeasty, palate-cleansing-and-rejuvenating
Masachs Cava Brut Nature NV
that J-Lab ordered from the list. After a couple of pours, I felt I could start drinking all over again. But we prudently stopped there and called it a night.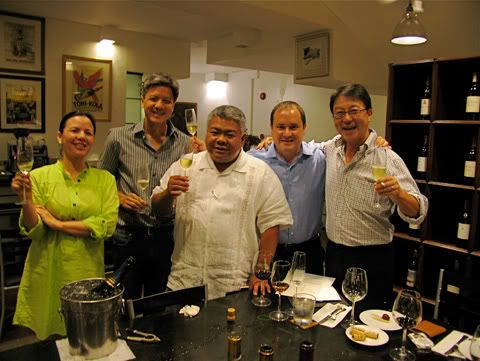 Thanks to all for the excellent food, fine wines and stellar company! ¡Hasta la proxima!