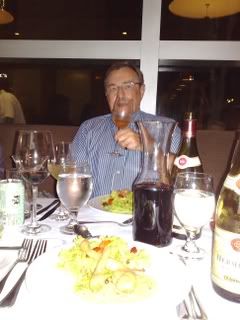 Wednesday, 23 April 2008, Je Suis Gourmand's Wines & Cuisine of the Rhône.
Robert Burroughes, myself and our wives, one table, 6 courses and a few wines. Though we brought a Guigal each (Robert a '98 Hermitage Blanc, and I, a '01 Côte Rôtie Brune et Blonde) Robert, nontheless, opted to order the matching wine set with dinner and let us taste. At a certain point, Jérome Philippon, who was supplying the set pairing, started sending us glasses of his wines.
With Fried Frogs' Legs with Salad and Garlic Cream (precisely executed, not oily or greasy at all, a bit of crunch outside while perfectly moist and juicy inside, very clean, fresh flavors):
1998 E. Guigal Hermitage Blanc
- After warming down a bit, this medium yellow-gold wine had generous breadth mid-palate that funneled down smoothly to the finish with beurre noisette/toasty nuttiness spearing mineral, honeysuckle and vanlilla laced, mildly-spiced fleshy/stoney fruit. We noted an ever so slight whisper of oxidation, but not enough to be bothersome.
2005 Domaine des Entrefaux Crozes Hermitage Blanc - Light, bright lemon yellow, a bit tight, lightly floral in the nose. On the palate, fresh, minerally, pure, clean, lean, precise, almost steely fruit. I suspect this will flesh out and expand mid-mouth with time in the glass. Nice to compare and contrast one with the other.
As regards the pairing, I preferred the Guigal Hermitage Blanc with the frogs' legs, but posit the Entrefaux Crozes Hermitage Blanc a better match with the 2nd Course of Steamed Rainbow Trout Fillet with Vegetables and White Wine. The Hermitage Blanc was a bit too big for the fish.
The 3rd Course was a rustic, earthy and comforting Mushroom & Bone Marrow Pot-au-feu which I had without wine.
After a palate-resuscitating Red Wine & Red Currant Sherbet, the 4th Course of Roasted Venison Rack with Galette Lyonnaise & Roasted Onion was served. This was my wife's favorite dish of the evening. Having finished every bit of my previous courses, I was already getting full and felt a bit guilty when Marc noted that I didn't quite finish off my rack while everyone else's plates lay bereft of food.
With the tender and juicy venison:
2001 E. Guigal Côte Rôtie Brune et Blonde - I must say that I appreciated this properly refined, medium-bodied Rhône (none-too-alcoholic unlike many other modern Rhônes), such as it was: laced lightly with dried/roasted herbs/pepper; red berry-dominated (red currant (or was that the sherbet haunting my palate?)/raspberry/hint of strawberry, mild tobacco and dark spice, woodiness and just a dash of pepper. Very mild earthiness. Finely and delicately layered. If there is any criticism I can make, it would be that the middle is a bit weak. But that's about it.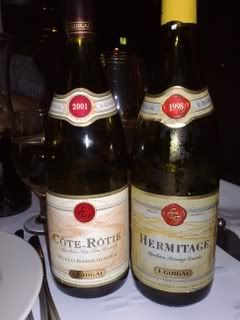 2004 Domaine La Roubine Gigondas - An evidently riper, bigger-boned, more extracted wine with a well-rounded middle and lusher over-all feel to it - more immediately pleasing, seemingly designed to entertain - the type meant to stand out in blind tastings. This had comparatively more dark fruit/casis underlying the cherry and raspberry, with a permeating slight gaminess and attendant notes of cacao, black coffee and oak/vanilla.
A mental comparison to the 2001 E. Guigal Gigondas made me think that this wine is cut from a more modern cloth - smoother, sleeker, less rustic.
Be it as it may, I honestly think the 2004 Domaine La Roubine Gigondas paired better with the venison. Due to the Brune et Blonde's somewhat weak middle and medium-body, it somehow got lost in the venison and sauce, though its dominant red berry notes did indeed brighten up the earthy dish.
Note: this was supposed to pair with the pot-au-feu, but I had it with the venison. I imagine it would have over-powered the pot-au-feu.
With the Bleu de Bresse Salad Course:
2005 Domaine Chèze Ro Ree Rhône Nord St. Joseph - Rustic, earthy, peppery, spicy, brambly-raspberry-and-red-cherry-dominant somewhat smokey wine. Medium bodied, lighter-boned than the above-mentioned Gigondas. Pleasant, if not particularly distinctive.
With the Dessert Course of Blackberry Clafoutis Tart with Sauce:
2005 Jurançon Clos Lapeyre - Straightforward, tartly sweet lemon/citrus, bright and light on its feet. Healthy, bracing acidity. It was like drinking a glass of a liquid version of the tart citron served at Alliance Française de Manille. Sans the crust, of course.