The evening of Saturday, the 28th July 2012, I took the family to
Terry's 2º Piso
. We hadn't seen JC de Terry since he left for vacation in Spain this past April, and, my youngest insisted on a Terry's dinner anyway. In addition, the previous week, JC asked if I would try out a new tinto Riojano for him, so the subject dinner was hitting 3 birds with one stone.
We had made reservations for 7:30pm, and it's a good thing as the place was absolutely packed that night - mostly, like us, families out for a Spanish weekend dinner. The kids, as always, wanted their many favorites from the regular menu. Unless otherwise stated, we had 2 orders of each depicted dish.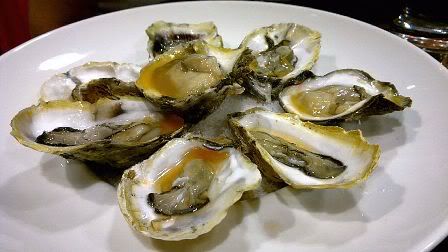 Fresh Oysters!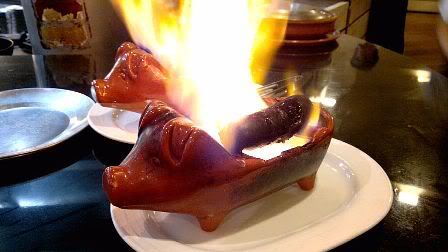 Morcilla on Piggyback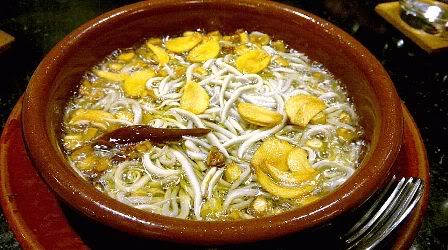 Moderately Spicy Gulas al Ajillo
The Gambas al Ajillo were especially good that night - the shrimps exceptionally fresh, plump, and juicy. The kids massacred both orders (with bread, of course) very quickly.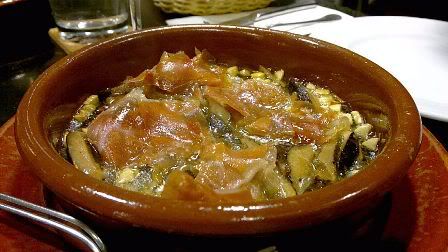 Two orders of Setas (organic shiitake) al Ajillo con Jamón, one as above...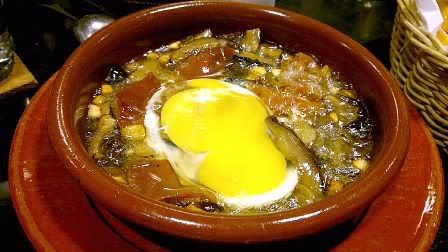 ...the other topped with a couple of eggs just before serving, as I requested. Both delicious...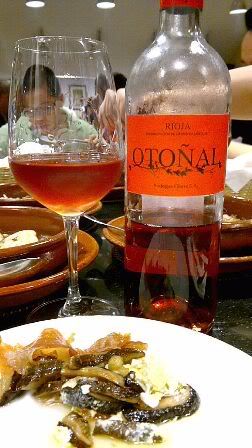 ...mopped up with bread, washed down with chilled Bodegas Olarra Otoñal Rosado.
Nephew Zach with my two teenagers.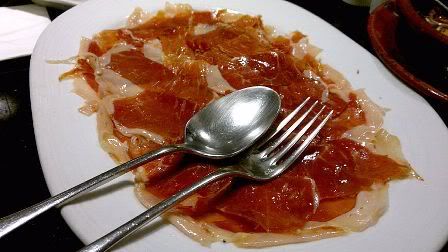 Jamón de Trevélez Gran Reserva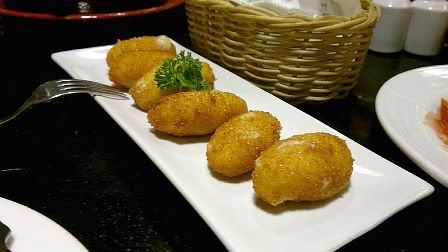 Croquetas de Tres Quesos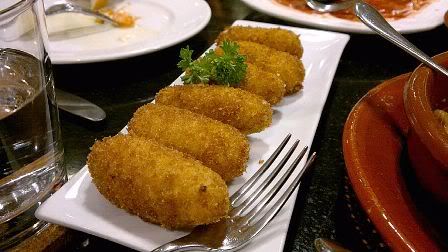 Prawn & Scallop Croquetas
Catha, Joaqi, & Zach
An order of Tortilla de Patatas for me - comfort food.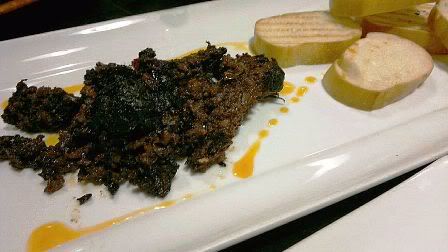 Morcilla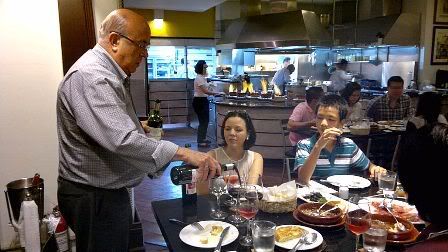 El Maestro, Juan Carlos (JC) de Terry, pours three reds for tasting...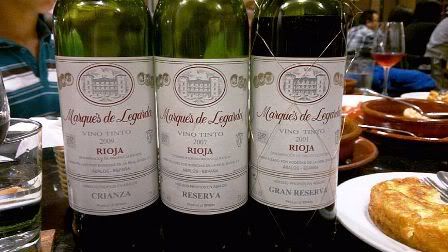 ...all from Bodegas Marqués de Legarda...
...2009 Crianza, 2007 Reserva, & 2001 Gran Reserva.
These tintos all presented old-school, Bordeaux-reminiscent austerity and poise, unlike the (sometimes) excessively (over-ripe) fruit-driven, overly-oaked caricatures of wine that seem to flood the global market these days. Unsurprisingly, JC later on informed us that this is an old-style producer, the manor of which dates back to the 11th ce
ntury situated in La Rioja Alta between Haro and Logroño.

The 2009 Crianza is austere and reserved (surprising due to the vintage marked by hydric stress) I found quaffable enough, and Catha noted that it was ok with the morcilla. The 2007 Reserva is a notable step up, the wood ageing apparent in comparison, but well in check. The 2001 Gran Reserva is more than decent enough, but, then, vintage 2001 for Rioja is a fantastic one, so one expects a lot.

In all, these wines shared a trait of austerity and an underlying theme of licorice/slight balsamico/worn leather to their reserved, savory dark fruit. The oak-related spice levels gradually increase in prominence across the lines, but always well in check. The balance is apparent. Though I do favor reserved and austere reds (old-school left bank Bordeaux being my palate default setting), I cannot but help wish for a bit more concentration, depth, and palate-push in the fruit.

We did ask to purchase half a case of the 2001 Legarda Gran Reserva as a gift for my wife's uncle, Tito Chito Legarda (who I happen to play golf with), but, alas, it is not yet available in Manila. We did tell JC we'd get some of the 2001 Gran Reserva if/when it is made available though.
2001 Bodegas Marqués de Legarda Gran Reserva ¡Salud!
Catha is related to the Legardas on her mom's (Tuason) side. Aside from getting Tito Chito some bottles of the 2001 Gran Reserva as a gift, we should get a few for ourselves as well. I'd imagine the rest of the Legarda clan would like some too.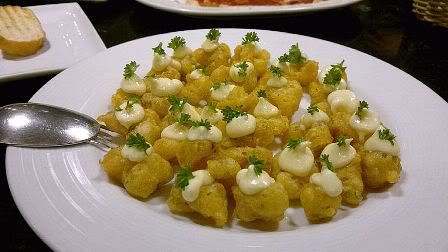 Crispy Bacalao
These piquillos stuffed with creamy, lightly gamey cheese, topped with chorizo were absolutely superb. Note that there are two versions of stuffed peppers on Terry's regular menu - the other stuffed with tuna. Both are good, no doubt, the latter obviously a healthier option; but, this one is a blast. Excellent. All of us loved them, and both orders disappeared in a trice.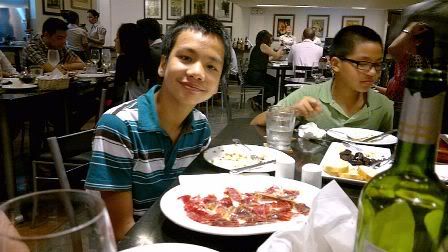 JC then sent Joaqi a complimentary platter of Joselito Jamón Ibérico de Bellota Gran Reserva...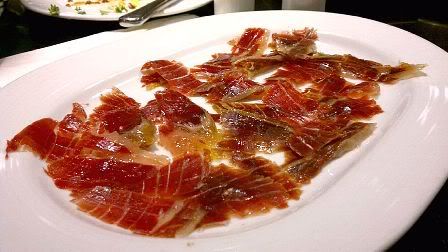 ...which he grudgingly shared with us.
Everyone was already pretty stuffed by the time, but then platters of
Shrimp Risotto
, and...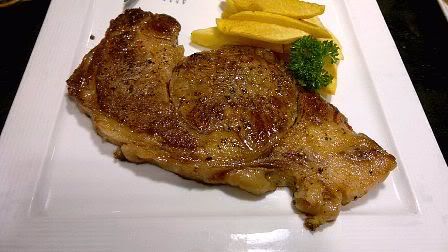 ...a hunk of US Black Angus Rib-Eye hit the table.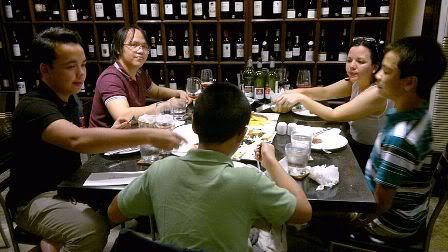 The kids somehow managed to do them justice though.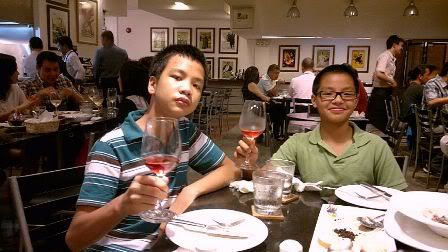 Joaqi & Zach.
Since Zach is glucose-challenged, and there was no Sugar-Free Chocolate Marquis available that night, we, instead, got him from the downstairs Terry's deli...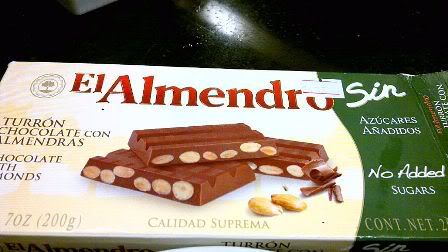 ...some El Almendro Turrón Chocolate con Almendras Sin Azucares Añadidos.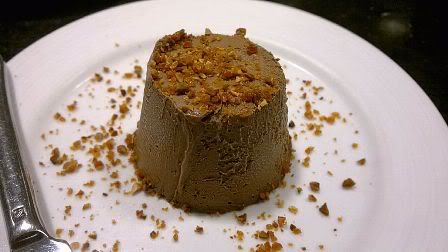 The teenagers and I shared a regular Chocolate Marquis...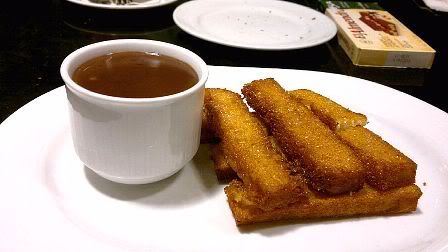 ...while Joaqi had his usual Picatostes con Chocolate.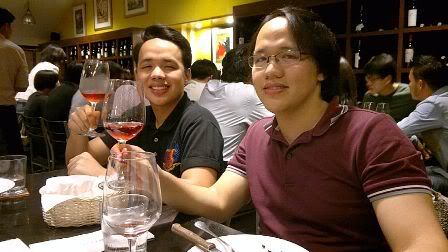 Yet another excellent meal at Terry's. ¡Ole! Until the next!