After a particularly hectic,
almost
alcohol free past couple of weeks, at Santi's invitation, I got to let off steam
Friday, the 27th January 2011,
at
Kublai's
- a sports bar located in the Magallanes commercial area (beside Shakey's) owned and run by the Camahort brothers, Dong L. and one or two other guys. I know this is Santi's favorite bar, but, until Friday, I'd never been there.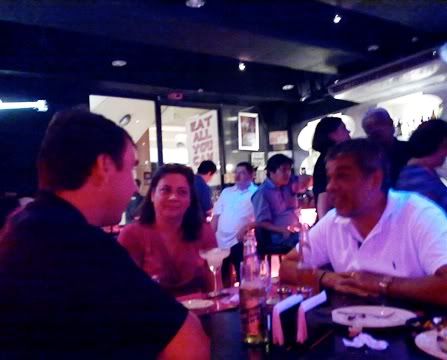 Santi, Dong, Fin and I started off late afternoon (Fin left after an hour or two). Mike joined us in the early evening, with his and Dong's better halves arriving later on.
The 5 things about
Kublai's
that struck me most while there were:
I loved the music. I knew and liked most every single song that played - mostly '80s music (my time) with smatterings from the Rolling Stones later at night.


The pica-picas were good, rustic and comforting. Of special note was the

Chorizo Sisig

; the chorizo, I was told, made specially by Mike's brother, Poch, who runs the bar hands-on.


Kublai's, at dinnertime, lays out a

Mongolian BBQ

buffet - where one picks the ingredients and sauces themselves. Being somewhat comfortable in the kitchen, I do enjoy this type of dining. Not having had

Mongolian BBQ

for around 20 or so years, this was a nostalgic treat for me - one I will certainly repeat in the future.


Prices are very reasonable and the beer is always served nice and cold.


The crowd is mixed: office people, a long table of advertising people, a few tables of 20-30 somethings on dates...and I'd say almost a quarter of the people inside that night (there is outdoor seating as well) from Manila's mestizo community (the owners' friends apparently).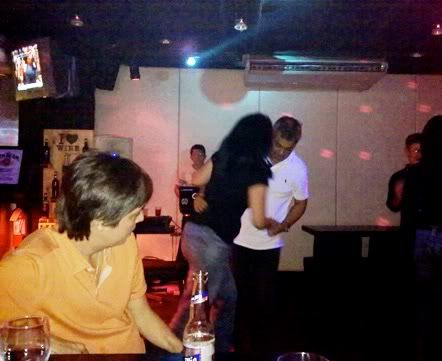 Post-dinnertime, when space allowed, some tables were pushed to the sides to make a dancefloor. Mike sure could tear up the floor...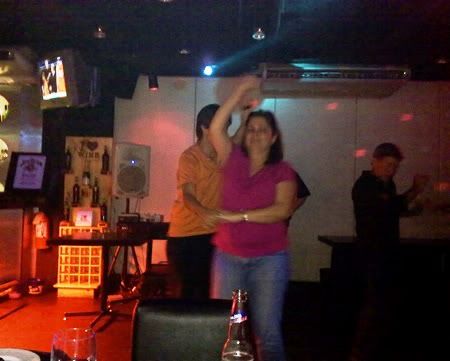 ...and I was pleasantly surprised when Santi demonstrated his skills at dancing the Boogie with Machalen, Mike's better half. Conviviality reigned that night, as well as alcohol-aided antics that had me in stitches. I hadn't laughed that long and hard in quite a while, and I had a great time. I'll drag Catha along with me next time so I can have someone to dance with (which would help get rid of the tipsiness more quickly for my drive home as well).
As I began begging off the last couple of rounds of beer (after all we had been there since late afternoon and, from past experience, I knew well enough that I couldn't keep up with Santi and Mike in that department), we were served platters of mildly spicy
Chorizo Rice
- which was both delicious and sobering. I asked Dong if they used
sobresada
for the dish, and he replied that it was the same chorizo they used for the
Chorizo Sisig
. Loved it.
As Arnold said in "The Terminator", I'll be back.
~oOo~
The next day,
Saturday the 28th January 2011
, I woke up late and a bit ragged (I do believe that was the most number of beers I've ever had in a single evening), skipped golf and just watched videos at home. That afternoon, my wife was fussing over our 2 older boys since it was their Junior-Senior Prom. There were last minute decisions on the ties to be used, which dress shirts to wear, etc., all resulting in...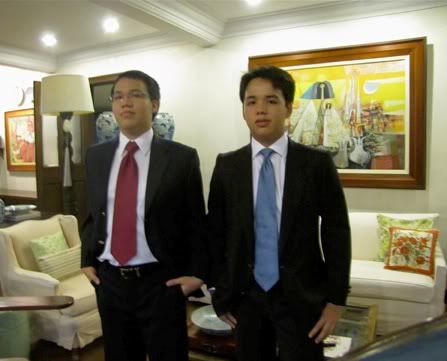 ...these 2 dapper beasts.
After seeing them off, Catha and I took the youngest to old favorite
Caffé Caruso
(210 Nicanor Garcia St., Bel-Air Village, Makati; across the Alliance Française de Manille). As usual, I had my glass of...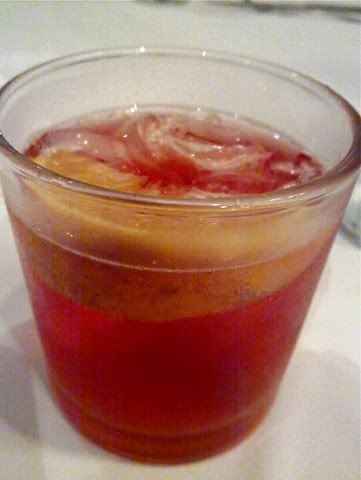 ...
Campari Soda
as I decided what to order. I really don't know why we bother reading the menu anymore, as we've been customers for years and always order pretty much the same dishes every time we are there. As usual, we started off with platters of...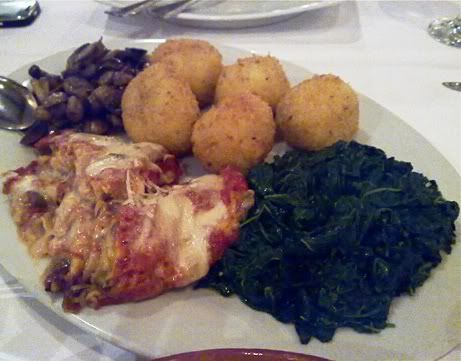 ...
Antipasti Caldi
, some
Insalata di Rucola
(no photo of the latter),...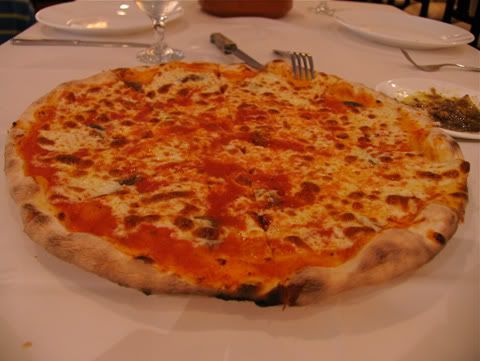 ...and a Pizza Napoletana.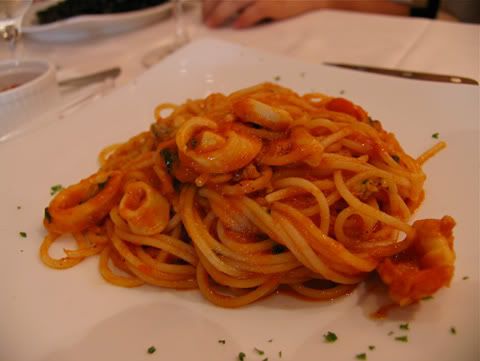 Thereafter, a dish of
Spaghetti allo Scoglio
(moderately spicy) for me. With the foregoing, Catha and I had a couple of glasses of the simple but decent house
pinot grigio
. Having had a lot to drink the night before, I thought it better to take it easy on the wine and, so, didn't bring a bottle along. Catha and the youngest shared platters of ...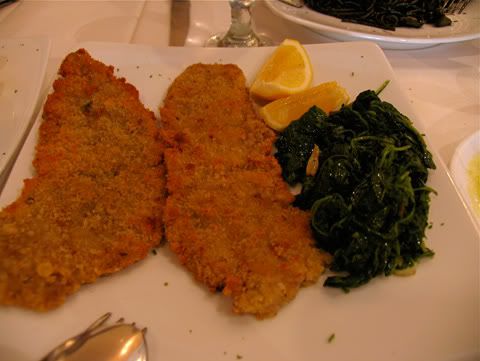 Pan-Fried Veal Cutlets
and...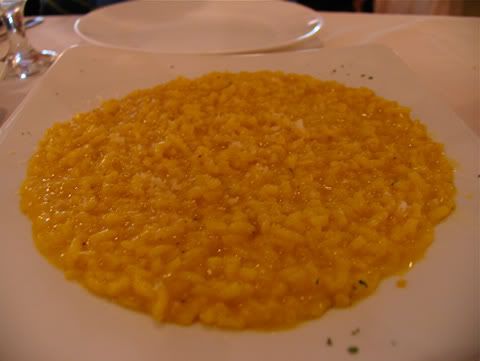 For dessert, we had the
Panna Cotta
as we always have had ever since Johnson told us Caruso's serves one of the 2 best in the country (the other being at
L'Opera
in the Fort).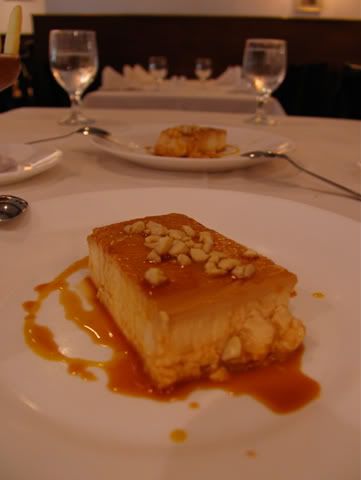 We ended with a couple of
double espressos
(I absolutely love their espresso here) and, for me, a shot of
grappa
, both compliments of co-owner-manager Dario Gardini. G
razie tante
, Dario.
As we walked back to the car, a tiny kitten, from under another vehicle, ran up to the youngest and started trying to play with him. The guards told us that the kitten had been living in the parking lot the past 2 nights and had no owner or mother taking care of it. We took it along, of course, to give it a good home.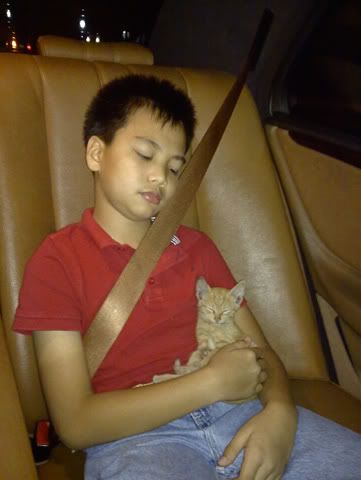 Running into bad EDSA traffic on the way to the SLEX, Catha would check on the kitten and the youngest every so often. Nothing to worry though, the kitten fell asleep, contentedly purring on the youngest's lap. We wound up giving the kitten to my mom-in-law since our labrador retriever, though very friendly and gentle with people, is a confirmed serial cat-killer. Anyway, my mom-in-law loves pets and her dogs grew up living with cats.
What a nice weekend. I really needed that.