A few weeks ago, the Stockbroker mentioned that he picked up a few double magnums of 2003 Château Gruaud Larose at a good price and would like to open one sometime for lunch. So, a date was set and, Thursday, the 26th February 2009, 6 of us met for lunch at old favorite
Je Suis Gourmand
, all toting our bottles.
Since Johnny R and Vancouver Vince unfortunately couldn't make it and half of us still had work to do that afternoon, it was decided that we'd just stick to the double magnum for our red.

A double magnum is a large bottle format that holds 3000ml of wine, which is the equivalent of 4 regular bottles. 2003 Bordeaux, especially those from top-tier châteaux like Gruaud Larose (a well performing 2nd Growth, 1855 Classification, St-Julien), are far from mature, but, with aeration, can be quite enjoyable to drink now.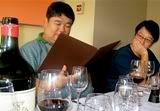 We chatted a bit and, eventually, got down to the serious business of choosing our dishes. I was happy to discover that Keiichi thoughtfully brought a bottle of sauvignon blanc based Loire white to start of with. I, thus, decided to start of with a the
Crottin de Chavignol with Salad
to pair with the white. For the red, I decided to follow the Stockbroker's and Bernd's lead in having Marc's
Cassoulet
.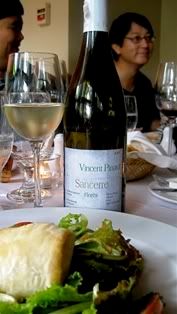 2007 Domaine Vincent Pinard Sancerre "Florès"
- From Keiichi. 2007 was an uneven vintage in the Loire. Simplistically put, this means certain
appellations
within the region generally produced significantly better wines than others within the same region. For the Loire in 2007, reliable reviewers, such as Jancis Robinson (the first lady to hold a Masters of Wine degree), that the eastern
appellations
of Sancerre and Pouilly-Fumé produced the best wines. As to the maker, suffice it to state that Domaine Vincent Pinard is widely recognized as one of the top producers in said
appellations
.

The wine presented typical cool aromas of fresh, dew-flecked grass, white grapefruit with light touches of gooseberry and citrus - all of which had a subtly charming white mineral lilt to them. These were crisply/dryly mirrored in the mouth with vaguely steely character in a body halfway between light and medium. Good acidity. Very nice purity and balance - nothing like the many aggressively exuberant and overly grassy sauvignon blancs from New Zealand.
As regards the pairing, it was a no-brainer for me. Crottin de Chavignol is a pungent, gamey, creamy goat cheese with its own AOC near Sancerre (as well as the town of Berry) - so it is a natural, regional and traditional pairing with Sancerre blanc - the dry, minerally citrus notes and bright acidity cutting the gamey creaminess, the grapefruit flavors complementing that of the cheese, and its freshness and minerality cleansing the palate between bites. Lovely. I'm glad Jérôme Philippon's Sommelier Selection makes this locally available.
~ oOo ~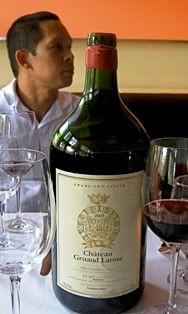 2003 Château Gruaud Larose
(Double Magnum) - The Stockbroker's bottle, as earlier mentioned, and the reason for Thursday's lunch. As mentioned earlier, this is a young wine, moreso because it is in a large format bottle (wines in larger formats are generally accepted to have materially greater ageing capabilities than those in smaller formats).
Since there was no decanter large enough to hold all the wine, we made do by immediately opening the bottle and pouring out glasses for everyone at the beginning of the lunch. The reasons behind this were that our wine would breathe in the glass while we had our white and appetizers, and, in the meantime, the bottle itself would act as a decanter for the rest of the wine.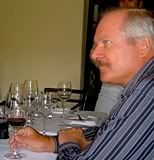 Around 10 minutes after the first pour, the wine grudgingly gave up smoky cedar and vegetal notes hovering over deep dark fruit and nuances of anise and warm asphalt. In the mouth, it was dense and a touch too tight and burly in character, but already richly extracted in ripe, molten dark fruit, pronounced toasty wood notes and semi-sweetened dark chocolate. I left it alone and had my starter and white.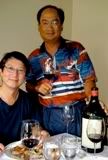 Approximately 45 minutes later, the same wine still displayed a pervasive topnote of smoky cedar but the vegetative character had taken a back seat. In the mouth, it had noticeably eased and broadened, releasing creamy cassis, a touch of espresso and cedar into the dark chocolate tinged fruit. I then tried a half pour in a smaller glass, but using Arnie's
Vinturi Wine Aerator
as an experiment. I must admit that I did the "instantly aerated wine" was noticeably more approachable and less alcoholic compared to the very first, un-treated taste.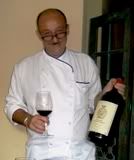 By the end of lunch, we were practically the last table left, so Marc joined us for half a glass and I made sure to tell him how very hearty, warm and comforting his cassoulet was. I particularly loved the melt-in-your mouth slice of braised pork belly in it, as well as the sausage. The beans were soft, earthy and very flavorful. I will will definitely be back for more.
My last half glass of red presented a shy-of-full-bodied liquid of roasted-ripe black fruit, cassis, dusty cocoa, moderate toasty oak, bit of licorice, touches of espresso and leather, underlying dark minerality, with cedar kicking in towards the back and in the finish. Nice middle, but not much of a crescendo - it just chugs along the tongue, tapering towards the throat. The alcohol, though still youthfully eager, had subsided considerably; a wine typical of the hot vintage.
A few more jokes and funny stories flew, bringing to an end a moderately boozy but very pleasant Thursday lunch. Again, thanks to the Stockbroker for giving us the opportunity to try out (in such great quantity) this young classed growth.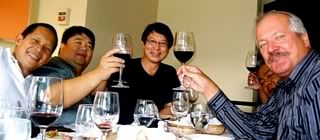 L-R: The Stockbroker, Arnie, Keiichi, J-Lab (partially hidden), Bernd.