Dinner this past Thursday, 26th April 2012, was at
l'Opera
for the Tuscan event of the International Wine & Food Society Philippines Branch ("IWFS" or the "Society"). L'Opera had been a favorite restaurant of mine for many, many years, but, for some reason, I had not been back there since
Oscar's Tuscan dinner back on the 13th June 2008
. Organized by new IWFS president, Oscar Ong, the event, dubbed "Arias", had the added feature of a local tenor to serenade diners.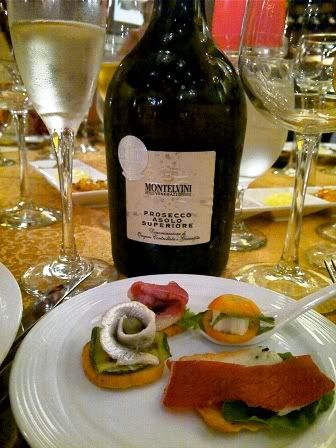 The meal started off with
Assorted Amuses Bouches & Canapés
paired with
Montelvini Prosecco Asolo Superiore NV DOCG
- a non-vintage Prosecco Asolo Superiore DOCG (since 1 April 2010) made up of 100% glera (a.k.a., the prosecco grape from the hills of Montello and Asolo falling within the specific DOCG limitations). This is a remarkably approachable, fresh, and floral prosecco with unusually fine bubbles (for a prosecco) and mousse . Acacia flowers and bright apple/pear flavors in a mildly creamy, leesy medium frame. Very pleasant and dangerously drinkable especially on a warm summer's eve.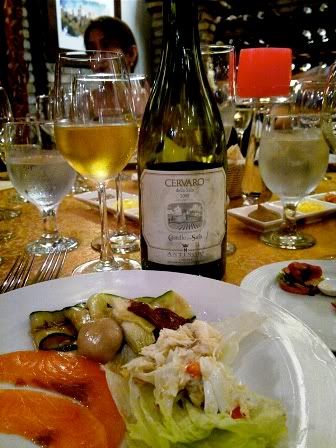 This was followed rather quickly by
De-boned Crab "Veneziana Style" w/ House-Marinated Salmon & Grilled Zucchini
, paired with
2008 Castello della Sala Cervaro della Sala Antinori (Umbria IGT)
- Predominantly composed of chardonnay (hence it being an IGT), I remembered vividly the 2005 vintage of this wine which I had during
one of many fine Italian wine lunches at Gaita Forés' now-defunct (and badly missed) Pepato
, which 2005 version I found overly fat, rich, ripe, buttery, (new) oaky, and low on acid.
The subject 2008 vintage is, however, much different, and all the better therefor, in that its apples and pears were not exceedingly baked, over-ripe and slathered in butter and new oak. On the contrary, it was in balance. The oak was still quite evident mid-mouth and onwards, but, unlike in the 2005, one is not beaten over the head with it. Further, towards the back and through to the finish, it presented a nicely dry, appetite-enhancing almondy bitterness (from the minor grechetto component no doubt).
This was a very pleasant and welcome surprise; it showed enough palate-presence, weight, focus, freshness, and cut for the marinated salmon. I asked for a second pour.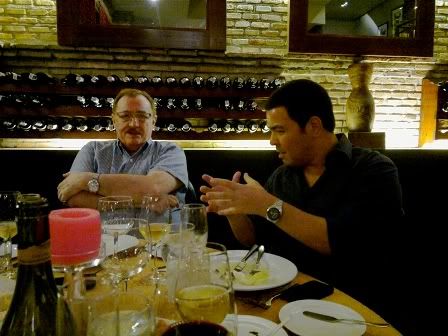 Robert Burroughes and Jimmyton Araneta talk wine and craft beer.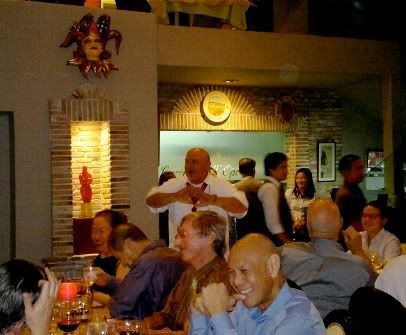 Luciano Zanirato, who helped conceptualize this night's event, gives a short talk.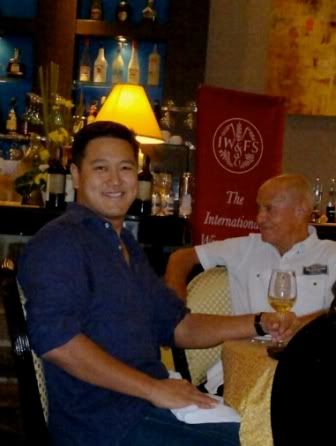 Alex Tiu and Markus Ruckstuhl.



IWFS Philippines President Oscar Ong presents the IWFS Cebu Branch's official certificate....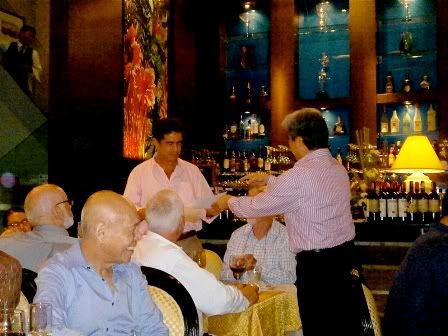 ...and hands it over to IWFS Cebu President Dondi Joseph.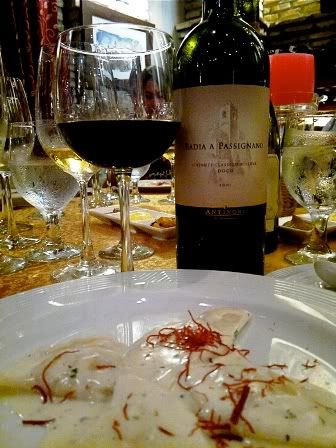 The pasta course was
Home-Made Ravioli filled w/ Duck in White Truffle Sauce
, paired w/
2001 Antinori Badia a Passignano Chianti Classico Riserva
- My last notes on this wine were from
a dinner by Ian Padilla (then still working at Taillevent) for the Alabang Group on the 6th February 2009
, to wit:
2001 Badia a Passignano Chianti Classico Riserva - My last notes on this wine were made barely 2 weeks ago at Sunshine and Rob's latest Gourmandise Dinner and are still consistent:
The 2001 Badia a Passignano (100% sangiovese, my winner in our Blind Non-Bordeaux Challenge II) is as I remember: fullish bodied, nicely rounded and extracted, broad, showing well-knit, earthy dark fruit, kirsh/cherry, bit of raspberry, underlying espresso, with minor notes of roasted meat, mushroom, olive and violets. Nice depth. This time, though, I noticed more toasty oak/vanilla and a slight chocolate nuance.

I add now that, probably because this wine was open and breathing for at least 3 hours by the time we got to it, the roast meat notes had emerged further as noted by B and seconded by Tonj and Ken.
At the subject event, a little over 3 years after, my above notes still seem to ring true, save that I say now that it is now softer in fruit, better integrated, legitimately full-bodied, the chocolate notes are more apparent, and the wine had a general loamy character. Quite rich and concentrated in fruit, a bit low on acid. If I had any more bottles of this (which I don't), I'd drink them up every opportunity I'd get.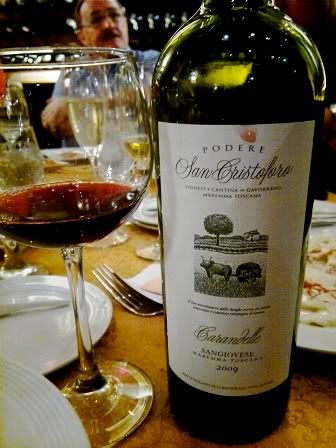 Oscar then poured Catha, Jim, and I a bit of the above-depicted
2009 Podere San Cristoforo Carandelle Sangiovese
which was one of the candidates for pairing with the duck ravioli. It was more focused and with a more old-school, generally more food-friendly cut, but, to me, it didn't seem to possess enough stuffing to stand up to the creamy white truffle sauce.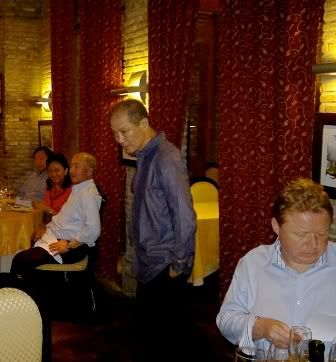 Immediate Past President and still incumbent Wine Master Bernie Sim talks about the evening's wines...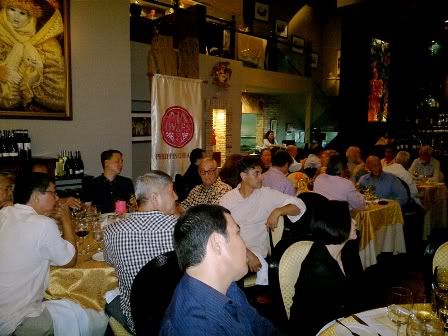 ...as everyone pays close attention.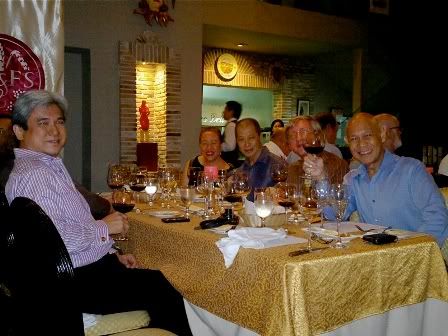 L-R: Oscar Ong, Lucy & Bernie Sim, Othmar Ober, and Freddy Pio de Roda.



L-R: Michael & Shiela Whiting, Jen & Robert Burroughs, Jim, & Catha.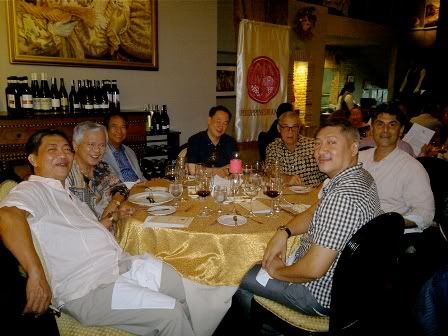 L-R: Jun Sison, Noel Laman, Edwin Ong, Hans Brumann, Mike Aguas, & Jerome Philippon.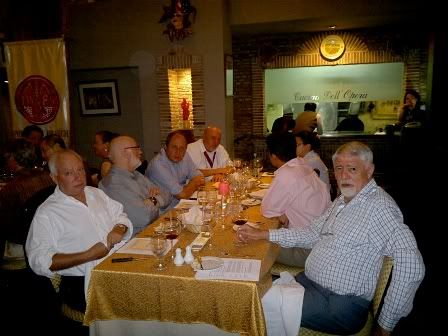 Front, L-R: Lawrie Martin & Bill Stone.


The meat course was
Angus Beef Fillet embedded w/ Foie Gras Slivers in Truffle Sauce
, paired with
2001 Antinori Tignanello (Toscana IGT)
- my last notes on this were from
an IWFS dinner at Tosca (at the Dusit Hotel, Makati) back on the 5th July 2007
, as follows:
Then came the grilled Australian lamb chops served with fresh goat cheese and eggplant tartare, paired with the 2001 Antinori Tignanello. Simply put, I found the lamb excellently cooked: so juicy and yielding inside and with a nice, not overly done crust on the outside (over-done crust from a heat too high makes the herbs bitter and is usually accompanied by an inside too mushy near the bone).
Before I could analyze the wine, someone said that he thought it was declining and another commented that it was too gamey for his taste. Knowing that their wine was poured from a different decanter, I sniffed and sipped mine and theirs as well. Theirs was definitely gamier than mine, while mine was noticeably more fruit forward and open. My wife, who overheard us, tried them as well and agreed with my assessment (her wine was poured from the same decanter as mine was).
In my personal opinion, the wine is not the least in decline, but there was a definite difference between the two bottles. Since I like my reds with a touch of gaminess, I gladly switched with one of them, and we were both happy with the trade.
The Tignanello was noticeably heftier, deeper, more pungent, woodier, more complex (notes of tobacco, licorice and espresso), marginally more focused and had bigger bones and a more "inherent" gaminess to it.
No gaminess at the subject event, the minor cabernet sauvignon and cabernet franc show in the wine's readily apparent, firmer structure (vis-à-vis the 2001 Badia a Passignano) and underlying, discreet, and well-knit cassis note. Olives, black coffee, licorice, bit of well-integrated cedar, and violets in the dominant sangiovese. Masculine, notable focus, structure, neatness, and comparative purity. Confident finish. Very nice alone and with the foie and truffle flavored filet.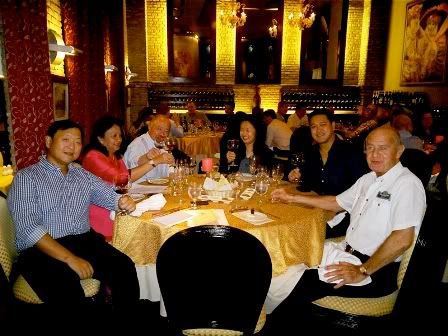 L-R: Alex Lichaytoo, Robbie Delgado (flanked by his lady guests), Alex Tiu, & Markus Ruckstuhl.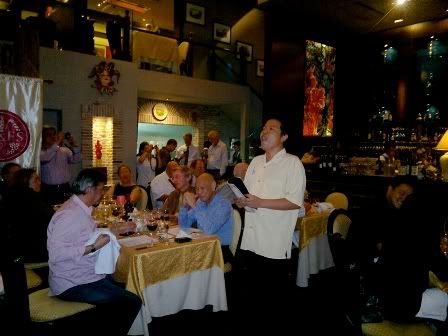 Tenor Conrado Calnea Ong, III very capably rendered some better-known arias, broadway tunes and even some Philippine songs - contributing several high notes to the evening's enjoyment.



L'Opera founder and owner, and now Sommelier, the dapper Paolo Nesi, makes his appearance.


Dessert was l'Opera's signature
Panna Cotta w/ Acacia Honey & Piedmonte DOP Hazelnuts
, paired with
2005
Fattoria Le Pupille Elisabetta Geppetti Sol Alto Maremma Toscana
- this wine I had a very difficult time getting a handle on - closest I can call it is a forwardly aromatic, moderately spicy late harvest (sweet) white that shows ripe cling peach, candied apricot, lychee, candied orange peel, and, in the nose, a hint of roses. Adequate acidity keeps it light-footed and entertaining. Good focus too.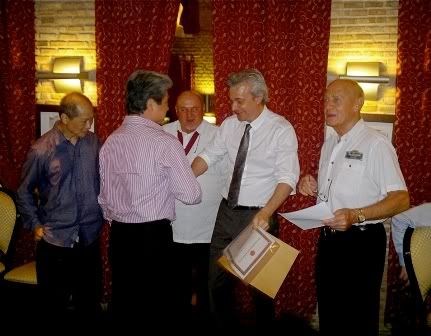 Oscar, Bernie, Markus and Luciano present Paolo an IWFS Certificate of Appreciation & Recognition.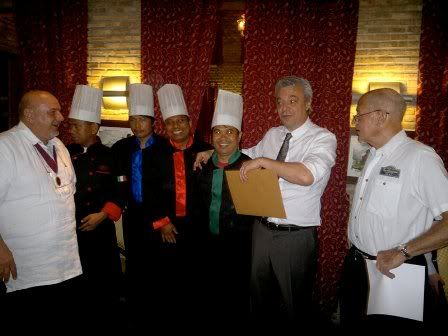 The kitchen crew is introduced and thanked with a round of appreciative applause.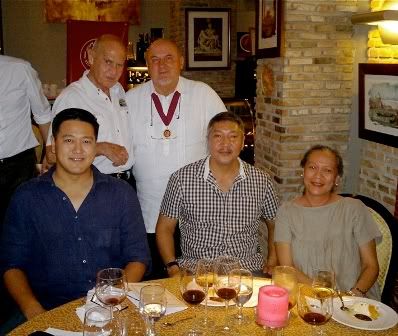 L-R: Alex, Markus, Luciano, Mike, and Marnie Ong.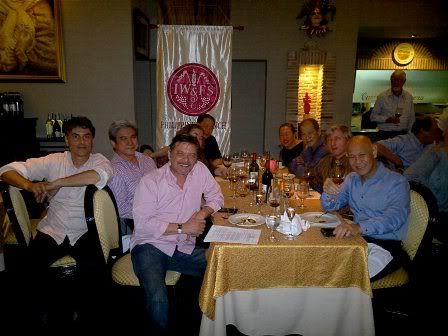 Clockwise from front-middle: Johnny Revilla, Jerome Philippon, Oscar Ong, Edwin Ong, Lucy & Bernie Sim, Othmar Ober, & Freddie Pio de Roda.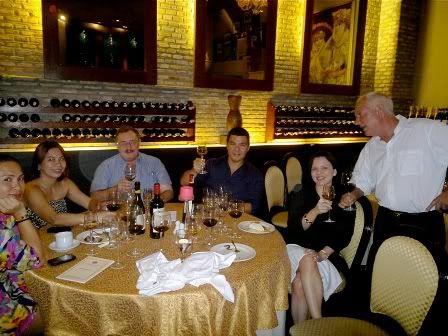 It was yet another memorable dinner with the IWFS. Congratulations to all who made it happen, and many thanks to those who shared their precious company. At evening's end, Catha, Alex, Jim and I moved to nearby Craft for some of Jim's newest craft beers - but that is another story. Cin cin, and, until the next!