This past Monday, the 23rd May 2011, was my sis-in-law, Mich's, *cough*th birthday. She is based in Singapore these days and was just here for less than a week for some business. She wanted steaks and was thinking of going to Mamou, but she'd been there quite often already. Thus, I suggested she try out
Gustavus Steak Lounge
(Ground Floor, F&M Lopez Building, 109 C. Palanca Street, Legazpi Village; Tel. No. 846-2430) since I enjoyed
my dinner there so much after a long ale session with Jimmyton and J-Lab a couple of weeks before
. She agreed to my suggestion, so I made arrangements with Gustavus' Managing Partner, my Ateneo high school classmate, Mike Gayoso.
We were 16 in all that night with my in-laws and a few of their cousins. Mike was to be out of town that whole day until late, but left instructions for how our large party was to be accommodated (2 tables for 8 side-by-side, etc.). We were very well taken care of. Though a party of 16 having multiple courses is normally quite a strain on the waitstaff, there were no problems at all. On the contrary, I thought the service was quick, crisp and precise. Some of the dishes we enjoyed at our (the boys') table were: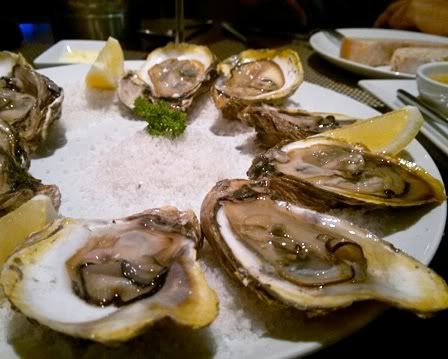 Fresh Oysters
(file photo)
The kids started off with the above-depicted fresh oysters (I've had these a couple of times before). They are always super fresh and delicious - an absolute must in Gustavus.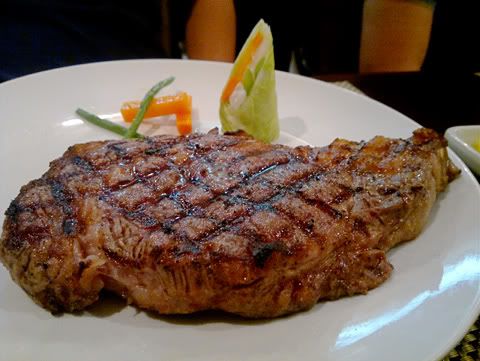 Grilled Rib-Eye
, one each for my 2 brothers-in-law.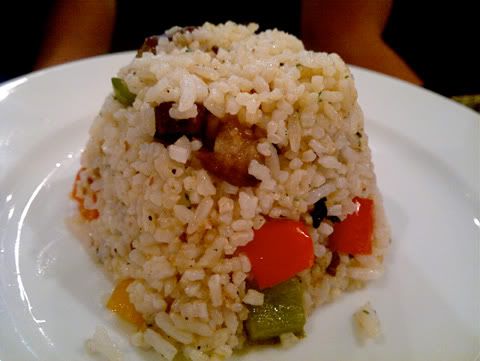 One of them got some
Gustavus Steak Rice
.
The rest of us went for the excellent
French Fries
and Gnocchi for our starch
.
Grilled T-Bone Steak
(for me; rare of course). Delicious. I've had it here thrice so far.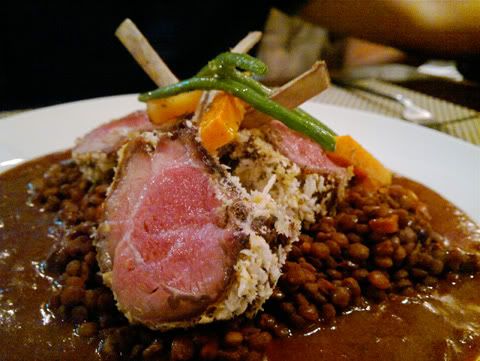 Roast Rack of Australian Lamb w/ French Green Lentil & Bacon Cassoulet
for my second son. Looked magnificent.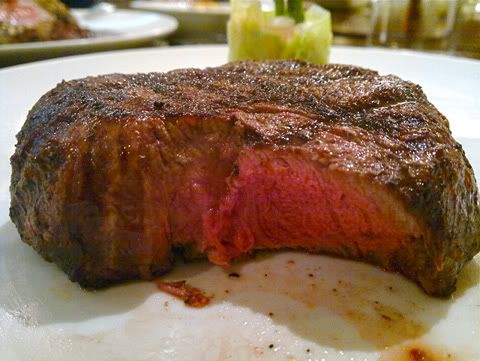 Grilled Tenderloin Steak; a couple of them, one was for my youngest.
You can see from the photo above how well it was cooked and how juicy it was inside.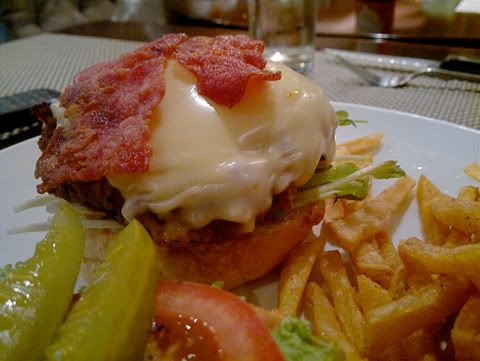 Mr. D's Ultimate Beef Burger - my eldest went for this.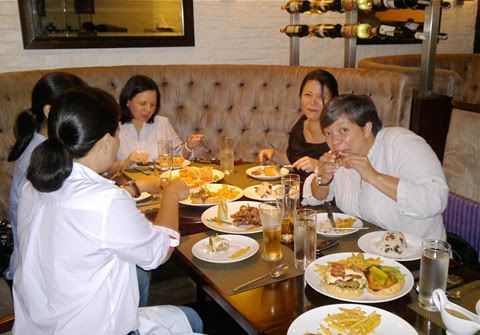 There was an assortment of similar dishes at my sis-in-laws' table. I get along very well with my sis-in-law (Catha's sister). I always have. You can see from the photo above how very much she enjoys her food - so we naturally enjoy each other's company (and obviously mean sense of humor). Desserts were excellent as well: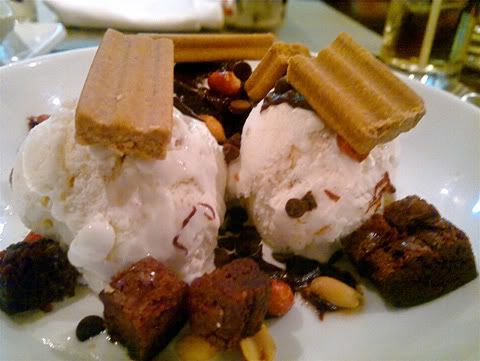 Choco-Nut Pinoy Buster Parfait
. My nephew got this. It looked so good I vowed to have it myself next I was there - a vow I've already made good on. It definitely tastes as sinfully good as it looks.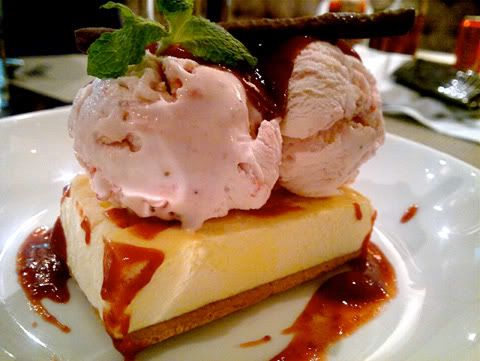 Strawberry Cheese Cake
, I don't recall whose this was though.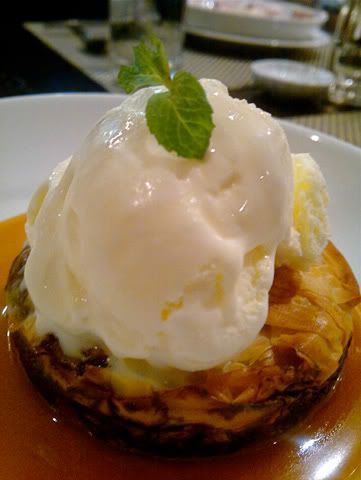 Crisp Apple & Mango Filo
.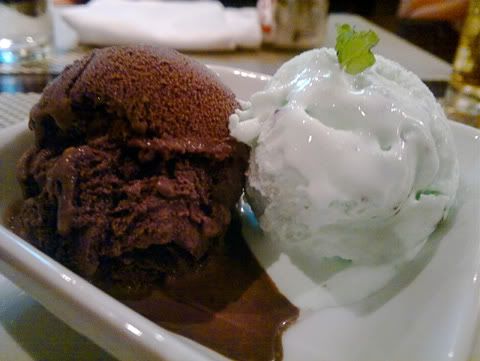 This was my dessert - a scoop each of
Dark Chocolate & Mint Chip Ice Cream
, which, together, made up a cool bowl of After Eight Dinner Mint of sorts. Loved it. I don't know what else was ordered for dessert as I was so concentrated on my own.
We didn't have any wine that night, but we continued on until late with some beers, cognac and some hilarious stories. Excellent evening. Thanks, Mich! I daresay we'll be back in Gustavus next you're in town!