This past Friday, the 16th September 2011 was dinner with Catha and the kids at Rob & Sunshine Pengson's
The Goose Station
.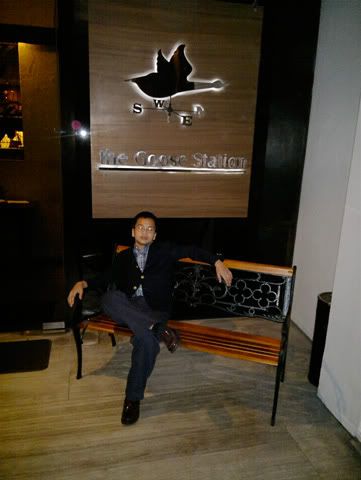 The youngest at the restaurant's entrance.
It was the second's birthday earlier in the week, but, it being a schoolday, he chose said restaurant for his weekend birthday celebration. Rob was solely at the helm that night as Sunshine was home tending to their little one.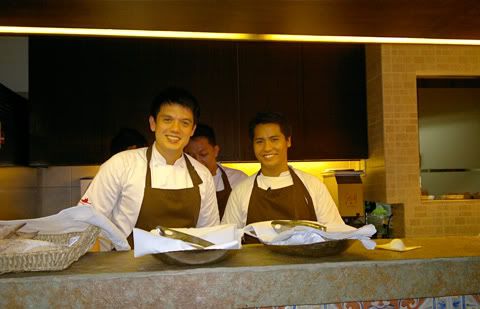 Rob & team.
Catha, the teenagers and I went for their Seasonal and Signature menus, while the youngest ordered
à la carte
. Their
dégustation
menus typically start off with a number of whimsical "snacks" that set the playful tone of their cuisine. That night, the snacks were composed of lightly indulgent
Foie Gras Cones
...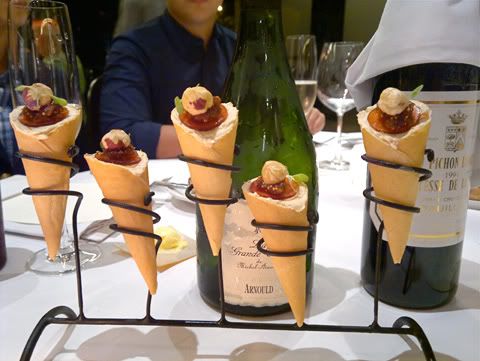 ...and a trio of bite-sized delights: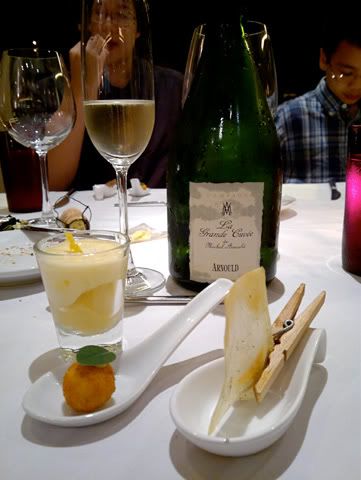 L-R:
Mais con Yelo
,
Jamón Croqueta
&
The Chip
.
For the above and some succeeding dishes, I popped open a bottle of
Champagne Grande Cuvée de Michel Arnould
, a predominantly pinot noir based (70%) bubbly with 30% chardonnay, all the fruit of which came from this family-owned and run grower-producer's grand cru Verzenay vineyards. Though not labeled as vintage champagne, this blend is, in fact, all from vintage 2000.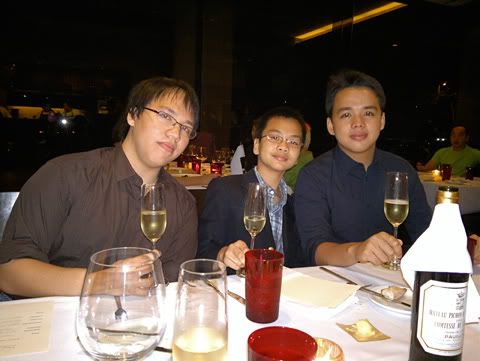 The lively, creamy-fruited, hazelnut-nuanced champagne went very well with the foregoing snacks, and paired naturally with the following courses of...
Oysters & Avruga...
and Caviar Surprise...
...while its rounded chardonnay, apple and bright citrus notes complemented Rob's interpretations of: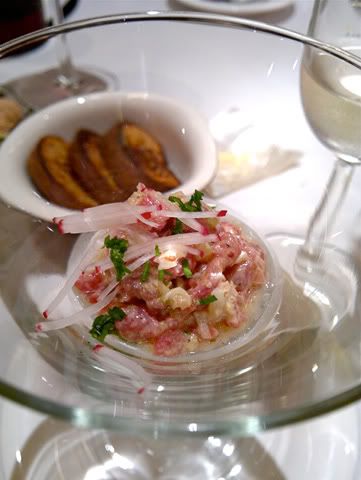 Steak Tartare and...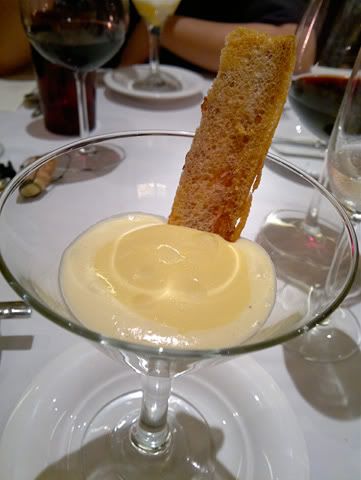 ...Eggs Benedict...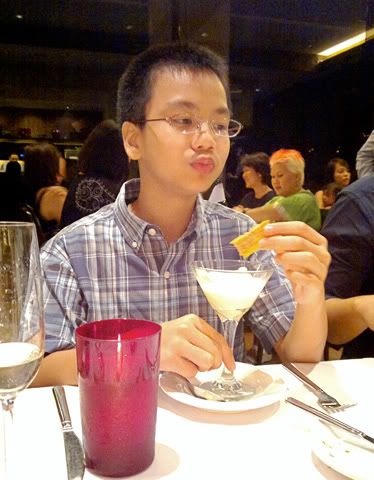 ...which everyone, especially the youngest, loved.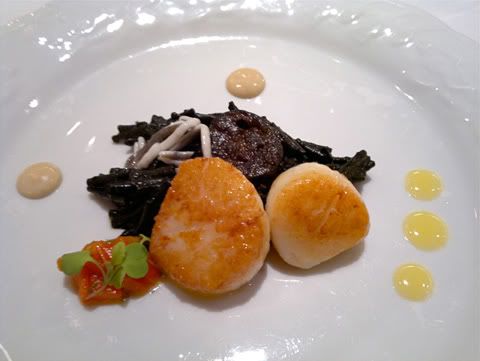 It also did nicely with the chorizo-touched
Seared Scallops & Fiduea Negra
...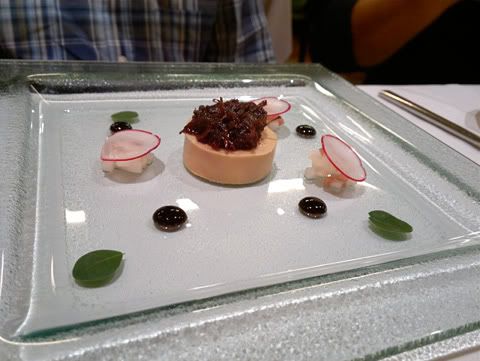 ...and the youngest's
Foie Gras w/ Caramelized Adobo
.
The salad course (below), which we had
sans
wine, was an entertaining montage of shapes, colors, textures and flavors, each component either running or contrasting with the others.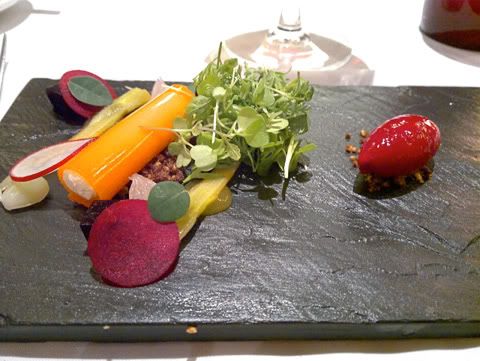 The evening's red wine was a quietly complex, cedar, violets, warm asphalt and dark mineral nuanced
1994 Château Pichon Longueville Comtesse de Lalande
from second's birthyear.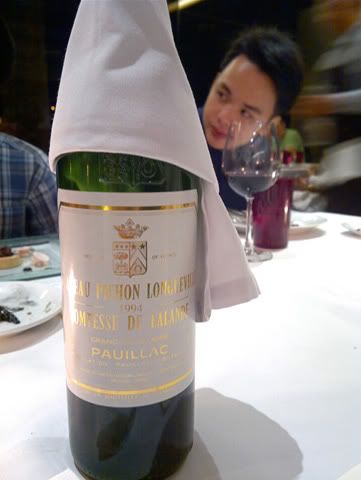 To my mind, vintage 1994 is an under-appreciated year for Bordeaux, unfairly and pre-maturely judged by many. Many bottles I've had over the past 3-4 years have shown that there are, indeed, gems from this misunderstood year, the subject wine and those of Châteaux Haut Brion, Angelus, Vieux Château Certan and Léoville Barton, to name a few, included.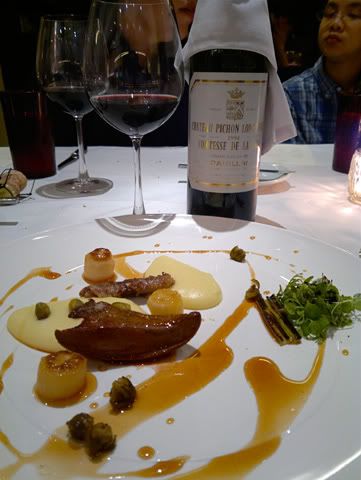 The wine's notable depth and velvety dark fruit married well with our respective main courses of
French Pigeon
(above) and
24-Hour Steak
(below), buttressed by the former's firm structure and fine, age-resolved tannins. Its balancing acidity and clean lines gave good cut to the rich dishes; its cedar-violet finish gracefully lingering nostalgic.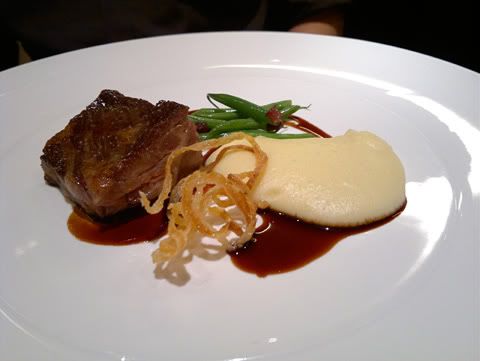 The desserts of
Rhubarb Parfait
...
...and the striking
Chocolate Surprise
were simply beyond reproach.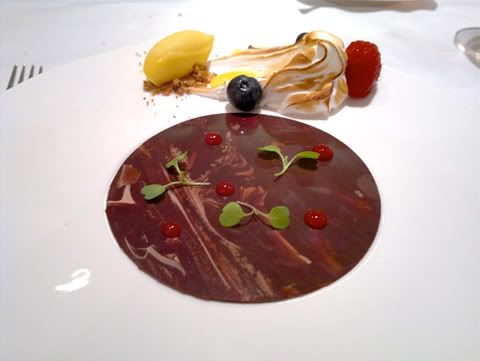 Though I've enjoyed many dinners by these young chefs, this last one showed more creativity, studied technique and precise, polished execution than ever before. The children very much look forward to their next meal here, as do Catha & I.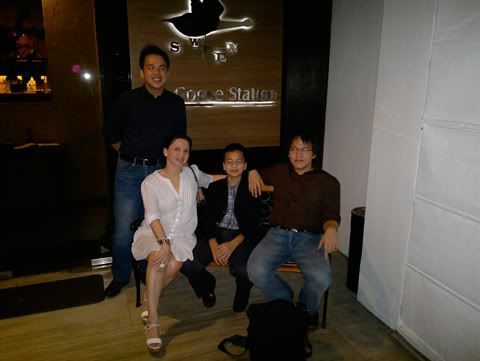 Until the next!