Last night's dinner (29th July 2011) was hosted by Henry & Nicole Morris at their home, to welcome back Yuan & Yanna Ongpin who, after 14 years in northern California, are finally back to stay. I've known Yuan, Apa's brother, since he was a teenager in prep school back in the early '80s; he'd hang with our Ateneo college group while he was in Manila during breaks. It was a great gathering of old friends, and I got to meet some new ones as well.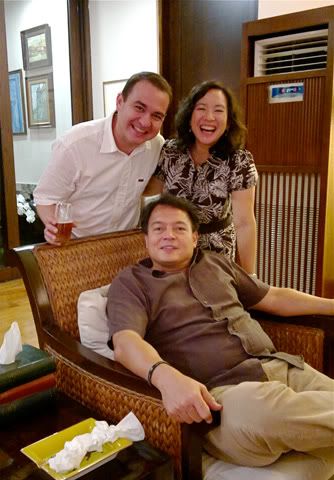 The evening's hosts, Henry (seated) & Nicole, with Yuan.
Yanna was camera shy that night.
Henry (right) is a longtime friend and also a classmate since our freshman high school days, while Mauro (left) I met through Apa around the same time I met Yuan. We had a lot of fun and crazy times back then. I've aways liked Mauro's name and so used it for my eldest son - well, also because I expected my eldest to be dark like me ("Mauro" is derived from "Moro" or "Moor") - but it didn't really work out as I expected.
These days, Catha and I see Nicole (right) much more often than we see Henry; mainly because Nicole is also very much into wine and we are at the same wine functions every once in a while. Both Catha and Nicole are members of the International Wine & Food Society Philippines Ladies Branch, of which Nicole is a director and officer.
Nicole had mentioned the menu beforehand to Catha, so I knew that she would be serving some
Bryan Flannery Steaks
(distributed locally by Doc's brother, James; one can order by e-mailing sales@jaricmarketing.com or call 898-1371/76 or 09175446875 during business hours).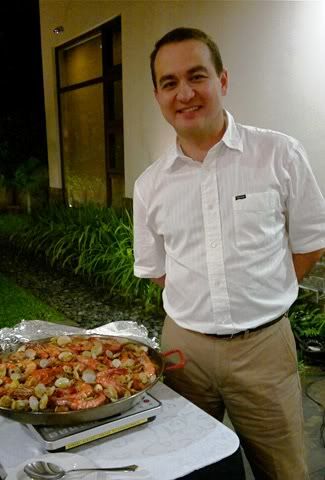 Aside from getting to see Yuan & Yanna again, I was highly anticipating getting to try the paella that Yuan had threatened to cook. Now, I trust Yuan and his capabilities and our hosts assured me that Yuan knew what he was doing - but I brought along some alka seltzer anyway just in case.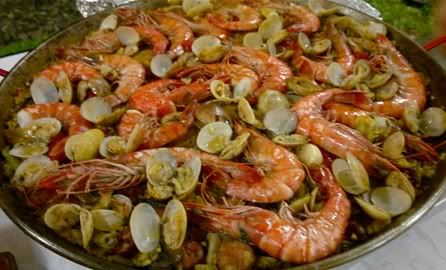 Well, as it turned out, the
Paella a la Yuan
was truly excellent - the flavors deep and harmonious. It had a lot of clams which was a huge plus for me as I happen to love paella with clams. Yuan has evidently learned a lot in SF. He is proud of his paella and, to my mind, has every good reason to be. My alka seltzer baon remained unused.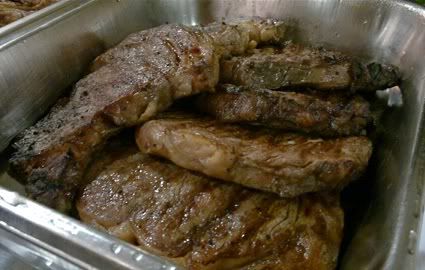 The above-depicted
Bryan Flannery Steaks
were perfectly executed by Nicole - no gussying up, done a notch or two under medium-rare, the way I like my steak. We agreed that beef of this quality should be treated with respect, to let shine on its own merit. Excellent, excellent stuff - best execution of Bryan Flannery's beef I've had. Nicole certainly did great justice to the fine meat.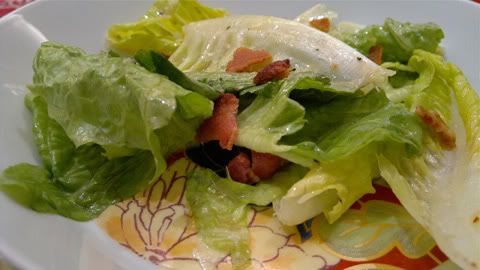 Dinner proper began with a nice, crisp, clean, fresh salad to start - one that made me feel less guilty for what more was to come.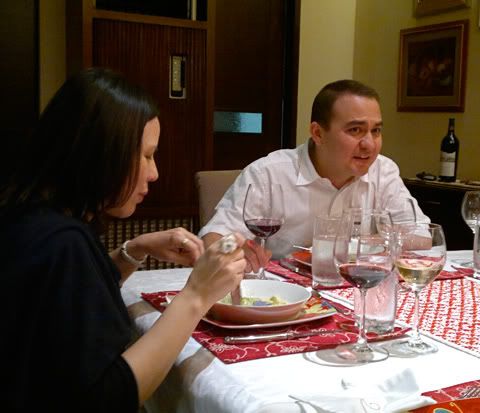 As I always say: "Salad muna para healthy".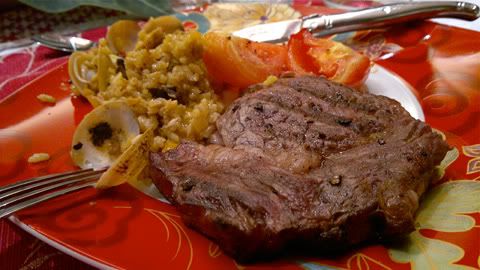 This was just my first serving. I went back for more, of course.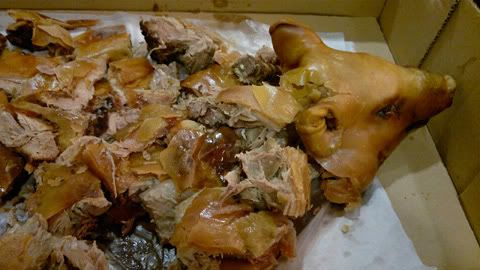 There was a Calalang
Lechon de Leche
as well - which was good as always.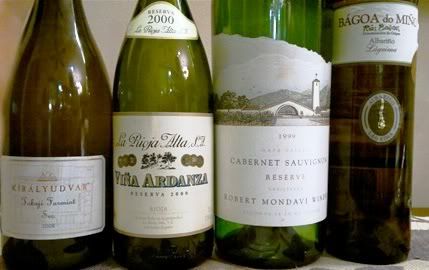 As to the evening's wines, with the pica-picas we started off with some
2008 Domaine Királyudvar Tokaji Furmint Sec
- bottles from the Stockbroker; a wine I enjoyed
during a mid-May lunch at Masseto with the domaine's proprietor, Anthony Hwang
. My notes at the time, still applicable now, were as follows:
I have virtually no experience with dry Hungarian furmint secs, save for the broad, masculine and overtly oaked 2003 vintage of Vega Sicilia owned Oremus Mandolás Tokaji Sec which I paired once with raclette. The subject furmint sec, in contrast, is notably svelte, crisp, purer, cleaner and evidently very well-focused with dry white peach, white florality, hint of white grapefruit and an alluring cold, wet stone nuance. Lean, clean, dry and pure, it also has lip-smacking, appetite enhancing acidity. More complex than one's usual summer wine, this is perfect for our weather - all two seasons of it. Nice.
With dinner proper, after the salad course, we moved on to the
2000 La Rioja Alta Viña Ardanza Reserva
- two bottles courtesy of the Stockbroker.
During my tasting/meeting with La Rioja Alta's Technical Director/Winemaker Julio Sáenz
in early April 2010, Julio mentioned that Viña Ardanza is his "pet project", preferring the use of the French barriques of
Tonnellerie Francois Frères
. I've written a few times about this wine, my most recent formal notes (as opposed to anecdotal mention) on the occasion of
the Manila Gentlemen's Club's 2nd dinner by Chef Carlo Miguel
. My notes at the time were as follows:
[T]he 2000 La Rioja Alta Viña Ardanza Reserva was, by all accounts, the clear star of all the evening's reds. I found this comparatively the most expressive and giving - presenting immediately captivating aromas of sweetish balsamico, cedar, bit of a minty topnote, well-ripened and concentrated loamy black cherry, hint of kirsch, dark raspberry, bit of blackberry, slight cinnamon, vanilla and licorice. Robert and Richard also commented that this was their favorite red of the evening.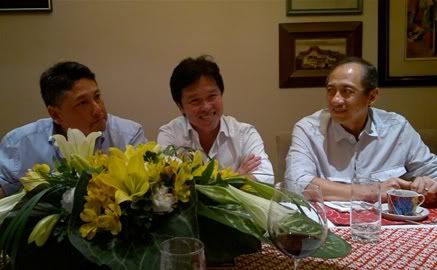 Mauro Agustines, Willy Ocier & Rene Ongpin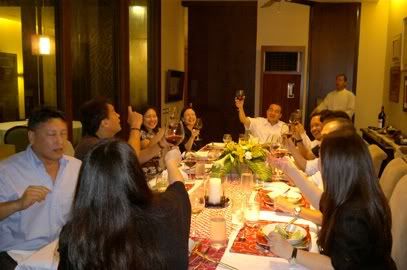 ¡Salud!
For the opulent steaks, I brought along a magnum of
1999 Mondavi Cabernet Sauvignon Reserve
- a wine I had just early this month
during a dinner at home with Miguel, Rene, Enky and our better halves
. My 3 week old notes (save that the chocolate notes were more pronounced in this bottle) are still applicable:
1999 Mondavi Cabernet Sauvignon Reserve (Magnum)

- My bottle. I got a couple of magnums of this during the wine auction of Futuretrade/Forth & Tay. I've always favored Mondavi Cab Sauv Reserves. Full bodied and velvety, the crème de cassis and ripe black cherry were nicely soft, complexed by seamlessly interwoven notes of sweetish pipe tobacco, bit of a minty topnote, anise, cedar, violets and a whisper of chocolate. This reinforced my general fondness for Mondavi's Napa cab reserve (certainly better balanced than the 2003 I had not long ago). I'm glad I have more of this. Definitely nice with the steaks.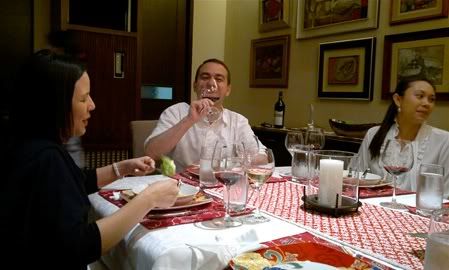 Nicole had laid out an array of desserts, including, among others, her
Home-Made Chocolate Lava Cakes
and
Apple Pie
by Tessa Ong (who happens to be Catha's first cousin on her mom's side). Alas, but I was far too full to indulge any further. The palate was willing, but the stomach was weak, having over-loaded on the steaks and paella.
Conviviality was certainly in no short supply.
Above, the Stockbroker laughs it up with Mariana Yulo.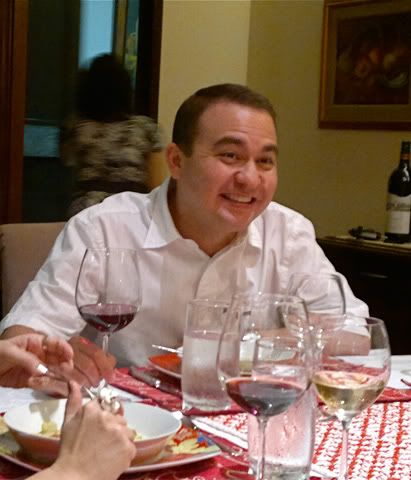 Paella Boy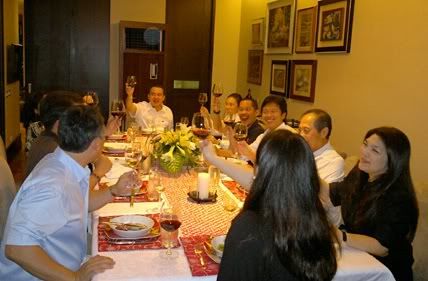 It was a most enjoyable evening. Many thanks again to our gracious hosts for the hospitality and magnificent meal. Welcome back Yuan & Yanna; I very much look forward to the next!