Had a tasting lunch today, the 27th February 2013, at
Elbert's Steak Room
, to test the pairing dishes for La Commanderie de Bordeaux Manila's Château Malescot St-Exupéry event. In so doing, I got to taste (well, more than a taste, we finished the bottle between the two of us) Edouard's...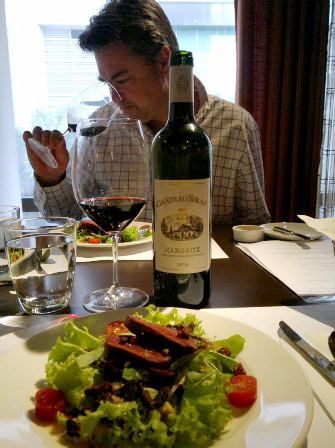 2010 Château Siran -
Rich, fleshy and well-polished, showing an open nose of warm asphalt infused cassis (very Margaux appellation to me), licorice, spicy red berries, hints of dried herbs. Past mid-mouth and through the finish, the spicy red berries are joined by nuances of vanilla/oak and cinnamon. A bigger, riper, more powerful, savory rendition of Siran, but retaining its Margaux typicity and hallmark petit verdot spiciness. Broad, big-boned, open, generous, muscular, expansive, full-bodied.
Pretty good show. Quite different from his 2009 vintage, but, I think "Vive la différence" well applies. Young, of course, the wood notes to integrate well in time I'm quite certain (materially less toast to the oak barrels per Edouard). I'd like to taste this again in 5 years just to see how it is coming along.