Why it took me so long to write about this wine event, I really don't know. I suppose I felt it extremely difficult to do justice to JC's always instinctively artful and brilliantly complex cooking paired with Sr. Pablo Álvarez's legendary wines. In any event, here goes.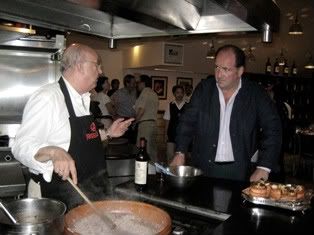 JC de Terry and Sr. Pablo Álvarez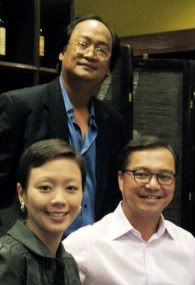 During discussions on Spanish wines, be it those from Rioja, Ribera del Duero, Priorato, Toro or lesser-known areas, those of the Álvarez family's Vega Sicilia are always spoken of with great respect and, at times, even a touch of awe. Most all authorities consider it the best of Spain by far, and they are, in all probability, on point.

In the latter part of 2007, JC mentioned that he will, in the future, be hosting a dinner in honor of Pablo Álvarez, Vega Sicilia's Director General. Months later, on the 10th April 2008, the dinner was held and I, together with some friends, were fortunate enough to have been in attendance: Doc and Mrs. Doc, Bernie Sim, Robert Burroughes, Miguel Vecin, Chris Lozano, Eric and Cinthy Recto, Alfred Wieneke and Ricardo Po. Also present were, among others, Endika Aboitiz, Marcus Gfeller, some members of the diplomatic community, and, naturally, the de Terry family.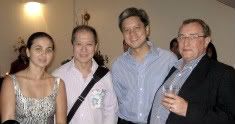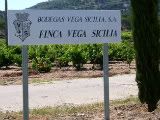 The evening began with glasses of
Mandolina
(an apt, summery drink of white wine and fruit - JC said they never called it "Sangria" back in Spain), we had
aperitivos muy complejos
of
Sorbete de Mango Verde a la Hierbabuena y Joselito Gran Reserva
(Spearmint Infused Green Mango & Joselito Gran Reserva Sorbet),
Nido de Cangrejo y Quisquillas/Crema de Anchoas al Armagnac
(Baby Shrimp & Crab Nest/Anchovy & Armagnac Cream),
Caramelos de Besugo y Cecina de Léon/Alioli de Arbequina
(White Snapper & Cecina de Léon Candies/Arbequina Alioli) and
Salmis de Caracol de Campo al Mandolás
(Salmis of Escargot & Mandolás).
After a while, we were finally seated, and the feast proper began.
~ oOo ~
With "
Romance de Pato y Vino
" (Pear-Truffled Foie Gras Drizzled with Oremus Late Harvest & Dark Chocolate Duck Bonbons):
2002 Oremus Tokaji Late Harvest
- I've written on this recently,
served it at the last Manila Gentlemen's Club dinner, paired with Blackberry Clafoutis with Sauce
. As previously stated, a product of Vega Sicilia's large, early 1990s investment in Hungary:
At the risk of over-simplification, a "lighter version" of Tokaji Aszu,
nicely viscous, but nowhere near as dense, thick or heavy. Nicely balanced
candied apricot (dominant), a bit of ripe peach, hints of candied orange rind,
marmalade, botrytis and tangy spice. Bright enough acidity so as not to further
weary the palate.

Excellent sweet-and-savory pairing. The wine's fine balance and lift made the marriage both luxurious and refreshing.
~ oOo ~
With "
Por Tierras de Burgos
" (Creamy Arborio, Morcilla Crumble and Piquillo Pepper Foam):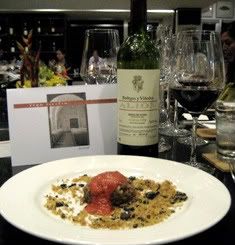 2004 Bodegas Alión Reserva Tinto
- With 18 hectares of tinto fino (what they call tempranillo in Ribera del Duero), this bodega's maiden vintage was in 1991. The Reserva Tinto is only one wine produced by this bodega, no white or crianza or anything else. Only 100% new French oak is ever used - rare these days in Spain where many use a lot of less expensive American oak - but, then, if anyone there can afford 100% new oak barrels all the time, it, obviously, would be Vega Sicilia. Barrel ageing is 16-20 months.
The few vintages of Alión I have had (2001, 2002 and this 2004) are hedonists' wines in that they have all been luscious, relatively forward, nicely curved, well-rounded, expansive, with lowish-acid, modern, stylish and always pleasing characters. They are also consistently well-crafted.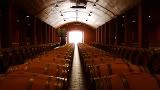 The new oak makes for lightly toasty/creamy vanilla nuances in the nose and mouth (more apparent in the 2001 vintage). There is good depth to the macerated blackberries, dark fruit, red berries, with touches of mocha, licorice and cedar. Full-bodied, big but molten tannins, long and confident finish. I looked it up just now and see that Parker gave this a score of 96. I am not surprised at all. This would surely do well in blind tastings.
~ oOo ~
With "Sabores Míticos de la Ribera del Duero" (Braised Lamb Shank Tinted with Valbuena and Fuentesaúco Orchard Medley):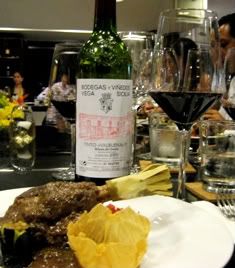 2003 Vega Sicilia Valbuena 5º - I've written many times throughout my blog that 2003 was a very hot/roasted year for France that challenged winemakers in Bordeaux, Burgundy and Alsace who wanted to maintain good balance and make typicity/expression of terroir shine through this vintage's somewhat overly-influential characteristics. Said challenge was also generally presented to the winemakers of Italy and Spain as well.

Despite such vintage and the use of 50% new American oak in its barrels, it is a ringing testament to Vega Sicilia's winemaking skills that this wine presented its terroir quite well - which, in my experience, is rare for 2003s.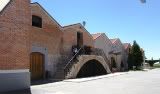 This, unlike many 2003s, did not shout out the over-ripe, super-roasted characteristics in its (surface) red berry, cherry, red fruit dominated palate. Its vaguely minerally dark fruit, cassis, black coffee base was tinged with dried herbs, light pepper, and, more towards the back, eucalyptus, and violets. The new oak adding some heft and telltale vanilla and mocha mid-mouth. Surprisingly (despite the use of new American oak), this, to me, felt more expressive of terroir than the previously discussed Alión.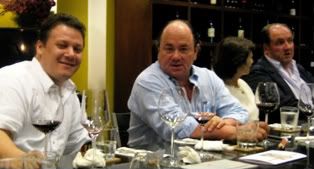 ~ oOo ~
With "
Un Queso Ancestral para un Vino Único
" (5-Year-Old Manchego in Rosemary Soufflé with Prune Mornay):
1996 Vega Sicilia Único
- This was an obvious choice for the red wine of the night. I'm sure that nobody there present would disagree. It's depth, complexity and structure were what struck me the most. Both serious yet vibrant, extremely masculine yet very refined; after 12 years, it has decades of life ahead. Earthy cassis, blackcurrant, violets; with slight, pure strawberry/raspberry highlights. There are also nuances of cedar, leather, iron and, towards the rear, whispers of dried thyme and menthol - violets and cedar trail on the long finish.
I also detected truffle and animal notes, but I'm not sure if those those came from the wine or the aged Manchego soufflé's pungency (maybe both, in varying degrees). Either way, the pairing was a study in earthy indulgence and contemplation.
As I savored this wine, trying to commit every detail deep in memory, I kept hearing JC's voice in my head saying: "Typicity, typicity". A contemplative wine, indeed. One to ponder life's mysteries over.
~ oOo ~
With an astounding dessert named "
De Tokaji a Manila
" (Mango and Aniseed Marquis with a Mangosteen-Infused Honey Coulis and Ginger Dust):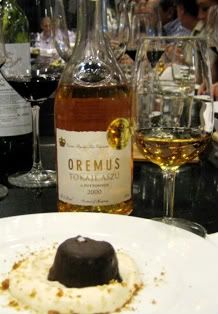 2000 Oremus Tokaji Aszú 6 Puttonyos
- Intense, opulent, typical flavors of candied apricot (dominant), orange marmalade, orange rind (more of an undertone), lots of vanilla, crème brûlée. Richly botrytised, mildly tangy/spicy, nicely layered. An absolutely decadent wine.
That said, the dessert itself was every bit a match in indulgence and intricate complexity - as the Vigneron says, JC is really an artist with his food. I recall there were actually three kinds of ginger that went into this dessert - one of which (not seen in the picture because it was enveloped in the marquis) was miniscule bits of ginger confit which were aged for a year.
While I do enjoy good desserts, I can't remember ever before having one so complex as to be considered contemplative - this one was. Exquisite. Truly Inspired.
¡Bravo, JC y Sr. Álvarez! ¡Un millón de gracias por todo!
Note: Credit for the photos of Vega Sicilia go to JC de Terry.