Last night, the 4th December 2014, some of the guys and I eagerly braved Metro Manila rush hour traffic to congregate at Brasserie CiÇou for Cyrille's Lièvre à la Royale (literally: "Hare in the Royal Style") - so named because (although many stories abound) it is said that the dish was concocted for France's King Louis XIV (a.k.a., Le Roi-Soleil or "the Sun King") when he, because of persistent
dental abscesses, demanded a dish fit for a king that was easily chewed.
Anyway, whatever its true origins are, this is, indeed, a dish fit for a king; and, having had it several times in Cyrille's former Restaurant CiÇou in Makati, I knew it was fit for us.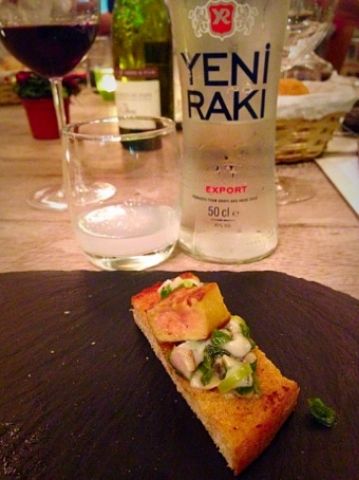 I arrived a bit late from Makati, so the guys were already making headway into some appetisers (herein of foie gras) and Sanju's bottle of Yeni Raki - a very popular brand of raki, which is Turkey's version of the French pastis, the Greek ouzo, etc. It tastes pretty similar to me - a nice, bracing, easily intoxicating, liquorice/anise reminiscent apéritif.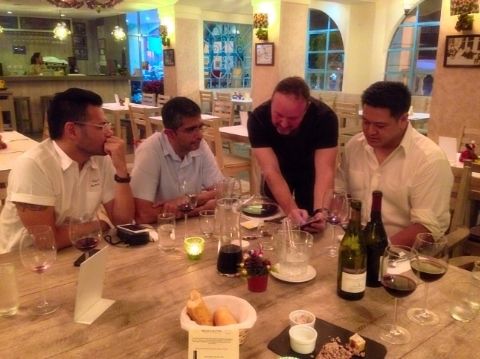 Cyrille shares some photos...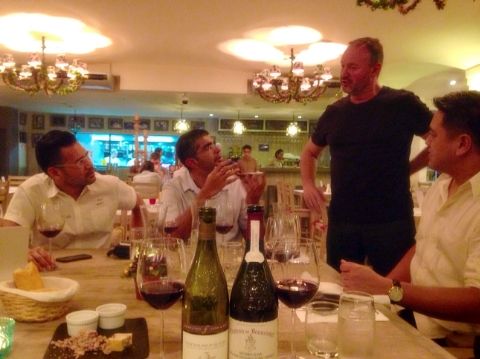 ...entertains questions...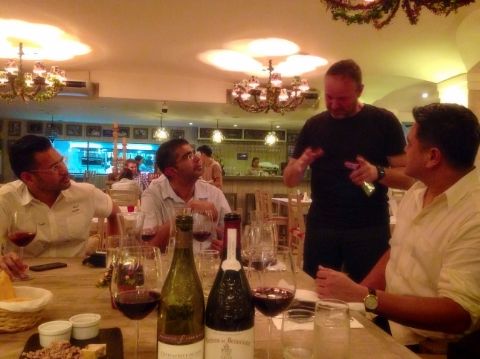 ...and animatedly elaborates on the ingredients and preparation of lièvre à la royale. In the meantime, the first 2 of 4 bottles of Châteauneuf-du-Pape ("CdP" hereinafter) had already been opened and poured: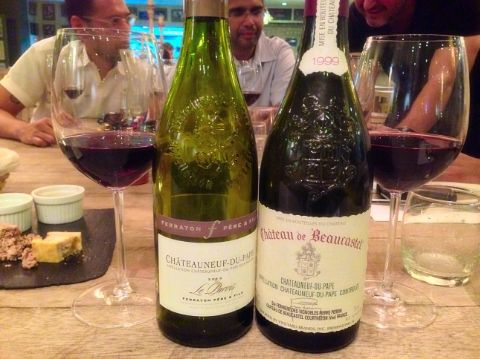 2010 Ferraton CdP Les Parvis
- Alex's bottle, ordered from the restaurant's wine list. Sleek, neat, a rather polished, medium-bodied, decently structured CdP showing nice grip. The middle is decent, and the persistence/length quite acceptable. Predominantly grenache judging from its colour, flavour (quite "grapey"), weight, and frame. Sparing pinches of lavender and thyme. There must be little mourvèdre and syrah in this blend, as the meaty/gaminess our group looked forward to with the wild hare was absent.
That said, there is good typicity in this. I cannot fault this wine in any significant way, but, that said, it was a bit too light, polite and "correct" for the rich, earthy featured dish. Likely still way too young as well.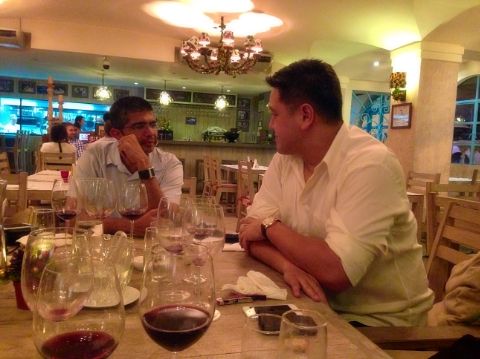 Alex & Sanju discussing the 2010 Ferraton CdP.
1999 Château de Beaucastel CdP
- My bottle. This was more like it. Materially bigger and heftier than the previous wine, this showed more depth, ripeness of fruit, and complexity. Moreover, the meaty-gamey-sanguine-iron notes were there, with a dose of
garrigue
, but in good moderation (nb., at 30+% mourvèdre in the blend). Notable balance, concentration, and good length. Nowhere as big as its vintage 2000 or 2001, but that's not a bad thing at all for me. Good show.
After the appetisers, I alone had a soup course (the French Onion Soup, of course), and we went straight to the evening's raison d'être.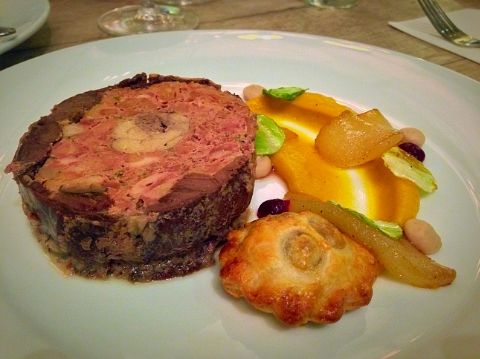 Initially served naked (sans the sauce).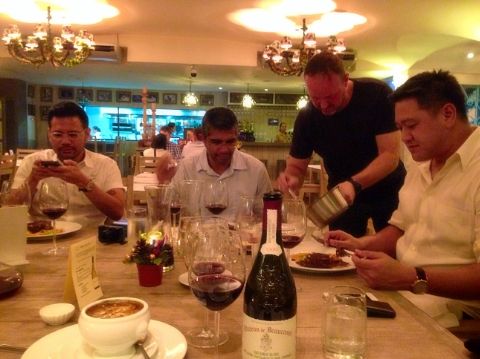 Cyrille anoints the dish...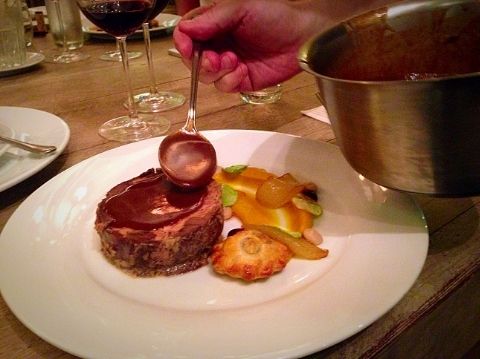 ...with the requisite sauce.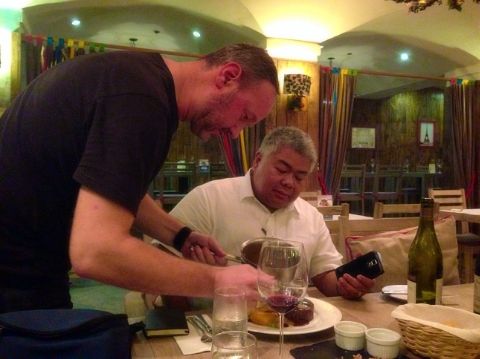 J-Lab, rushing from a late meeting, caught up just in time.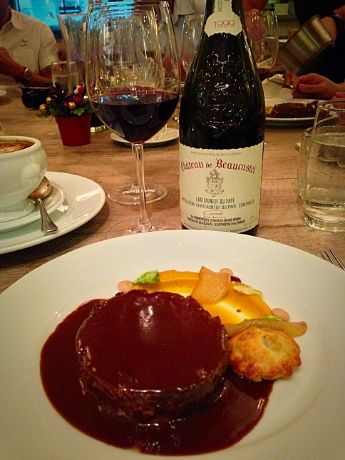 Voila - Lièvre à la Royale!
I won't bother trying to discuss the painstaking, time-consuming preparation, the ingredients (other than that the wild hare's blood plays an important role, as do foie gras and truffles, among many others), not to mention the depth of knowledge and skill needed to make this dish. I will tell you, though, that it is a rich, indulgent, slightly gamey heaven of a dish.
There isn't much left at Brasserie CiÇou, so, if you've a mind to try it, best hurry - and make sure to bring along a nice Côte-Rôtie, Hermitage, or CdP while you're at it for maximum enjoyment.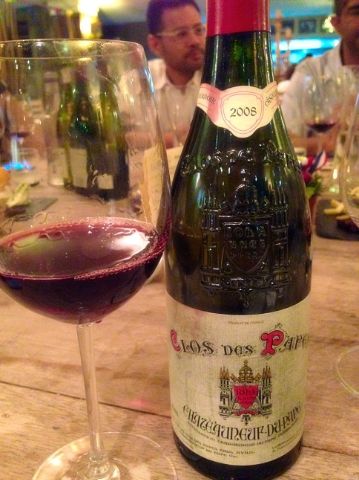 2008 Clos des Papes CdP
- Paul's bottle. Rich, somewhat heady, comparatively soft, somewhat creamy, sweetly ripened/raisined fruit, notable concentration, rather full-bodied. There seemed to be a bit of a maderised theme to it, and a somewhat chewy mouthfeel as well. Surprisingly open, precocious and giving at only 6 years from harvest.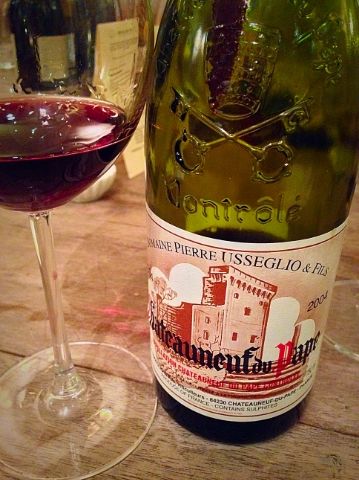 2004 Pierre Usseglio & Fils CdP
- J-Lab's bottle. Wow, here we go, baby! I found this to be raunchy, profane, wanton, shameless...in short, this was a bastos wine - and I loved how it gyrated with the wild hare. Meaty, sweaty, animal and old leather notes blended seamlessly with the fleshy, yielding ripe fruit. Big-boned, unabashed - like a wild boar running through the forest. At that point in the evening, a bit of kabastusan was, indeed, a welcome shift. This was my favourite wine to pair with the featured dish, shouldering my '99 Beaucastel aside unapologetically.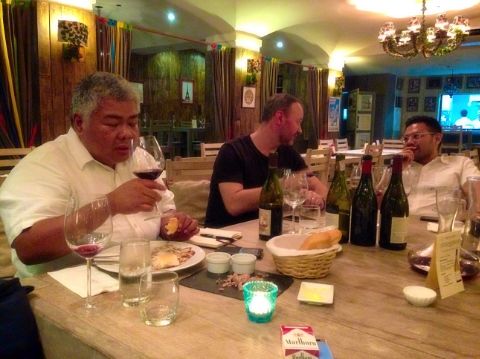 J-Lab contemplates the aromas as he mops up the last
of the hare's rich sauce with CiÇou's patented baguettes.
A couple of cheese platters with which to finish off the reds.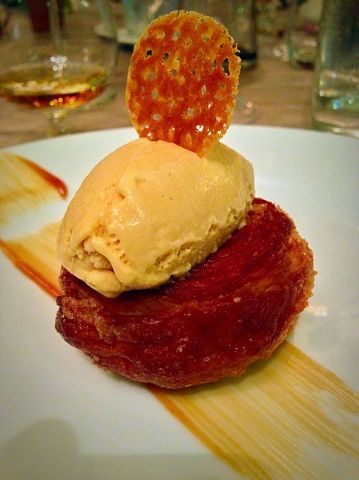 Dessert was, of course, Cyrille's iconic
Kouign Amann
with Salted Caramel Ice Cream
. One cannot leave Brasserie CiÇou without having this for dessert - it's simply not done I tell you. Excellent as always. I've tried some other local renditions of this pastry (read: trying-hard, 5th rate copycats), but none even come remotely close. Truth is, even the "designer" kouign amanns in Paris do not please me as much as this does.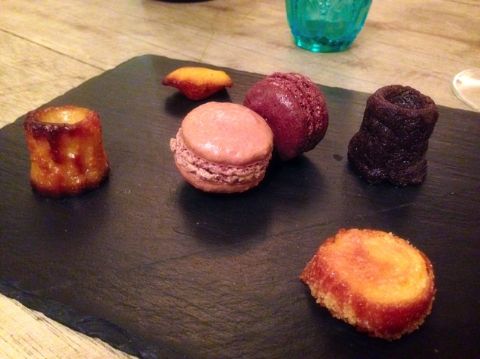 We also had some of Cyrille's signature
mignardises
, mandatory for my family and I whenever dining in Brasserie CiÇou. With them, a nice, and much needed, espresso.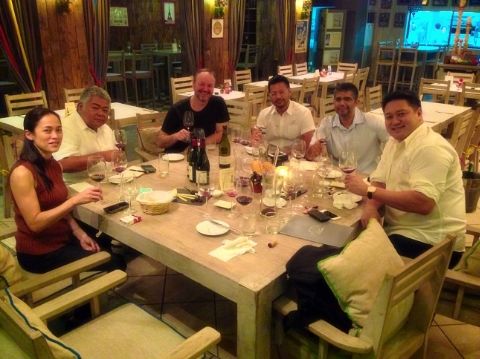 Anna joined us later in the evening for some glasses of wine,
marc
,
raki
, and even a beer. We planned future dinners as well, including Cyrille's much awaited annual rendition of Babette's Feast. After profuse thanks to the Soenens, some of us (i.e., Alex, Sanju, & I) headed off to
Elbert's Cigar & Whiskey Lounge
for some
puros
and nightcaps...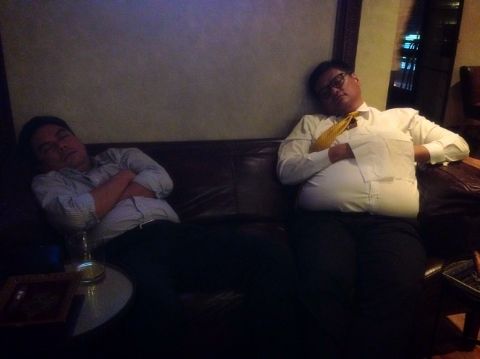 ...where we chanced upon a couple of friends/regulars catching some winks on one of the leather couches - prompting Alex to urge Elbert to charge them AirBNB rates for sleeping in the lounge.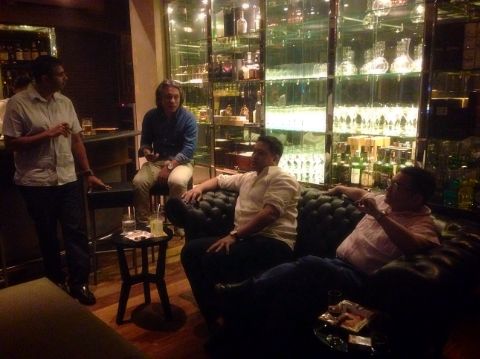 Sanju, Elbert, Alex, & Jack
It
was
a wonderful evening all around, but, the flesh was weaker than usual. Thus, after just one double of my usual Tesseron Lot 53 XO Perfection, and a Partagas Serie D No. 4, I tore myself away and headed back home before I got too sleepy. Great night as always, guys! Until the next!