Manila Blind Bordeaux Challenge IX finally took place Friday night, 9 May 2008. The reigning king was the Doc who won the last Challenge with a superb '96 Cos d'Estournel. Pressure was on me this time as I was the last one with only one win under my belt (Edouard with 3 wins, the Doc and Stockbroker with 2 each).
Back at the traditional Challenge venue of Old Manila, we started off with
Moët & Chandon Rosé NV
from the Doc and
1997 Jacquesson Rosé
from the Stockbroker. I do like Moët's rosé NV: a clean, compact, linear, charming and disarmingly simple dry bubbly rosé. The Jacquesson is marginally fuller with more depth to its fruit and a more pronounced middle. Both were most welcome aperitifs, especially after a hot and humid summer's day.
After appetizers (I had an exceptionally good French onion soup to start), the reds came out. Before all else, I must state that, from the outset, everyone declared this to be the most difficult challenge yet, with all the wines of exceptionally high caliber. With my main course of excellent duck breast and confit:
Wine # 1
– For me, unquestionably the best bouquet of all right off the bat: A seductive, exquisitely perfumed mix that to mind called sweet cherry and raspberry liqueur infused with sweet Spanish cedar. There were mild truffle notes at first which faded to the background after several minutes; otherwise, the bouquet held well over the evening's span. In the mouth, it was on the slightly heavier side of medium, its cassis base delicately laced with kirsch, sweet tobacco notes, dark spice and traces of dried thyme. Incredible balance.
By bouquet alone, without having even tasted any of the wines, this and Wine # 4 were, to me, the two contenders for best wine. Several passes didn't change things. I eventually ranked this the best wine of the night.
Wine # 1 turned out to be the Stockbroker's
1994 Château Haut Brion
.
Wines # 2 & 3
– The Doc and I noted that these two broodingly dark wines were somewhat similar. Both, to me, performed like rich, ripe, earthy, masculine, truffled, full-bodied Médocs from the mid-90s. The Doc noted Wine # 3's more apparent tobacco and leather notes and its comparatively fuller body. I felt that Wine # 3 was better knit, had interesting ripe fig notes to it, a marginally better nose and slightly more complex; so I ranked Wine # 3 as the third best of the night and Wine # 2 as the fourth best.
Wine # 2 was the Doc's
1996 Château Montrose
.
Wine # 3 turned out to be my
1982 Château Gruaud Larose
, a most generous albeit undeserved gift from NSF, a very good friend.
The Stockbroker, Doc, Edouard, Sevrine and I commented later on how very young the '82 Gruaud seemed. This has at least 20 years more in it.
Wine # 4
– This to me had the second best bouquet of the night as well as being the best in the mouth. It was also the most visually attractive to me: exceptionally pure and clear, a regal medium red with a red-orange blush. It looked to be an old wine, but I couldn't guess how old. The Doc noted its medium body and definitively declared it the oldest wine. I loved its mouthfeel: an ethereal pure silk on the palate, a softly truffled elixir of red currants, dark cherry, violets with trace essence of cedar. Stunning wine, it was a textbook in elegance.
Deciding between this and Wine # 1 was a Herculean task at best, but I eventually ranked this wine the second best of the night.
It turned out to be Edouard's
1961 Château Pichon Lalande
. Again, many noted how young and fresh this wine was despite its almost 47 years of age. What a rare treat!
In summary,
my own ranking
was:
1st Place
– Wine # 1, the Stockbroker's 1994 Château Haut Brion;
2nd Place
– Wine # 4, Edouard's 1961 Château Pichon Lalande;
3rd Place
– Wine # 3, my 1982 Château Gruaud Larose; and,
4th Place
– Wine # 2, the Doc's 1996 Château Montrose.
Collective Results
:
As usual, Sevrine tallied the scores and announced the night's ranking. It was a close fight: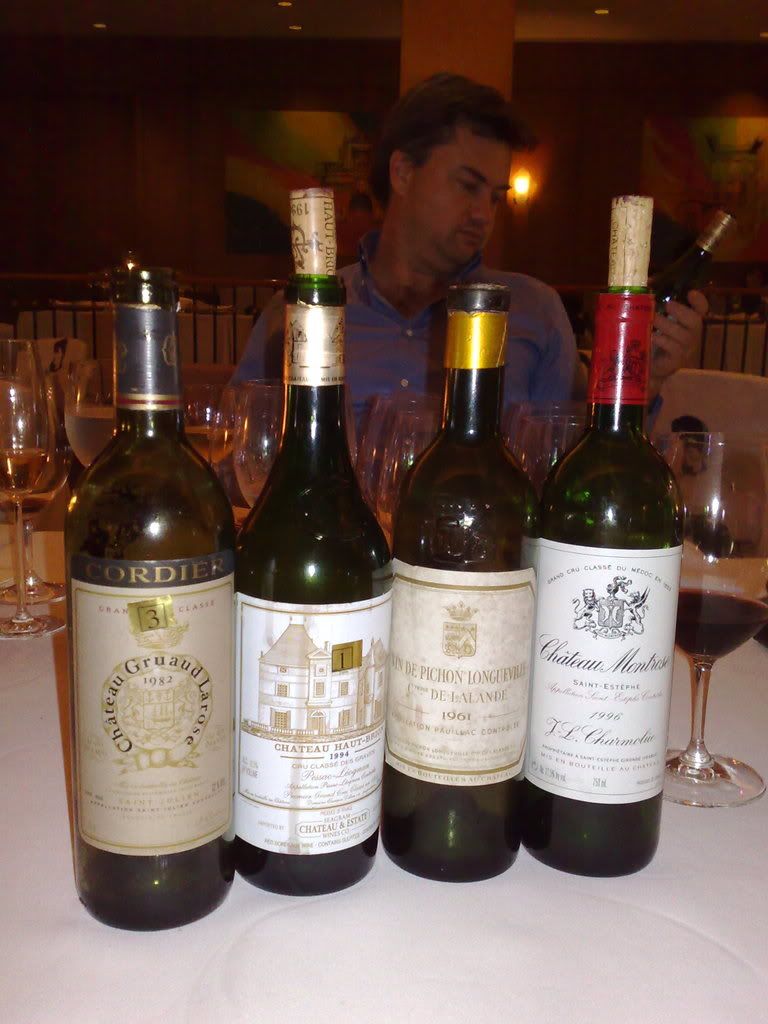 1st Place
– Wine # 3, my
1982 Château Gruaud Larose
with a total of 24 points, including 4 votes for first (my wife's, the Stockbroker's, Mrs. Stockbroker's and the Doc's).
2nd Place
– Wine # 1, the Stockbroker's
1994 Château Haut Brion
with 21 points, including mine and Mrs. Doc's votes for first.
3rd Place
– Wine # 4, Edouard's
1961 Château Pichon Lalande
with 18 points, including his own and Sevrine's vote for first.
4th Place
– Wine # 2, the Doc's
1996 Château Montrose
, separated from Edouard's score by one, with 17 points.
My wife's votes were matched the collective ranking exactly.
Needless to state, I was more than a little relieved to get my second win in our group's Blind Bordeaux Challenge. Bravado flooding back, I couldn't help pointing out that I also currently hold the Blind Non-Bordeaux title so I am now the undisputed champion of the world (as far as our little group is concerned, anyway).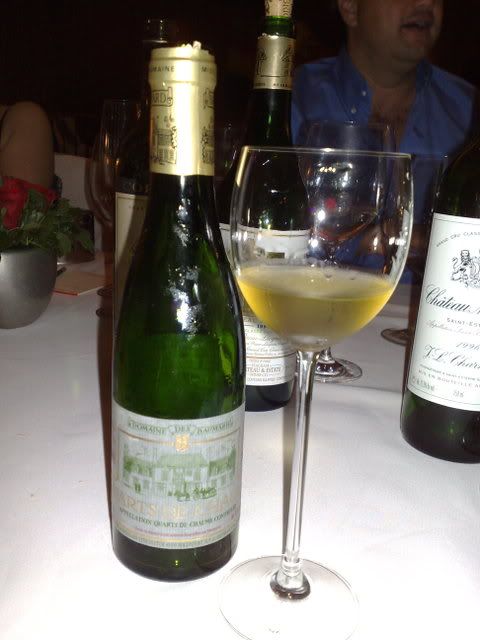 Victory was made even sweeter by the Doc's
2002 Baumard Quarts de Chaume
, a vibrant, minerally wine with dominant honeyed apricot, pineapple and peach primaries, hints of straw, a steely backbone underneath the stone fruit and exceptional balance of sweetness and acidity.
Many thanks to the generous donor of my winning wine, and to Edouard who was the one who selected it for the former as my gift.