This past Tuesday, the 27th November 2012, through Elbert's kind invitation, Catha & I and some friends were fortunate to have had a sneak peek at the soon-so-fully-open
Yushoken Ramen
at the Molito Mall, Alabang. In our group, we were eight in all: Sanju & Cutie Gopaldas, Matt & Chinkee Koppe, Cyrene de la Rosa, Alex "El Demonio" Tiu, and Catha & I.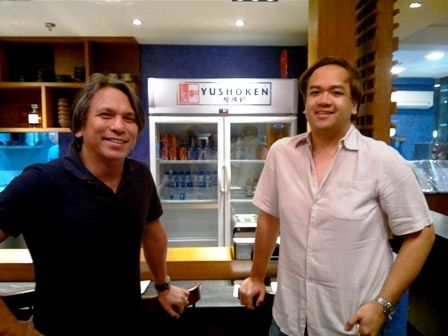 Yushoken partners Elbert Cuenca & Ryan Cruz.
The partners seem to have left no stone unturned, from the typically Japanese highly specialized, compact ramen house menu (in collaboration with and under the guidance of Koji Tashiro, a disciple of revered ramen master Yamagishi Kazuo), to strictly no-shortcut pork leg bone-based broth, among many other details - Elbert showed
hindi lang siya pang-steak, pang ramen pa
.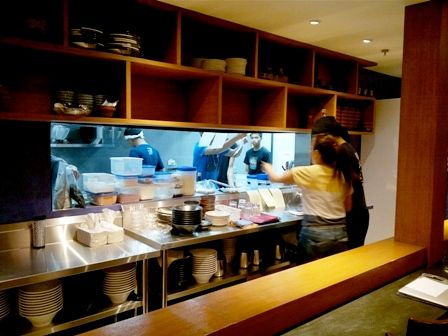 The staff busy at work.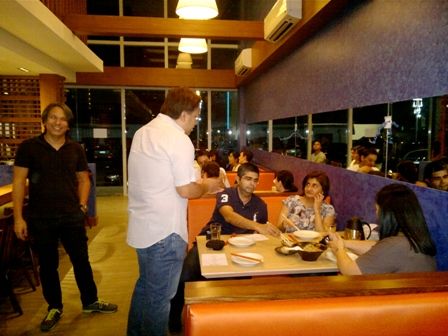 Recommendations by Elbert & Ryan.
Aside from the ramen on offer, the menu includes typical ramen house side dishes such as the immediately above depicted
Aji Tamago
, a halfway-boiled egg marinated in a soy-based sauce. Per Elbert, ramen houses in Japan usually serve these already sliced, but he decided to allow his diners the pleasure of slicing for themselves.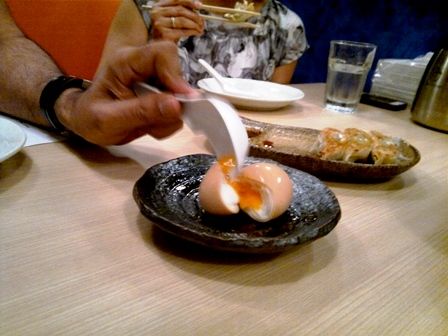 Sanju slices.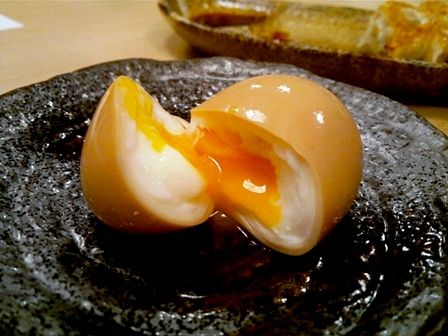 Sheer perfection.
The ubiquitous
Gyoza
is also on offer, but this is, to my mind, clearly a cut above the rest.
I do not really eat gyoza, but this one I liked (and had quite a few of). The dough is gracefully thinner than usual and has a nice crispness to it without at all being "makunat". The pork stuffing is surprisingly light-footed and well - but discreetly - seasoned. Very nice indeed.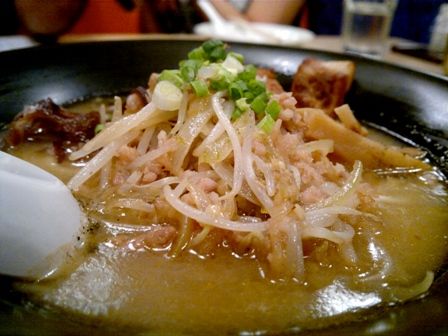 Miso Ramen
The Miso Ramen is more deeply flavored and complex than the run-of-the-mill locally available, yet, again, the distinctive traits are subtle and, I'd even say thought-provoking. The differences don't hit you like a ton of bricks (as that would be vulgar); rather, they emerge gently, surfacing more with each spoonful of goodness, with each chopstick-aided bite of the
al dente
noodles - and well they should. In this seemingly simple sounding and looking dish, no less than 7 different kinds of miso are used to achieve the desired balance of flavors.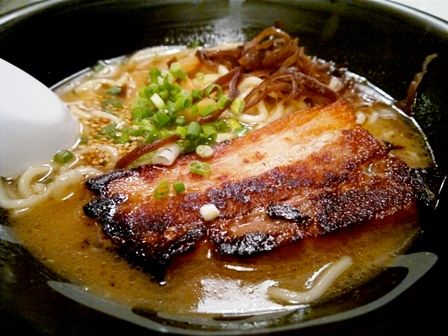 Shoyu Tonkotsu Ramen
The Shoyu Tonkotsu Ramen was one of my most favored of the night - the pork bone broth so deeply flavored but without being overwhelmingly or ponderously fatty. Truth to tell, the tasty viscosity is borne of the pork bones' gelatin rather than fat. The pork slab is tender and moist with good searing, lending a subtle smokiness to the luscious broth. All the flavor with less of the guilt. Lovely stuff.
In the meantime, Alex had arrived, naturally bearing bottles of alcohol - this time of
Kiuchi Brewery Junmaishu Saké
, a solid, reliable, very accessible and all-too-easily drinkable basic saké (55%-60% polished-down rice) - one of several by Kiuchi Brewery distributed by our drinking buddy, Jim Araneta, through his Global Beer Exchange.
Needless to state, with Alex's arrival began the first of countless "
iki
" (i.e., a Japanese imperative, when used in drinking, roughly meaning "bottoms up") toasts of the night. Elbert, having before witnessed both the speed, sheer volume, and alarming frequency of Alex's and Sanju's combined
iki
activities, wisely had his staff hide his bottles of Hibiki.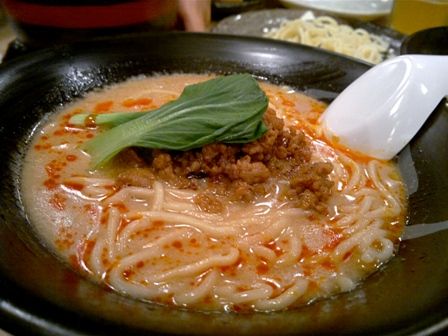 Tan-Tan Men
The Tan-Tan Men's broth's nutty sesame paste flavors are much more graceful and not as overwhelmingly oily or heavy as that of Ukkokei Ramen Ron. I mentioned to Cyrene that I liked this one much better than even 1 Michelin starred Din Tai Fung's in Hong Kong.
With Sanju, Cyrene, and I at the same table, I was a bit concerned about Cutie having to wait for photos to be taken before digging in. She assured me that, having been married to Sanju for well over a decade, she is already quite used to the blogsters' drill.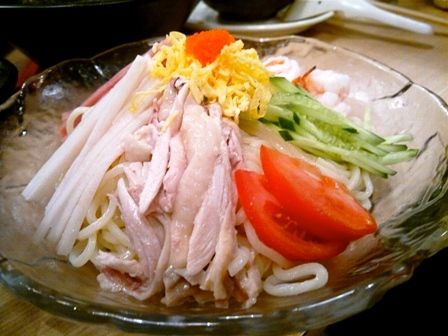 Hiyashi Chuka
The Hiyashi Chuka is a cold ramen that happens to be Catha's favorite ramen of all. I favor it as well, especially during summer - a bowl of hiyashi having saved my life once in the midst of a gruelingly hot day on the Riviera's Bernhard Langer course many years ago.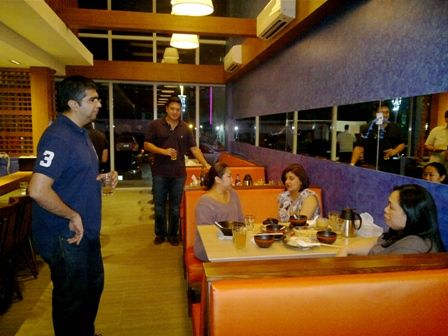 We were getting stuffed and had to stretch our legs every so often.
Gyokai Tsukumen
We also sampled two of the
tsukumen
(i.e., dipping ramen), one of which was the Gyokai Tsukumen. This was another of my favorites of the night, the fish based broth so rich and deeply savory. There were also small, tender chunks of enriching beef within. I'll surely have this, among others, again when I return with my sons. I'm sure they'll love this as well.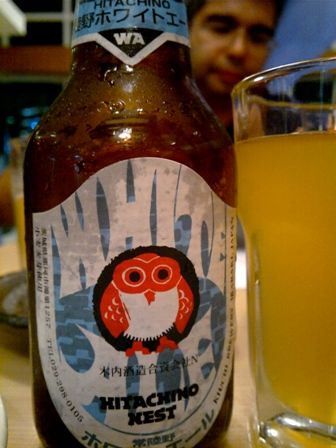 Kiuchi Brewery Hitachino Nest White Ale
Naturally, this being a Japanese meal, Sanju & I simply had to bring along bottles of our favorite Japanese white ale. We quickly and easily polished off our 12 bottles of these. Happily, this best seller of a Japanese ale shall also soon be available at Yushoken Ramen.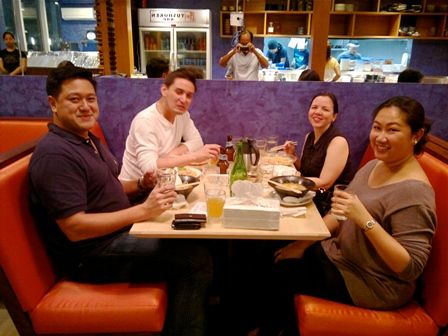 Smile! Say "Iki"!
Needless to state, Catha and I, and several friends also denizens of Metro Manila's southern suburbia, are ecstatic that we finally have a real-deal, serious ramen house in our proverbial backyard. I am certain that this will do great here. Thanks again and congratulations to Elbert and Ryan! Kampai! Iki! Until the next!