It was sometime in law school that I watched
Babette's Feast
(circa late '80s-'91). Over 20 years later, I watched it again in early December 2013, and, thereafter, on my Facebook page, wondered if I should try having this recreated in Manila (I'm not aware of this having ever been done here). Within a few minutes, Cyrille Soenen responded with a 3-word comment: "Let's do it!". Richard promptly seconded the motion, and so it was decided.
Planning, sourcing of the ingredients (some of which had to be brought in from France), making arrangements for the pairing wines (emulating those in the movie, but not the same vintages for obvious reasons), etc., followed, and, approximately 2½ months later, it came to fruition - the first (as far as anyone knows) Philippine recreation of the Babette's Feast dinner took place last night, Thursday, the 20th February 2014, at
Brasserie CiÇou
.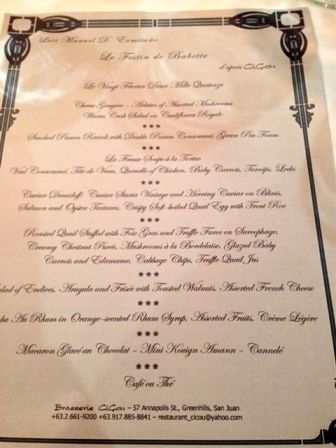 ~ The Menu ~
Anna Soenen had prepared a fine, long table on the dais, complete with crisp, white tablecloth, and personalized menus for each of the 14 lucky diners: Anna, Jean-Claude Robert Soenen (Cyrille's father, who kindly brought in the necessary ingredients from France), Pierre Paul Soenen (Cyrille's uncle), Christine Szamweber (Cyrille's cousin), JC & Mari de Terry, Clem Nieto (in town from California on his annual Philippine vacation), J-Lab, Alex, Richard, Sanju & Cutie, Catha & I.
Cocktails started at 6:30pm with chilled bottles of
Champagne Delamotte Blanc de Blancs
&
Champagne Krug Grande Cuvée
(from me), and canapés of
Cheese Gougères, Arlettes of Assorted Mushrooms, Cold Cuts, and Warm Crab Salad on Cauliflower Royale which paired particularly well with the Delamotte Blanc de Blancs.
I've written both recently and repeatedly about these two fine non-vintage bubblies, so no need to discuss them at this point.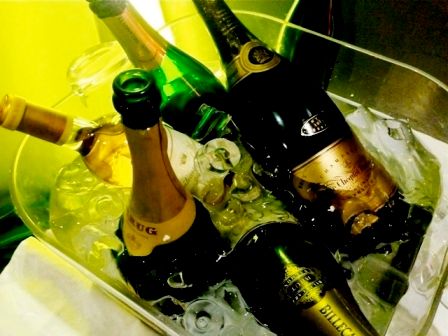 More bottles of champagne patiently await their respective turns.
Just a few of the reds on deck for the night.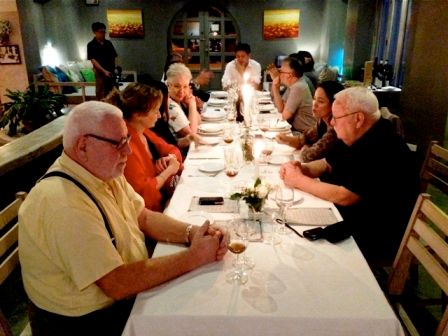 At table.
We began with Smoked Prawn Ravioli with Double Prawn Consommé with Green Pea Foam.
This was not from Babette's menu, but something Cyrille added for a more substantial meal - surely because he is well-familiar with our group's prodigious appetites.
Lovely dish, the flavors well-defined, and well-balanced. "Precision" came to mind. Lovely.
With this was paired 2005 Champagne Mailly L'Air Grand Cru - 2 bottles, from JC.
Pure, well-defined flavors of white mineral laced apple, bit of pear, with added, intriguing nuances of brioche, honey, and nuts. Notable freshness, liveliness, with a nicely rounded, pronounced middle. Very nice indeed, and I liked this clean, fresh pairing.
Babette's menu proper began with...
...
Soupe à la Tortue (Mock Turtle Soup) - Veal Consommé, Tête de Veau, Quenelle of Chicken, Baby Carrot, Turnips, Leeks. Superb. So clean, mildly earthy, subtly complex, and I loved the textures of the tête de veau.
We had this instead of the original menu's real turtle soup for 2 main reasons: (1) the 2 times I've had real turtle soup, I didn't like it at all; and, (2) the turtle needed for the recipe is protected by law. Well, and, I happen to think of turtles as pets, and even had a large pawikan as a pet when I was very young (it wasn't endangered yet; it was a gift from a late godfather who used to hunt).
This dish was paired, as in the movie, with an amontillado sherry - in this case, a delicious
Amontillado Emilio Lustau Almacenista Jose Luis González Obregón
-
2 bottles from J-Lab.
Dry, discreetly nutty, fair depth, nice weight, with precise oxidation; this glides smoothly on the palate with definitive presence. JC, who, more than anyone in this country, knows sherry, opined that it was "like a palo cortado approaching oloroso". Ok, I won't pretend that I know exactly what he meant, but my wife, who loves sherry, really liked it a lot (as did I). J-Lab, knowing Catha's fondness for sherry gave her the rest of the second bottle at evening's end. Thanks, bud! Much appreciated for sure!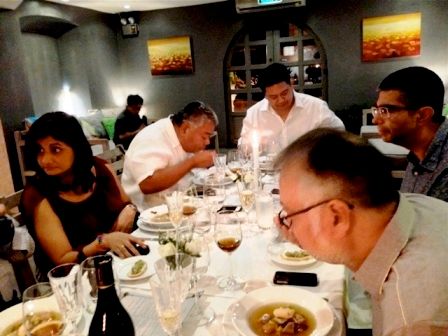 Silence falls as everyone gets busy...
...only the clicking of JC's camera and appreciative murmurs audible.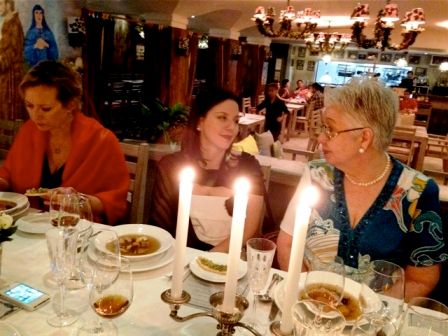 Christine, Catha, & Mari.
All ready and eager for the next course, I jokingly warned Richard (he works on Europe time) that anyone caught working on the phone that night would have to pay for everyone's dinner.
Caviar Demidoff: Sturia (i.e., Siberian Sturgeon farm-raised in Bordeaux) Vintage Caviar & Avruga on Blini; Salmon & Oyster Tartares; & Crispy, Soft-Boiled Quail Egg with Trout Roe
. A heaven of clean, fresh seafood goodness. This wonderful dish was paired with
1985 Veuve Clicquot Ponsardin Gold Label Vintage Reserve Brut
(Magnum)
*
- from Clem.
Remarkable freshness and vibrancy for a bubbly this age. Richly fruited and with fine, healthy effervescence; this is a nicely creamy, slightly biscuity champagne with notable ripeness of pear, apple, hint of yellow apricot, bit of lemon curd, further complexed with touches of honey, vanilla, and brioche. Hefty, ripe, confident, stylish.
*
The reason behind the choice of vintage 1985 was that it is 100 years after that of the cinematic dinner (nb., Babette started living with Martine & Philippa in 1871, and said dinner took place 14 years after), which dinner was to celebrate what would have been the sisters' late father's 100th birthday.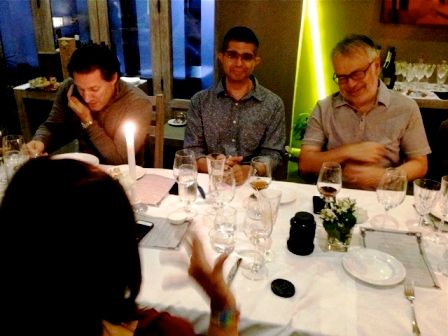 Chatting...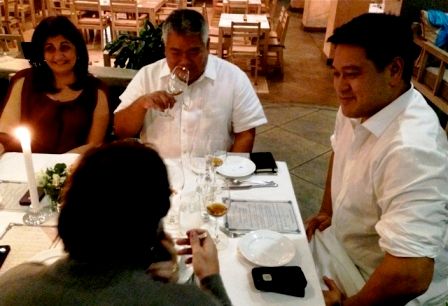 ...and sipping between courses.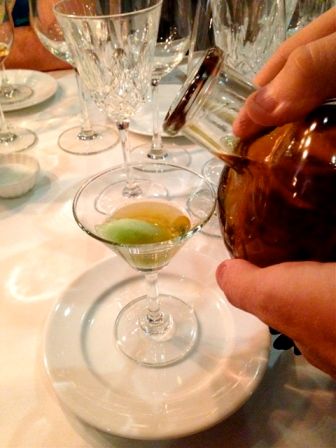 Green Apple Sorbet in Calvados...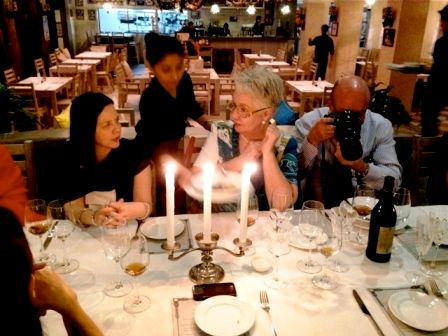 ...in preparation for the main course.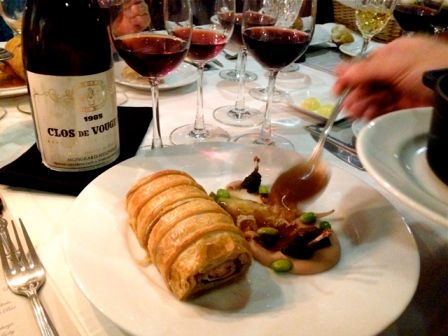 Some sauce applied...
...et, voila! Roasted Quail Stuffed with Foie Gras & Truffle Farce en Sarcophage, Creamy Chestnut Purée, Mushrooms à la Bordelaise, Glazed Baby Carrots and Edamame, Cabbage Chips, with Truffled Quail Jus. This was a true masterpiece, the enveloping pastry flaky and with just the right amount of structure, no sogginess at all, the quail perfectly seasoned, juicy & tender, the jus complex, deep, and harmonious.
One of the several pairing reds was 1985 Mongeard-Mugneret Clos de Vougeot - from me; decanted for around 20 minutes before serving, which allowed it to gain heft and open up, release its earthy, bottle-age sweetened bouquet. Medium-bodied cherry, raspberry, mild dark plum underneath, slightly minerally, with just the faintest whisper of leather and cocoa. Not much Burgundy decay surprisingly, and, rightly or wrongly, I expected more earthiness and middle heft due to its alluring bouquet. Medium finish. Not as complex as I'd like it. Nice enough as a whole, but nicer in the nose than on the palate.
Others, not in photo, were 2 bottles of 1995 Robert Arnoux Clos de Vougeot (from Alex & Sanju); a magnum of 1996 Alberic Simounin Savigny les Beaune (from Cyrille), and 1996 Château Giscours (from Cyrille). He also generously opened and offered a bottle of 1991 Château Margaux, but I thought that it would be best he enjoy that with his family.
The
1995 Arnoux Clos de Vougeot
was more masculine and concentrated, with more pronounced, deeper/darker fruit and a heftier middle than the older '85 Mongeard Mugneret Clos de Vougeot at this point. The former's structure also seemed a lot sturdier, and the finish was definitely longer. All that, with touches of dark spice called Vosne-Romanée to mind for some reason.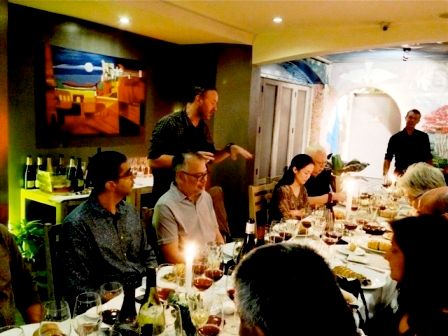 Cyrille discussed the main course...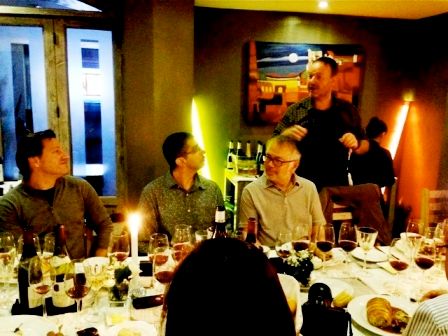 ...explaining his own twists to Babette's Caille en Sarcophage...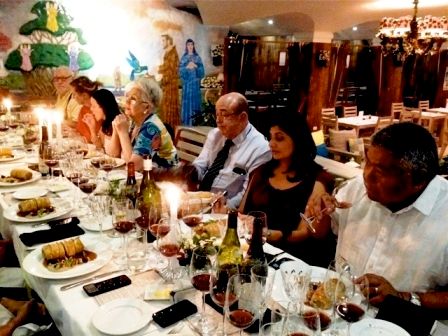 ...as everyone listened intently.
Salad of Endives, Arugula, & Frisée (para healthy!) with Toasted Walnuts, & Assorted French Cheeses. For this was paired a 1989 Couly-Dutheil Chinon La Baronnie Madeleine (Magnum) - from me.
I loved the crisp, fresh endives (I rarely get them here) and greatly enjoyed my salad; and, though cheese courses are not the highlights of my meals, I did particularly enjoy this one for some reason. Unfortunately, because I was so engrossed with the salad, cheese, as well as with taking photos and chatting with my friends, I don't recall much of the pairing wine. I guess that just means I have to open another one soon.
Dessert was an excellent
Baba au Rhum in Orange-Scented Rhum Syrup with Assorted Fresh Fruits & Crème Légère. Obviously, a very high quality rhum was used in this. Very graceful, flavor-packed, but lightly dancing on the palate. Loved it!
Undoubtedly the best baba au rhum I've ever had. Enough said.
Naturally,
a
s in the movie, the baba au rhum was paired with Marc de Champagne, in this case, Billecart-Salmon Marc de Champagne Réserve des Caves (from J-Lab)...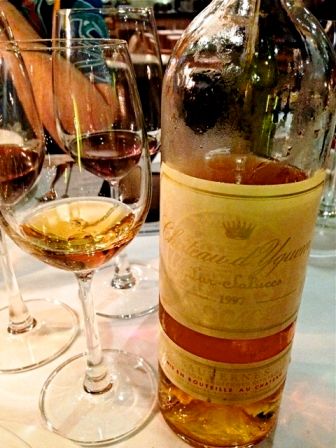 ...plus a bonus 1997 Château d'Yquem (from Clem).
The marc de Champagne was robust and powerful, but its finish played nicely with the baba au rhum's flavors. The 1997 Yquem I've had many times in the past, but not in the last 4 years (not that I can recall, anyway). This was in fine form, though not as intense or sweet as I recall (Cutie remarked that she liked that it was not too sweet). Forgive me, but, by that point, I was just too "happy" (as my wife put it), and enjoying myself too much to make specific mental notes of the wines.
Surely, the excellent dishes, wines, and company brought about such warm conviviality, so much laughter and joy of life, that all geeky wine thoughts were left behind - which is absolutely fine. That is what it is all about, after all.
Excellent job, Team CiÇou!
Cyrille then shared with us a very special bottle of vintage 1968 Bas Armagnac (his, and as it turned out, also Sanju's birthyear)...
...the bottle. as I understood, given as a going-away present from Cyrille's friends when Cyrille moved to the Philippines...signed by his friends...
..., and, much later on, by Anna and their daughter Cassandra. Many thanks again, Cyrille, for sharing such a special bottle with us.
Anna with father-in-law, Jean-Claude Robert Soenen. Many, many thanks again to Monsieur Soenen for sourcing and flying in the dinner's ingredients all the way from France!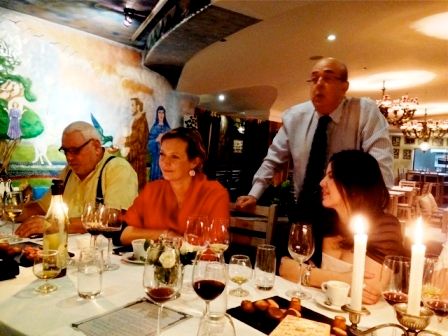 JC took the floor, and, in fluent French, made some closing remarks.
The evening's delights, however, were far from over, as we lingered long over some fantastic
Mignardises of Macarons Glacés au Chocolat, Cannelés, Mini-Madeleines, and, of course, Mini-Kouign Amanns.
It was a magnificent night - one I shall always cherish and remember. Many thanks again to Cyrille, Anna, Team CiÇou, and everyone else who generously shared their efforts, wines, and precious company. Surely this will not be the first and last recreation of Babette's Feast in Manila.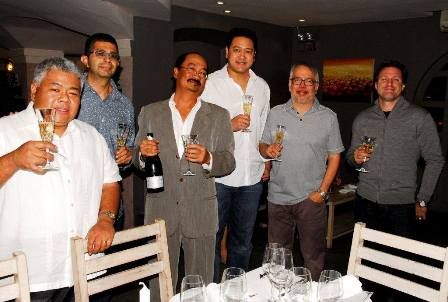 Until the next!