This past Monday, the 19th January 2015, was the last of the long holiday of the Pope's Philippine visit. Catha & I decided to have merienda-cena at
The Black Pig
and have a bit of wine as well (
n.b.
, both wines may be purchased on retail at the Bacchus Épicerie). Anton joined us a little after we had settled in on the outside couch seating so I could have an early evening cigar*.
*
The owners of The Black Pig are friends of ours, we almost always hang out with them there when they are around, and we are there quite regularly. At all times, I pay for whatever I order, save on the odd occasion when Carlos happens to be experimenting on a new dish or two and wants my opinion on the same - so I get to taste some prototypes once in a while.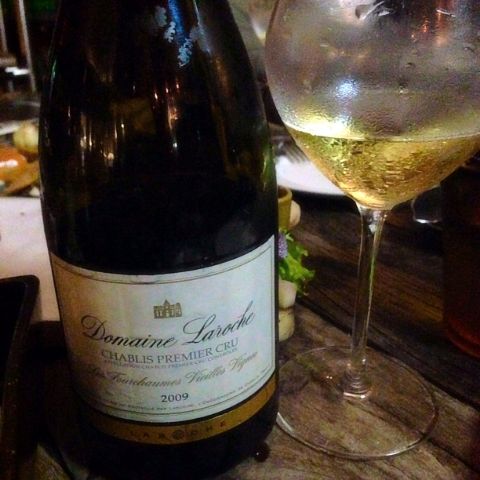 With a platter of
Jamón Ibérico de Bellota de Jabugo
, we started on a bottle of
2009 Domaine Laroche Chablis 1er Cru Les Fourchaumes Vieilles Vignes
which Catha wanted to try out. My notes then were as follows:
[B]road, deeply veined ripe fruit, notably round, lemon curd, baked apple and pear infused with rich minerality, mild cold stoniness, and discreet leesiness. It's one of the richest, ripest and most indulgent Chablis I've ever had. Undeniably pleasing, but not really Chablis as I know it.
I add that it is around medium-bodied, with a more than decent persistence. As stated, it was quite nice, and we three certainly enjoyed it. That said, most likely because of the vintage, I doubt I could have identified it as a Chablis if I had it blind - which goes into typicity, which I particularly look for in any wine.
Would I buy it again? Oh, yes, definitely. Would I pair it like I would usually a 1er cru Chablis as I know it? No, I wouldn't, but that's just me. I'd probably treat it more like a good white from the Côte de Beaune. With the two below depicted dishes (both usual orders of ours), we eventually finished off the night's white.
Seared Scallops w/ Grapefruit, Chorizo & Chicken Jus
Veal Sweetbreads w/ Charred Onions
Thereafter, 4 cheeses from the house's Cheese Selection...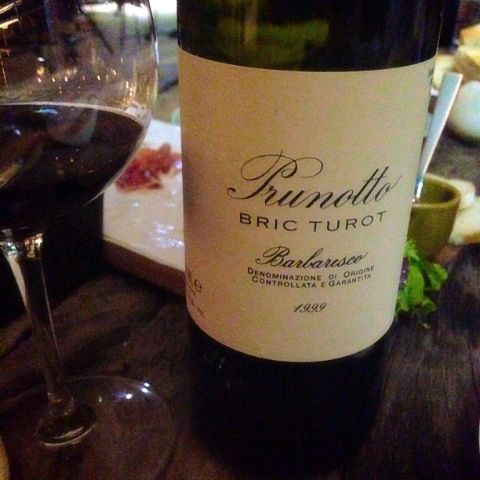 ...which we enjoyed with a bottle of
1999 Alfredo Prunotto Barbaresco Bric Turot
. I wrote about this very recently, as follows:
My bottle. Nice rose, vanilla, violets, cedar, and sweet berries in the bouquet. Several notches over medium-bodied, sleek and silky, a bit of tar, leather and dried herbs in its dark fruit. Neat and moderately polished. Good length. Its acid balance gives good balance, with enough cut for the steaks. Alex liked this more than the succeeding wine. This is actually one of my go-to locally available Barbarescos - one that I usually bring to Mamou Too! for their rich, dry-aged porterhouse and rib-eye steaks, as well as to L'Opera for their large T-Bones.
As stated, I've been opening and enjoying many bottles of this over the past year. I add now that, with a bit of slow-ox and breathing in glass, it is warm and comforting, nicely ripe, and possesses pleasing breadth. If I had to nit-pick, I'd probably say it could use a bit more focus, but, that said, I'm not complaining at all. This was a particularly nice bottle - well, either that, or it was the relaxed, unhurried ambiance and/or the company. By then, Berna & Carlos had joined us at table (Steve & Tricia had left earlier).
That was it for wine that night, since both Catha and I would be at the office the next day.
I did, however, have a bottle of complex, refreshingly hoppy
Lagunitas Little Sumpin' Wild Ale
to finish off the evening. The Black Pig, by the way, carries a nice selection of both local and imported craft beers which one can enjoy with a good selection of pica-picas.
Lovely evening, guys! Until the next!