Once Christmas hits, I tend to focus much more on eating than drinking, to my waistline's great prejudice. This Christmas season was no exception. Allow me to share a few shots of the food over those days...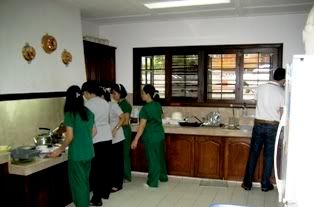 25th Christmas lunch was with my wife's family as usual at the Banzhafs' house. Mrs. Doc organizes the food - and always in my favorite manner - i.e., good and way too much of it. That's the only way to go in my book. Serving good food in barely enough amounts is almost as bad as serving bad food (in any amount).

Mrs. Doc requested that I make the pasta Doc likes so my wife and kids went ahead while I finished up assembling it. The kitchen was bustling by the time I arrived, the Doc (partially hidden on the right) attending to the wine.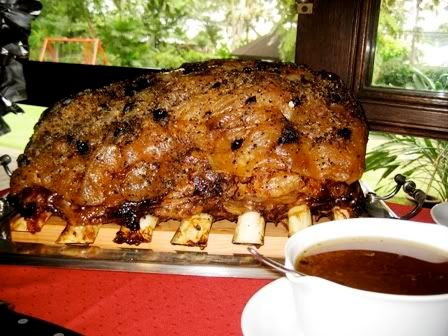 An 11-kilo rib-in US Angus Roast from my mom-in-law, made by her cook. Absolutely, sinfully good.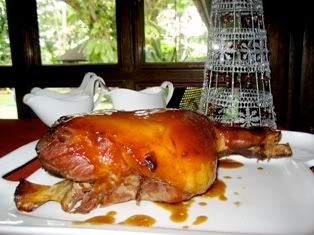 The obligatory Christmas Ham.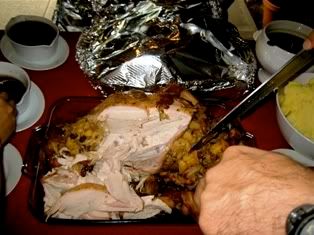 Juicy and tender turkey as only Ken can make it.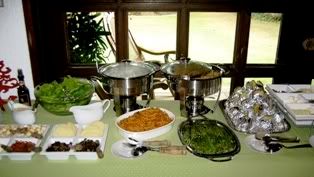 An assortment of salads, starches and "healthier" sidings that I ignored - except for the pasta I made, of course. I enjoyed the roast beef and pasta with a bottle of the Doc's...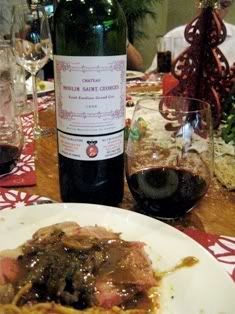 1998 Château Moulin Saint Georges
- This is probably the first time I get to try a wine from this grand cru château from St-Emilion, owned and run by the same Alain Vauthier of the much better-known and highly regarded Château Ausone (the only St-Emilion producer that can even come a little close to Château Cheval Blanc, in my opinion). 1998 was a stellar year for the right bank from whence this wine hails.
This had powerful, vaguely minty-cedary black fruit, juicy blackberry, black coffee and mocha dominating with underlying ripe black cherry and nuances of violets towards the back and in the finish. More push than depth on the palate especially mid-mouth.
The readily apparent (but finely infused) minty cedar reminded me of Pomerol rather than the softer, easier wines of St-Emilion - and I commented on this to the Doc. I wondered aloud if the vineyards are situated near the border of Pomerol.
Subsequent research showed they are not; rather, they are a few or couple of hundred meters away from the Ausone vineyards in the St-Emilion côtes. That, and the style of Ausone, would explain the relative power of this wine, which power and push were absolutely called for to pair well with the hearty roast beef and rich gravy.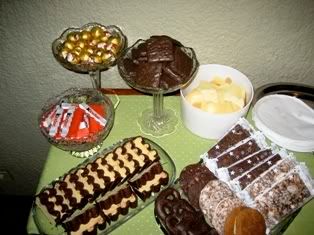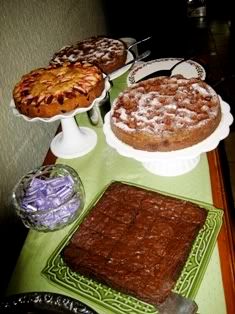 As one can see, there was a riot of desserts. I stuck with the Banzhaf family's traditional homemade German Chocolate Cherry Torte and Mrs. Doc's signature plum cake. Excellent.
Mrs. Doc also made me an unbelievably good sundae of mint-chocolate chip ice cream with dark chocolate sauce and thin, dark chocolate cookies on the side. I loved it and ate it so fast I forgot to take a picture of it.
~ oOo ~
25th Christmas Dinner
is always with my father at his place. It is was a small gathering this year - just 8 of us - as both my my sisters, my brother-in-law and niece, as well as our usual Christmas Dinner guests, are all out of the country this year.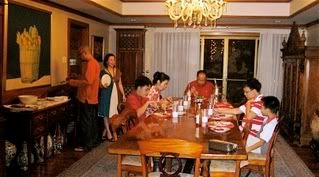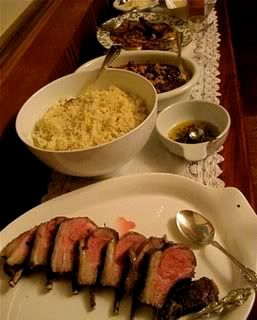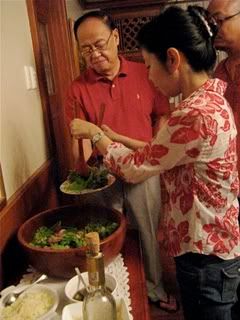 My brother, his wife and I all cook well (if I do say so myself, false modesty is not a trait that runs strong in my family) so we divided up the labor except for the Chili-Garlic Prawns -which my father's cook does pretty damn well anyway.
Hisako made the salad - arugula, assorted greens, edamame, thinly sliced raw ham, and I pan-seared some scallops to throw in it as well. This was served with a light dressing made by Hisako, but I don't know what she put in it.
I made two herb-encrusted (rosemary, marjoram, thyme and cracked black pepper) roast racks of lamb; my brother, Tad, made his pilaf. He always does this very well, and, I, again, have no idea how he makes it. All I know is he likes to throw in different kinds of nuts and, sometimes, small dried fruits in it.
I also made pan-seared
foie gras
with a reduction of
2003 Oremus Tokaji Late Harvest
and balsamic vinegar, using half the bottle for the reduction and serving the rest to pair with the
foie
. I prudently abstained from this course and accompanying wine (so no notes) since I'd just had a two-day run at
foie gras
at Je Suis Gourmand.
I do not know what they had for appetizers since I was in the kitchen most of the time - and couldn't really have had any anyway since I was so stuffed from the roast beef I had at lunch. I'm pretty sure it was some cheeses and sliced, dried sausages and ham, though. I also saw an empty bottle of Pinot Grigio brought in from the lanai just before dinner was served.
After my healthy, guilt-suppressing, yet more than satisfyingly flavorful salad course, I had some Chili-Garlic prawns, some pilaf and the lamb rack. Rummaging through my father's wine cav, I came across some
1997 Château Lascombes
- a 2nd Growth château from Margaux.
While 1997 is generally considered an "off-year" for Bordeaux, I've enjoyed, over the past year, several "off-year" wines that are currently drinking very well. Not super-ripe and/or roasted and sweetishly lush as favored by several professional reviewers - and all the more food-friendly for it (e.g., 1997 Château Grand Puy Lacoste, 1993 Palmer, 1994 La Mission Haut Brion, 1993 Batailley, etc.).
This wine was
very
good indeed, expressing well the typical perfume of Margaux in its bouquet and displaying elegantly reserved yet yielding cedar-laced cassis, earthy molten dark fruit, with a slight undertone of gravel, hints of leather and violets towards the back. Very nice with the lamb. I had none of it with the Chili-Garlic Prawns, of course.
There were a couple of desserts, some Mango Float from my wife's niece and some kind of cream-and-fruit torte from the Peninsula, but I didn't have any so can't really remember them that much. I just had fresh fruits for dessert.
~ oOo ~
We left for our father's beach compound the next morning, a liesurely 2-hour drive away, where we had a lot of food less elaborate and some good Médocs and nice Brunello di Montalcino, but they were very casually consumed - on the lanai, on the deck above where the boat and jetski are kept - aside from the dining table - so I just enjoyed them without taking any particular notes.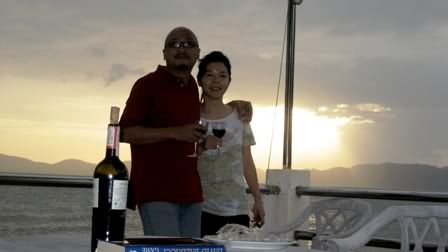 These few days were really just for enjoying each other's company, my sons bonding with their grandfather...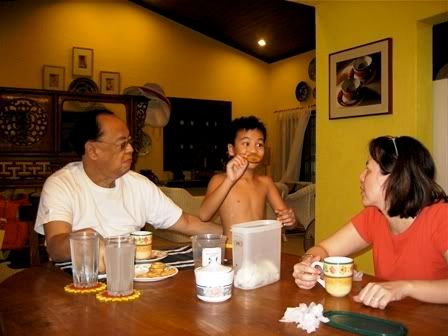 ...getting away from school, homework, tutors, the computer and television...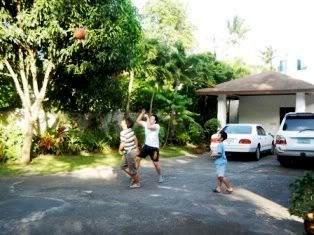 ...getting some non-academic education...
Not totally unmindful, however, I do recall that the
2006 Raimbault-Pineau Pouilly-Fumé
went great with some left-over Chili-Garlic Prawns, some fresh, lightly cooked Asian Prawns over baby Bok-Choi and the fresh catch-of-the-day roasted Dorado (a.k.a., mahi-mahi) that we had during our dinner of the 26th.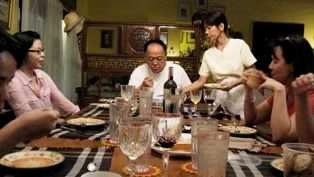 We haven't often been coming here as a family the past few years. We really should.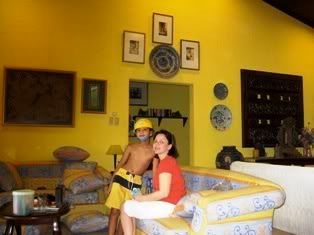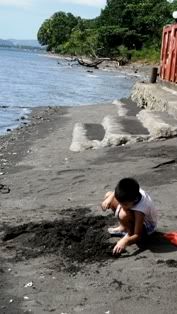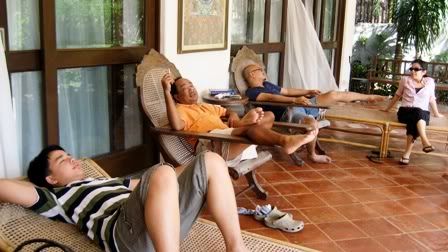 Fine dining and exceptional wines are, of course, a passion of mine. God knows I spend an inordinate amount of time and money on these pursuits.

At the end of the day, however, it is these simple pleasures that matter and warm the heart most of all.