Rocky & Apple, longtime friends based in Hillsborough, Ca, are in town as they always are for the Christmas holidays. Busy with their respective families' affairs, we had our usual Christmas dinner together a bit late this year, last night, Friday the 28th December 2012. Catha chose
Impressions
as the venue since Rocky & Apple hadn't tried it out yet, and because she wanted to try out Cyrille's pithiviers of wild French pigeon since I told her so much about it. It took only a text message or two with Cyrille, and we were all set.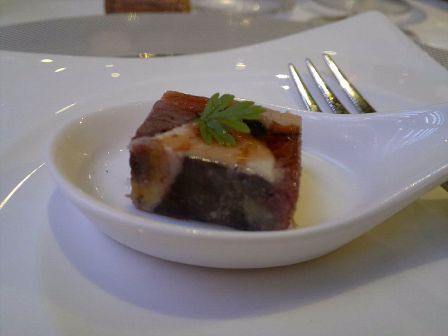 Amuse bouche
Our 1st course was Cyrille's signature Terrine of Duck Foie Gras & Unagi, Cubes of Aspic Lemon Confit and Red Cabbage Foam in Teriyaki Jam which we enjoyed with a bottle of 2005 Champagne Mailly
Grand Cru "L
'Air" - a gift from Juan Carlos & Mari de Terry (muchisimas gracias, JC y Mari).
This is the first time I've had anything from this producer - a cooperative of grand cru vineyard growers established at the end of the 1920s.
It's fruit (green apple, touches of pear and lemon, bit of underlying ripe grapefruit towards the back and in the finish) is markedly lively, fresh, and pure. The grapefruit emerges past mid-palate and extends through the finish. Its middle shows a vaguely milky pinot noir underbelly. Still very young, but already very enjoyable. Dry and lively, with brisk acidity, it did very well with...
...our
excellent 2nd course of Tartine Iodée of Sea Urchin, Scallops and Oysters, Assorted Cress, Sea Urchin Parfait in Cucumber Confit.
This, like the 1st course, is on the regular menu. Anyone who likes fresh seafood should try this out with a good, dry champagne. Lovely.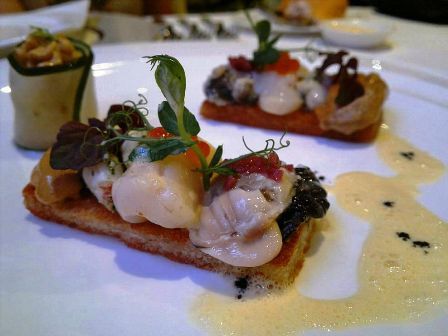 So good it deserves another close up shot.
The 3rd course is not on the regular menu, but something Cyrille devised earlier that evening and whipped up for us -
Seared Scallops with Black Truffle Spears & Chestnut Mousse
. As can be seen, the scallops were perfectly seared, with the black truffle spears adding a discreet earthiness and a bit of textural contrast.
With this I paired a bottle of
2001 Louis Jadot Puligny Montrachet 1er Cru Les Combettes
- A richer, riper type of Puligny Montrachet, it shows a Meursault-reminiscent nuttiness/
beurre noisette
to its rigid-backboned, somewhat forward, lightly spiced, ample ripe fruit. Acidity is moderate, sufficient (but not bright enough, to my mind had I paired it with the 1st course or with fresh oysters). The oak is moderate and well-integrated. Quite nice, actually - certainly one of the better 1er cru Puligny Montrachets locally available. Got this at Bacchus Int'l. I shall get more.
Our 4th (and main) course was of fowl - Cyrille's
Pithiviers of French Wild Pigeon & Duck Foie Gras with Asparagus Spears, French Morels, Chanterelles, & Truffle Jus
. Absolutely wonderful - a showcase of comfort, earthiness, heartiness and commitment to high-quality ingredients. Sublime.
With this earthy masterpiece, I paired a
1981 Vieux Château Certan
- Notable depth and somber power in its dark, properly ripe/concentrated midnight plum, dark raspberry and black cherry, bit of smokiness, discreet underlying loam, worn leather, warm asphalt, moist pipe tobacco, cedar, and violets. Dry. Good structure. Quietly full-bodied. Decent length. Quite nice, in good condition at 31 years from vintage, and, I'd guess at its peak. I'll get more of this for short-term consumption/enjoyment.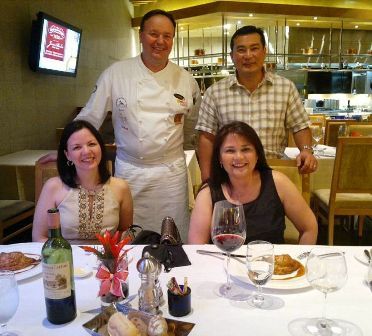 Catha, Apple, Cyrille, & Rocky.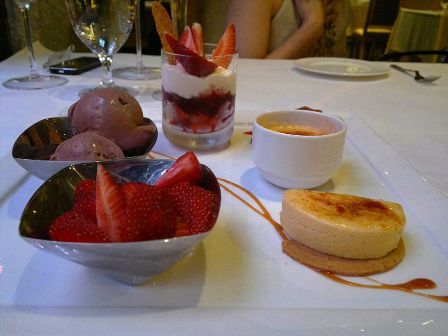 One of two platters of Samplers of Impressions' Signature Desserts.
We chatted until around 10:30pm, and, for Rocky's single malt fix (he's really into single malts these days), proceeded to Bar M, which, unfortunately, was closed. We then moved on to The Blind Pig for nightcaps (where Rocky did get some single malt), calling it a night by around 2:30am. Wonderful evening with longtime friends, excellent food, and fine wine. Until the next!