I'm not quite a member of the press, my occasional wine-related magazine articles hardly qualify me as one. However, for Bacchus' Press Lunch for visiting Château Lynch-Bages proprietor, Jean-Michel Cazes, this past Thursday, the 26th November 2009, at Old Manila, I was asked to attend in Raul Manzano's stead to cover the event. Of course, I readily accepted. Though Metro Society sent Zari over to take photographs, I, naturally, also took some of my own.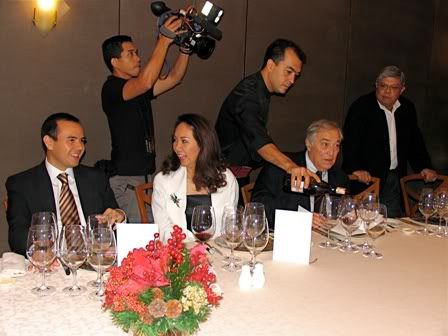 L-R Seated: Dave Celdran, Ana Sobrepeña, J-M Cazes
I've actually met J-M Cazes on a few occasions, the first time on the 6th March 2006, at a Bacchus dinner featuring his wines; Jojo Madrid, Gerry de Jesus and I arrived early so we had J-M all to ourselves to chat with for quite a while. The other times I bumped into him were at a couple of wine events in Hong Kong and a few times with the Miailhes in Bordeaux. I've actually toured Château Lynch-Bages once and eaten at its Café Lavinal a few times, the last time being in June 2007 with lady-chefs Myrna Segismundo and Jill Sandique before spending a rainy afternoon at the old town of Pauillac.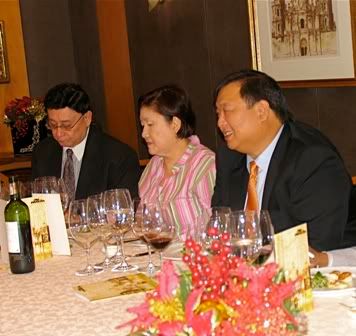 L-R: Johnny Litton, Mickey Fenix and Alex Lichaytoo
More importantly, I am very familiar with the grand vin of Lynch Bages, the crown jewel of J-M Cazes stable of wine estates, having repeatedly enjoyed, to the best of my recollection, at least 18 of his vintages, namely: 1982-1983, 1985-1990, 1993-1996, 1998-2001, 2005 and 2006. Obviously, Lynch-Bages is a wine I favor, having gone through my last batch of their 1999s much faster than I should have.
In a nutshell, Lynch Bages is a showpiece for the Pauillac appellation; it's wines are consistently well-crafted, long-lived, displaying a subtle, dignified power, great harmony, complexity and admirable balance in its deep, typical earthy notes of blackcurrant, cassis, cedar, violets, lead pencil shavings, gravel and dark spice. In any event, we were to have several of the wines from J-M's stable during lunch.
Château Lynch-Bages was so named after Thomas Lynch, son of Irish immigrant-businessman John Lynch. Sometime in the early-mid 18th century, Thomas married Elizabeth Drouillard who had inherited vineyards situated in Bages, including those on the Grand-Puy plateau. By the first quarter of the 19th century, the estate was sold to a Swiss wine merchant named Sebastian Jurine, under whose watch Lynch-Bages was classified a 5th growth (
cinquième cru
) in the 1855 Classification.
Many years, three inheritances and two sales later, Jean-Charles Cazes, J-M's father, purchased the estate in 1939. In 1974, J-M Cazes took full control of Lynch Bages, and, in 2006, passed the baton to his son and father's namesake, Jean-Charles. Prior to this, J-M also headed AXA's wine portfolio for several years until 2001 when he opted to concentrate on expanding the Lynch-Bages group of wineries.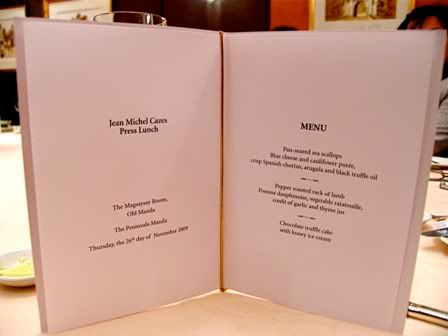 Being already conversant in the history of the estate and familiar with the Cazes family's wines, I had an interesting chat with J-M Cazes and Dave Celdran about
agneau de Pauillac
, the area's famed baby (milk-fed) lamb, and certain unscrupulous businessmen's attempts at passing on their inferior products as the real deal. In the meantime, some wines were already being poured:
2006 Domaine des Sénéchaux Châteauneuf-du-Pape
- I first tried this over
a working lunch at the Lichaytoo brothers' Bacchus Kitchen on the 26th October 2009
. My notes from that time were as follows:
An old and respected name in CDP, now owned by J-M Cazes (known best for his Lynch Bages). I'm not very familiar with recent vintages of the Rhône in general, but quick research shows Jancis Robinson and other respected reviewers speak well of (the area's vintage 2006).
This wine's dominant "grapey" scent shows the dominance of grenache (which, as far as I know, is pretty much the norm of CDP blends), with typical garrigue (with thyme and lavender particularly noted) and captivatingly subtle touches of animal (the mourvèdre more than likely) and truffle complexing the moderately spiced fruit. What made me really like this wine were its admirable harmony and balance - not overly hot/alcoholic, exceedingly-ripe and blatantly fruit-forward as many more modernly-styled ones are.
This is smoothly refined, proper and has a classic cut to it. Definitely this is a style I like and prefer. The first few sniffs and sips brought roast venison to mind. Available at Bacchus at around P2600 more or less.

Amusingly, when someone asked how much this wine retails for, I knew Bacchus' price more than Clifford, Bacchus' CFO. I obviously spend too much time at his wine shop.
2005 Michel Lynch Reserve
- This red blend falls under the general Médoc
Appellation d'Origine Contrôlée
(AOC). Basically, this means the grapes which made up the wine came from within a specifically delineated, somewhat triangular, albeit not totally contiguous, area in Bordeaux, containing approximately 15,400 hectares of vineyards. The Médoc AOC is subdivided into the northern Bas Médoc and southern Haut Médoc. Within the latter are situated the four most famous communal appellations of (from north to south) St-Estèphe, Pauillac, St-Julien and Margaux; the other two being Listrac and Moulis (both west of Margaux).
This Médoc AOC reserve is mainly composed of cabernet sauvignon and merlot, though I suspect there is possibly a dash of cabernet franc in there somewhere, partially aged in French oak. Named after Thomas Lynch's son, Michel, a famous wine-maker in his own right and the pioneer of the now standard practise of de-stemming, the subject wine has a very approachable masculine suavitée to it. Medium-bodied, smooth, no sharp edges or angularity, it is easy to drink yet retains the proper austerity typical of classic Médocs. Priced at only P600-P700 per bottle, it is ideal for casual, everyday drinking and, in addition, an ideal food-friendly red for weddings and large parties.
There being no white wines served, the 2005 Michel lynch Reserve, the least heavy among the reds present, was the logical choice to pair with the
Pan-Seared Sea Scallops, Blue Cheese and Cauliflower Purée, Crisp Spanish Chorizo, Arugula and Black Truffle Oil
.
Thereafter, on its own, I tried the...
2005 L'Ostal Cazes Minervois la Livinière
- J-M Cazes vinous venture in the Languedoc-Roussillon region of southern France, Minervois la Livinière is a relatively new (created in the late '90s), 200 hectare specific "sub-commune" made up of 6 villages, the most important of which are La Livinière, Cesseras and Siran. As I understand, pursuant to the area's regulations, wines produced must be composed of at least 40% syrah or 40% mourvèdre grapes and the two grapes, together with grenache, must make up at least 60% of the wine. In addition, the wines have to be aged for at least 15 months before bottling, at least 12% alcohol by volume (abv) and yield is limited to 54 hectolitres per hectare.
Generously warm, very concentrated with evident oak lashings, I tasted mostly syrah in this wine and figured it to be pushing above 14% abv. Unabashedly full-bodied, it shows off indulgently rich, sweetishly roasted-ripe black cherry, black currant and raspberry flavors touched with notes of black pepper, tobacco, violets, a touch of dried Provençal herbs and considerable oak. Quite forward and powerful, I'd pair this with hearty roast meats and game, particularly wild duck, boar and venison.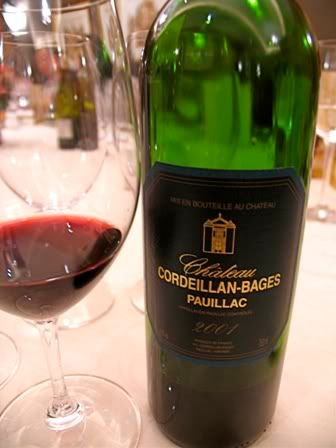 2001 Château Cordeillan-Bages
- This is the signature wine of Pauillac's very best hotel which boasts of a 2 Michelin star restaurant run by Thierry Marx. Cordeillan-Bages owns a tiny 2-hectare vineyard in the south of Pauillac, on the gravelly ridge of the
plateau de Bages
adjacent to the hotel and the wine therefrom is made by the Lynch-Bages team.
I've found vintage 2001 a pretty classic one in general for Haut-Médocs in general, and Pauillac especially, with old-school typicity and admirable structure similar to vintage 1996 - unlike the recent super-ripe, heatwave vintages such as 2003 and 2005 that appeal so much to so-called "California palates". This small production (well under 1000 cases produced annually) is a good example.
Halfway between medium-bodied and full, this was a perfect springboard for the grand vin of the same vintage. Presenting its predominantly cabernet sauvignon profile of black currant, cedar and underlying black coffee discreetly infused with gravel, pencil lead and violets, it foreshadowed on a lighter frame it's bigger brother's serious depth and complexity.
With the main course of
Pepper Roasted Rack of Lamb, Pomme Dauphinoise, Vegetable Ratatouille, Confit of Garlic and Thyme Jus
, I had the grand vin.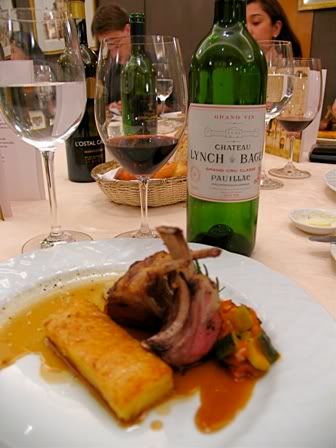 2001 Château Lynch Bages
- I tried this at twice before if memory serves; surely once in an International Wine & Food Society function but I wrote no notes thereon. The 2001 harvest for the grand vin vineyards began on the 2nd of October starting with the earlier-ripening merlot with cabernet sauvignon and cabernet franc following a few days later. The weather cooperated with sunny to cloudy days and high temperatures that allowed for healthy ripening.
Moderately fuller and heftier than the 2001 Cordeillan-Bages and with evidently greater depth and complexity, the grand vin of the same vintage discloses earth, leather and subtle warm asphalt and tobacco nuances underlying the slightly smokey dark fruit, cassis, pencil lead, cedar and violets. Its mouth-feel is also more rounded, the middle more pronounced, with good crescendo and expressiveness without at all being loud or over-bearing. Classically cut, its acidity and structure are noteworthy, as well as its moderately long finish.
This was easily the best wine of the lot, which is hardly surprising. Dessert followed, an indulgent
Chocolate Truffle Cake with Honey Ice Cream
. It sounds simple, but, though I am not overly fond of rich desserts, it was delicious.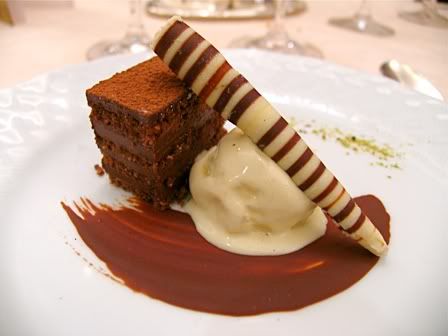 A bracing double espresso during discussions on vine stress, vineyard density and the significance of the number of grapes on each plant brought a close to wonderful lunch. In all, it only remains to be said that we are all most fortunate to have a wide range of J-M Cazes' wines locally available through Bacchus International. In this, the essence of Pauillac, Bordeaux, Châteauneuf-du-Pape and Languedoc-Roussillon is but a mere sip away.
Seated: J-M Cazes; Standing L-R: David Celdran, Alex Lichaytoo, myself & Clifford Lichaytoo