The next evening, Friday the 26th February 2016, was a more wine-centric dinner at an old favorite brasserie, Chef Marc Aubry's
Champêtre
. We were only 6 in all this time.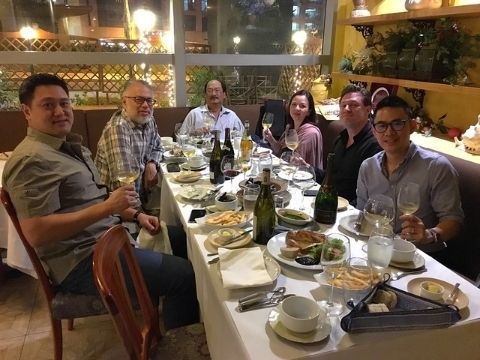 L-R: Alex, Clem, me, Catha, Richard & Aaron.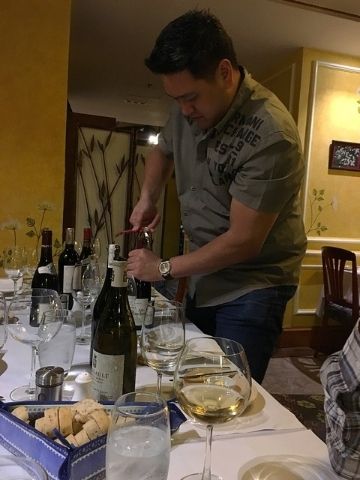 Alex starts opening the bottles...
...as does Richard. Some corks broke in half, but we managed.
I had earlier reserved a few orders of
Moules de Bouchot
, prepared
à la Marinière
; the relatively smaller, tender, succulent, delicately and distinctively flavored AOP mussels flown in live from France.
With the
moules
, we started with a bottle of
2001 Domaine des Comtes Lafon Meursault Clos de la Barre
- Alex's bottle. Properly dry and reserved; it presents its precisely minerally, slightly nutty fruit on a medium-plus body. Notable depth and firm structure. Patrician, yet decidedly masculine; like a gentleman farmer.
Richard had opened a
1983 Robert Sarrau Pouilly-Fuissé
- Unfortunately, the wine was way past its time, showing disturbingly mushroomy, sherry-ish notes. While it did pull a slight Lazarus towards dinner's end, it was really just too far gone.
The '01 Lafon Meursault Clos de la Barre went very well with the afore mentioned
moules
, the immediately above depicted
Escargots à la Bourguignonne
...
...and, especially with Marc's signature
Terrine of
Foie Gras d'Oie with Brioche and Berry Compote
. This, for me, is, without doubt, the best terrine of foie gras in the country. I've yet to try anything here that even comes close.
With the goose foie gras terrine, I also greatly enjoyed Clem's
2000 Champagne Krug
- Broad, rich, impressively round and long, opulently creamy, nutty, with butter & baking spice lacing its dried fruit base. Lovely champagne.
For main courses, Clem had the salmon (of which I have no photo); while Catha went for her usual...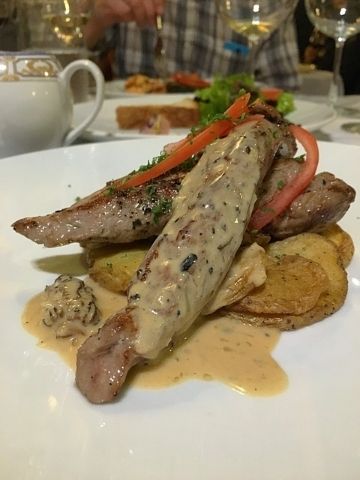 ...Roasted Veal Tenderloin with Morel Sauce.
By then, we had begun on the night's reds; beginning with Alex's
2003 Domaine Prieuré Roch Grand Cru Clos de Vougeot
- this precocious, muscular, youth already shows notes of iron, meat & slight Burgundy decay in its deep, concentrated, tannic, sweetlishly ripe (bordering on jammy) dark fruit. Big-boned and full bodied. Intense, heady stuff. Very long. Clos de Vougeot on steroids...
...which easily stood up to my hearty, perfectly cooked & juicy Grilled Lamb Chops.
With our main courses, we also enjoyed my bottle of
1997 Joseph Drouhin Beaune Premier Cru Clos des Mouches
- Still notably fresh with good acidity, which cuts nicely through the hearty lamb. Notable grip. A notch or two over medium-bodied; sappy dark red berries over plum base, with good earthiness, focus, and definition. More than decent length; nicely rustic. I had my share of this before finishing off the other two reds, as, comparatively, this was the lightest in body.
Clem's
1988 Joseph Drouhin Grand Cru Charmes-Chambertin
was ample, richer and more concentrated than any other Charmes-Chambertin that I can remember having had. Notably ripe, but not over-ripe or jammy, with precise intensity. Good balance and harmony in this relatively stylish Charmes-Chambertin. Lovely stuff.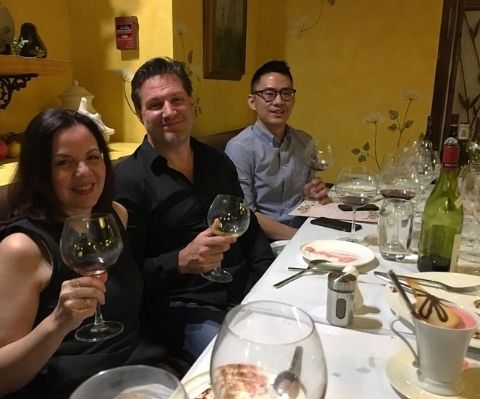 We finished off the mentioned bottles...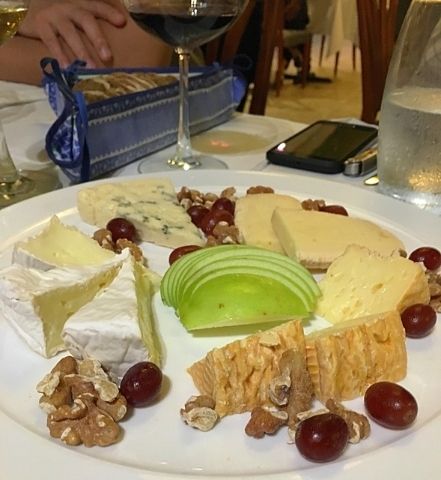 ...with a shared platter of assorted French cheeses...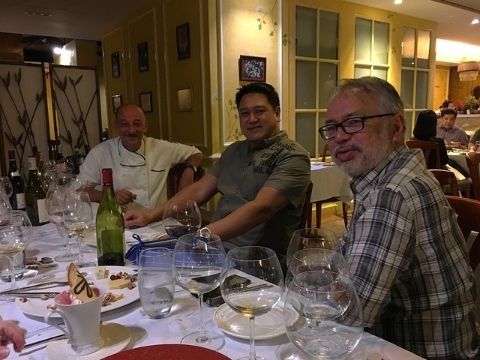 ...Marc joining us as the evening's service wound down.
We had started on dessert, the first of which was a Dark Chocolate Nelusko Cake (the remains of which are on the red platter immediately above), which got Marc and I in a discussion about desserts that were popular in Manila in the late '70s to early '80s. Marc then began sending us more desserts: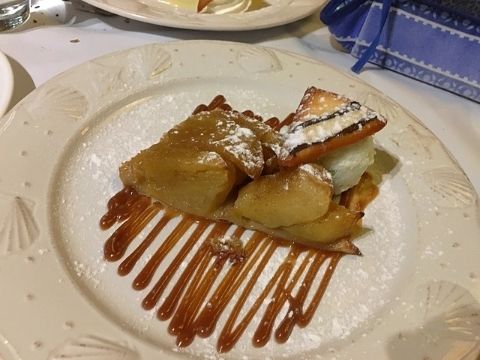 Melt-in-your-mouth Tarte Tatin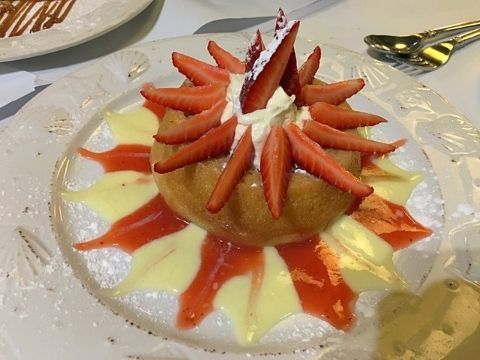 Superb Baba au Rum with Fresh Strawberries.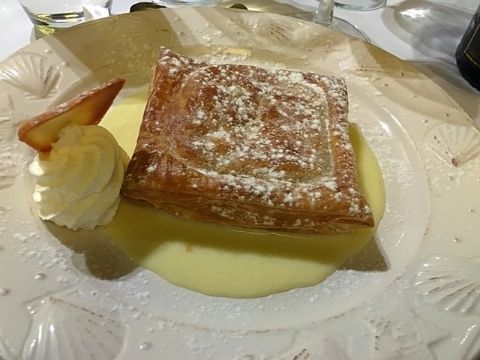 Excellent "Pithivier" of Pears with Frangipane Sauce.
Our conversation about
de rigueur
desserts of the past, Marc then sent us the new
Champêtre Mystere
, his take on Baked Alaska (which was the rage in '70s Manila) - dried figs & Cointreau ice cream, coated in meringue and roasted almonds...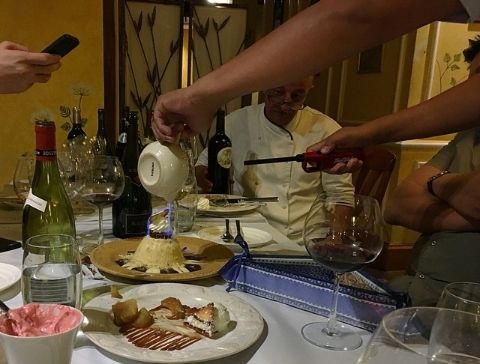 ...served flambée, naturellement.
Aaron then noted that none of the bottles he brought were yet opened. Though the rest of us were already quite full by then (and most of us had had a lot to drink the previous night), some suggested we open his wines next we meet. Richard, however, was still a bit thirsty, so...
...Aaron immediately offered up his bottle of
1994 Harlan Estate
- Very impressive. Deep, intense, concentrated, full-bodied, distinctively Napa, but remarkably refined (more than other vintages I've had). Good restraint, though undeniably rich. Well-knit, streamlined, with notable acid balance that keeps things interesting. A class act of a Napa cult.
Seven wines for six persons - a very reasonable wine dinner. Alex clamored for more, stronger stuff, and invited everyone to his place for cognac, single malt & gin with Cuban cigars, but, as most of us already had a lot the previous night, we were constrained to decline his generous offer (but that certainly didn't stop him from having a few himself at home).
Thanks for setting aside time for us, Clem! Great seeing you as always! Until the next!