The evening of last Thursday, the 24th March 2011, saw
the Philippines' 1st Wine & Spirits Auction
. The event was conceptualized and organized by wine retailer/direct merchant
Forth & Tay
and leading alcoholic beverage importer/distributor
Future Trade International
, in cooperation with
Salcedo Auctions
,
Mandarin Oriental Manila
and media partners.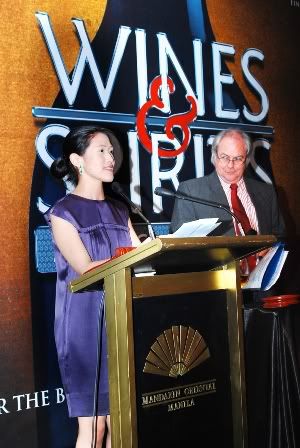 Karen Kua-Lerma, president of Salcedo Auctions, makes the opening remarks.
The proceeds of the auction would go to
Virlanie Foundation
, an NGO dedicated to helping street children.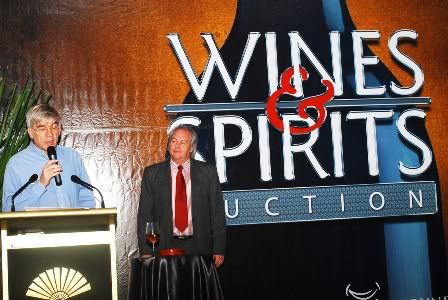 Virlaine Foundation founding president, Dominique Lemay.
Ina Gemperle who ran the PR of the event and Eric Kahn, Senior Marketing Manager, of Future Trade Int'l. earlier on tapped J-Lab and I to act as the event's "wine experts"
*
(we're really just geeky winos with around 40 years of studied consumption between us who happen to write about wine) for the inspection of the wines. J-Lab and I inspected the wines on separate days, I visited Future Trade's compound for that purpose after work on the 3rd March 2011. I recall J inspected a day or two before that.
The few bottles brought in the auction from 3rd parties, however, we did not inspect. We were also asked to give a short talk during the formal viewing of the lots and to talk about some of the wines during the auction itself.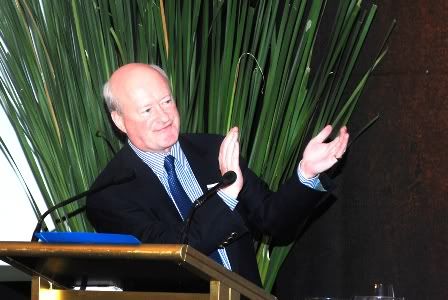 Future Trade Int'l. president, James du Vivier.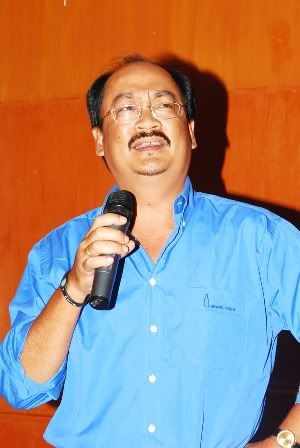 Yours truly.
*
Neither J-Lab nor I charged nor received payment for doing this (we've our real-life jobs to keep ourselves fed and lacquered) and just did it for the love of wine. Besides, the organizers' officers, James du Vivier and Robert Burroughes are friends of ours. They did offer to give us some bottles, but it's not like either of us really need any. We've more than enough fine bottles of our own.
There were hundreds of people at the Mandarin's Ballroom on the 3rd floor. No less than a hundred wines were available for tasting and there were a lot of pica-picas on tables in the middle of the room, situated just before the cordoned-off auction area and stage. Happily, I bumped into so many friends there, among whom were Robert & Jen Burroughes, Juan Carlos de Terry (who entered into auction a
1994 Château Latour
and vintages
1972 & 2002 of Oremus Tokaji Aszú 5 Puttonyos
), Chef Colin Mackay, fellow WSCP member Bodjie, and, of course, Usual Suspects the Stockbroker, Greg & Arnie.
Auctioneer Hamilton McLeod.
J-Lab commented earlier on that he didn't think the Stockbroker would be bidding that night - likely because he already has over 11,000 premium bottles in his collection. I replied that having a lot of wine never stopped the Stockbroker from buying more - the truth of which J acknowledged with a silent nod. J and I had our own plans for a few of the lots and did our homework on retail prices in the US - so we were ready to bid, our bail prices well in mind - and so proceeded the auction.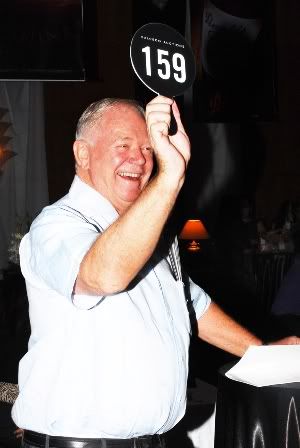 David Beddows picked up the lot of 6 bottles of
2004 Penfolds Grange
.
Colin got, among others, the
1949 & 1957 Glen Grant Single Malts
.
The Stockbroker picked up 3 lots, adding up to 20 bottles, amongst them
a mini vertical lot of Santa Rita Casa Real
, and promptly reported that the 1995 vintage was delicious, reminding him of "an aged St-Émilion". I picked up one lot of 3 bottles of
Bodegas Hidalgo La Gitana Wellington Palo Cortado VORS Jerez
- I wasn't really planning to, but, when the auctioneer announced that lot, Catha (who loves Palo Cortado sherry) turned to me and asked "Is that my sherry?" Of course, I had to get it for her then. Fortunately, J-Lab, gentleman that he is, didn't challenge my bid, so I got it at a very good price. Among other active bidders were...
...Stephan Granroth & Stein Melsbo (Neil McLeod between them), and...
...Roger Simmond.
I had my eye on the lot of 6 bottles of
2004 CastelGiocondo Brunello di Montalcino
, but other bidders quickly drove up the price so I bailed. Another lot I was interested in was
6 magnums of
1999 Robert Mondavi Cabernet Sauvignon Reserve
. Since there was only one lot of this and J-Lab, Bodjie and Colin were interested as well, we decided to let J-Lab bid for us all and we'd divide the 6 magnums amongst us. Well, we got the lot at a superb price - so we were all very happy about that.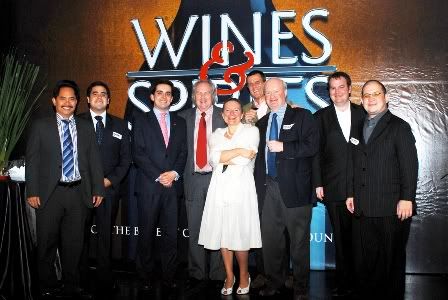 The organizers with representatives of Frescobaldi, Penfolds, Torres and Santa Rita.
In my estimation, the auction was nothing less than a smashing success. I understand from Ina that 85% or so of the auction lots were sold - not bad at all for a maiden voyage. James, Eric and Ina all thanked J-lab and I for our participation. We were more than happy to have helped - besides, we had fun and picked up some wines at very good prices - what's not to love?