Last night, 29th June 2010, I was at Ciçou for, curiously enough, the 75th Anniversary Dinner of Lancôme (a French cosmetics MNC) upon the invitation of
Terry Selection's JC de Terry
who was sponsoring the wines for Lancôme's event. Dinner was by
Cyrille Soenen
at his
Restaurant Ciçou
.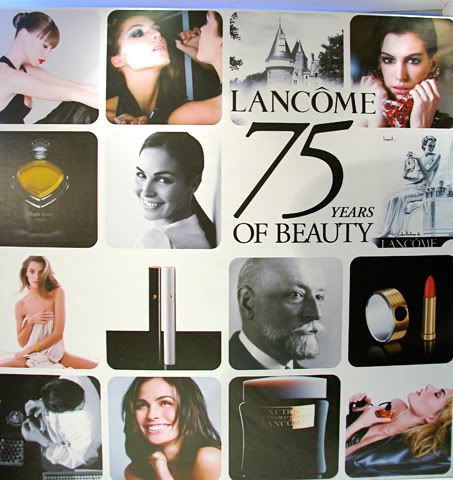 The invitation said 6:pm and I wound up arriving at around 6:25 because of the CBD traffic. I was the first one there aside from the people setting up. Knowing that I wouldn't really know anyone at this event, I shuffled over to the bar - at least I could keep company with Cyrille and his staff who I have gotten to know well from my many meals in Ciçou.
Luckily, Cyrille saw me almost immediately, came out of the kitchen to chat, kindly poured me a glass of rosé and had me served some tapas while I waited.
Home-made Pork Pistachio Sausage, Baby Potatoes, Ravigote Sauce
;
Home-made Pork Rillettes on Pain de Campagne
; and,
Fresh Marinated Sardines with Goat Cheese on Rye
.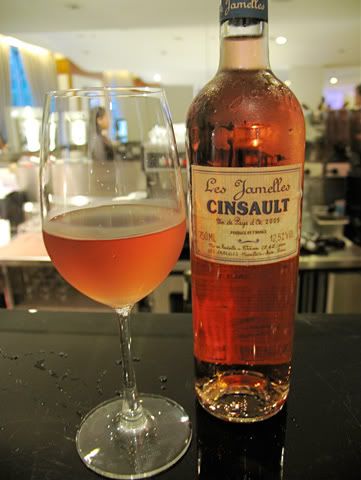 2009 Les Jamelles Cinsault
- Fresh, vibrant, forward strawberry, bit of red currant, slight meatiness, hints of herbs (lavender? thyme?). Straightforward, quite dry, good drive, solidly structured and hefty for a rosé, but very approachable and easy to drink a lot of. Good eating rosé, and I can easily imagine having it with some local main courses like adobo (snipes, pork and/or chicken). I believe this is around P500/bottle at Terry's.
I saw the staff bringing out all the evening's wines, and, it turns out, all of them were by
Les Jamelles
, an almost 20 year-old producer in the Languedoc-Roussillon region of southern France headed by Catherine Delaunay -
value-for-money wines all at under P1000/bottle if I am not mistaken
.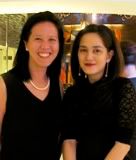 The venue was filling up after around 20 minutes, and I actually saw someone I knew - Yvette Fernandez (who, along with her colleagues, were covering the event for Town & Country and other magazines), a long-time family friend of my in-laws who I first met in SF years ago through Sandy Klar who is a mutual friend.
We, together with several other friends, spent a long, long day in Napa and Sonoma Valleys back in May 2001 visiting some wineries and having a very long wine-filled lunch at the Culinary Institute of America's Greystone Restaurant.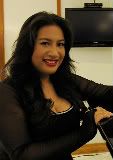 JC then showed up and we had some more tapas and rosé at the bar with Cyrille and Anna. We were later on introduced to and joined by lyric soprano Ana Feleo who would be rendering some songs for us that evening. Apparently, she took this engagement at short notice.
When asked by JC what she had in store for us, Ana mentioned her last song would be the Habanera from Bizet's Carmen. I told Ana I really liked the way Teresa Berganza used to sing that song with such feistiness and "attitude".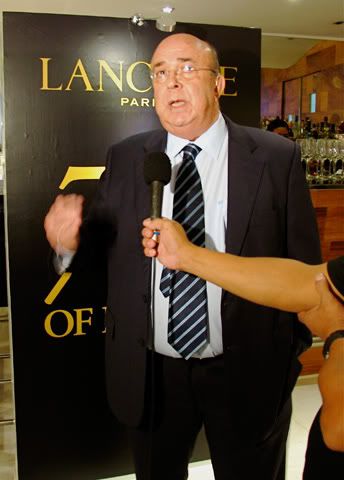 JC was pulled away briefly for a television interview about the wines he sponsored for the event - he is, after all, a PhD in oenology aside from being a chef, restaurateur and former concert pianist. As far as I know, he is the only PhD in oenology in the Philippines and has deeper knowledge and passion about Spanish and French cuisine (and the histories thereof) than anyone else I know. I remember a French restaurateur once told me JC knows much more about French cheeses than he does.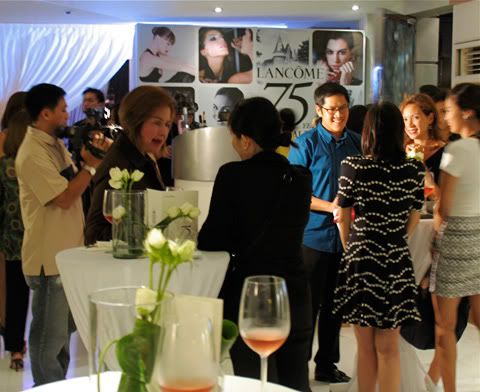 We eventually were ushered into the main restaurant for dinner proper and the rest of the festivities. It turned out I was assigned to a different table from that of JC, and, though the latter tried to have me moved, the Lancôme staff were very hesitant to accommodate his request. I assured JC I'd be fine in another table, anyway, it was very near his and I could always come over every so often to chat.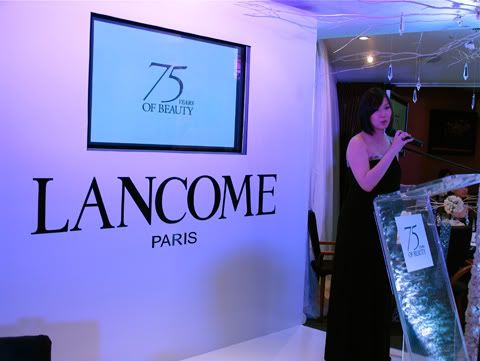 After a brief welcome spiel...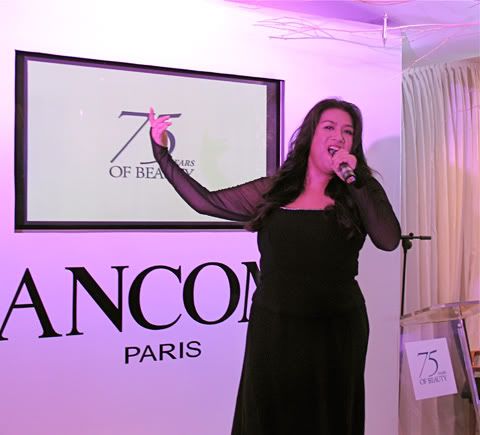 ...Ana Feleo regaled us with her numbers, finishing with a precise, powerful and flirtatiously sassy rendition of the promised Habanera à la Teresa Berganza - for which I made sure to thank and congratulate her.
Dinner with pairing wines were then served.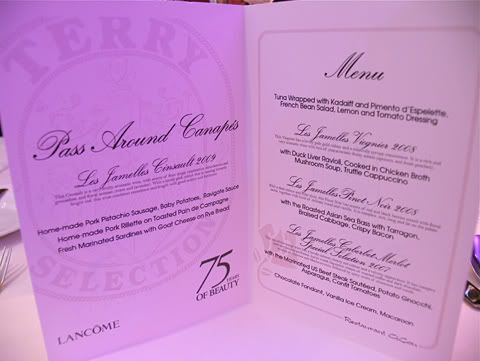 The Menu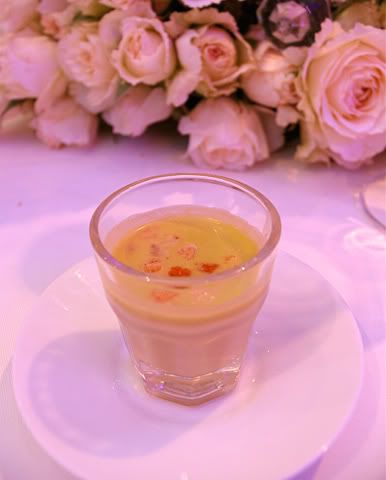 Asparagus Shot Amuse Bouche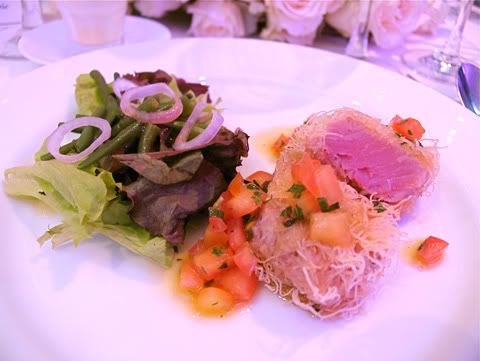 Tuna Wrapped in Kadaif, Pimiento d'Espelette, French Bean Salad, Lemon & Tomato Dressing
Duck Liver Ravioli Cooked in Chicken Broth Mushroom Soup, Truffle Cappuccino
.
I remember this dish well; it was an absolute hit at
our group's wine dinner at Ciçou on the 10th November 2009
during which we paired it with 2 Corton Charlemagnes and a Meursault Perrières. Last night, however, this was paired generous pours of
2008 Les Jamelles Viognier
- One of the fresher and more focused viogniers I've had. Immediately pleasing, lightly floral (honeysuckle), correct & typical peach and yellow apricot flavors, with a smooth, languidly flowing, softly viscous texture. I've found many viogniers over-wrought and, at times, cloyingly sweet, but this wasn't. Good acid lift, dry, yet fruity - which made it food-friendly to me. Good match with the dish.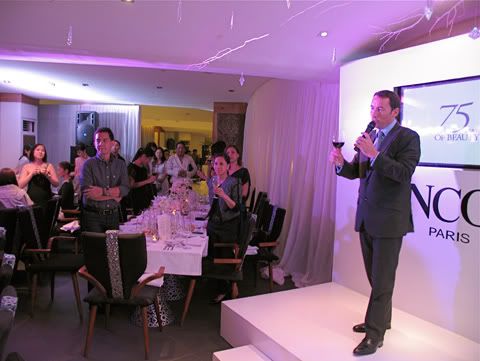 In the meantime, l'Oreal Philippines CEO, Luc Olivier Marquet, took the stage, thanked JC for sponsoring the wines, acknowledged the presence of the French ambassador, gave a short talk about the company's background, presence in Asia and what we may expect from Lancôme in the years to come and offered a celebratory toast thereto.
The Eisma sisters with Alexis Ventura of Lancôme.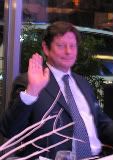 It was only then that I realized the French ambassador, H.E. Thierry Borja de Mozota, was around, so I went over to greet him. He is an honorary member of the Commanderie de Bordeaux Manila wherein I am a member as well.
Last time I saw him was at
a dinner at the Vigneron's place late this past April
during which I discovered that he is also a lover of fine tintos Riojanos like me and my friends and promised to invite him to our next Spanish wine dinner - a promise I intend to make good on as soon as his schedule permits.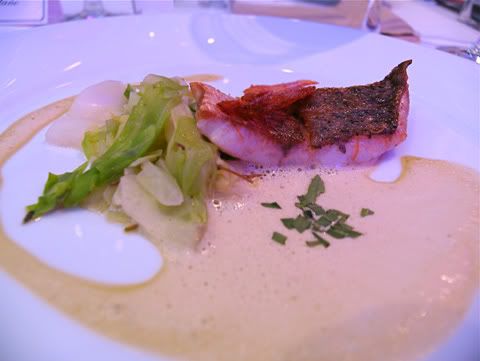 Roasted Asian Sea Bass
(a.k.a., "apahap")
with Tarragon, Braised Cabbage & Crispy Bacon
With this was paired
2008 Les Jamelles Pinot Noir
- from hotter climes than pinot noir's Burgundy stronghold in its comparatively riper, denser, warmer and lower-acid traits. It was very pleasant though - smooth, concentrated, just slightly jammy soft fruit (seemingly more black berries than red here), but not at all heavy or cloying on the palate. It had a slight earthiness to it as well and the touches of oak were both judicious and discreet.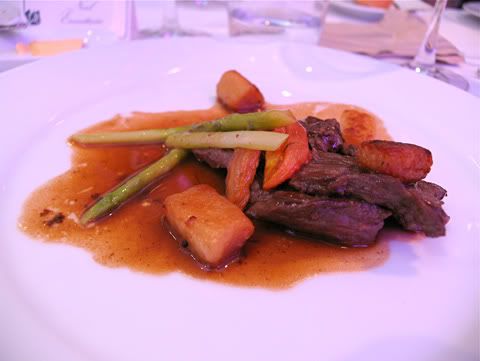 Marinated US Beef Steak Sautéed, Potato Gnocchi, Asparagus & Confited Tomatoes
2007 Les Jamelles Cabernet Sauvignon-Merlot Séléction Spéciale
- was paired with the above-depicted main course. Much more cabernet sauvignon than merlot I'd say, due to its dominant crème de cassis over ripe black cherry, slight raspberry and dark plum fruit flavors. There are a lot of toasty oak related notes that permeate the fruit: underlying black coffee/dark chocolate, slight licorice, vanilla bean and cinnamon. Very concentrated, ripe and warming (typical for the area to my mind) on the palate; the fruit is also a touch jammy and the evident tannins are soft and smoothly rounded.
Dessert was Cyrille's
Chocolate Fondant and Ice Cream Macaron "Sandwich"
and
mignardises
of mini
macarons
and
canellés
- all of which I ate before remembering to take photos of.
The Wines
¡Salud!