Catha decided to have her birthday dinner with the kids the day before her actual birthday since the college boys would be in class until late on the day itself. She chose Colin's always reliable and consistently good
Sala Restaurant
as the venue; just the 5 of us for dinner.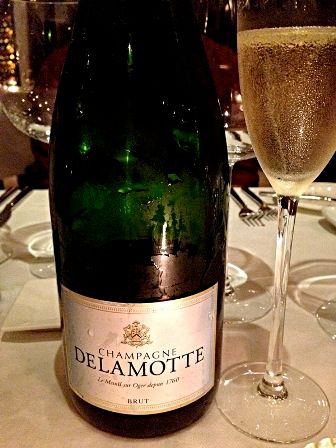 We started off with a bottle of bubbly from the restaurant's reasonably marked-up wine list:
Champagne Delamotte Brut
- I've written about this consistently pleasing non-vintage champagne so many times, there is no need to repeat myself now. Suffice it to state that I consider this currently the very best non-vintage champagne readily available in the Philippine market, bar none (
n.b.
, available at
Premium Wine Exchange
). It also happens to be very moderately priced, and, thus, represents excellent bang for the buck.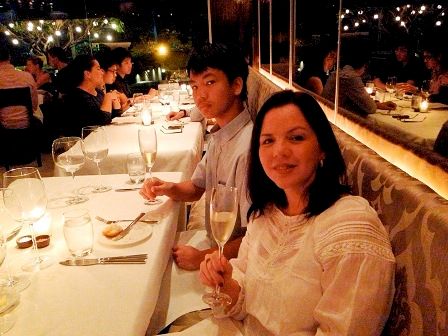 A champagne toast to the birthday girl.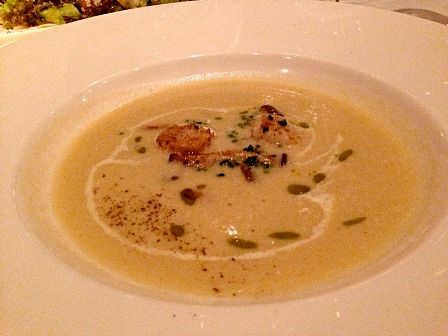 Joaqi had a soup course: Seared Scallops & Mushroom Velouté.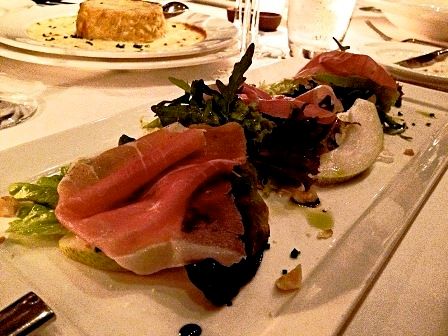 Catha's Salad of Burratina, Fresh Peach, Prosciutto, & Hazelnuts.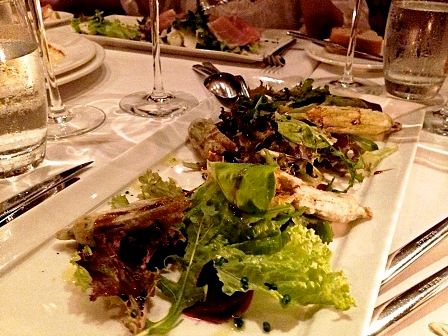 For the middle of the table, I ordered two orders of the immediately above-depicted
Deep-Fried Squash Flowers & Chèvre Salad
(
n.b.
, this is not on the menu, but they will happily make it for you if they have squash flowers on hand),...
...and, naturally, two orders of Colin's timeless Twice-Baked Prawn & Feta Soufflé with Dill.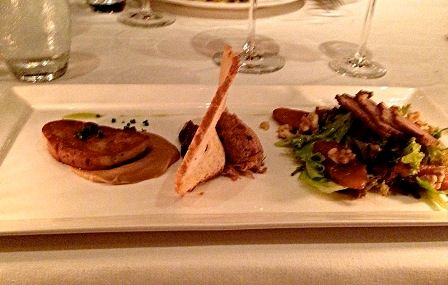 For her main course, Catha had the Trio of Duck: a Salad of Smoked Duck Breast with Walnuts, Pears, and Truffle Honey; Rillettes of Duck Leg with Fig Chutney; and, Seared Foie Gras Medallion with Leek and Chestnut Purée.
This is actually an appetizer on the menu, but Catha didn't want to have anything too heavy for her main course.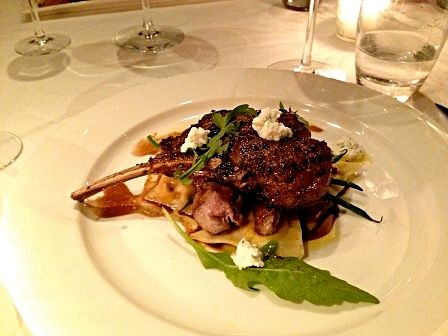 Mauro & Joaqi had an order each of the Dry-Rubbed and Grilled Lamb Cutlet and Tenderloin, with
Pumpkin Pansotti, Spinach, and Goat's Cheese.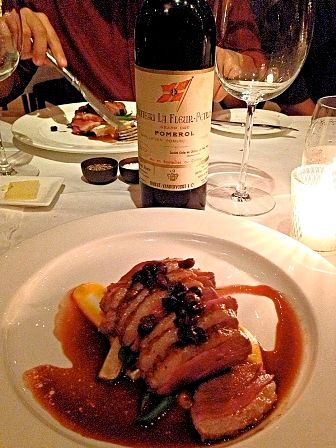 Lorenzo & I each had an order of Juniper & Thyme Roast Duck Breast, Roast Pears and Parsnips, with
Carrot Purée and Cranberry Jus.
I had brought along a bottle
1970 Château La Fleur-Pétrus
*
- I did not decant this, but opened it once we arrived, and poured it a little over an hour later, around 10 minutes before the main courses were served. This was an absolutely stunning bottle, showing breath-taking balance of power and elegance (without ponderous weight or ham-handed blockiness) typical of Pomerol's best estates.
Perfumed bouquet, with deep, deep, dark, cedar and violets infused rich, silken fruit, seamlessly interwoven with dark minerality, a breath of licorice, and cep undertones. On the lighter side of full-bodied, it is neither quite as concentrated nor as stylish as Pétrus, but it has stunning balance and head-turning, yet understated elegance. Catha loved it; and so did I.
Since Mauro stopped at half a glass (his stomach was not the best that night), and Joaqi didn't want any (he chugged 2 glasses of the bubbly, though I did warn him twice about drinking it too quickly), the bottle was pretty much finished by Catha, Lorenzo, & I. I definitely need to buy more of this.
*
Purchased in 1952 by J-P Moueix (same owner of Châteaux Pétrus and Trotanoy), its approximately 14-hectare vineyard (90% merlot, 10% cabernet franc) is situated in the northeastern portion of the Pomerol plateau, across a small road from Château Pétrus, and part of it is adjacent to Château Lafleur.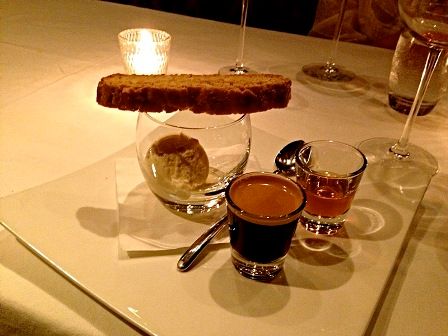 Desserts: Mauro's Affogato al Caffé w/ Sala Biscotti...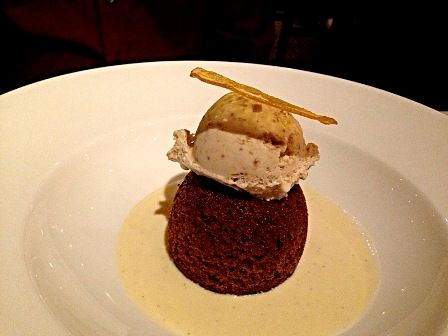 Lorenzo's Marmalade Steam Pudding w/ Vanilla Sauce,
and Fig & Armagnac Ice Cream...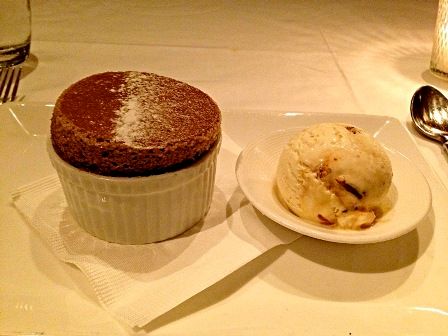 Joaqi's Chocolate Soufflé w/ Caramel-Pecan Ice Cream...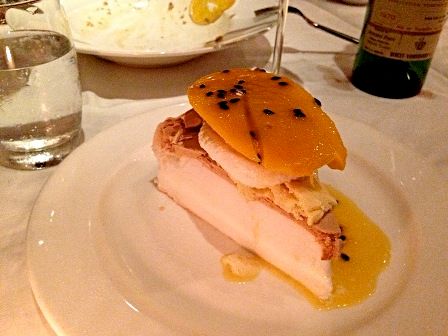 My Mango & Passion Fruit Pavlova (which I shared with Catha).
Double espressos ended the meal.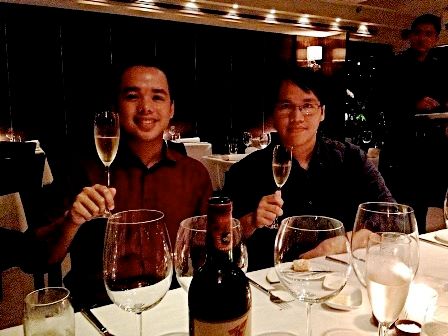 Happy birthday again, Catha. Many, many more to come!