Last night, the 27th November 2010, was Rene's birthday dinner. Venue was back at Manila's finest private table, Tita Bella, Rene's mom-in-law, as usual, prepared a feast for the eyes, palate and soul. Truly inspired cuisine. We were 11 in all: Rene & Aimee, Miguel & Ria, Santi & Maite, Nico & Neny, Catha & myself, with Deeg arriving alone. Of the guests, only Miguel & Ria were there when we arrived, so we were able to chat a bit with Tita Bella before she started cooking, and, casually enjoy a few glasses of champagne as well.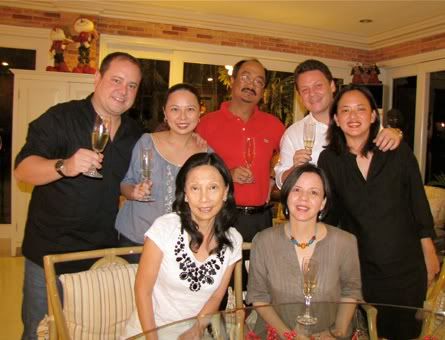 Tita Bella, Catha, Rene, Aimee, myself, Miguel & Ria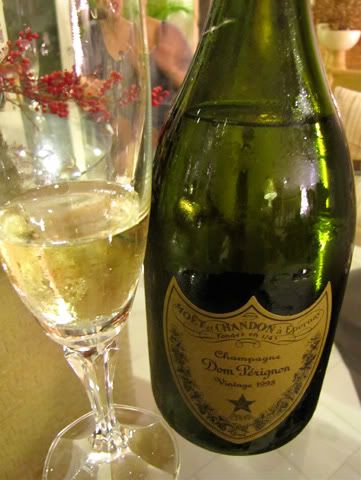 1998 Moët & Chandon Champagne Cuvée Dom Pérignon
- Rene's, he opened a couple of bottles of this. It's taken on marginally more weight from
the last time I wrote about this
. The fruit is a little more pronounced mid-palate and the parallel I drew then vis-a-vis the 1988 version remain. Well, that and aside from the slight underlying coffee nuance past mid-palate, the wine hasn't seem to have budged too much. My old notes are as follows:
No introduction really need be made for Moët et Chandon's (n.b., the "t" of "Moët" is pronounced) luxury bottling. I've had this vintage several times since the last quarter of 2006 (this vintage was released, I think, in 2005) and, previously, noted it as steely, minerally, taut and ultra-focused in its bright white grapefruit, citrus, yeast with just a the merest hint of creaminess surfacing just past mid-mouth. I also noted it several times as linear in character - always likening it to their 1988 vintage - especially after having it side by side the 1990, 1995 & 1996 at my sister's house in Indiana during New Year's dinner 2006.

I note now that it has put on a bit of heft mid-palate, picked up more creaminess and brioche notes and the citrus has taken a step or two towards the background. It's linear personality, laser-like focus and drive, however, remain the same. Bracingly refreshing, I could have easily over-indulged early. Excellent and indulgent apéritif.
Santi & Maite, Nico & Neny were delayed by traffic on the SLEX, and Deeg, unfortunately, experienced some car trouble. Everyone eventually made it in the end though...
Catha, Ria, Maite & Aimee
...and we eventually moved to the elegantly understated Christmas-themed dining room for dinner proper.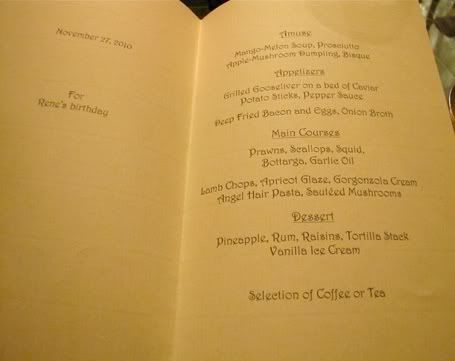 The Menu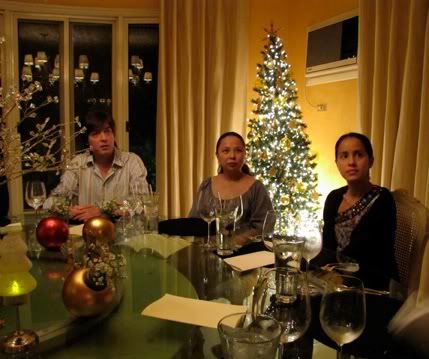 The Anticipation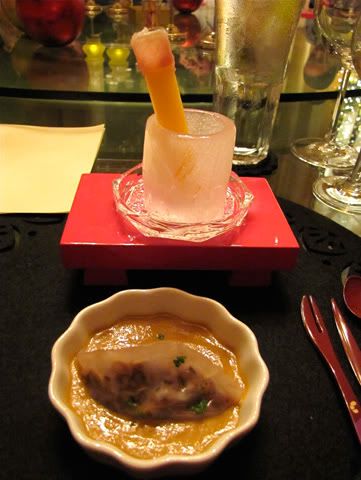 The
amuse bouche
was
Mango-Melon Soup with Prosciutto & Apple-Mushroom Dumpling Bisque
, the former a thrillingly creative spin on the ubiquitous Italian melon and prosciutto antipasto. Note that the mango-melon soup was contained in a test tube, the mouth of which was wrapped in prosciutto, the entire thing kept child in a solid ice "shotglass". On the other hand, the subtly fruity, earthy combination of the dumpling with the bisque was complex and sublime.
I know the amuse bouche is supposed to just tease one's palate, but I simply had to have another serving of it. The creativity in concept, preparation and presentation translated perfectly on the palate. Wonderful.
With this, Rene and I had intended to serve the first of 2 types of Dönnhoff rieslings I brought, namely, the
2009 Weingut Hermann Dönnhoff Riesling Oberhauser Leistenberg Kabinett
.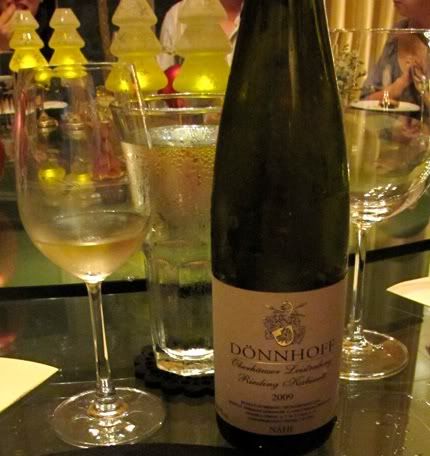 Due, however, to the virtually identical-looking bottles, a mix-up occurred and the
2009 Weingut Hermann Dönnhoff Riesling Oberhäuser Brücke Spätlese
was served in the kabinett's stead (the latter meant for the following foie gras course).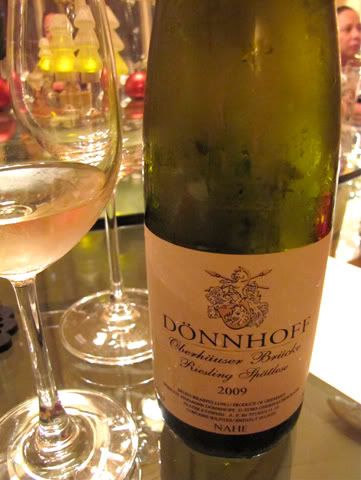 No problem, though, everyone seemed to love the spätlese anyway. As Rene said, he has yet to serve a Dönnhoff reisling to anyone that hasn't liked it. Same with me. I mentally thanked Rocky Villadolid for introducing me to Dönnhoff's rieslings around 2-3 years ago.
In any event, since I had brought 2 bottles of the spätlese, it still was able to make its way to pair with the intended foie gras course.
Grilled Goose Liver on a Bed of Caviar
with Potato Sticks & Pepper Sauce
2009 Weingut Hermann Dönnhoff Riesling Oberhauser Leistenberg Kabinett*
- There seemed to be a little more residual sugar in this than other kabinetts I've tried, but the citrus, slight peach and lime flavors were properly slatey, edgy and very well focused. Notable purity and quite fruit-driven. Nicely crisp as well. Light-footed, lots of charm.
2009 Weingut Hermann Dönnhoff Riesling Oberhäuser Brücke Spätlese*
- The Usual Suspects, Rene included, got to try this new arrival just over a month ago, during
the Stockbroker's birthday lunch at Shang Palace
. Then, as now, it was superb. My notes were as follows:
What can I say? I've been a sucker for Dönnhoff's Nahe rieslings since I first tried them, and this is yet another reason why. It is extremely difficult not to simply gush about this incredibly pure and focused, exceptionally balanced and complex beauty. I can't try to "break down" the flavors without doing it injustice. Wonderful alone and paired admirably with the slightly spicy beef course.
Pure, coyly-rounded middle, precise minerality and acidity infuse peach and apricot, whisper of underlying petrol and orange peel. Notably sweeter and deeper than the kabinett - the distinctions immediately caught by Deeg and confirmed by Neny even before I could take a sip (I've been at the wine too often and too much, so I was taking it very slow and easy).
*
Both rieslings are readily available at Premium Wine Exchange.
Neny, Nico, Miguel & Catha sharing a laugh.
The next course, the last of the 3 appetizers, was the one many of us were most curious about (having read the menu in advance).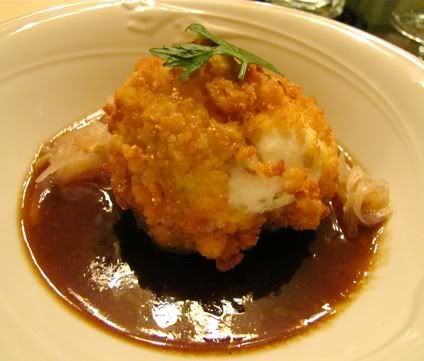 Deep-Fried Bacon & Eggs, Onion Broth
It turned out as above depicted, a nicely crunchy crust enveloping a whole egg, flecked with bacon inside. Excellent. I certainly wouldn't mind starting the day off with this - or even 2 of these. Santi and Miguel had double servings. I wanted another one as well, but prudence dictated I save space for the rest of the meal. After all, we had 2 main courses following.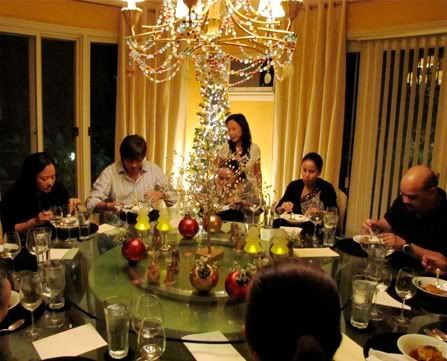 Tita Bella explains the dish.
With this, no wine was served, but I saw some continuing with the last of the spätlese. Because of the onion broth, I mentioned to Rene that a dry Alsatian pinot gris or even a gewürz would probably have done well.
The first main course was simply named
Prawns, Scallops, Squid, Bottarga & Garlic Oil
, the simplicity of its name foreshadowing the dish's honest beauty. Impeccably cooked, each individual seafood was allowed to shine on its own, yet all were tied in by the bottarga and garlic flavors. Harmoniously woven, not a single thing stuck out. I had 2 helpings.
With this was served Rene's
2006 Domaine Laurent Tribut Chablis
(which I, unfortunately, forgot to photograph). I've written about this wine (as well as different vintages and bottlings thereof) several times. The last time I had the 2006 village Chablis, however, was on the 24th January 2010, during
a dinner at CiÇou of fresh French oysters and Crab Torteau
. My notes then were as follows:
I've loved the style of Laurent Tribut ever since Jerome Philippon made me try it several years back. This is the village level Chablis, fermented in enamelled steel tanks, no new oak, no battonage (i.e., no leese stirring) minerally, tense, laser-focused, medium-bodied green apple with nuances of cool steel, cold limestone and oyster shells. The last bottle of this I opened was also at one of Boozze's and Margarita's dinners on the 12th June 2009. My notes then, just for comparison, are as follows:

"My bottle. The domaine is located in the commune of Poinchy, approximately 1.5 kms west of the old town proper of Chablis, and owns 5.2 hectares of Chablis vineyards, including holdings in premier cru vineyards Beauroy, Côte de Léchet and Montmains. It produces wines in the classically lean, tense, steely, sea-shell, minerally, minimalist oak style (fermentation in enamelled stainless-steel tanks, no use of new oak in ageing, no battonage), which I much prefer.

"Those familiar with the wines of Chablis star, R&V Dauvissat, will note a marked similarity between the labels of the two domaines. This is most likely because Laurent Tribut used to work with Dauvissat and, married to Marie-Clotilde Dauvissat, Laurent is Réne Dauvissat's son-in-law and, perforce, Vincent Dauvissat's brother-in-law. I recall reading that Laurent Tribut still helps out occasionally at Domaine Dauvissat.

"My wife and I spent a couple of extremely hot days in Chablis in July 2006, billeted at Michel Vignaud's Hostellerie des Clos (at La Residence du Domaine where they have bigger, air-conditioned rooms) until the weak air-condition system drove us out to look for cooler climes. We didn't leave, though, before having dinner at the hotel's *Michelin dining room (they have a smallish but excellently stocked cellar, the bottles of which are reasonably marked-up from retail).

"I first tried Tribut's Chablis (a vintage 2004) sometime in mid-September 2006. Jerome Philippon recommended it to me when I expressed my preference for old-style Chablis. I've bought every vintage since then, including Tribut's 1er cru Côte de Léchet.

'With around 45 minutes opened, kept chilled in a bucket of iced water, the 2006 holds true to Chablis terroir with clean, pure, nervy/tense, cold-stone, oyster shell notes shining through the softish, ripe white stone fruit/apple, merest hint of white peach (it was a very hot July in Chablis, I can attest). Well balanced with acidity, nicely focused. I'm very happy with this and am glad I still have some as it is excellent with seafood, particularly fresh, simply prepared shellfish...."
Rene mentioned that it could be rather difficult to switch to this dry, austere, steely, white minerally wine after the rieslings. He's right, of course. I, myself, had the previous dish (i.e., the deep-fried bacon & eggs with onion broth) as a palate-primer - to make the transition from the sweet spätlese to the bone-dry Chablis. I can imagine how the palate would get a bit of a shock otherwise.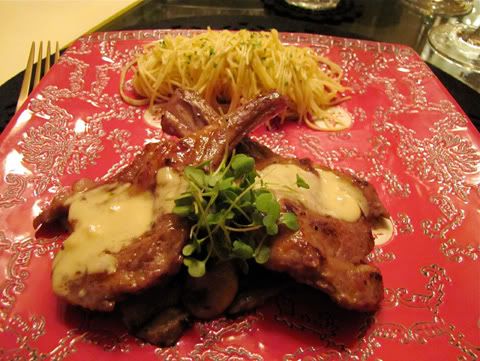 Be still, my heart. This course was an absolute dream:
Lamb Chops with Apricot Glaze, Gorgonzola Cream Angel Hair Pasta & Sautéed Mushrooms
. I felt I died and went to lamb heaven. The apricot glaze was subtle and served as counterpoint to the lamb's smokiness. Perfectly tender and oh, so juicy, the lamb Tita Bella brought in herself from Australia. Aside from our individual servings, 2 heaping platters loomed on the lazy Susan for those who wanted more. Our plates and both serving platters were wiped out. I must have had 5 chops myself.
The pasta was a perfect match as well; the gamey gorgonzola flavors playing well with the lamb's inner/inherent flavor. I finished my first serving in 3 bites and helped myself to more before Miguel could finish it all.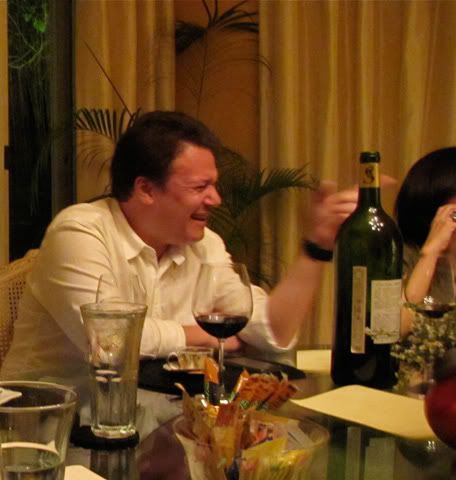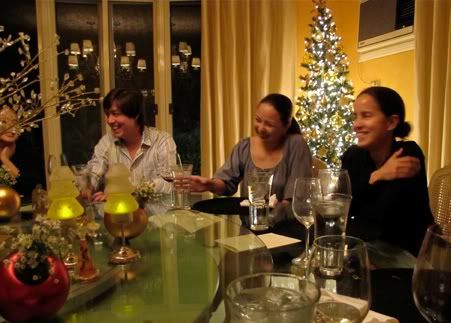 With this dish Rene opened a magnum of...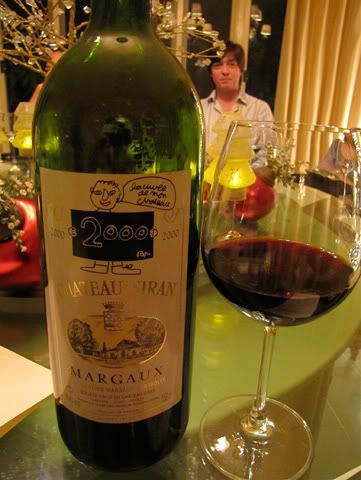 2000 Château Siran
- Another wine I've had many times and have written often about, the last time being around 2 weeks ago from
the Vigneron's belated birthday lunch at CiÇou
. My recent notes were as follows:
A wine from the Vigneron's Margaux estate, from, in my opinion, a particularly good vintage that is just beginning to really hit its stride (though I have found it enjoyable to drink since sometime in 2005). The Stockbroker had earlier requested that the celebrant open a bottle of this for the subject lunch. I've had this wine so many times, I've long lost track of how many. The most recent bottles, however, were during a Cru Exceptionnel Dinner at Yung Kee organized by Mr. Lau Chi Sun's WINENOW Monthly Magazine (HK) on the 24th may 2010. My last notes were as follows:

"Already drinking well, but with long life and great potential for even more improvement ahead of it, this suave, smooth/supple-muscled, agile light-heavyweight is just beginning to really strut its stuff. Naturally more open than the previous youngster, it already displays depth and complexity underneath the fruit. The distinctive spicy notes, some fennel, iron, leather, licorice are well in play, the wood quite already nicely integrated. I enjoyed this a lot, as I always have."

I add now that the wine seems slightly more expansive with cedar and violet notes coming more into play. Notable balance and a quiet, graceful power. This is a familiar and comforting wine for me.
Rene and I discussed this wine's ageing capacity. My take on it was that, having tried Siran's wines from, among others, 1928, 1948, 1953 and 1959, with proper storage, a magnum of the 2000 vintage could probably go well into 45-60 years or even more.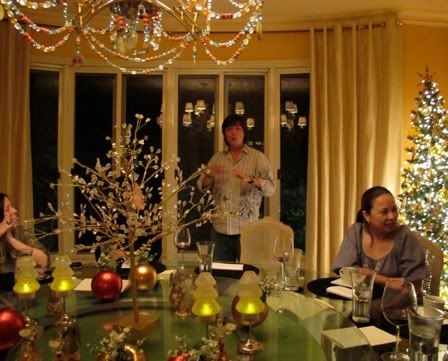 With all the excellent food, fine wines and even finer company, conviviality and accompanying laughter were in by no means short supply.
Santi demonstrates how to "properly" fall in line in Riyadh.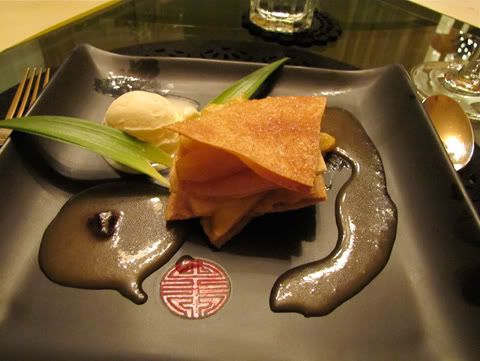 A cool, light, refreshing dessert of
Pineapple, Rum & Raisin Tortilla Stack with Vanilla Ice Cream
brought a sweet end to a magnificent feast.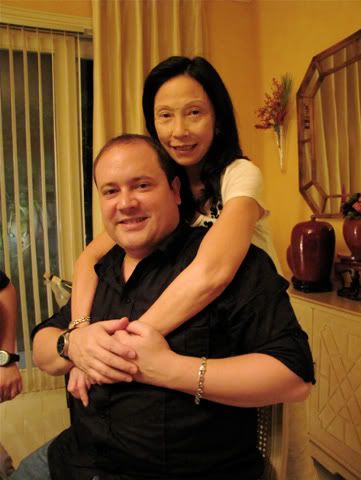 Bravissima, Tita Bella! We simply cannot fathom how you manage to keep outdoing yourself feast after feast, but you always do. As always, we cannot wait...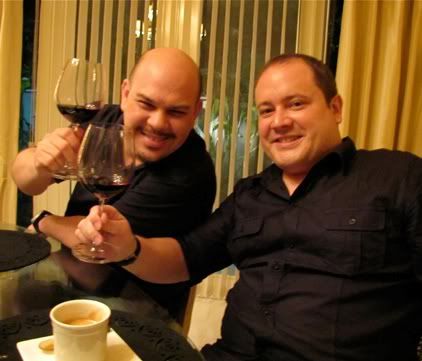 ...until the next! Happy birthday again, buddy!