18th October 2007, 7:30 pm, Metro Manila, Philippines.
Still jet lagged from a recent trip to France, catching up with work and leaving the next day for Macau, how could I miss the International Wine & Food Society Philippine Branch's (IWFS) 25th Anniversary celebration?
I trotted into the genteel environs of Old Manila at the Manila Peninsula just a few minutes past the appointed time, tugging at my collar, dressed in the required dinner jacket for the occasion. Greeted by smiling, familiar faces and a refreshingly bright and lively glass of Billecart Salmon NV, I eased myself into the mood of things. Chatting with Bill Stone, Daniel Go, Markus Ruckstuhl and paying my respects to members of the "Old Guard", Dong Puno, Fil Juntereal, Rene Fuentes and, of course, El Presidente, Bernie Sim, all the while greeting people as I entered, I almost missed out on the hors d'oeuvres.
That would have been a shame as the attractive parade of pâté de foie gras with muscatel relish on brioche, sesame-crusted tuna loin with beluga caviar, apple walnut jelly with Bleu d'Auvergne, Fin de Clair oyster shooters with cucumber mousse, and smoked salmon with buttered pumpernickel with lemon was not only very good, it also surely saved me from getting tipsy too early in the evening as the light, clean, scintillating champagne was just dangerously drinkable. I enjoyed the pâté with the champagne the most as the shooter's cucumber mousse interfered with the otherwise perfectly matched oysters.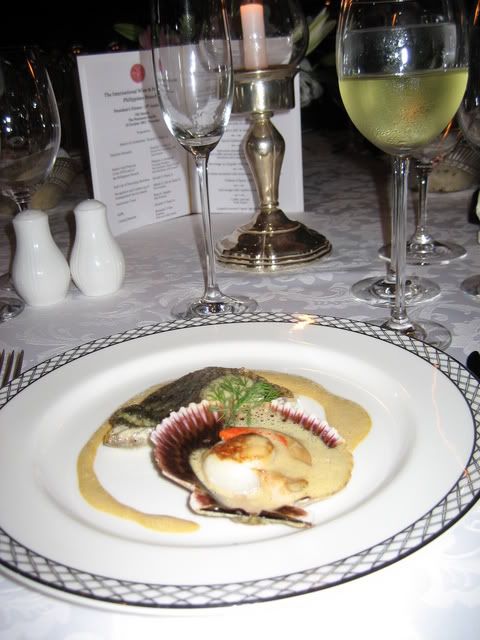 Finally seated, I gazed at the menu with great anticipation. The first course of Fillet of Sea Bass on Celery Leek Ragout; seared Coffin Bay Scallop and Sea Urchin Beurre Blanc was precisely paired with Pouilly Fumé "La Demoiselle de Bourgeois" 2005 by Henri Bourgeois.
I always enjoy good sauvignon blanc based wines with seafood, and tonight was no exception.
The wine's dry, crispness brightened and cut the richness of the sea bass and urchin (a yin-and-yang as noted by Rene); it's clean citrus, mild gooseberry/guava tang and inherent white minerality giving a nice lift and tie-in to the dish as a whole; and, its faint celery nuance running with the fish's ragout.
I made short work of the wine and first course, enjoying every bite and sip, bite and sip. Left gazing at my empty plate, longing for more, I consoled myself in knowing that the evening's delights had only just begun.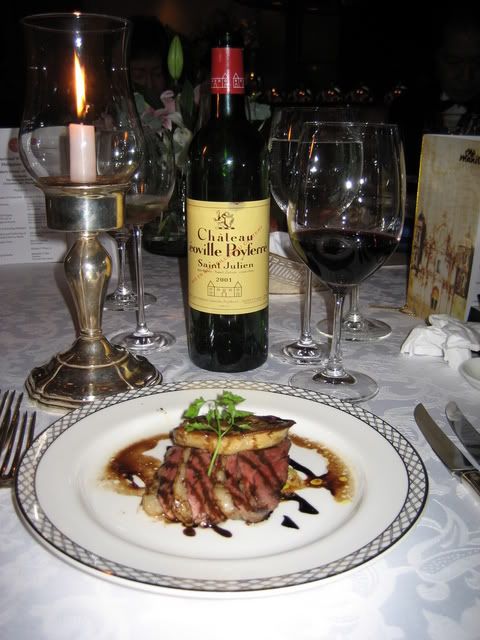 Next came the Slow-roasted Magret de Canard with Seared Foie Gras, Pineapple-Pear Relish with 25 year-old Balsamico, indulgently paired with Chateau Léoville Poyferré 2001. A "gourmand's match", I call it, rich on rich, white on white. Yang-yang, as it were; and why the hell not? After all, if 25 years of wining and dining well isn't cause for indulgence, I don't know what is.
The round, velvety fullness of the wine's dominant sweetish cassis, unabashed dark chocolate, cocoa, licorice, vanilla/oak, mere whispers of leather and truffle, with intruiging dark cherry and raspberry notes flitting about, ran hand-in-hand with the foie and duck's natural fatty richness; leaving the job of cutting, brightening, contrasting and lifting to the pineapple-pear relish and aged balsamico.
I didn't envy them their tasks, Herculean as they were, poor things. They acquitted themselves quite well, however. Had they not put up such a gallant effort, I would have had to scrape my tongue on the carpet to ready it for the next gustatory salvo.

I took only one tiny spoonful of the Spiced Glühwein Sorbet and rinsed my mouth repeatedly with water. I rarely partake of in-between-course sorbets for fear of my palate being affected - one of my many quirks.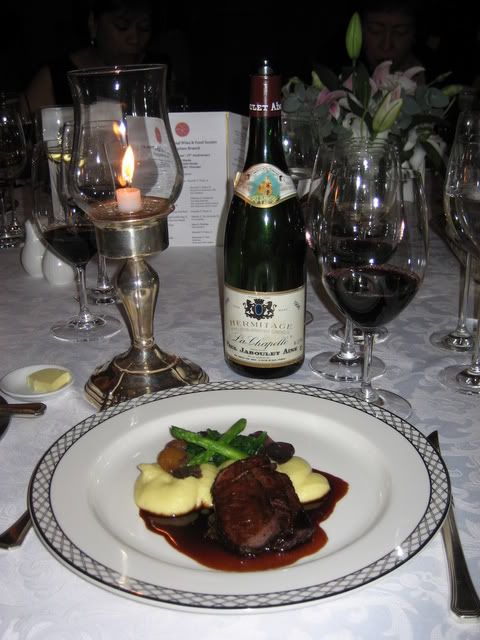 The third course was a traditional, yet, nonetheless, masterful pairing: Marjoram-Scented Venison Loin, Sliced Truffle-Parsnip Purée, Braised Red Cabbage, Chestnuts and Cassis Quince Glaze; with Hermitage "La Chapelle" 1996 by Paul Jaboulet Ainé.
Just looking at the ingredients, I imagine the main thrust was "earthy gaminess". Game: obviously the venison. Earthiness: truffle, chestnuts, and, to a small extent, the parsnip and red cabbage. The marjoram for a breath of freshness; the glaze and, in a second role, the red cabbage, for cut and counterpoint.
The wine, was more a study in intricate juxtaposition, and a fine one, I might add; as opposed to the Poyferré's swimming with the tide. "Intricate" I say because different facets of the wine play off and/or play with those of the food and in different ways.
For example: the mild roast meat nuances of the wine played with the venison's inherent gaminess while playing off the marjoram and cassis-quince glaze; the wine's earthy character played with the venison's, truffle's and chestnut's earthiness while its cherry notes simultaneously played off them, as well as off the venison's gaminess. The wine's and glaze's fruits playing with the red cabbage and off the venison's gamey and truffle's earthy richness.

All this going on on the palate proved most intruiging, intellectually challenging and entertaining; and, for that, I must applaud the pairing. I must mention, though, as an aside, that I did have to scrape off some of the glaze as there was a bit too much of it on my dish.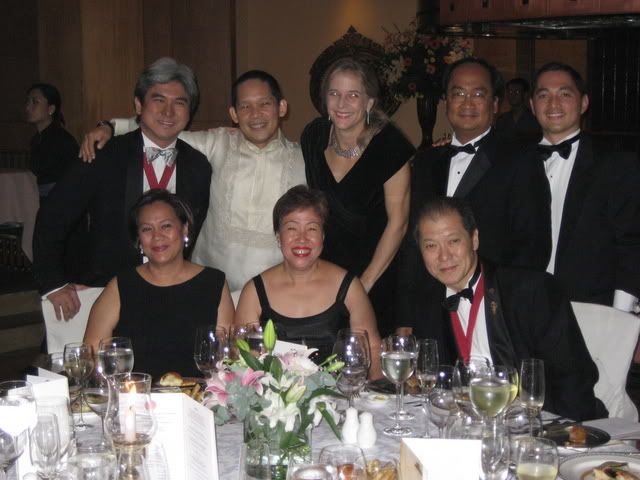 I used the interim before the cheese course to take some quick photos of those at our table. After, all, fine food and wine ring somewhat hollow without good friends to enjoy them with.
Meanwhile, the founding members were recognized, Distinguished Service Awards bestowed, the History and Purpose of the Society recounted and stories of far gone dinners and wines shared. Naturally, an anniversary toast followed. Being a comparative Johnny-come-lately to the Society, I did enjoy listening to the old stories.
Back to wine and food.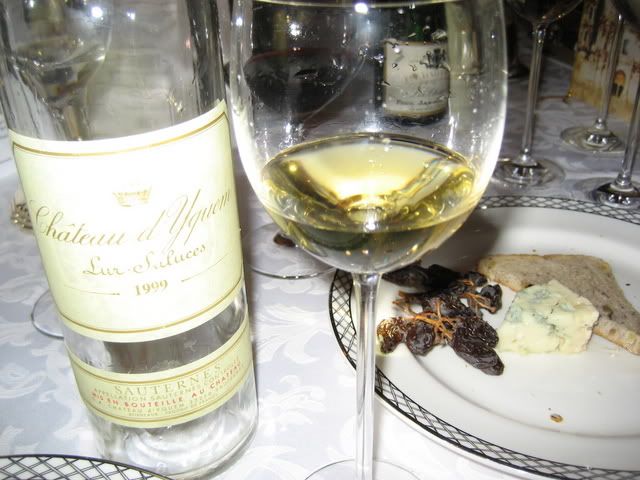 Another classic pairing of Roquefort and Chateau d'Yquem 1999. I must say that when I opened a bottle of this wine almost a year ago, I didn't really think too much of it. Don't get me wrong, it was very good, but after having the 1967, 1986 and 1997 not too long before that, the strength of the mentioned years stuck in my mind. Perhaps it was because I opened my '99 at another Blind Bordeaux Challenge that I failed to win. Who knows?


In any event, this '99 Yquem was much better than mine: fleshier, the botrytis tanginess more apparent, more floral, with much more of a middle and better heft. That night, I drank it as a dessert in itself to enjoy; taking only a few nibbles off the cheese and dried fruit to keep things interesting. By the time dessert of Iced Nougat with Raspberry Coulis was served, my glass was drained.
I recall Bernie asking me how I found the Yquem with the dessert, and I told him I didn't get the chance. I briefly considered trying to steal Rene Fuentes' glass while he was genuflecting before the bottle of Yquem, but thought better of it after having learned both he and his buddy Fil Juntereal used to work out at the gym. "Mahirap na", I thought to myself.
The prized bottles were then raffled off and Jojo Madrid won an '82 Ducru Beaucaillou. He was so happy, the lucky guy.
I, on the other hand, won nothing. I tried to console myself by telling Jojo that, considering he donated a 100-pointer las Cases, he lost money on the deal; but he just laughed off my spitefulness.
Kidding aside, I was happy for him since I'll likely get a taste of that bottle anyway.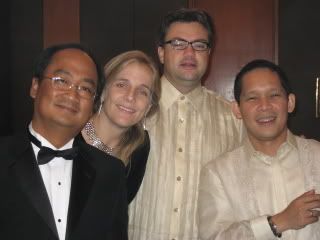 After a double espresso and a quick Cohiba mini with Bernie and Jojo, Edouard and Sevrine joined us at the smoking area.
We congratulated Bernie and Oscar for an incredible evening, said our goodbyes and headed off for home.
From the look of Edouard, I was glad I wasn't riding with him.