I was at
Mamou Too
2 days in a row a couple of weeks ago: lunch of Friday the 14th & dinner of Saturday the 15th March 2014, and had some pretty interesting wines.
Friday, 14 March 2014
.
Late lunch with Alex and Paolo (Enki was out of town) after a hectic work week (well, they all seem pretty hectic these days), so much so that I didn't bother bringing any starting bubbly or white because I felt like just having meat and going straight to the reds (something that very rarely happens). I brought both bottles of red since lunch was my idea.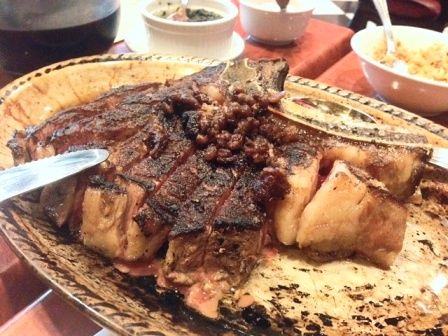 With some Dry-Aged US Prime Grade Rib-Eye...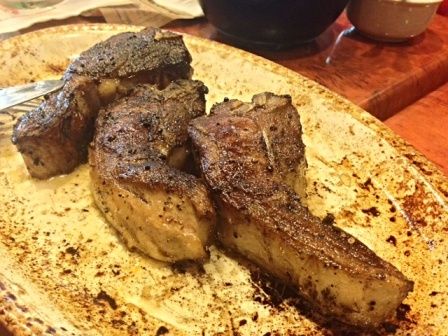 ...& Grilled Lamb Chops...
1985 Chateau Montelena Estate Napa Cabernet Sauvignon
- Deep, nicely concentrated, mellow, soft dark fruit here on a neatly full-bodied frame. Good harmony and balance; this is what aged Napa cab should be all about, to my mind. Mainly moderately tobacco-and-loam-infused cassis, black cherry, and raspberry - the raspberry emerging more towards the back and trailing in a properly long finish, as do the cedar and well-integrated wood notes. Structure is good in this near 29-year old. Excellent with the indulgent meat dishes.
1995 Château Grand-Puy-Lacoste
- This was popped-and-poured, and followed the above wine, thereby, I believe, suffering a bit in comparison. Past '95 GPLs have been, to my recollection, generally fuller than this subject bottle, and have made more of a definitive statement on the palate (those were given material aeration time in decanter and glass). After the '85 Montelena, however, the subject bottle seemed a bit too lightweight, young, primary, and simple - but that's most likely my fault rather than the wine's. Pleasant enough, but not too interesting for me that day, in that setting.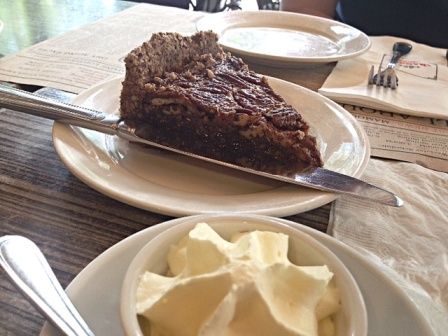 Pecan Pie w/ Schlag & a double espresso after, as usual.
As we were sitting outside so I could smoke, we were informed that there would be 5 live Maine lobsters available the next day - so Alex and I immediately agreed to meet up again for dinner and reserved 2 of the lobsters. Alex treated Paolo & I to said lunch - thanks again, bud. Much appreciated.
Saturday, 15 March 2014
.
Again, I brought no bubbly, but Alex did bring a white - and an excellent one at that.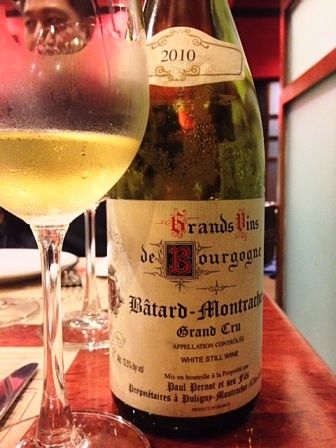 2010 Paul Pernot Bâtard-Montrachet
Honestly, recalling a 2005 version of this same wine, from the same producer, that I had tried out a couple of years ago, I wasn't at all expecting this wine, young as it was, to perform a fraction as well/openly as it did. Initially, it showed as the 2005 did - rather tightly-wound, presenting more citrus and minerally crisp green apple more than anything - pleasant, though not
that
interesting...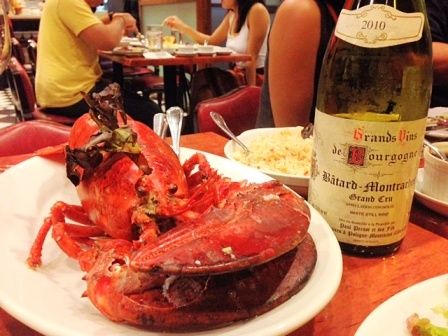 ...though it did go nicely with the 1st Maine lobster.
However, after around 40 minutes or so of aeration and warming down in glass, the wine, indeed, came into its own - like it became another wine altogether: materially and luxuriously fleshed out and much, much heftier, the initial tightly-wound fruit turned buxom, rich, well-ripened, with butter, moderate vanilla bean, ripe pear, just a hint of peach, some baking spice, whispers of nuttiness, and gaining a pronounced crescendo and a long, flourishing finish. Wow. Very impressive, especially for so young a wine. A beauty indeed...
...and, by then, a perfect match for the 2nd Maine lobster - this time, per Alex's special request, prepared with more butter, olive oil & garlic - reminiscent of Thanh Long's crabs. Loved it.
Each lobster came with an order of
Lobster Rice
, which was nice enough, but not exciting - until, as Alex recommended, I mixed in some dried pepper flakes. That made everything pop, and turbo-charged my appetite for it. Incredibly good.
Will this this lovely, young grand cru white close down? Maybe. Will it maintain and/or improve over the long haul? I think so, it certainly seems to have the structure for it, but only time will really tell. The only problem would be keeping one's mitts off it to allow it to age. Alex had bought out the entire remaining stock of Premium Wine Exchange's stock of this, and knowing him, the rest of his bottles of this won't last long. Time for some canvassing/searching on the net for more (especially since Catha loved it as much as I).
For the meat course, we, again, went for an order each of the
Dry-Aged US Prime Grade Rib-Eye
& the
Grilled Lamb Chops
, with which we had:
1989 Vieux Château Certan
- my bottle. This is a deep, dark, serious, complex, typical, quietly and elegantly powerful Pomerol. Remarkable balance and finesse. Fine structure/backbone (the unusual for Pomerol cabernet sauvignon element, most likely). Everything is neatly in its proper place. I immediately ordered more bottles of this. Enough said, save that, a couple of days later, after I posted a photo of this on Facebook, Vancouver-based Vince Tan commented that he just had this at a 1989 horizontal dinner of the Commanderie de Bordeaux of Vancouver, and that it was his favorite Pomerol and wine of the night - even preferring it over the 1989 Latour.
1988 Paul Jaboulet Aîné Hermitage La Chapelle
- Alex's bottle. It's been quite a long time since I've had an Hermitage from the '80s, the last one I can recall offhand was a 1985 La Chapelle in sometime in mid 2009. This was a few notches over medium-body, very smooth, comparatively light-footed, and quite complex with roasted Provençal herbs, bacon fat, cedar, bit of gaminess, roast meat, bit of leather, hint of walnut skin seamlessy infused in its dark raspberry, strawberry and underlying black currant. Good, long finish. There could have been a bit more presence in the middle, but that's picking nits. A suave wine indeed.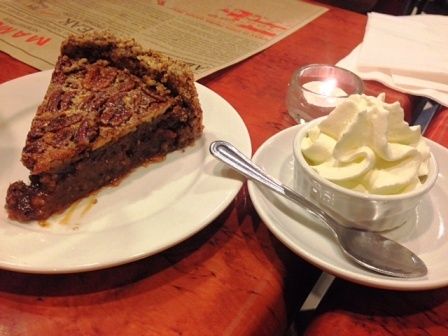 Again, some Pecan Pie w/ Schlag, followed by double espresso.
Love eating at Mamou Too! The fine wines certainly don't hurt either. I made sure that they give me advanced notice next time live Maine lobsters are available - they're like gold in these parts. To go with them, I have some 1989 Louis Latour Bâtard-Montrachet & Corton-Charlemagne (im)patiently waiting. So, until the next!