Lunch of Wednesday, the 27th October 2010, was with Usual Suspects Rene, Aaron and J-Lab at
Mamou
(
Miguel was on a plane to Spain and the Stockbroker was unavailable). I arrived a little past 1pm and the guys had already started pouring. They made sure to save me a couple of glasses of champagne though.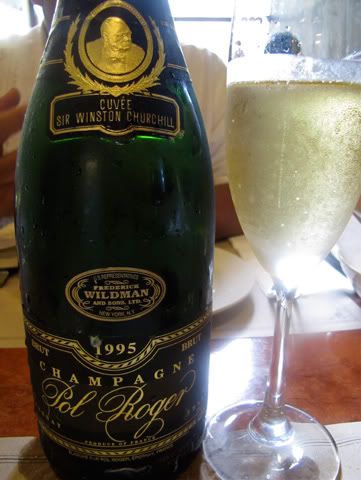 1995 Champagne Pol Roger Cuvée Sir Winston Churchill
- Rene brought this bottle, it was one of those bequeathed to our little group by O.C., California-based fellow-wino, Clem Nieto, during
a most enjoyable dinner at Ciçou
on the 6th September 2010. Its nicely rounded, moderately creamy mid-palate and pliant, ripe pear, green apple, lemon custard, dried fruit and pastry flavors what struck me the most. This is a hedonistic champagne. It gained more complexity as it sat in glass, revealing added sourdough and buttery nuances. Having rushed over from work, it was an excellent way to immediately unwind.
Maraming salamat, Clem, and as promised, we offered a toast to you from this bottle.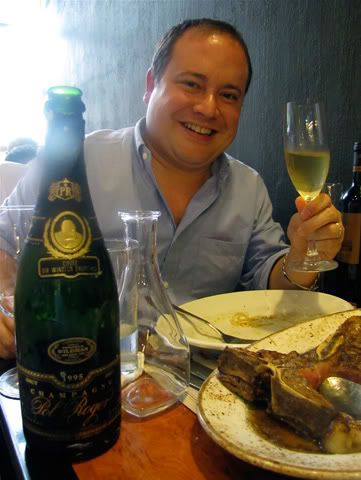 Rene says "¡Salud!"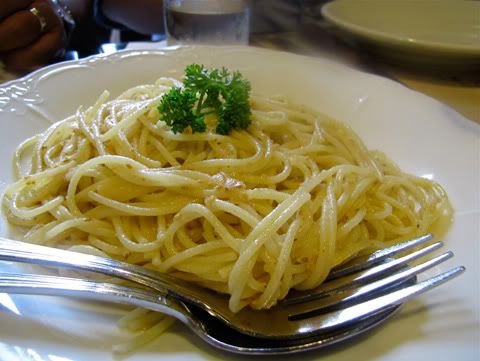 Mamou's
Spaghetti Bottarga
, it was especially good yesterday.
Magnifico
!
With this we enjoyed some of J-Lab's
2009 Dr. Loosen Bernkasteler Lay Riesling Kabinett
- Notably well-focused, zippy, taut, clean and lean-ish peach, apricot, ripe lemon and slight quince with a bit of edgy slate. Acidity and minerality were precise. This is a real charmer, and it was a lovely foil to the rich-salty-savory bottarga. Very refreshing and cleansing between bites.
There was a quick discussion which steaks to order, and we finally decided on two orders of Mamou's tried-and-tested
Dry Aged, USDA Prime Grade, T-Bone Steaks
with 4 sidings of White Steak Rice
.
Steak No. 1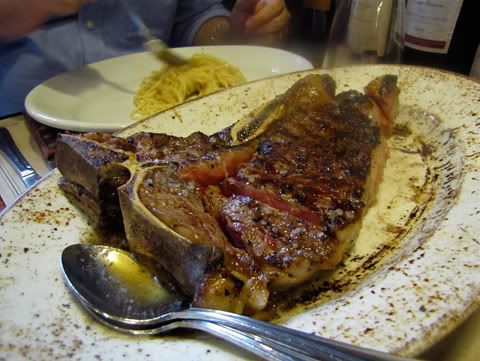 Steak No. 2
We ordered them medium-rare (I was the only one in this little gathering who likes my steaks bloodier) and they came out exactly as requested. Both steaks were perfect.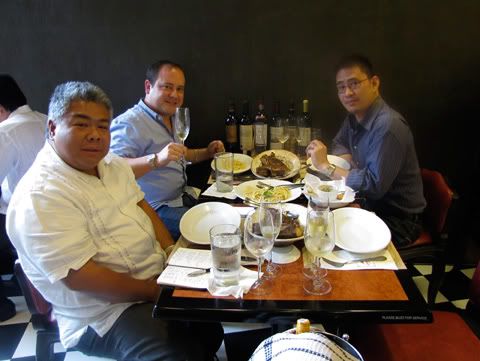 J-Lab, Rene & Aaron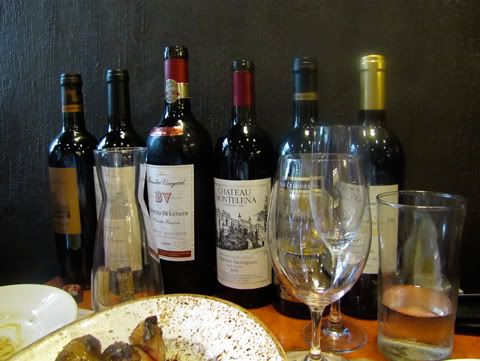 As usual, we had several reds to choose from. We just opened 3 though:
2006 Beaulieu Vineyard Georges de Latour Private Reserve Cabernet Sauvignon
- My bottle, a gift from Boozze, a most steadfastly Napa-headed longtime friend (thanks, Manong!). We asked for decanters, but the restaurant only had these tiny, pitiful excuses of decanters available, so we opted to let the wine breathe in glass - thankfully, they have sizable Riedel stemware which did nicely.
Wow, this was big and bold and surprisingly drinking very well for so young a Napa cab. Luxuriously lush, indulgent, concentrated, well-extracted, nicely layered crème de cassis, blackberry, hint of kirsch, black cherry, cedar, loam, bit of chocolate, underlying charcoal, moderate oak (initial cedar and mint topnotes). J-Lab noted the charcoal notes picked up on the steaks' own charcoal-smokiness. Tannins were big but smooth enough, the acidity lowish, but good enough to maintain over-all balance. The votes were unanimous - although too big and youthfully powerful to drink alone, this wine paired best with the steaks.
1991 Château Montelena Estate Cabernet Sauvignon
- Rene's bottle, from a batch he picked up in the US. I got to my glass of this as I finished my plate of steak (shaving off as much as I could from the bone). Serene, subtle, deep, mellow; cedar, violets, gravel and mushroom lace the halfway over medium-bodied, earthy black fruit and minor black and wild cherry. Admirable restraint and balance. This gently but surely reminded me of why Château Montelena is one of my top two favorite producers of Napa cabs.
1998 Bodegas Riojanas Viña Albina Gran Reserva
- Aaron's bottle, one amongst several sent by the producer for us to taste and consider bringing in. This, I noted, was old-school Rioja, of a leaner, old Bordeaux-reminiscent style as compared with Riojanas' "higher" Monte Real line. Dignified, serious, proper and elegant - I could say "patrician". Firm structure, healthy acid balance, cedar, slight worn leather and even slighter balsamico notes are seamlessly woven into the dark strawberry, raspberry and wild cherry, with fleeting highlights of bright red spice. This is both food-friendly and contemplative.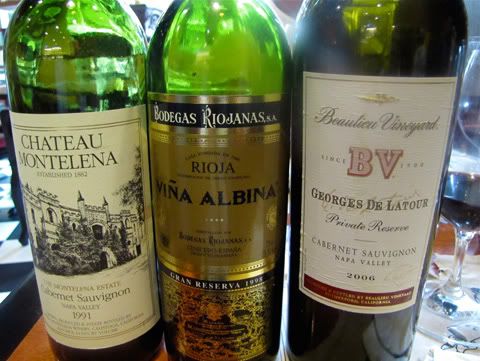 We ordered a plate of
Fuet & Cheese with Honey
to go with the last of the reds; J-Lab and Aaron got a slice each of
Pecan Pie
to end the meal. I didn't have any though and just went for a double espresso.
Great lunch, guys. Excellent company, fine wines and heart-stoppingly good steaks. I'll be back in Mamou sooner rather than later. Until the next!