Sometime late this past April, IWFS director, Oscar Ong, asked if I could help out with the Society's August function, and, of course, I said yes. Being somewhat familiar with Alsace cuisine and wine, I suggested that the same be the theme for that night; and, contacted Chef Marc Aubry of
Je Suis Gourmand
for the reservation and the menu. I discussed the same with Marc a couple of times and with
El Presidente
, Bernie Sim, as well.
As I was not available for the requisite menu and wine tasting lunch prior to the dinner, Bernie, Bill Stone and Othmar Ober took care of that with Jérome Philippon joining them. Several bottles from different makers were tasted and compared (what a tough job!) and the final pairings decided upon. Chosen were 3 wines from Domaine Bott-Geyl to be supplied by the official Philippine distributor, Sommelier Selection (of Jérome), while the 2 from Domaine Ostertag were from Bernie's personal cellar (so, alas, they are not locally available).
I wrote about meeting Bott-Geyl's winemaker, Valerie Bott-Cartier, and tasting some of her wines a while back. You can read about this bio-dynamic domaine and its organically made, unmanipulated and natural wines by clicking
here
and
here
.
Menu and Pairing Wines
Assorted Pass-Arounds
2005 Bott-Geyl Les Pinots d'Alsace Metiss
Flammenkueche (Flamed Alsacienne Tart)
2006 Bott-Geyl Riesling Les Elements
Cream of Frogs' Legs and Watercress Soup
Roasted Goose Leg with Braised Choucroute & Smoked Sausage
2001 André Ostertag Riesling Cuvée Clos Mathis
Munster Cheese Tart with Salad
2006 Bott-Geyl Gewürztraminer Les Elements

Plum Tart Marinated with Kirsch
1989 André Ostertag Gewürztraminer Fronholz
Sélection de Grains Nobles
The appointed date, 21 August 2008, cocktails started at around 7pm at the bar area with several appetizers involving a variety of cheeses, hams, mini quiches, gherkins, etc. and, of course, Marc's own terrine of
foie gras
. I'm glad Bernie and Marc found a way to insert
foie gras
into the menu as Alsace is a big producer of the delicious fatty liver - an Alsatian meal wouldn't be complete without a bit of
foie
. With all these, we sipped on: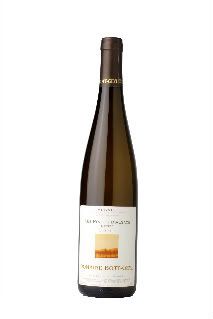 2005 Bott-Geyl Les Pinots d'Alsace Metiss
- As I understand from Jérome, this is a blend of pinot blanc, pinot noir, pinot gris and auxerrois (not to be confused with the auxerrois of Cahors which is what they call the malbec grape there).
A fresh, mild, charming, simple and straightforward wine exhibiting mild and ripe, user-friendly yet difficult-to-describe soft, pillowy fruity flavors with light touches of tropical sweetish-ripeness, faint hints of flowers and spice and underlying nuances of almonds. Cool and supple in the mouth, it is very easy to drink.
It went very nicely with the terrine of
foie gras en croute
. We all, thereafter, trooped to the function room for dinner proper at around 7:45; and none too soon, I might add. There were so many delectable pass-arounds, it would have been all too easy to get full and ruin our appetites.
~ With the Flammenkueche ~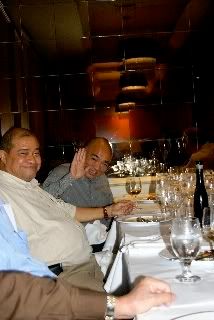 2006 Bott-Geyl Gewürztraminer Les Elements
- This wine was supposed to have been served with the munster cheese tart with salad, but, somehow, the it was served with the
flammenkueche -
Rene Fuentes - he of the
basso profundo
- made sure everyone caught the vinous
faux pas
. The dish, also known as "tarte flambée", is, simplistically, like a thin-crust pizza without tomato sauce, topped with various ingredients, but, traditionally, these ingredients are
crème fraîche
,
fromage blanc
(a soft, fresh cream cheese that looks like sour cream), onions and
lardons
(bacon that is diced, blanched and fried).
This is a very typical dish in Alsace - you couldn't swing a cat around anywhere in Strasbourg without its claws catching a slice of this.
This gewürz was my favorite wine of Bott-Geyl that night: clean, sweetly fresh flowers, rose petals, spiced lychee and peach in the nose, mirrored in the mouth in a lively, exuberant, racy, slightly-less-than-medium body with good acidic lift and discreet underlying minerality. Light on its feet, it danced on my palate. It is a pity that so few in this country bother to try to get to know the joys of Alsace gewürztraminers. This one was so very pure and clean. Precisely balanced, excellent wine, and, at its very reasonable price of P1635 per bottle, a definite buy - chill well and enjoy with Marc's terrine of
foie gras
.
Despite the mix-up in service, I found that the wine matched well with the flammenkueche - its ripely sweetish lychee and peach a nice foil to the salty lardons, its fresh, racy lift reviving the palate of the richness of the fromage blanc and crême fraîche.

After the hearty Cream of Frogs' Legs and Watercress Soup,
with the Roasted Goose Leg and Braised Choucroute
& Smoked Sausage: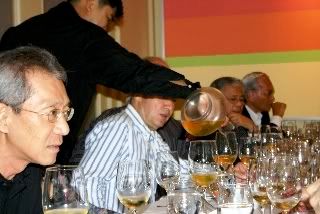 2001 André Ostertag Riesling Cuvée Clos Mathis
- Decanted and kept chilled for over an hour before serving to allow it to fully open and be at its best when served, said Bernie, relating to me how this wine just kept better and better during the tasting lunch's span (the one that I missed - sure, sure, make me jealous).
This was a wine of both depth and finesse. Quite dry (that's the way rieslings should be, to my mind, unless they are SGN), minerally, clean lines, with nuances of orange rind, white peach, mild citrus. Its petrol notes in perfect harmony - never obtrusive, easing in gently a little past mid-mouth and on to the finish. Extremely well-knit and complex - one could alternate between luxuriating in its flavors/texture and pondering its complexity. Another with precise balance. Excellent by itself, excellent as a match. Bernie had been buying their wines (another biodynamic maker) since the late '80s or early '90s, if I'm not mistaken. I can see why.
Almost impossible to find this these days, even in the US. Only the 2004 version is somewhat readily available. I came across one source in the UK selling the 2001 at around £16 per bottle excluding UK VAT, shipping, handling, etc.
~ With the Munster Cheese Tart and Salad ~
2006 Bott-Geyl Riesling Les Elements - Served in switched position with the gewürz. Young, a bit tight and linear, it is fresh and well focused, its minerality and acid holding sway at this point. This is a good entry-level riesling: lean, dry, straightforward, traditional and food-friendly - but needs more time, in my opinion, to flesh out and put on a bit of weight. Though I enjoyed it well enough and would certainly buy it at its reasonable price (to bring to People's Palace, for example), it should not have been served right after the mature, higher-end bottling line of Ostertag.
I noted that Bott-Geyl appears to have a new, more modern and attractive label on its '06s. Nice touch.
~ With the Plum Tart Marinated in Kirsch ~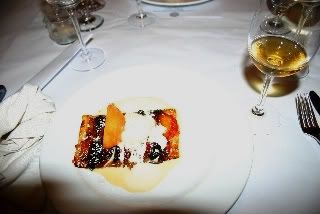 1989 André Ostertag Gewürztraminer Fronholz Sélection de Grains Nobles
- the phrase "Sélection de Grains Nobles" (SGN) is a term used in Alsace and Monbazillac (and perhaps elsewhere in France, I don't know) indicating that the grapes were heavily subjected to
botrytis cinerea
(much more than
vendanges tardives
) to shrivel them and concentrate their natural sugars. The same process yields the better known sweet wines of Sauternes and Barsac (which use semillon, sauvignon blanc and, to a much lesser extent, muscadelle grapes).
Viscous yet fine tangy candied apricot, lychee, spice and wild honey with hints of honeysuckle and vanilla. Nicely balanced by acidity to give lift and keep it from being cloying. There was, indeed, the faintest hint of oxidation and signs of fatigue that Bernie and I noted earlier in the evening when we tested it. He opined that he should not have waited so long on these bottles. I agreed, but added that I, personally, do not at all mind the slight hint of decline in wines (within bounds of reason, of course) as it brings to me a touch of wistfulness, nostalgia, a sort of sad romance.
My glass was drained and I asked for more. As we lawyers say (and there always seems to be so many of us at wine functions for some reason): res ipsa loquitur. Unfortunately, though, there was none left for a second pour.
Dinner done, we accorded Marc and his staff the proper thanks and respect, and wound down with espressos, glasses of kirsch and, for some, cigars. It was an incredibly busy evening at Gourmand - the place was absolutely packed, and it wasn't just us, I saw several friends there including steak tartare addict
Miguel
at one table and my youngest sister on a date at another.
It is a credit to the chef and staff that things went so smoothly, all things considered. Marc, surely now tired but at ease, joined us in celebratory glasses of much-needed digestif. I had a great time.
Thanks to Jérome for supplying the pictures as I forgot to bring my camera that night.