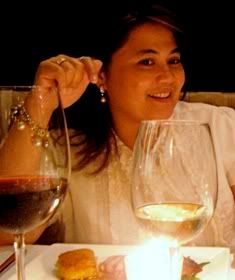 Dinner last night, Thursday, 25th June 2009, was at
Sala Restaurant
with Apple. My wife and she have been close friends, schoolmates and carpool mates since their elementary school days. Over the many years, I , as well, have grown quite close to her and Rocky - her fellow foodie/wino/soulmate, as we share the same passions. Though we get to see each other only a few times a year since they and their kids live in Hillsborough, Ca, we always make it a point to get together for some good wine and food whenever they are in town.
Rocky, unfortunately couldn't make it this trip and Apple brought only one of her children along. Since she is here for a relatively short while and, naturally, has to spend time with her folks, my wife and I eventually decided that this dinner just be for us three to be able to spend quality time with her.
Apple was well-prepared for the evening, having spent time in the gym and treadmill earlier in the day to be able to indulge without remorse. She and my wife immediately chose the
Degustacion Menu
, while I, having recently had the same thing, opted for my usual starter of
Twice Baked Soufflé of Prawns and Feta Cheese
with Dill
and the
Sous-Vide Squab with Seared Foie Gras, Horseradish Potato Purée and Port Wine Jus
for my main course.
Our wines for the evening were Burgundies, both from the Côte de Beaune, by Louis Jadot, both sourced from Bacchus Int'l.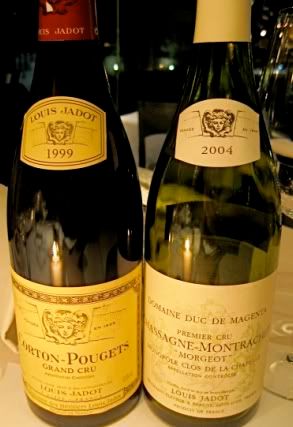 I had the young
2004 Jadot Domaine Duc de Magenta Chassagne-Montrachet Premier Cru Morgeot Clos de la Chapelle
decanted to breathe in a bucket of mildly iced water for around an hour before serving. The
1999 Jadot Corton-Pougets Grand Cru
was just left opened for 45 minutes in the bottle - no decanting.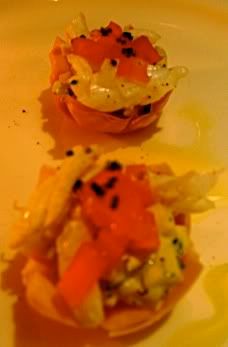 Amuse bouche of crab and tomatoes arranged like flower petals in a little tart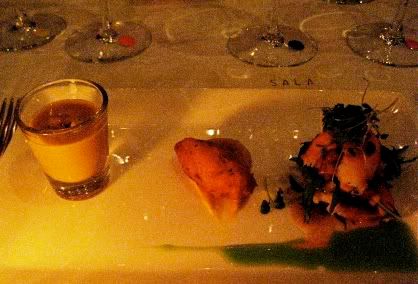 Trio of Corn and Sweet Shrimp Bisque, Sweet Shrimp Beignette with Corn Purée and Sweet Shrimp and Corn Salad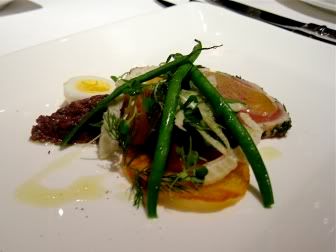 Salad of rare tuna and some greens with quail egg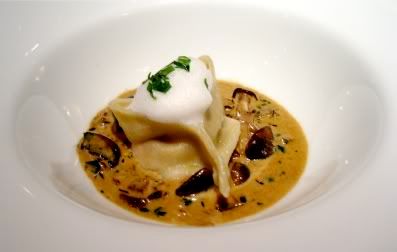 Quail Bacon Sage Tortelloni with Mushroom Fricasee and Truffle Oil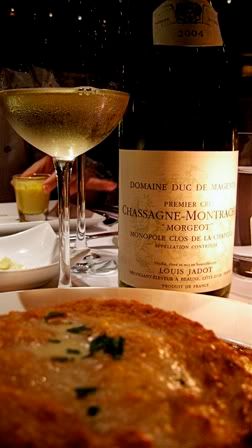 2004 Maison Louis Jadot Chassagne-Montrachet Premier Cru Morgeot Monopole Clos de la Chapelle Domaine Duc de Magenta
- The grapes that go into making this wine come from the monopole (single owner) enclosed vineyard ("clos") named Clos de la Chapelle located in the premier cru climat of Morgeot within the Chassagne-Montrachet appellation in the Côte de Beaune. While Domaine Duc de Magenta is the sole owner of Clos de la Chapelle, the produce thereof is, by long-term contract, under exclusive vinification and distribution of Maison Louis Jadot. The premier cru Morgeot is known to yield the most masculine of the whites of Chassagne-Montrachet.
For those new to the wines of Burgundy, the Côte de Beaune is more famous for producing white wines (chardonnay), including the most sought-after grand cru Montrachet, the vineyards of which straddle the villages of Chassagne-Montrachet and Puligny-Montrachet.
This is a rather self-possessed, austere Morgeots, likely due to the vintage. It is initially a bit tight, presenting clean, dry, highly focused, slightly floral white fruit, apple, steel, white minerality with hints of spicy/toasty oak and leesiness on a medium body. As it warmed a bit in the glass, the wine fleshed out, gaining a little heft and breadth mid-mouth and through to the finish. In so doing, it showed more depth and concentration in its fruit. Over-all, it has admirable purity, balance and restraint - a classy performance.
The main courses: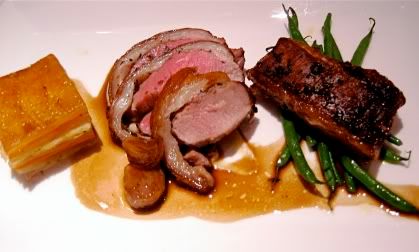 Roast Lamb Shortloin and Lamb Shortribs Confit with Root Vegetable Pâve and Shallot Jus for the ladies with...
1999 Jadot Corton-Pougets Grand Cru
I enjoyed this with my Sous-Vide Squab with Seared Foie Gras, Horseradish Potato Purée and Port Wine Jus.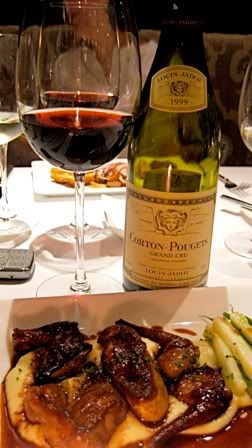 1999 Jadot Corton-Pougets Grand Cru
- I first tried this from Vancouver Vince over a post golf dinner at home on the 13th May 2009. I liked it a lot, so got some for Apple to try. As luck would have it, she is currently enjoying pinot noir based wines after spending a weekend at a recent Pigs & Pinot festival - so my choice of red was most appropriate. My previous
notes
were as follows:
From Jadot's own south-eastern exposed vineyard situated on the Rognon de Corton (literally, the "Corton kidney"), just below the vineyards of Corton-Charlemagne.
A bit reticent, initially, after around 15 minutes in the glass, this attractive dark red wine started opening up with sweetly-spiced raspberry, cherry and fine cedar - eventually developing into a nicely perfumed bouquet.This wine was alluringly, seductively feminine in character, with very notable finesse - from the attack to finish, there is definitiveness, but elegantly understated. In the mouth, notes of dried cranberry, red beet and a whisper of violets are intricately intertwined with the mirrored sweetly spiced red fruit/berry aromas - making for a very enjoyable wine indeed.
I can add now, since the wine had more aeration in bottle and glass this time, that it exhibited more openly the power, breadth, body and push expected of grand cru status and more depth in its deep, pure and well-defined cherry and raspberry flavors - but all in a polished and poised manner.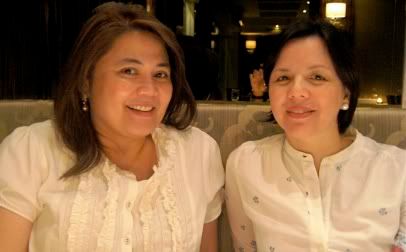 We finished the evening with a lot of stories, desserts (of which I forgot to take pictures, I had the
Mango & Passion Fruit Pavlova
), and cups of coffee. It was really great catching up with Apple again. Next time, hopefully, Rocky will also be around to share in the fun.