Last night, the 23rd June 2011, was at
The Tasting Room
for a special session of Russian River Ales. These ales are very highly rated and, actually, Jimmyton's
Global Beer Exchange
doesn't even carry these. Jim just brought some back from a recent trip to California so we could all taste them.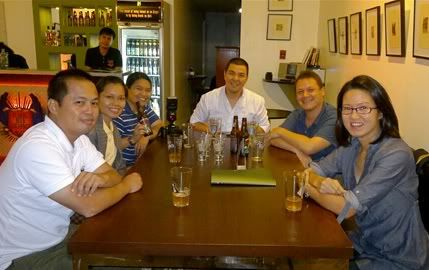 We were to be 9 in all, but Alex and Richard were delayed due to the traffic the rains brought. Above, aside from myself, the early birds were Tonji, the Ancheta sisters, Jim, Miguel and Sylvia. We decided to wait for the others, so Jim popped open a couple of bottles to warm us up.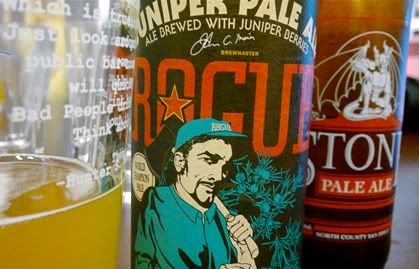 My favorite
Rogue Juniper Pale Ale
& Miguel's favored
Stone Pale Ale
.
With these, we had platters of
Jamón Serrano
,
Vela de Lomo
, etc. I've written about the Rogue Juniper Pale Ale many times before, so there is no need to repeat myself. The Stone Pale Ale is a clean, refreshing hoppy ale with a light, underlying maltiness. Very nice indeed. I can see why Miguel favors this. Both were nice with the deli.
After a more than decent wait, we decided to start on the featured ales, saving some for the others, naturally.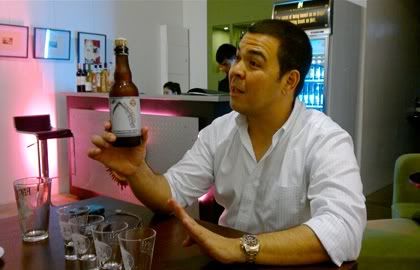 The lecture begins...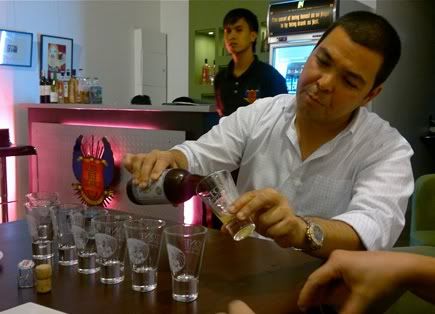 ...followed by the precision pours.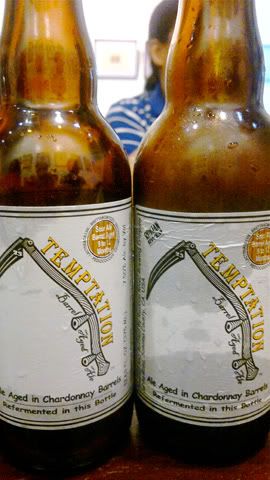 A pair of
Russian River Temptation
.
These are "wild ales" per Jim, but I forgot to ask him what that meant. Both were aged for 12 months in chardonnay barrels. One was a new release , the other a year bottle-aged already. Both are very dry and hoppy with notes of sour apple, white grapefruit and a hint of calamansi. The younger one's citrus was quite aggressive and had a prominent yeasty touch to it. The aged one was comparatively quite mellow (much more ready to drink to my mind), and the citrus was mild - emerging more towards the back and finish. Most of us found it a bit strange and too different, but Tonji (who knows much more about beer than I) liked them and said they would be good for the beach or on a hot day.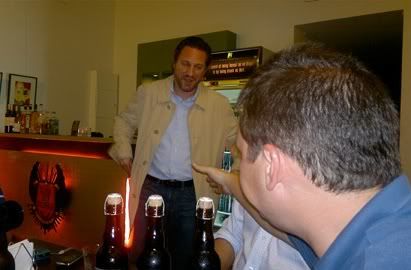 Richard finally arrives in raincoat and sandals
- not really the ideal footwear for Philippine flash flood weather.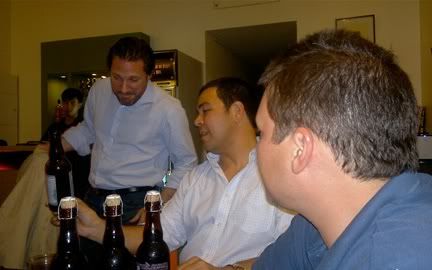 Of course, he immediately got down to "business".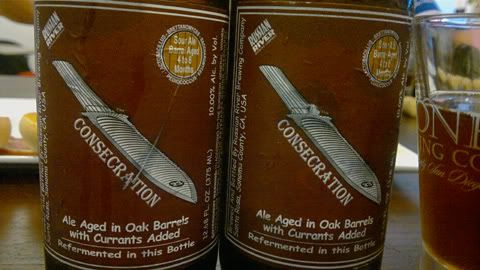 A pair of
Russian River Consecration
.
Like the Temptation, one was a new release and the other a year bottle-aged. These were oak aged and flavored with currants - like a cabernet sauvignon ale, per Jim. Both reminded me of kir but made with beer instead of white wine. I think most of us found them a bit too weird - descriptors of
champoy
and
kiamoy
were mentioned. I seem to remember that Richard and Miguel mentioned that there were summer drinks of beer mixed with fruit liqueur in Switzerland and Spain. I've never tried them though.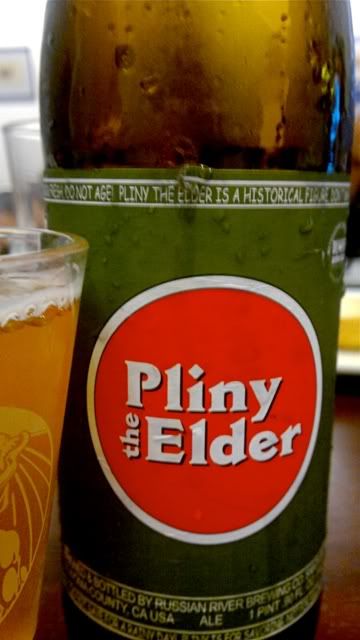 This double IPA
Russian River Pliny the Elder
, named after the Roman scholar and writer, Gaius Plinius Secundus, was an absolute hit with the group. We all loved it and, for Tonji, Richard and I, was clearly the beer of the night. It is powerful, yes, but so refreshing, smooth and balanced in its malt, hops, citrus and yellow apricot reminiscent flavors. Excellent, excellent brew. I've read and heard a lot of good things about this beer, and it certainly did not disappoint. What a great treat! Thanks for bringing this in, Jim!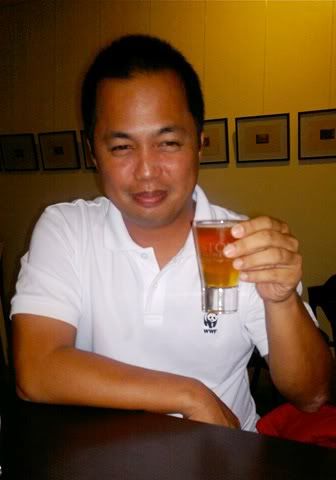 Tonji was actually the one who introduced me to
Jim's craft beers and assorted Belgian ales several years ago.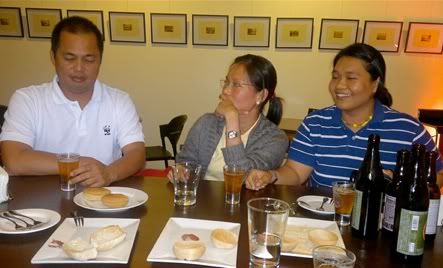 He's always had the habit of asking such strange yet thought-provoking questions.
The Russian River Ale tasting done, we moved onto a new line of Jim, the
Ballast Point Sea Monster Imperial Stout
. Roasted malt, just a hint of
arnibal
, bit of chocolate, black coffee, dried fruitiness, underlying oatmeal, nicely rounded and pliant on the palate. Again, there is notable balance to this; nothing juts out, no angles. Very, very nice indeed. I can very easily get into this stout. In the meantime, Alex and our pizzas had arrived.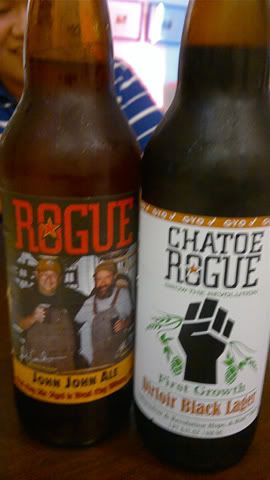 Since I wasn't able to attend the last Rogue event, I simply had to have the two releases that I missed, namely, the
Rogue John John Dead Guy Ale
and the
Chatoe Rogue Dirtoir Black Lager
. The John John Dead Guy is, as I understand, a barrel aged release of my favorite Dead Guy Ale. It is similar in power and flavor, but with seemingly slightly more heft, punch and slight notes of caramel and vanilla. The Chatoe Dirtoir Black Lager, on the other hand, displays an alluring deep roasted maltiness that I find delicious and dangerously easy to slug down. I had to watch it, though, as I noticed I was already swaying a bit when I went outside for a quick smoke. Needless to state, both are on my beer re-stocking list.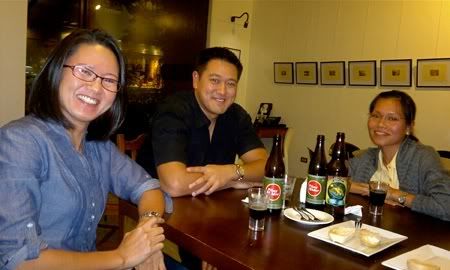 By that time conversation was flying, about the environment, birds, mining, investments, foreign exchange, what-have-you - peppered with a lot of good-natured teasing and a lot of laughs.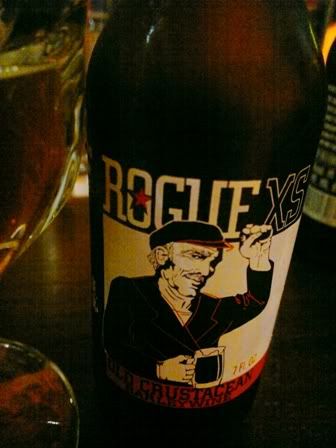 Jim and I then had a bottle each of the
Rogue XS Barely Wine
- the first barley wine I've ever had. I was already quite hit by that time, so, honestly, I don't really remember how it tasted; I just know I finished the bottle. I'll have to try this again for proper notes. Jim showed a lot of restraint - well, and sleepiness too; so he took his leave and headed on home. We lingered for a couple of hours or so more and I got home at around 1am. It was yet another fun-and-beer-filled night at The Tasting Room.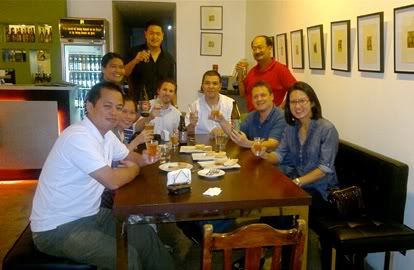 Until the next!