The 31st March 2010 was very cold with scattered showers. Since JC and Mari were off to Paris for business and Edouard was busy pouring at the UGC and Exceptionnels tastings, my wife stayed at Siran to do some "French laundry". Considering I'd be alone, the previous late night, and another late night ahead, I decided to limit myself to the UGC tasting at
Château Batailley
in nearby Pauillac.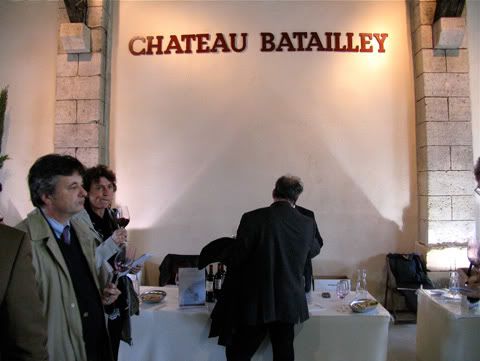 Since it was raining when I arrived and when I left, I didn't take outdoor shots for fear of my camera getting too wet.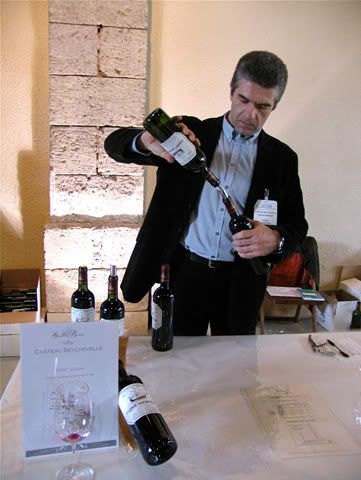 Ch. Beychevelle's Maître de Chai, Olivier Richaud
2009 Beychevelle
- The scents and flavors were evidently and exceptionally forward, thick and dense. Sweetish, extremely ripe, opulently endowed, concentrated and extracted blackcurrant, crème de cassis, licorice, creamy oak, chocolate. Big, full, super-ripe, dense, viscous, tongue-coating, powerful fruit. Acid on the low side.
For a moment there, I thought I made a wrong turn and wound up tasting in California. Forget typicity. I thought the same of the 2009 Lascombes the day before. That's not necessarily a bad thing for those who like this style. I'm personally not into it, but that's just me.
2009 Branaire-Ducru
- Aromas and flavors materially fresher than the '09 Beychevelle. Neither is it as super dense and overly extracted. On the palate, this medium-bodied wine shows focused, notably vibrant dark currant and berry juice infused with violets and comparatively subdued oak/vanilla. Very healthy grip - you'll really notice it.
Gruaud Larose's GM, David Launay, who I met at a Bacchus dinner at RED a few years ago.
2009 Gruaud Larose
- Reticent nose suggests good freshness in the primary berries and moderate oak. Very tannic in the mouth and a bit closed but there appears to be good purity in fruit with meatiness lurking under there somewhere waiting to emerge. Will undoubtedly put on weight as the years pass. Good, firm structure indicates very good ageing potential.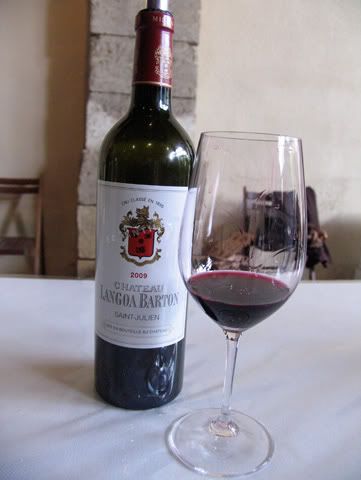 2009 Langoa Barton
- Less than medium-bodied at this point. Nose of cedar, blackcurrants, mineral and licorice. Showing a but simple now with dark berries with hints of cherry, plum and cedar.
2009 Léoville Barton
(tasted the day before at Rauzan-Ségla) - Medium body. Very clean lines. Impressive harmony of violets, cedar, blackcurrants, sweetish damson, bit of tar. Admirable purity and focus, very good balance.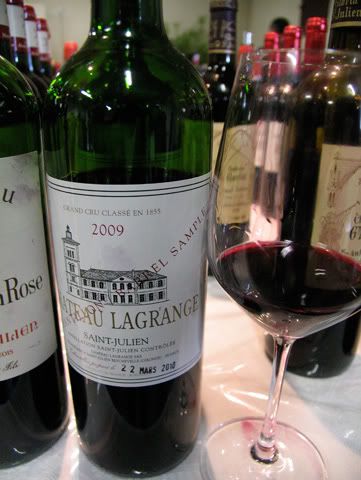 2009 Lagrange
(tasted the day before at Rauzan-Ségla) - Somewhat forward sweet oak, sweetishly ripe blackcurrant, licorice, pronounced dark minerality, fresh cedar in nose. In mouth, minerality is not as pronounced, tar, gravelly blackcurrant, cherry, violets, cedar. Good balance. Immediately pleasing if notably modern (but not over the top).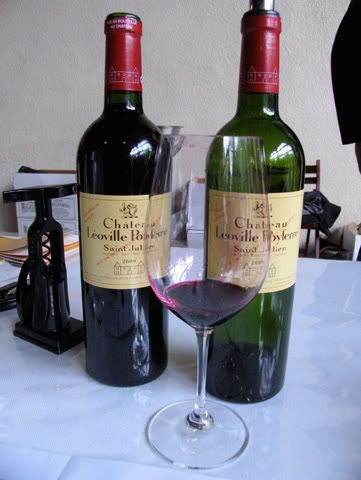 2009 Léoville Poyferré
- Striking, sweetish/confited, rich nose of crème de cassis, vanilla and dark spice. Notably modern/"internationally" styled - but should please fans enough. A lot of concentration and extraction. Tannins are big, but sweet and somewhat gentle.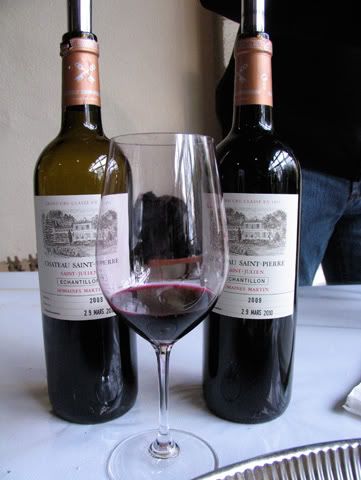 2009 Saint-Pierre
- While there is a confited character to the moderately minerally and licorice/creamy oak-touched fruit, the wine maintains a marked freshness, approachability and good depth. In the mouth, it is pleasantly bright, fresh and well balanced. I have the feeling that this will be quite a complex wine when it grows up.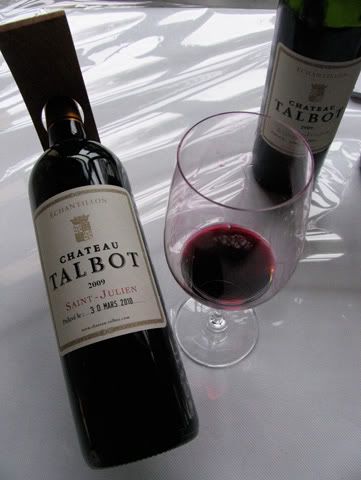 2009 Talbot
- Quite closed now, I really had to put it through the spinner and wait a bit for it to yield some reticent blackcurrant, sweet plum, licorice and cedar. Also quite closed on the palate, not giving up much except a mouthful of very grippy tannins. One gets suggestions of good focus and some freshness though.
2009 Batailley
- To me, this was one of the most memorable wines of this tasting, giving the very impressive 2009 Pichon Lalande a good run for its money (no wonder they wanted to host this year). Fresh, slightly perfumed scents of violets, damson, blackcurrants. Admirable balance and grace, there are moderate tannins to its sweetish ripeness and finely blended oak notes. Subtle notes of gravel and tar. Already shows very good complexity.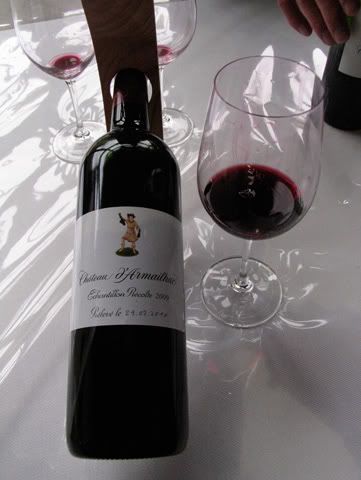 2009 d'Armailhac
- Good aromas/nose of sweetly ripe dark berries, bit of plum and violets. Clean and precise. Medium-bodied at this point but most all will gain weight to certain degrees. Another notable youngster.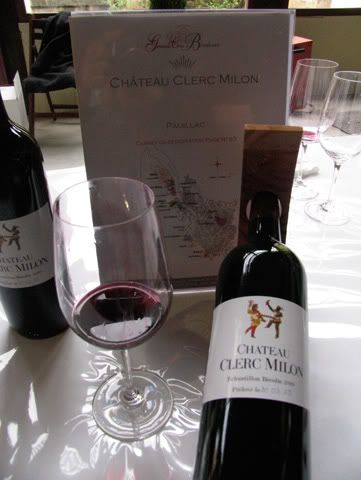 2009 Clerc Milon
- Minty, fresh and cool blackcurrant/berry nose. Nice enough, a bit slight in frame. Not very interesting now, but pleasant.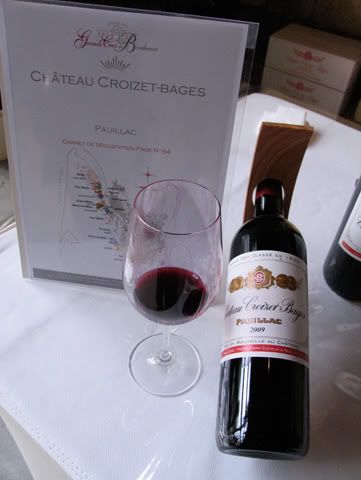 2009 Croizet Bages
- A bit closed but gave up some cedar, licorice and hints of gravel in its blackcurrant, cherry and raspberry (there seems to be a good deal of red berry notes in this).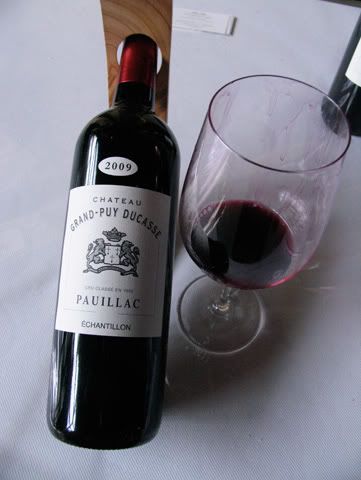 2009 Grand-Puy-Ducasse
- Cedar, hint of mint, crème de cassis, creamy oak/vanilla, a slight caramelized character to the fruit. Very tannic, huge grip, very masculine structure.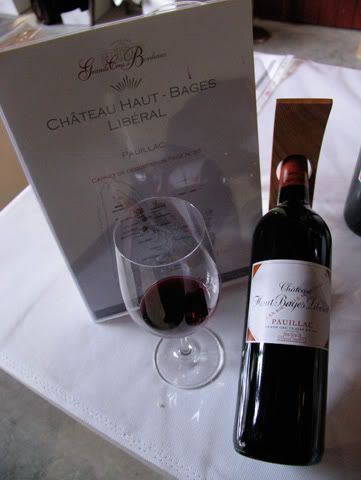 2009 Haut-Bages Libéral
- Bit of a pruney touch to the jasmine tea-laced dark fruit. Mirrored on the palate in a medium body. Pleasant enough if not very interesting.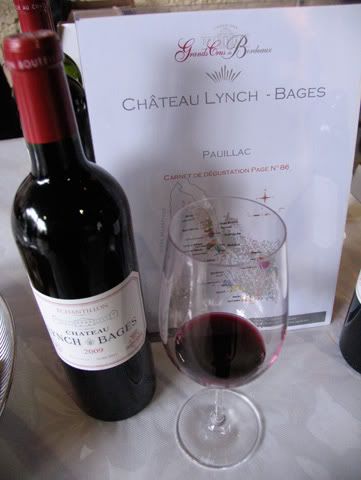 2009 Lynch Bages
- Good purity and admirable balance. Promises to gain in weight and complexity. Damson, blackcurrant, violet, bit of new leather, tannins are sweet and fine. Very nice and with a very good future.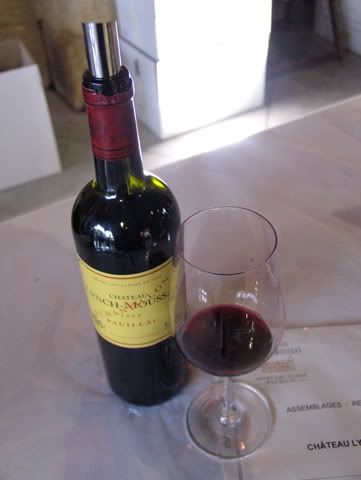 2009 Lynch-Moussis
- Slight of build, a bit too aggressive in the licorice department. Shows cedar, sweetish blackcurrants with good purity. Way too much licorice for me though.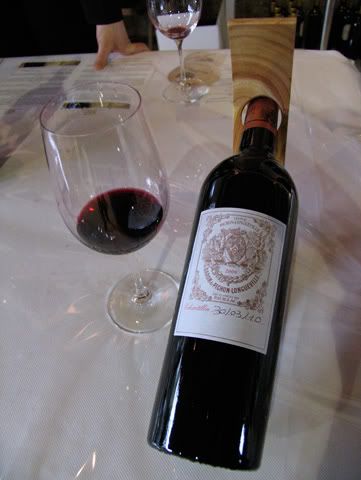 2009 Pichon Longueville Baron
- Good typicity expressed. Fresh, vibrant fruit on a firm masculine structure. Can't say much, but am quite impressed. At this point, though, it had the misfortune of being tasted side-by-side the Pichon Lalande. Still and all, in itself, it is definitely a wine to look out for.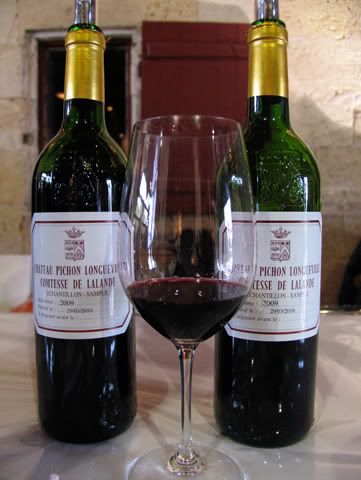 2009 Pichon Longueville Comtesse de Lalande
- I inadvertently/unknowingly tasted this twice: once in Batailley and the day before in Rauzan-Ségla. My notes are very similar, however:
At Rauzan Ségla (375ml format)
- Notes of sweetish blackcurrant, wet tea leaves, violets and plums with a little graphite/gravel. Quite tannic at the back. Though a little closed, one can glimpse a very graceful nature in this.
At Batailley
- Scents of sweet, graceful, complex damson, wet tea leaves (jasmine), blackcurrant, hint of licorice. In the mouth, pure, clean, well defined, sweetly ripe plum, blackcurrant, cherry, tea leaves. Very graceful, very nice.
~ oOo ~
The following are a few notes on other wines tasted at Rauzan Ségla the day before: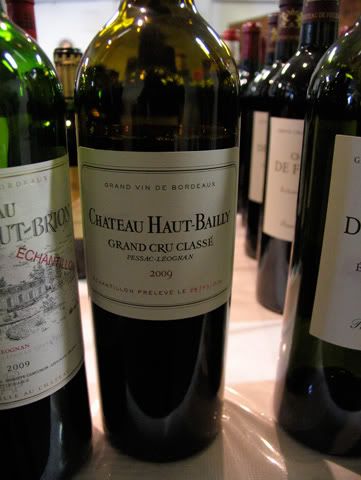 2009 Haut-Bailly
- Hints of dried thyme in slightly tarry black fruit, dark plum and slight cherry notes that trail at the end. Medium-bodied, decent purity, good balance.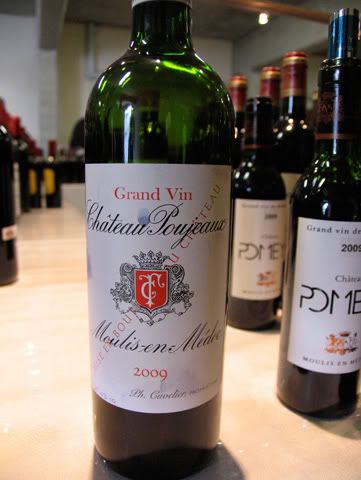 2009 Poujeaux
- Expressive nose of moderate mineral and licorice notes to sweetish dark berries, violets and cedar. On the palate, the fruit is decidedly ripe showing slightly sweetish dark fruit, crème de cassis, little licorice - well focused and with good purity.Nice balance. Acidity is very healthy but not really obtrusive. Surprisingly expressive for so young a wine.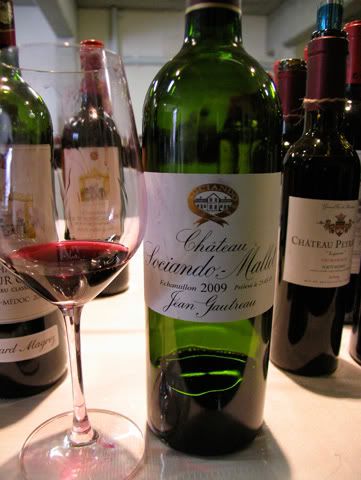 2009 Sociando-Mallet
- This is one of the standouts. Markedly good balance, complex, layered fruit with intriguing meaty notes. Interesting, vaguely chewy mouthfeel. Nicely smooth and comforting.
Having gone through pretty much everything there (I believe I got them all), I called it a day. Unfortunately, the rain was quite strong so I had to wait a while for it to let up. Back at Siran, I settled down to a quick and light snack, chatting with my wife and Edouard. Later that afternoon, Judy Leissner, Wilson Kwok and Mr. Lau passed by to taste the exceptionnels' wines at Siran's tasting room...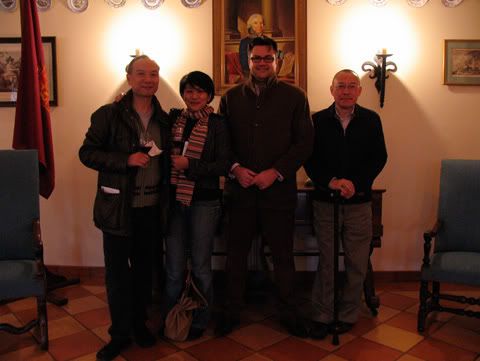 ...and a bottle or two of champagne at the manor. I passed on the champagne as I had to start getting ready for the Ban du Millésime of the Commanderie du Bontemps that night - but that's another story.