I was fortunate to have recently enjoyed, in the midst of the spate of the holidays' parties, two back-to-back relaxing dinners at friends' homes. The night after the one at Keiichi's, 29th December 2011, was at Tonico's place nearby in a leisurely and quiet celebration of his birthday. I was so laid back that I forgot to take photos of the dinner spread that included, among others, paella, agachonas and beef tenderloin salpicado. I caught myself eventually, however, and managed to take some later on.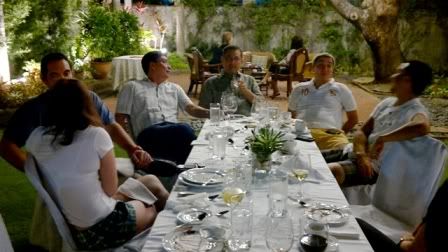 Tonico the birthday boy (who is actually a distant cousin of Catha) in the white España fútbol shirt surrounded by his cousin/niece Victoria, brother Kiko, Boozze, Ken.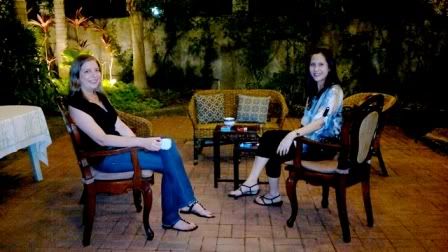 Sisters-in-law Yvonne & Pilar.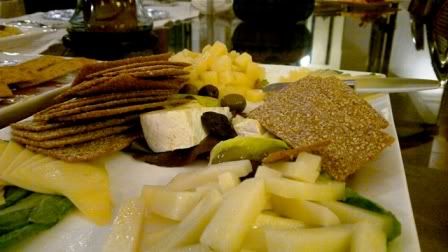 Lots of assorted cheeses and crackers...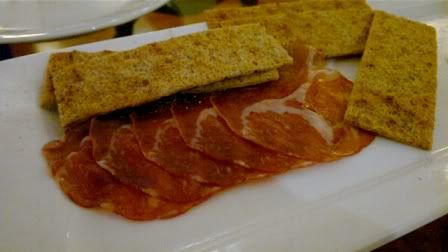 ...deli products...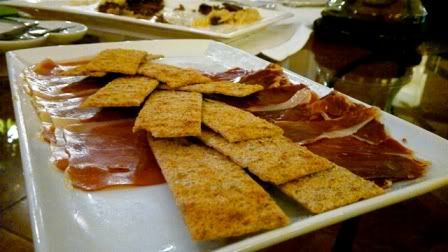 ...and an endless supply of silky jamón Ibérico that Pilar brought over from Madrid.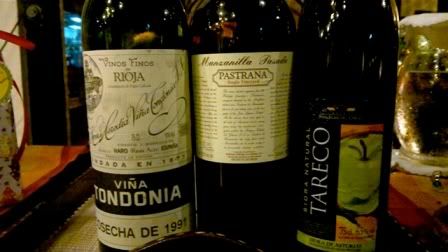 With all the above and much more, everyone enjoyed glasses of chilled white wine and:
Casería San Juan del Obispo Tareco Sidra Natural
- This is an apple cider from the cool clime of Asturias in northern Spain - a typical apéritif enjoyed with pica-picas and lighter fare. Apple with slight pear and citrus flavors with an appetizing slight bitterness, beer-reminiscent mouthfeel and a slight underlying gamey/meaty/sanguine character. Very easy to drink a lot of. This is readily available at Terry's Selection.
Bodegas Hidalgo Single Vineyard Pastrana Manzanilla Pasada
- Another typical Spanish apéritif hailing from Sanlúcar de Barrameda (Cadiz, southern Spain), this is a manzanilla sherry made from palomino grapes from the producer's best vines. Manzanillas and finos are usually served with pica-picas of olives, warm almonds and chorizo. The term "pasada" means this particular manzanilla is aged longer than usual (12 years in American oak casks to be precise, which is around twice as long as the norm for manzanilla soleras). Bone dry with nuances of apple, sea brine and almond skins. This is locally distributed by Forth & Tay.
1991 Bodegas López de Heredia Viña Tondonia Gran Reserva
- I've written about this wine that I've loved since I first had a bottle over
lunch with Catha at Restaurante Echaurren in Ezcaray
(in the Oja Valley of the Rioja region). Since Aaron and I import (or used to, at least) López de Heredia's wines, I will refrain from saying anything now - save that this bottle was in fine condition and showed me why I fell in love with the producer's steadfast traditional style. Riojan elegance in a glass.
Tonico also had out a bottle of
Bowmore 15 Year-Old Islay Single Malt Scotch Whisky
- Though I tend to shy away from Islay single malts due to a less than stellar experience with a Lagavulin Islay 16 Year-Old specimen, Boozze (who is deeply into single malts nowadays, the lush) convinced me to try some, promising me that Islay's typically forward peat and smokey woodiness is much more balanced with maltiness in this one. He was right. Tonico, Kiko and I eventually finished off the rest of the bottle by midnight.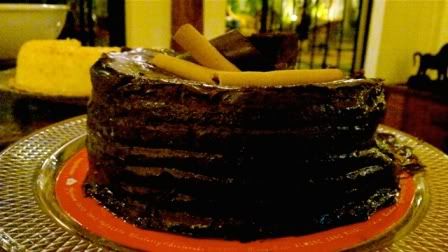 Before then, however, I did have a bit of this
Chocolate Truffle Cake
for dessert. There were other cakes on the table, but I stuck to this one. Delicious stuff. Never tire of it.
Happy Birthday again, Tonics, and many, many more happy ones to come!