Around a week before Catha's birthday, I asked her where she wanted to hold her birthday dinner, to which she replied that she wanted to have dinner by Cyrille Soenen. As luck would have it, Cyrille is currently heading
Impressions
(3rd Floor, Maxim's Tower, Resort World, Pasay) while working on opening his new restaurant in Greenhills.
Through a brief exchange of SMS messages and e-mails with Cyrille, the dinner was quickly set and we were at Impressions for dinner on Saturday, the 27th August 2011 - Catha, the children and I.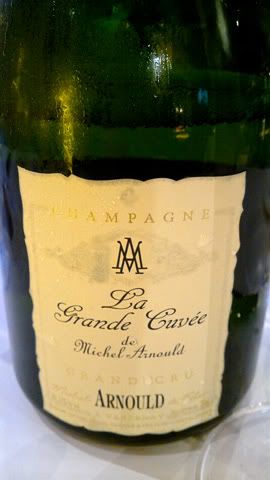 To start, I brought a bottle of
Champagne La Grande Cuvée de Michel Arnould
. Domaine Michel Arnould is a family-owned-and-run firm which produces a line of bubblies from fruit from its own grand cru vineyards located in Verzenay in the Champagne region. This particular cuvée is mainly pinot noir (70%) from selected plots in the Moulin de Verzenay , with the remaining 30% of chardonnay from the Côtes des Grands Blancs. This blend is, as I understand, from vintage 2000 but, for some reason, was not branded/labelled as a vintage champagne.
This is a floral, heftily rounded, creamy-fruited champagne that shows a nice, plumpish middle with an underlying theme of white chocolate, brioche and hints of nougat in its dominant fresh apple, pear and very minor citrus. Very approachable, definitely a crowd-pleaser of a champagne. Catha asked me to immediately get more bottles. This is not locally available, so I'll have to order more from abroad. No problem.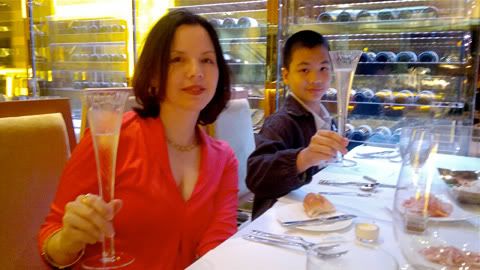 Catha & the youngest.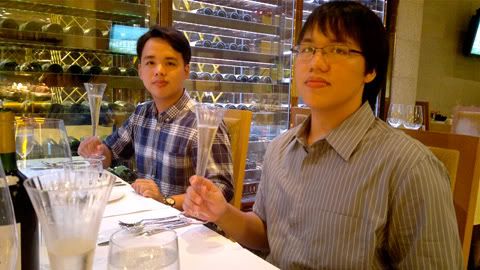 The two teenagers.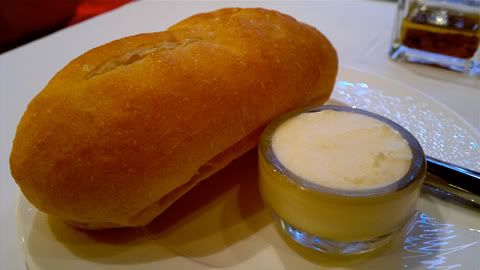 We were immediately offered an assortment of breads. I've really missed Cyrille's
Mini Baguettes
which he always served fresh at his old Restaurant Ciçou at the Hotel Céleste, so I immediately went for this in the basket. Served with a heavenly Isigny-Ste-Mère butter, I tried my best to refrain from eating too much of it as I had ordered a full course meal, but I still wound up having 3 baguettes and 1½ containers of the butter. Love it.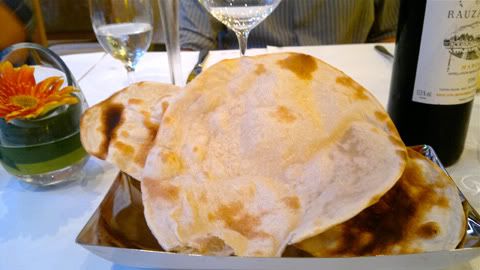 We were served some
Chapati
...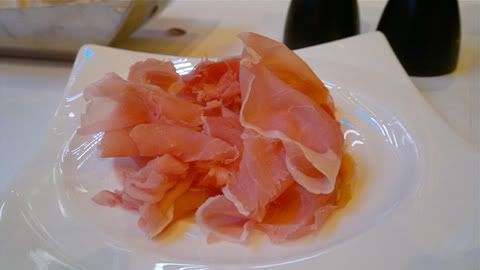 ...and platters of Prosciutto and Pancetta as well.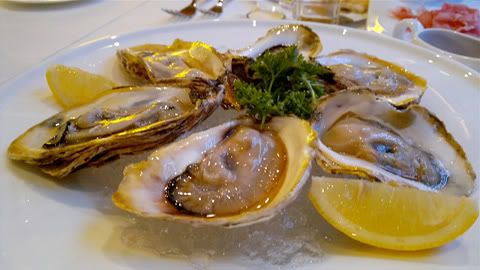 We also had two platters of
Fresh Oysters
...
...to go with the champagne. Fantastic.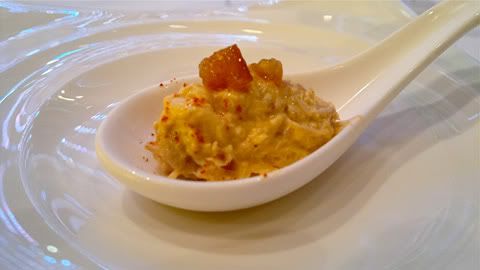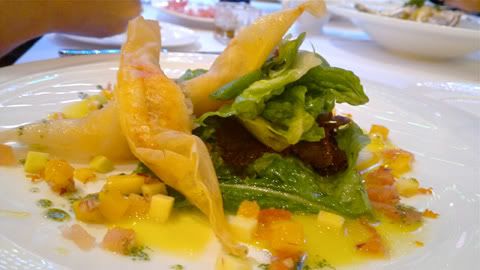 Catha's first course was a dish not on the regular menu:
Crispy Prawn Wrapped in Fresh Herbs, Rougail Salad and Citrus Dressing
. She really liked this. I wonder if it will be put on the regular menu sometime. Cyrille joined Impressions only early this month, so he is likely still in the process of establishing a regular menu (as well as continuously conjuring specials).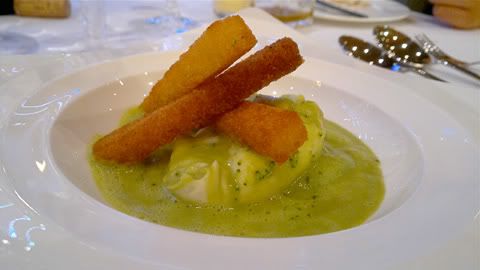 For a first course, Renzo and I each had the
Soft Boiled Farm Egg w/ Sea Urchin, Green Pea Broth & Mashed Broccoli
.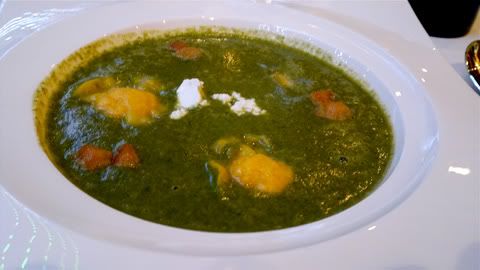 For their soup course, the eldest and youngest chose the
Cream of Spinach Soup w/ Goat Cheese & Salmon Ravioli...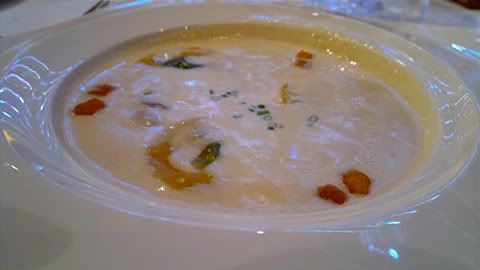 ...while the second and I enjoyed bowls of the delicious
Delicate Cream Soup of Mussels w/ Ravioli of Mashed Watercress & Oyster
.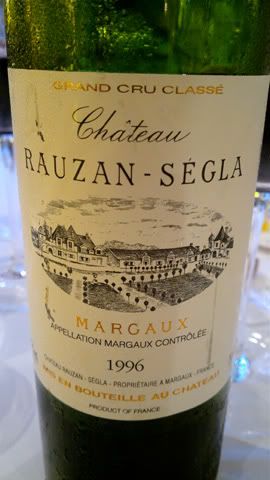 For our main course, I brought a bottle of
1996 Château Rauzan-Ségla
.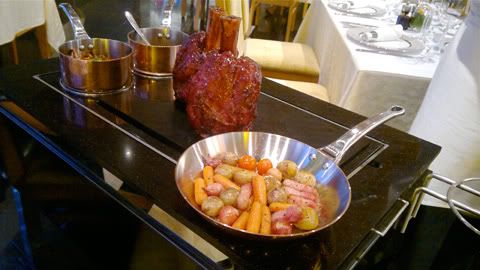 Our main course was ordered a few days ahead of time:
24-Hour Sous-Vide Veal Shank w/ a side of pasta, Fresh French Chanterelles, Lardons, Baby Carrots, Small Potatoes, Shallots and Cherry Tomatoes
. The sauce was a rich glaze from the veal's own juices. This was absolutely wonderful - the veal was melt-in-your-mouth tender and moist, the veal's flavors clean and focused, the sauce perfection. Together with the sides, it was a textbook of completeness and harmony.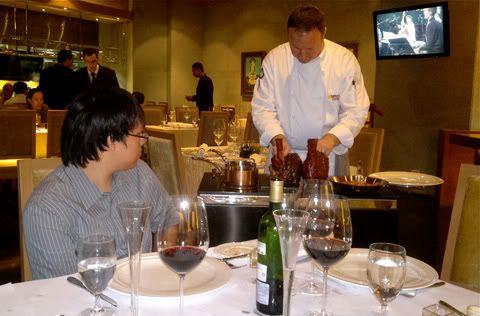 Cyrille carves.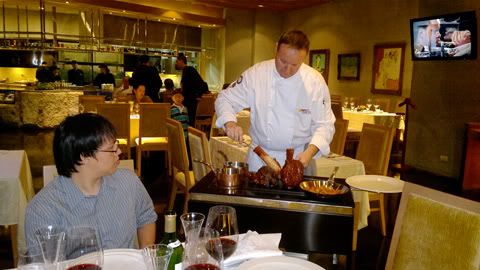 Off the bone it goes cleanly.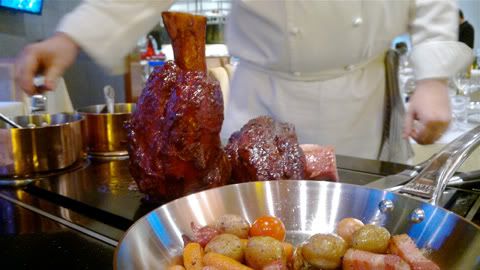 Voilà.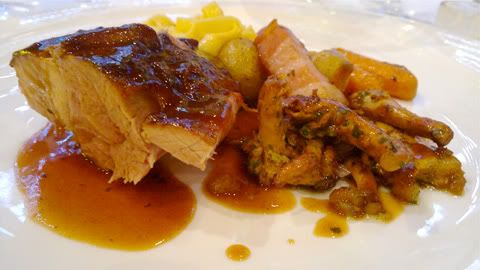 Wonderful in itself...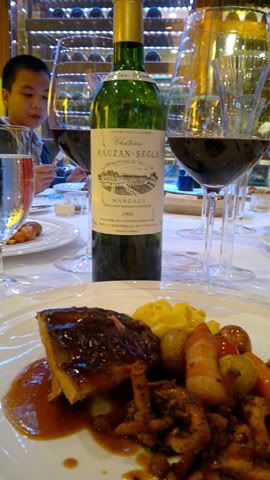 ...and an excellent pairing for the
1996 Château Rauzan Ségla
. I've had this wine a few times in the past, the last bottle I opened being
in mid-December 2007 with Catha, Rocky & Apple Villadolid over dinner at Elbert's Steak Room
. My notes then were as follows:
1996 Rauzan Ségla - Mid-December 2007, at Elbert's Steak House for dinner with my wife and the Villadolids from San Francisco. What struck me most about this fine Margaux was its mouthfeel: so smooth, seamless, flexible and vibrant mid-palate, I kept holding it there much longer than politely possible, enjoying the layers of well-extracted (yet not over-the-top), well-rounded, sweetish, small red berry/ripe cherry over cassis, dark plum and cedar undertones. I kept thinking of dark violet flowers at its finish. Exceptional balance and harmony, with good depth. A fine wine indeed, one I will definitely buy more of.

Extremely better than when I tested it out it last in mid-to-late 2000, when it was hard, angular and wholly unenjoyable. A little over 7 more years 0f bottle-age did it wonders.
Now, almost 4 years later and almost 15 years from harvest, the wine has evidently and considerably fleshed out and put on weight, showing more warm openness and a pronounced middle (
nb
: I double decanted this, letting it air in a decanter in my cav for about 1-½ hours before returning it to the bottle for transport to the restaurant). Harmonious, properly ripe blackcurrants, dark raspberry, bit of dark cherry over dark plum and calm warm asphalt, with violets, cedar and slight anise seamlessly intertwined in a body just a notch or two under full. Notable focus and definition. Everything was properly balanced and neatly presented. Discreet and smoldering power without being at all ponderous. Lovely wine. I am guessing this has many years ahead of it, but only time will tell if it will age as beautifully as
their vintage 1955
.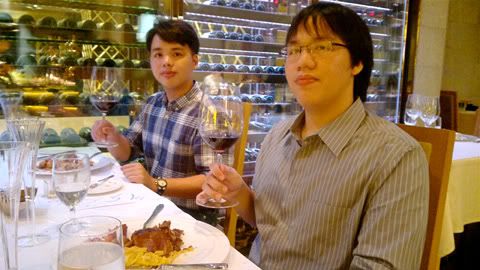 ¡Salud!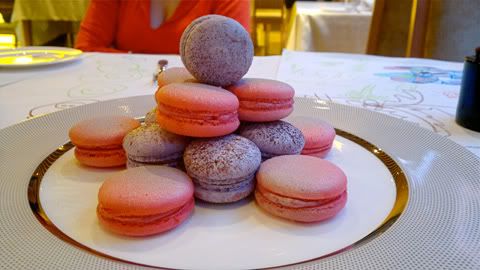 For dessert, there were Macarons...
...and a
Chocolate Mousse Birthday Cake
, plus a special surprise dessert from Cyrille (no photo) which Catha, the kids and I all love. I cannot mention what it was, but, worry not, as it will surely be available at Cyrille's new restaurant in Greenhills which, hopefully, will open by late October.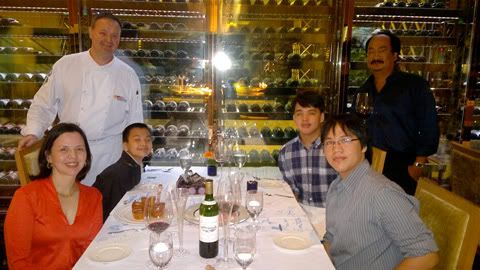 It was an excellent meal, a great choice for a birthday dinner.
Thanks, Cyrille, and, again, happy birthday Catha!