May 16th, Old Manila, the Stockbroker's Lunch.
With Eric R., Rod Schiffman, myself, and, of course, our generous host (paired with duck for me and steaks for everyone else):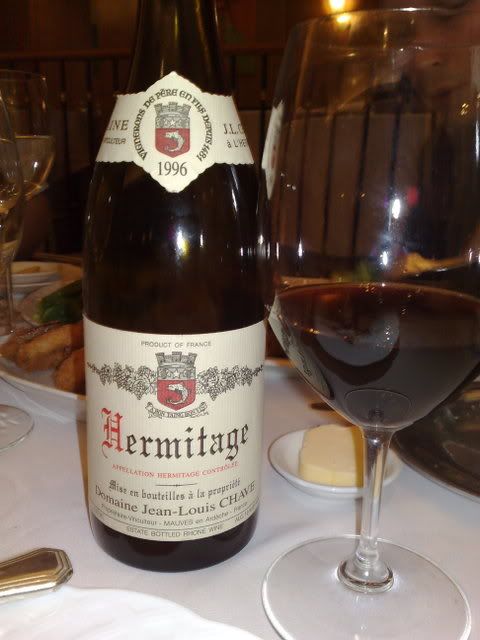 1996 JL Chave Hermitage
(Hermitage, Northern Rhône, France) - After a couple of bottles of special whites, from the Stockbroker, I had the best syrah-based wine in my life.
Though I do not have
that
much experience with syrah-based wine, some of those I've had in the past have certainly been nothing to sneeze at, e.g.,
1996 P. Jaboulet Aîné La Chapelle
,
1993 Henschke Mt. Edelstone
and
1991 Penfolds Grange
.
These were all wonderful, but, this definitely stood out amongst them. No need to describe how it looked, you can see it on the right.
Hermitage reds are typically "manly" wines to begin with. This one was especially so, but suave at the same time, not rustic: the earthy, mushroomy, truffled/meaty/leather notes had a subtle, reserved presence, exquisitely interwoven in the fruit (blackberry, cassis, darkly ripe raspberry) and mildest pepper. Though full-bodied, its admirable smoothness and well-knit flavors were not at all cumbersome or heavy. Excellent balance. Excellent wine.
May 17th, Je Suis Gourmand, Dinner.
For Rod & Debby Schiffman's 30th anniversary, with my wife and Robert Burroughes.
Marc Aubry created a menu and special dessert to celebrate the occasion. He is, indeed, a most accomplished chef; all I had to do was tell Marc the date, time, occasion and the wines I intended to bring - he prepared dishes to match everything. That is why Je Suis Gourmand is my favorite restaurant.
We started things off with congratulatory toasts from Robert's bottle of clean, pure, scintillating, vibrant, crisp (which turned creamy to the back of the mouth), toasty
NV Pommery Champagne
and, with dishes of phyllo-wrapped prawn spring roll atop a roesti-like potato, surrounded by a reduction flavored by prawn heads and shells: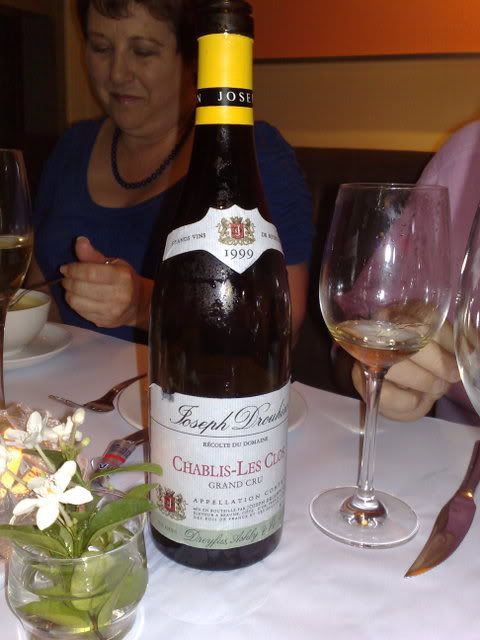 1999 J. Drouhin Chablis Les Clos Grand Cru
(Chablis, Northern Burgundy, France) -
Chablis, the real stuff, has been called the purest expression of the chardonnay grape. I agree, though I also think the world of the whites from Puligny-Montrachet and Chassagne-Montrachet.
To me, purity is what it's all about about in Chablis, not luxury, lusciousness or opulence. Chablis means medium-bodied, taut, steely, nervous green apple, just a touch of citrus with hallmark nuances of cold stones, oyster shell/flint/white mineral and only the merest whisper (if any) of oak/vanilla or butter.
I do not favor tropicality or (even slightly obtrusive) oak nuances in Chablis, which is probably why my closest drinking buddies know I prefer premier crus to grand crus except, perhaps, in vintage 2004. This is also why I have learned to avoid buying the wines from the Chablis grand cru vineyard named Bougros.
Les Clos is a grand cru, the grandest of the grand cru vineyards of Chablis, many opine.
So why did I choose this wine for the evening instead of my preferred premier crus (e.g., Montmains, Montée de Tonnerre)? Simple and a bit embarrassing: I went for Les Clos' caché, in honor of the occasion.
The wine was a good grand cru, with the weight and relative density typical of its class and origin, but with accompanying hints of ripe tropicality and a vaguely plumpish lemon-drop feel mid-mouth, and, yes, noticeable oak/vanilla towards the back.
Objectively, it was a fine wine, definitely tasted like it should. Its relative heft stood well against the somewhat creamy prawn shell-and-head reduction. Personally, I would have liked a bit more balancing acidity in the wine for more cut in the pairing and palate-resuscitation between bites.
After a rich soup course with caramelized onions came an earthy main course of roast French pigeon atop a large portobello cap, ceps, potatoes, etc., which we had with a bottle each of: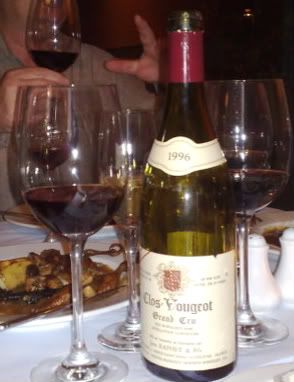 1996 J. Raphet Clos Vougeot Grand Cru
(Vougeot, Côte de Nuits, Burgundy, France) -
This wine presented acceptable, if unremarkable, "crunchy", tartish raspberry/strawberry flavors over a relatively shallow dark red fruit base with a touch of old violets. Bit of sappiness, medium-length finish at best.
Not bad, but nothing great. Certainly not up to grand cru standards, but not a bad wine. Best I could say for the wine is that its tartness helped cut the rich earthiness of the dish.
I wouldn't buy the wine again, mainly because there are much better things that may be had at its price range. It was actually quite inexpensive considering it's a grand cru from a good vintage. It didn't seem damaged in any way; that's really all it had to give, unfortunately.
There are definitely better wines out there in the same price range.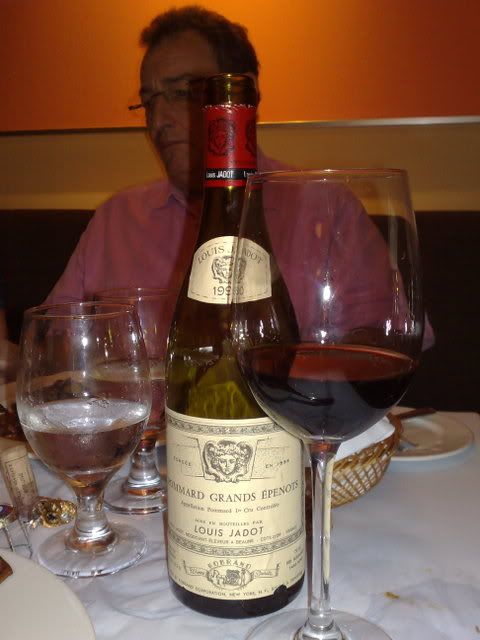 1990 L. Jadot Pommard Grands Épenots Premier Cru
(Pommard, Côte de Beaune, Burgundy, France) - This was my kind of wine. Bigger-boned and "beefier" than its refined cousin from urbane Vougeot. This Pommard was a comparative good-ole-boy: rustic, honest, a bit rough around the edges, but with an honest, unself-conscious, comfortable warmth that accompanied its quiet country wisdom and strength.
More depth in its earthy dark fruit base with a soft red beet and mushroom nuances; on the surface, the wine was accented by ripe black cherry and mild raspberry notes. I loved this wine, especially with the roast pigeon.
The pairing was not from the school of cut-and-contrast; rather, it was more of an amiable hand-in-hand, liesurely, yet contemplative, sunset stroll. The wine's inherent earthiness lolled with that of the pigeon, ceps and rustic potatoes. The red beet nuance and red berry/cherry notes added uplifting sweetish fruit-ripeness to the earthy mix.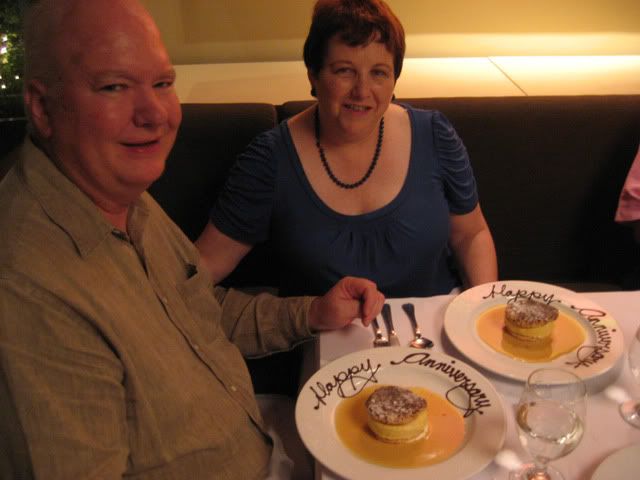 After a generous cheese platter came dessert of absolutely delicious coconut-coffee ice cream "sandwiches" that Marc created for the occasion of our foreign guests' anniversary. We had no sweet wine for pairing, but the dessert didn't need any. It was perfect by itself.
A round of double espressos found its way to our table, followed by complimentary digestifs. Somewhere between the desserts and the digestifs, Marc sat with us and enjoyed a quick glass of bubbly from his hometown of Champagne.
In terms of food, wine and company, it was a most memorable dinner.
Merçi beaucoup
, Marc.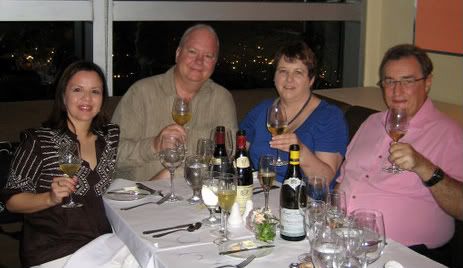 May 27th, Tivoli, Lunch
.
With Rod and Debby Schiffman. With assorted starters of fresh oysters, salmon, eel, etc., we had a simple, straightforward, crisp Marlborough NZ sauvignon blanc that I picked off the restaurant's wine list. With identical main courses of excellently roasted medium-rare medallions of veal, Rod, Debby and I enjoyed a bottle of :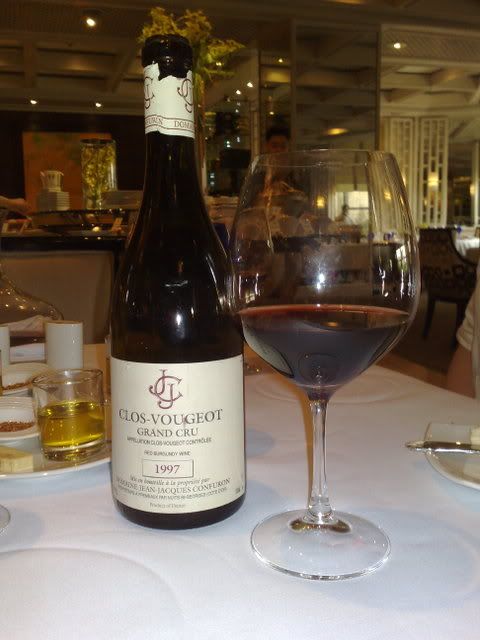 1997 JJ Confuron Clos Vougeot Grand Cru
(Vougeot, Côte de Nuits, Burgundy, France) -
This was a proper grand cru from Clos Vougeot, much more befitting of its status and expressive of
terroir
than the '96 by J. Raphet.
Though the ripe 1997 vintage was much heralded at the outset, particularly for the reds of the Côte de Nuits, relatively low acidity that generally marked the wines subsequently dampened many an expectancy of general age-worthiness.
Well, to the '97 detractors, here is one that wears its age well and elegantly. It was an excellently kept bottle to begin with, kudos to Vinfolio in San Francisco.
Deep, complex, full-bodied, it displayed dark red cherry and ripe raspberry, violets, a mere touch of spicy wood with discreet cassis and dark fruit undertones. Yes, the touch of nostalgic Burgundy decay was there, which always does me in. Long, confident, spicy finish. I loved this wine.