Rocky & Apple Villadolid are in town from Hillsborough, Ca. for the holidays, so, on the 30th December 2009, Sunil & Chinky Shah and my wife & I took them to dinner at what is surely the newest and hottest restaurant in town, Rob and Sunshine's
The Goose Station
. Thanks to part-owner/Usual Suspect Rene for arranging our reservation. It has certainly been difficult to get one lately as the restaurant's been jam-packed for weeks on end.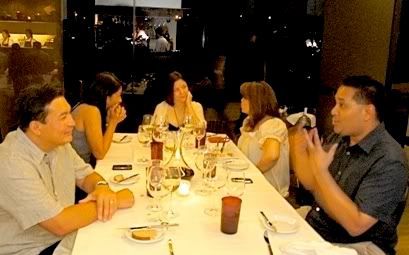 L-R: Rocky, Chinky, my wife, Apple and Sunil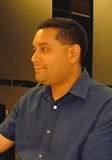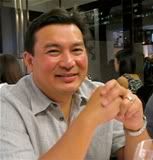 Though Apple is in Manila around once every 3-4 months, Rocky, due to work, visits much less frequently. I used to bump into Chinky on the golf course almost every Saturday as she is very active with her kids' golf, but, since she started playing in the mornings, I've not seen her in quite a while - or Sunil either, for that matter.
Thus, last night's dinner was a great opportunity for a little reunion of wine and food loving friends...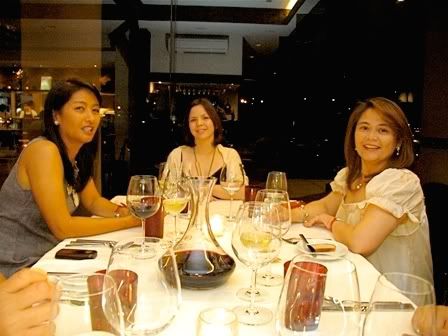 ...especially for the wives who have known each other from
way
, way back.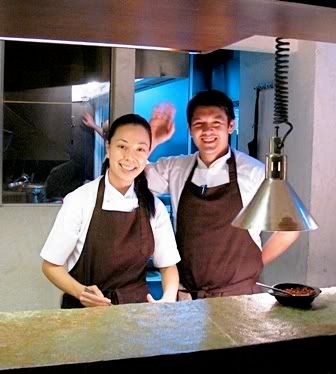 Since Rocky has been on a big German riesling phase, I made sure to bring several bottles of the ones I've been enjoying lately, opening only 1 red for the evening (we usually have at least 3-4 different ones when we get together with Sunil and Chinky). As luck would have it, most all the featured dishes on Rob & Sunshine's new Signature Menu (a 9-course degustación, which we all went for) were easy pairings for the versatile rieslings.

For the first 6 courses, we went through a couple of bottles of the wonderful, just off-dry 2007 Dr. Loosen Bernkasteler Lay Riesling Kabinett. I've written about this wine very recently, in my post on a pre-Christmas dinner at Je Suis Gourmand, to wit:

2007 Dr. Loosen Bernkasteler Lay Riesling Kabinett - My bottle, from Germany's famed Mosel Valley. I had never tried this before, but brought it along because: (1) I know 2007 is an excellent year for German rieslings (upon release, Berlin-based chef, Martin Barz (Zwick), enthusiastically recommended them to me); (2) Doc, Mrs. Doc and my wife like German rieslings (plus Doc favors kabinetts for apéritifs); and, of course, (3) J-Lab assured me it was good.

The wine was, indeed, well-received. It's fresh, light, bright, playful, off-dry, low alcohol peach, apricot, quince flavors infused with precise minerality were made bright by healthy acidity. Good focus, very quaffable and, thus, an ideal apéritif, particularly with the rich foie gras and the salty lardons of the flammenküche.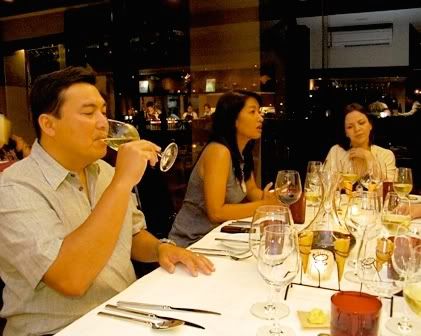 The wine's pure, well-focused, vibrant, off-dry fruit (I noted previously undetected sweetish lime and citrus flavors) and bracing acid lift instantly brightened up the Foie Gras Cones amuse bouche...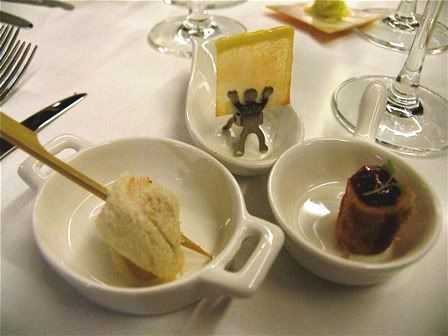 ...as well as the following Potato Paper and Caramelized Onion, Peanut Butter and Jelly, Prosciutto and Brie; the fruit notes a whimsical interplay with the caramelized onion and peanut butter - and a nice counterpoint with the prosciutto's inherent slight saltiness and the brie's creamy goodness.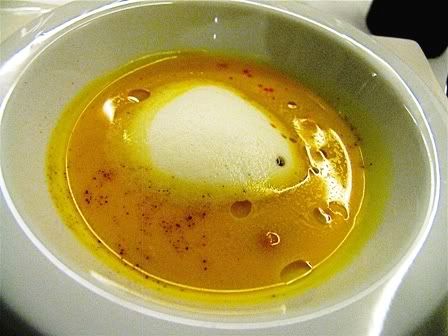 The savory, smoky/creamy Roast Squash and Chorizo Bilbao Soup with Sage Butter is always good.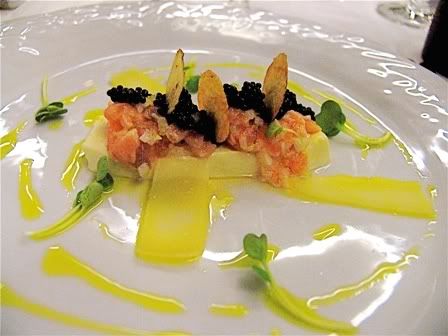 A new dish, it was the first time I got to try their Salmon Tartare - White Asparagus Foam, Mango, Cilantro, Daikon Sprouts, Avocado oil and Caviar. This will surely be a crowd pleaser, and, with this dish, I appreciated more the drier/minerally side of the riesling kabinett.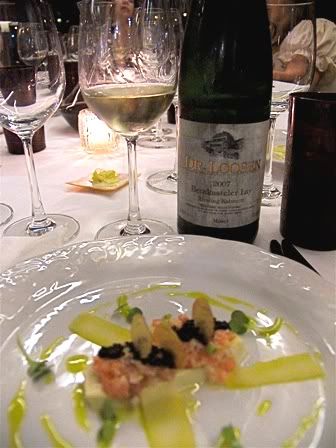 This was followed by one of the most loved courses of the Signature Menu: Eggs Benedict 2007 - Poached Egg, Hollandaise Foam, Bacon Tuille, Fleur de Sel, White Truffle Oil. This was an instant hit with the Alabang Group from back during Rob & Sunshine's Gourmandise Dinner days and remains to be so at The Goose Station.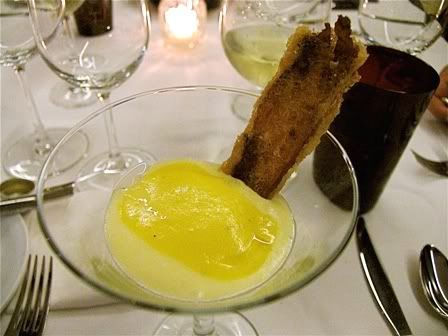 With the Villadolids and the Shahs, it was, unsurprisingly, also a hit as well. Everyone I know who has tried this dish has loved it - and with very good reason, in my opinion as it impeccably blends the new and novel with the familiar and comforting.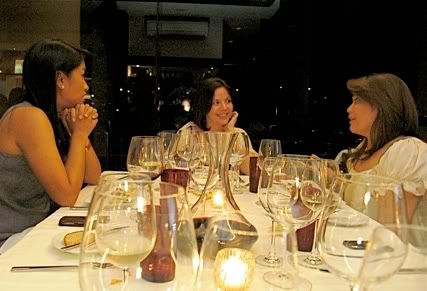 Next was the Beet Garden Salad - Textures of Beetroot, Orange, Goat's Cheese, Candied Walnuts, Leaves, Aged balsamic, Lightly pickled Vegetables. I wish more salads could be made this innovative, entertaining and delicious.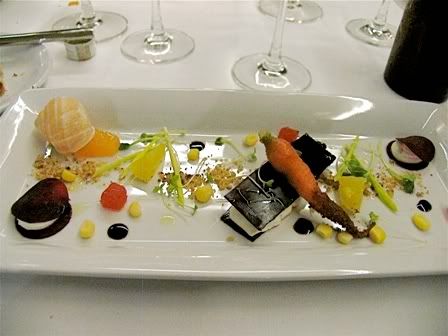 With the next, richer and indulgent course of Unagi and Foie Gras Terrine with Caramelized Apple Tartare, Brioche, Gingerbread – Chocolate "Soil" we switched wines to a sweeter, late harvest riesling from the town of Wehlen in Mosel, the 2007 Dr. Loosen Wehlener Sonnenuhr Riesling Spätlese.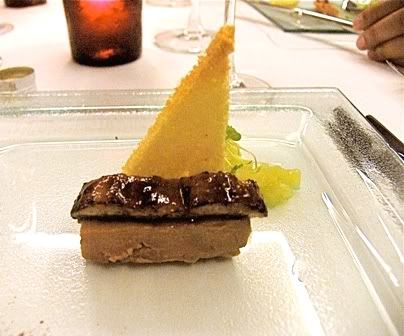 I've also written about this wine a few times before, my latest notes from a lunch at the Taipan on the 21st October 2009. This late harvest riesling is evidently/inherently sweeter and heftier than the kabinett, yet still retains a thrilling acid balance to its dominant minerally peach, ripe apricot, slight lemon tart flavors, highlighted by fleeting suggestions of candied ginger.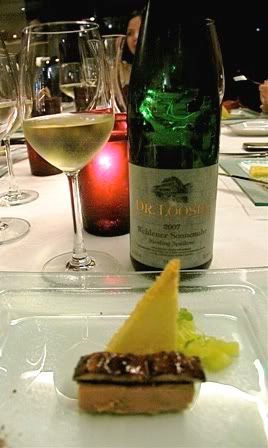 The wine's purity and vibrancy of fruit, its bright minerality and acid lift lent much-needed cut and palate refreshment between bites of this rich, creamily indulgent dish.

With the next 2 courses, we switched to the evening's red - an obvious, recent favorite of mine: 1999 Bodegas Olarra Cerro Añon Rioja Gran Reserva. I've loved this wine since I first had it at one of JC de Terry's dinners at 2º Piso (2nd July 2009) during which JC paired it with an excellent Pan-Seared Scallop with Fricasée of Spring Vegetables in Cabernet Sauvignon Sauce. I've gone through many bottles of this, my recent notes from the Alabang Group's dinner at The Goose Station are very apt:

1999 Bodegas Olarra Cerro Añon Rioja Gran Reserva - my bottle, of which I, unfortunately forgot to photograph. I've written about this a few times, the last being at a WSCP event on the 28th October 2009. Last night's bottle I decanted for around 1-½ hours before serving.Willy admired its "complex nose" and noted scents of licorice, violets, cedar and vanilla in its dark fruit. On the palate, he described this shades-over-medium body Rioja as "complex and graceful". I couldn't have put it better myself. I purchased the last case of this from Terry's Selection. JC de Terry now has a new vintage of this wine available, but I've yet to try it out. Rest assured I shall post on it when I do.

This Riojan gran reserva (after decanting for aeration for around 1 to 1½ hours) is just so elegant, subtly complex, harmonious and graceful, it can well pair with seared scallops as well as meat courses.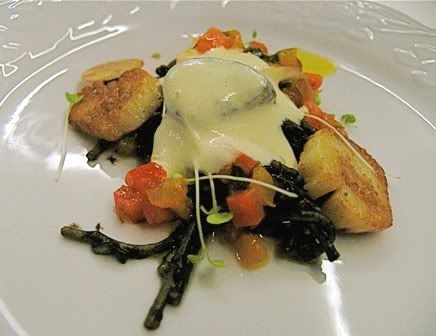 That it also married well with Rob & Sunshine's Squid Ink "Fideuà" with Seared Scallops is a testament to this wine's subtlety and elegance. This tinto is no pansy, however, make no mistake. It has the structure, heft, push, power and the presence to just as nicely pair with steak and lamb dishes - as it confidently and successfully demonstrated with my evening's main course of a Duo of Lamb Ribs and Lamb Loin with Horseradish Potato Puree, Port Jus and Haricots Verts - like any proper Rioja gran reserva should.

Sunil observed that the chunk of morcilla gave the dish a great, savory push. I definitely agree - it, indeed, brought on a meaty, spicy and smoky "oomph" to this spin on fidueà.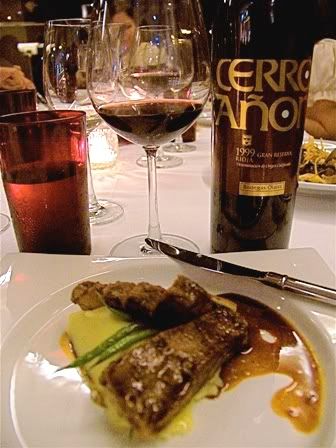 Dessert then followed, a delicious "Bread Pudding" of Brioche Pudding, Bacon – Maple Syrup, Banana and Dark Chocolate Sorbet.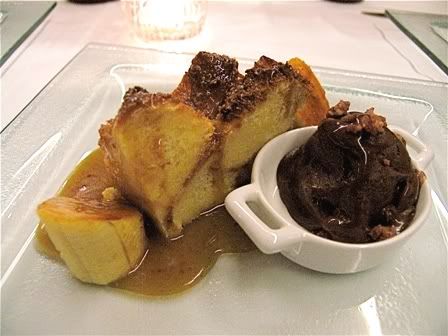 Honestly, I've never been a big fan of any sort of bread pudding before, but, with this rendition, I am now a convert. I absolutely loved this. As if the moist and luscious brioche pudding with the maple syrup weren't enough, the natural dark chocolate and banana combination just pushed me over the edge. Everything worked. Loved it. Sunil noted that the dark chocolate sorbet contained tiny bits of bacon - a touch I've been seeing as of late, it called to mind the old local champurrado and salty tuyo (a local salty dried fish) combination of yore.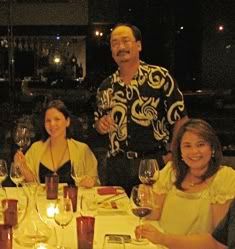 With this I opened a bottle of dessert wine: 2003 Clarence Dillon Wines Clarendelle Amberwine (I forgot to take a photo of it, unfortunately) - a gift from Keiichi; it is a sweet white from Monbazillac, composed of the typical Sauternes blend of botrytis-infected semillon, sauvignon blanc and muscadelle. As I understand, 2003 is the maiden vintage of this charming, tangy, wild honeyed, honeycomb, preserved apricot, canned cling peach, pear, touch of sweetened lime and orange blossom wine (launched in mid-late 2006).
Produced by Domaine Clarence Dillon (the owners of 1st growth Château Haut Brion), this certainly has a lot of pedigree to live up to.

Two other kinds of desserts were on the table as well, plates of the signature Chocolate Candy Bar Earl: Grey Mousse, Ganache, Bisquit; and, a new one - a baked, flaky pastry filled with a raspberry compote with a side of creamy vanilla ice cream. Unfortunately, I didn't note this dessert's proper name nor was I able to take a photo of it. Rocky liked the latter dessert the most.

Whew! What a meal! We were all rightfully stuffed to the gills. It was great to get together again after quite a while.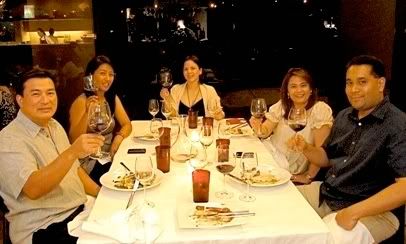 Happy New Year, guys! Have a great one!