Lunch today, the 15th March 2013, was at
Bizu Pâtisserie - Rockwell
for La Commanderie de Bordeaux Manila's first board meeting of the year.
Alex Lichaytoo, whose sister owns Bizu, made the meeting's lunch arrangements with his nephew, Xander (who happens to be the restaurant's chef)...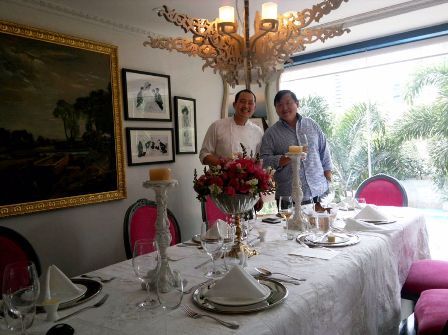 ...in the Paris-reminiscent private room over-looking the pool.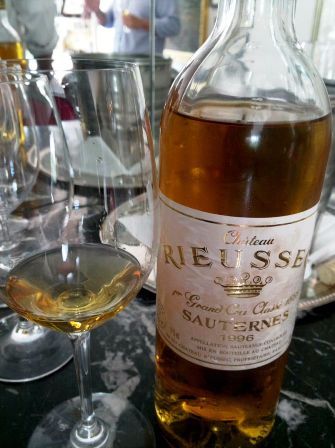 All Commanderie occasions naturally involve Bordeaux wine, even board meetings. Alex opened a well-poised, very pleasant and charming 1996 Château Rieussec...
...to pair (well, I might add) with a delicious, silken rendition of Terrine of Foie Gras with Fig Jam & Salad (the fig jam he brought in from a trip to Provence lent a sweetly fruity lilt to the gustatory composition).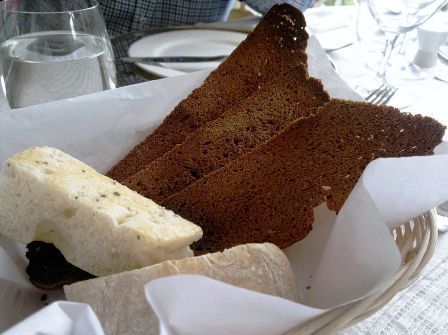 With the foie course, we enjoyed more of the Rye w/ Assorted Seeds Toast which I had been compulsively munching on earlier. It's savory, earthy, appetizingly ferrous/bitter notes and crunchiness added both depth and textural contrast to the course.
For our main course, there was a choice of either the Baked Chicken with Potatoes (which Edouard, Felicia, Ivan, and Bernie went for)...
...or the Crispy Pig's Knuckle w/ Sauerkraut & Mustard (which Alex, Oscar, & I chose). This was delicious as well - the skin nicely crisp, the underlying tendons in gelatinized juxtaposition, the flesh tender and moist in its clean, virtually oil-free porkiness. In the past, I'd known Bizu solely as a pâtisserie, but, now, I know it to be a good lunch, or even dinner, venue as well. I've also heard good things about its breakfast (particularly their omelettes from Quito Moras, and Catha's been wanting to try out their Eggs Benedict too).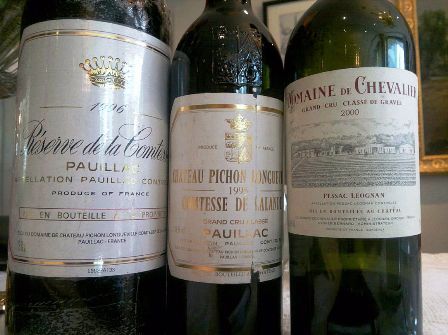 These are but three of the many reds that were on deck, but, since I got pretty wasted the night before, I had sworn to eschew all alcohol today. I was, however, convinced by Alex o try a sip of Felicia's medium-bodied, softly dark fruited, earthy, typical Pessac-Léognan 2000 Domaine de Chevalier (I've had this many times before and have always liked it) as he told me to see how well it went with the trotter and mustard. Well, he was right.
Dessert was, obviously, a trio of Bizu pastries; a Mini Kouign Amann, Opera Cake (one of my favorites from Bizu), and a Macaron (mine was pistachio, I think) - all very nice. I must say that, in the past, although I did buy Bizu's macarons, I'd always found them a tad too sweet and not moist enough in the middle. Now, they are not overly sugary-sweet and the texture is spot on. As such, it is a definite buy for me.
Oscar, Alex, Bernie, Felicia, Edouard, & yours truly (Ivan took the photo).
A round of double espressos later, all matters on the agenda dealt with, papers signed, and the meeting was adjourned. A very pleasant working lunch with good food (and very reasonably priced, I might add), in genteel company and ambiance. Nice Friday. Until the next!