~ Sunday, July 27, 2008 at Pepato ~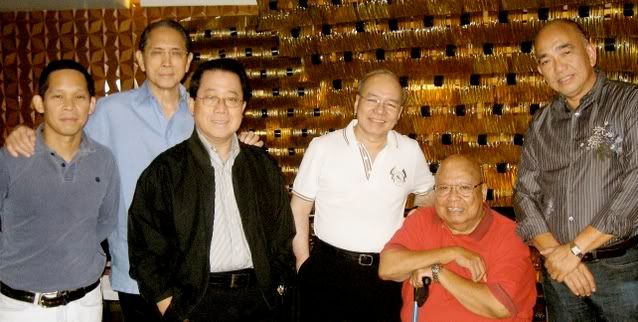 Gentleman Joe amongst the Stockbroker, Jorge, Dong, Fil and Sunny.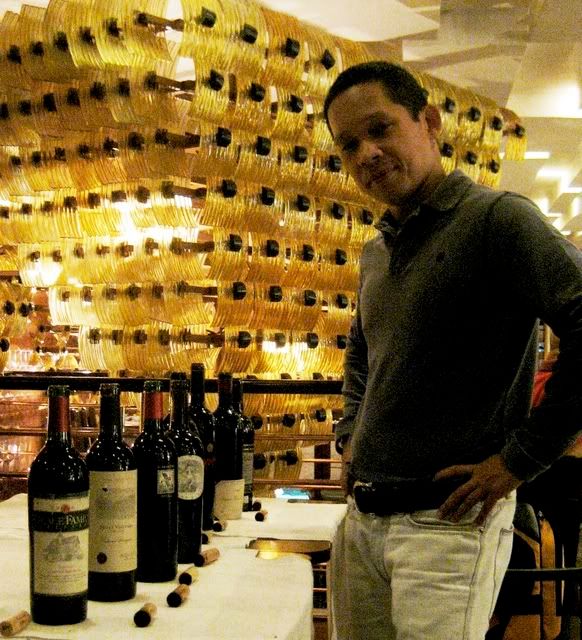 Gentleman Joe hosted yet another of his rarified dinners; this time all his wines were from California. The Stockbroker took care that not a corked one was presented to the rest of us, the fortunate ones: Jorge A., Dapper D., the Doc, Sunny G., Fil J., Doc L., myself, Freddie PdR, Dong P. and Jun S.
Due to time and other logistical constraints, the bottles were opened and checked a couple of hours before serving, but not decanted.
With a creative coup of tiny
barquillos
stuffed with chive mousse, topped with salmon roe, and, comfortingly familiar fried
arrancini
: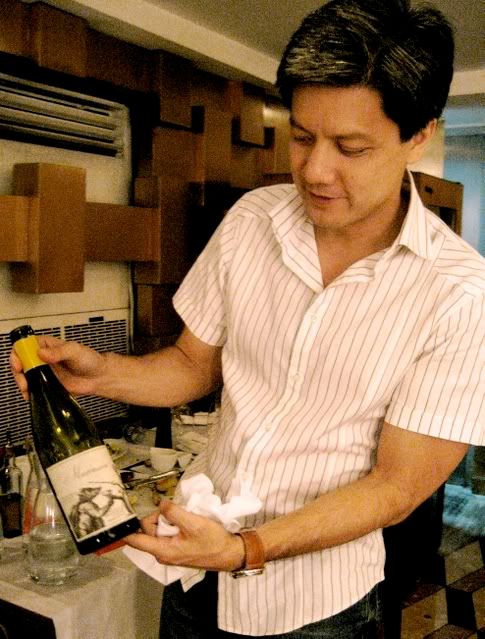 1997 Marcassin Chardonnay, Marcassin Vineyard
- a textbook in how luxurious on the palate a Cali chard can be. A riot of lemon cream, baked apple, white flowers, spicy/mildly toasty oak and vanilla in the nose. On the palate, it attacks with minerality to its spiced wild honey/baked apple/pear/touch of lemon custard with underlying orange rind. Towards the back, it expands, gaining more buttery, vanilla enriched heft mid-mouth. Nuances of toastiness and nuttiness. A very long and strong finish. No holds barred.
The pairing with the
arrancini
was pleasant enough; but, with the stuffed
barquillos
, however, it was superb - the sweetness of the
barquillos
and the creaminess of the mousse were white-on-white with the wine's richness and the salmon roe picked up on the wine's white minerality wonderfully - adding seductive sea-side nuances as they burst in the mouth. Subtlety be damned, sometimes even a Burg-head like me needs to let his hair down (whatever is left of it anyway) and revel in the joys of excess.
Following with an entrée of Roasted Marrow Bone with sides of Black Truffle Paste, a Lemon Wedge and Crusty Bread: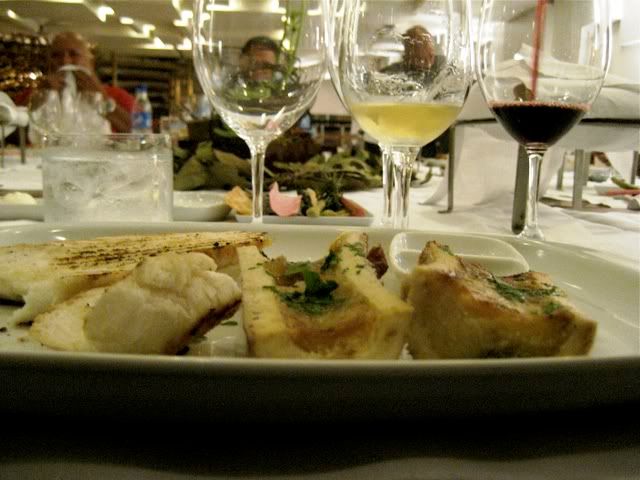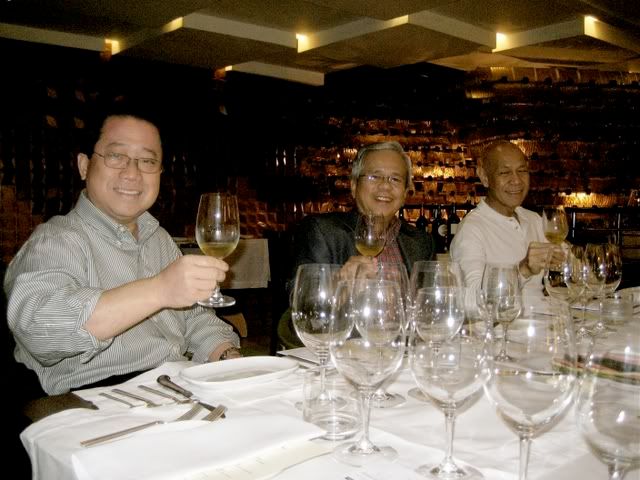 3 of the 5 lawyers in attendance: Dong, Jun and Freddie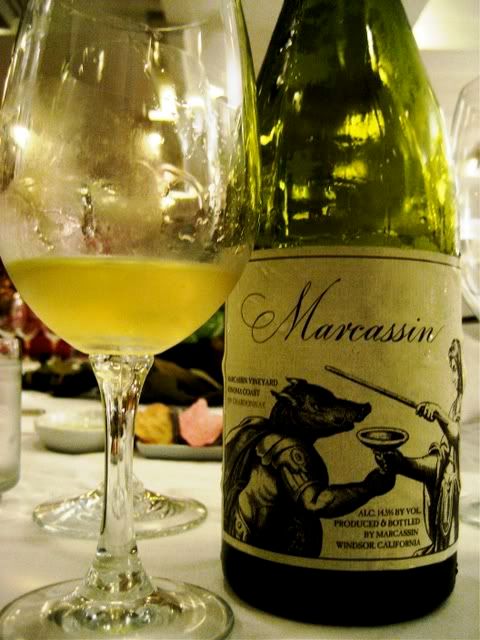 1999 Marcassin Chardonnay, Marcassin Vineyard
- similar, but notably more focused nose with more dominance of pear and and white flowers. Brighter, leaner and purer in fruit; the butter/oak/vanilla notes surface comparatively farther back in the mouth - the spicy/toastiness more discreet. In all, though not as rich and hedonistic as the '97, it was more refined, with better balance and poise.
I left a bit in my glass for about 30 minutes just to see how evolves. After such time, its aromas opened up fully with honeysuckle, vanilla, spice and hints of butterscotch, while it took on more lemon custard on the palate. Dapper D also noted how the wine blossomed after time in the glass.

Both chards were, of course, very expressive of California and were thoroughly enjoyable. Everyone loved them, as far as I could tell - the empty glasses were testament to that. I couldn't help, however, waiting on the succession of reds. Being much more familiar with reds from Bordeaux and Burgundy, I rarely get to try top-end California cab sauvs, much less the cults.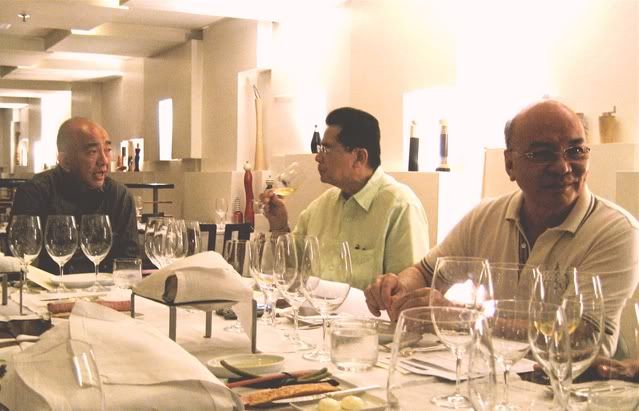 Sunny, Doc L. and Gentleman Joe.
I opted not to have any wine with my soup course of
Broccoli Soup with Poached Capiz Scallops
(absolutely plump and juicy)
and Green Apple Mignonette
and pasta course of
Spaghettini Angulas with Tagaytay Tomatoes and Wilted Rucola.
With the perfectly tender, rare Roast Prime Rib di Lusso, however, came the much anticipated California cult reds...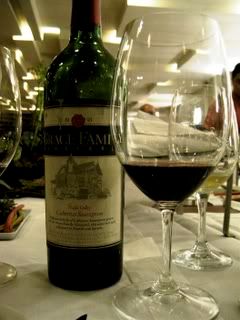 1993 Grace Family Vineyard Cabernet Sauvignon
- A sniff and a sip told you were in Cali territory. Big, broad-shouldered, viscous, dense and muscular, this gently warming, highly extracted wine had a permeating anise and medicinal/mineral theme going on through its earthy molten black currant, cassis and dark violets. The wood was very well-integrated and the tannins very smooth. Subtle, sweetish camphor and cedar notes emerged after time in the glass.
A bit blocky but not cumbersome on the palate. Decently balanced. I am glad I waited to try this with the steak as it would be a bit over-powering otherwise. This is definitely a food wine - and the food had better be a rich, fat-laden steak - which it properly was in this case.
Dapper D and the Stockbroker also noted the permeating mineral/anise theme in this wine.
1993 Araujo Estate Cabernet Sauvignon Eisele Vineyard
- Much less dense and brooding than the previous red, this had mild leather nuances to its dark fruit, cassis and violets. There was some minerality, but very, very subtle compared to the Grace. The wine itself was much more focused,
purer in fruit and lighter on its feet as well.
This was one of the wines I was most curious to try, having recently had the second wine (the 2000 Altagracia from Rene Fuentes II) which I found to be much more elegant and understated in style than most Napa cabs I've tried. My assessment holds true to this 15-year-old first wine - it was as elegant as its bretheren go, and was my third favorite wine of the evening.
1998 Screaming Eagle Cabernet Sauvignon
-
The
definitive Napa cult cab by reputation. Well, the priciest anyway, as far as I know. I've had the 2002 version twice before (both times courtesy of the evening's host) and found this older version more to my liking. The '98 is not nearly as monolithic as the '02 and notably more refined than the same. That certainly doesn't mean it isn't a big wine in its own right though.
Very extracted, ripe, rich, blackberry, blueberry, cassis, oak, violets, slight asphalt with a curiously thought-provoking underlying stoniness to the fruit. I know '98 isn't supposed to be an exceptionally rated vintage for Napa, but I've found the
comparatively
"leaner" reds from then/there more to my own particular taste. This sparked a short discussion with the Stockbroker vis-a-vis the '98 vintage of California and the '98 Mondavi Cabernet Sauvignon Reserve I've tried and liked.
Don't get me wrong, though, this was still the biggest wine of the evening, if not a particularly favored one by me considering the more refined ones served. Still and all, how often does one get to try a Screaming Eagle? The mere opportunity to taste it is always greatly appreciated.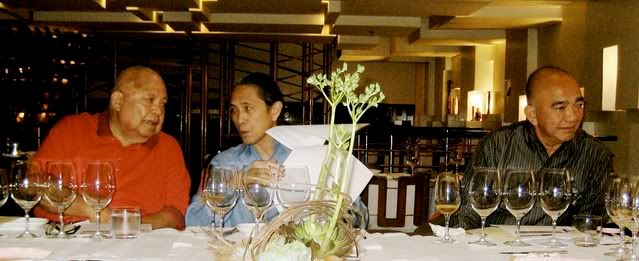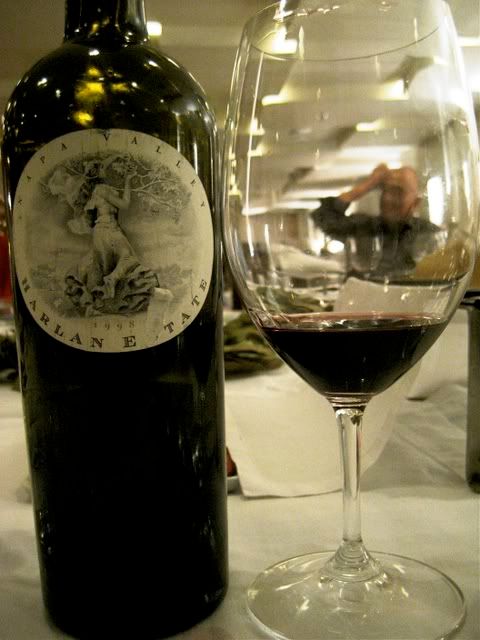 1998 Harlan Estate Proprietary Red Wine
- I commented to the Doc and Stockbroker that this wine's aroma reminded me of a wine from Pessac-Léognan because of the surface roast herb-laced red scents (raspberry and cherry). Of course, they told me they'd never mistake it for a Bordeaux, but I didn't figure they would.
To me, though, its aroma was reminiscent of that southern Bordeaux appellation. The creaminess of the oak on the nose (though, admittedly, none of the coconut cream nuances) made me think there was possibly a bit of American oak involved, but research shows there wasn't. As far as I can tell, Harlan uses only 100% new French oak but I don't know what particular kind.
On the palate, the ripe raspberry and cherry were there as well, but were more highlights to the sweet anise, camphor, blueberries/blackberries/cassis, violets, very subtle minerality and merest hint of vanilla cream. Definitely a lovely wine, one of the most complex and graceful of the evening. My
very
close second favorite of the evening, I had initially ranked it my third favorite to the Araujo, but it just kept getting better and better over the evening's span. This was the Stockbroker's wine of the night.
I read in the notes provided (I read them the next morning so they don't influence the notes I took during the dinner) that this is 100% cabernet sauvignon. It's really quite amazing how one type of grape can display such depth and variety of flavors. If I could afford to buy a lot of this wine (which I can't), I would.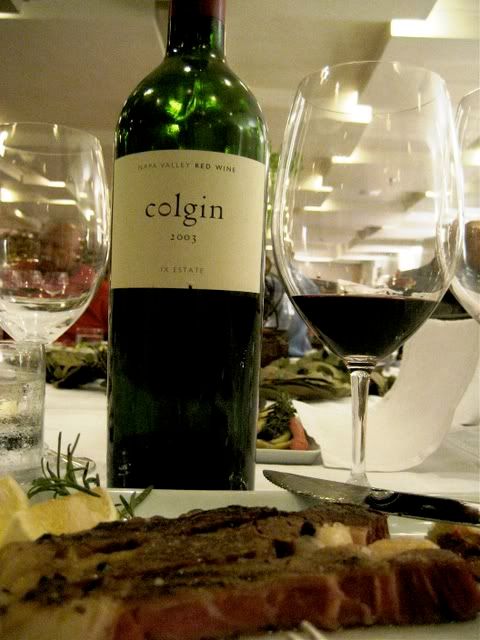 2003 Colgin IX Proprietary Red Estate
- This youngster had the misfortune of being served on the coat tails of the Harlan.
Quite youthfully alcoholic with mild anise, medicinal minerality (but not as prominent as in the Grace) , camphor and slight mocha and chocolate traces to the graphite-touched dark fruit/cassis. Some ripe plum underneath. Nice wine, but it didn't quite make a mark or much of a statement to me. Restrained, tight, not open.
To be totally fair, I'd have to reserve judgment on this as I couldn't help but compare it to the Harlan - which isn't right to do at all. The Colgin is
exceedingly young
and, the Harlan would, after all, be an incredibly difficult act to follow for any of the wines.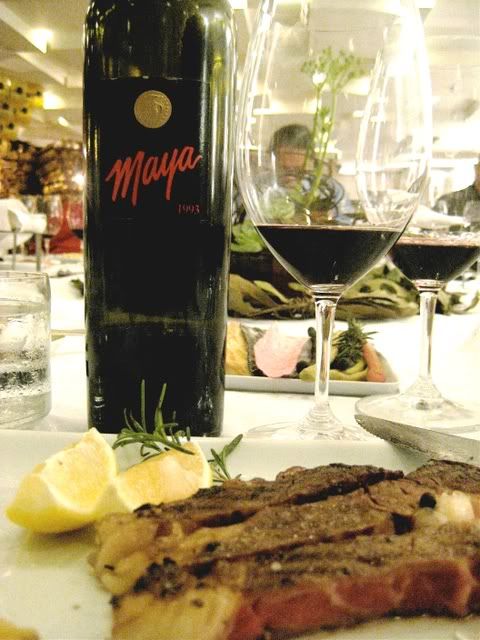 1993 Dalle Valle Maya Proprietary Red Wine
- This, along with the Araujo, was one of the bottles I was very curious about, having read quite a bit on it in WCWN. This is a very different sort of Napa red, it turns out. It threw me completely off, initially with its obviously slimmer body and finer fruit. It was possessed nowhere near the concentration or the extraction levels of the others and, along with entertaining lavender notes, there were touches of green and pepper.
It was pleasant enough, but nothing what I expected from a glorified Napa red. Two days before this night of Cali cults, I was already putting myself in the Cali state of mind, reminding myself that I wasn't going to be drinking Bordeaux, so I could appreciate the reds to the greatest extent.
This morning, I read the handout on it and discovered that this was a blend of 55% cabernet sauvignon and 45% cabernet franc. That explains it, so I wasn't imagining things. I thought I was already too palate-weary to taste properly. In all, though, it wasn't one of my favorite wines of the evening. Jorge A did draw a lot of laughs, though, when he jokingly commented that it was pretty good for a Mexican wine. ¡Viva Mexico!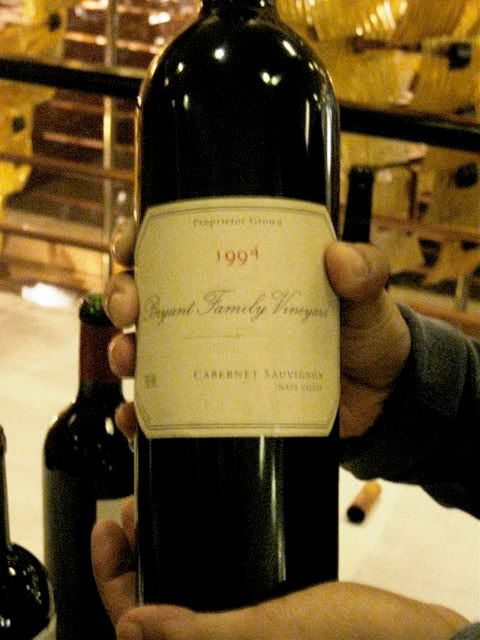 1994 Bryant Family Vineyard Cabernet Sauvignon
- I had this late last year at a similar dinner and loved it then. I also had the '93 I think from the same source. Both times, they were my favorite Cali reds of the night. Tonight was no different. My
old notes on the '94
state:
1994 Bryant Family Cabernet Sauvignon - Sweet camphor, cassis nose with a slight eucalyptus nuance. Full and a bit heavy on the palate but the flavors were light-footed and graceful. I could use the word elegant. I've tasted a
slightly older vintage of this, and I remember it to be quite similar. Although, personally, I generally find California cabernet sauvignons a bit too ripe and heavy-handed to drink alone, Bryant Family Vineyards makes two
of the most graceful ones I have ever tried.
I add now that it was more ethereal, "feminine" noted the Doc, than all the others that night. Similar to the Araujo, but with more violets, hint of lavender, more light-footed. Then, as now, my best Cali red of the night, and the Doc's wine of the night as well.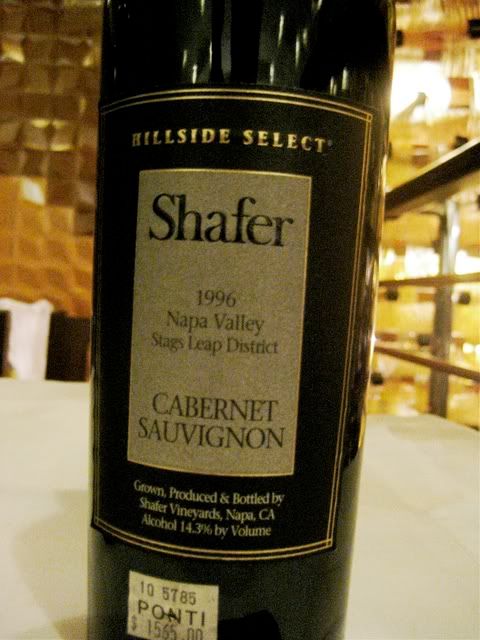 1996 Shafer Vineyards Cabernet Sauvignon Hillside Select
- This bottle is still probably still deep in slumber. I couldn't coax it awake to reveal its charms though I swirled it ever so gently. I do not believe in violently swirling wines with even a little a bit of age on them and it always pains me to see it done to older Bordeaux and Burgundies - old wines deserve - and reward - more gentle handling and respect than that). It would be fine for sturdy, brash young wines to make them yield their youthfully tight aromas, but anything over 10 years old, moreso 20 and up, should be accorded a modicum of care.
The Shafer I found tight and stubborn; its finish a bit short and its medium-bodied, dominant, slightly herbaceous blackberry/black currant/violets and wood flavors diffuse. I think it needs a lot more time to come together and come around. That said, it is always good to get to try these wines at certain points, even if not at the optimum stage, to see how it will progress; and I am always thankful for the opportunity to do so.
2001 Sine Qua Non Mr K "The Nobleman"
- Had this
twice before
from the Doc. It's Mrs. Doc's favorite dessert wine, so the Doc wisely keeps a bottle or two handy at home. I happen to think it tastes like a Tokaji Aszu (6 putts) because of its spicy, wild honey and candied apricot dominant flavors.
From the handouts, Parker says it looks like a TBA (i.e., Trockenbeerenauslese) - which is a
very
safe statement to make as the winery's consultant for its line of dessert wine was the late, great, virtually undisputed master of Austrian TBA, Alois Kracher (pronounced: Ah-loys Krah-kuh).
With a
Budino of Philippine Cow's Milk and Chestnut Gelato
, it cut through, enriched and brightened the dessert indulgently. I note the studied use of chestnut in this pairing as these types of wines really go well with the former. From Bernie S (who, unfortunately couldn't join us that evening), I learned through tasting that Selection Grains Nobles (the "botrytised" dessert wines from Alsace and Monbazillac) pair wonderfully with chestnut soufflé.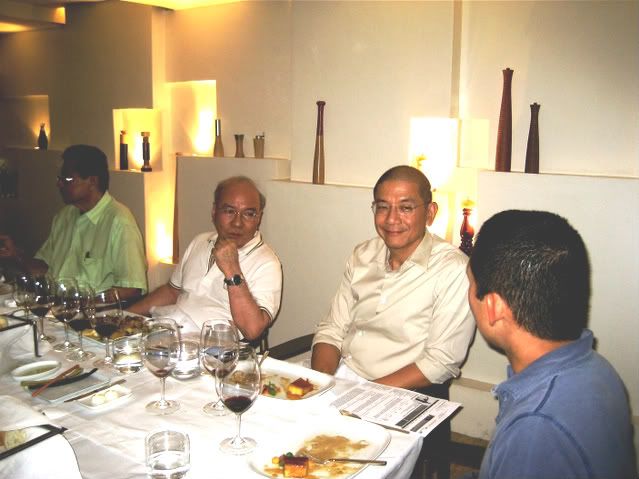 What a night, indeed. Friends, great conversation, excellent wine and food, what more can one reasonably ask for or want?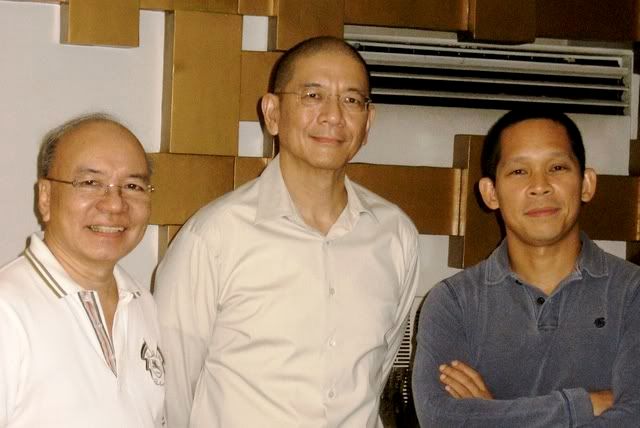 Many thanks, Gentleman Joe. Your dinners are always rare opportunities to both learn from and enjoy.