Keiichi being in town for the holidays, some of the Usual Suspects got together for lunch with him today, the 30th December 2010, for what will surely be the last get together of the group at old favorite
Je Suis Gourmand
. Marc will open a new French restaurant at the same site sometime in March 2011. "More French", said he, but promised to retain old favorites such as his signature
terrine of foie gras
,
escargots à la Bourguignonne
and
boeuf onglet
.
Since I had a lunch meeting, I chose JSG as the venue so I could join them immediately after. Johnny kindly took all the following photos except the 2nd, 3rd, 8th and 9th ones. I sat with the guys (Keiichi, Kuni, J-Lab and Johnny) until the person I was to meet with arrived.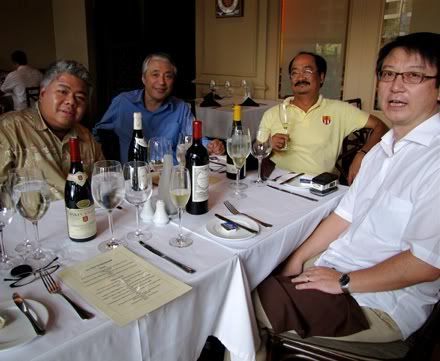 J-Lab, Kuni, myself & Keiichi, starting off with...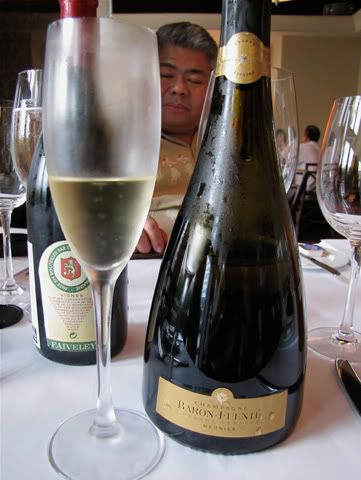 Baron Fuenté Champagne Meunier Grands Cépages
- From J-Lab whose company "The Wine Steward"
*
distributes this 100% pinot meunier bubbly from Charly-sur-Marne. Very focused crunchy green apple, pear, sultanas, citrus, bread, bit of white flowers and very mild yeastiness come together in a light, bright stream. Working the bubbly on the sides of my mouth and a bit of chewing released entertaining notes of chocolate and mint - especially towards the back and finish.
*
Contact info: jaylabrador.winesteward@gmail.com; Mobile: +639189241642
Meeting done by around 2:30pm, I rejoined the guys, who had thoughtfully left me a pour of each of the wines they had already gone through. The wines had already been breathing for around 1-1½ hours by then.
2007 Domaine Albert Grivault Meursault Premier Cru Clos des Perrières
- Keiichi's bottle, one he brought in from Tokyo, which he had identified as a 2007 Meursault in a previous blind tasting. I, not having had any vintage 2007 Burgundy before, was very curious about them (nb: Clos des Perrières is a small 1er cru
monopole
within the Perrières vineyards).
Very slight French butter lines the ripe apple, pear, with slight white minerals, nougat and hazelnut notes (I thought this quite precocious as Meursaults' nuttiness, to me, usually becomes apparent with some age). Vanilla oak is more apparent (but at no time over-bearing) in the attack, and, to a lesser extent, in the back-end and through the finish. Quite nice. Johnny noted that this plumpish wine "starts off as macho (with oak) and turns gay at the end".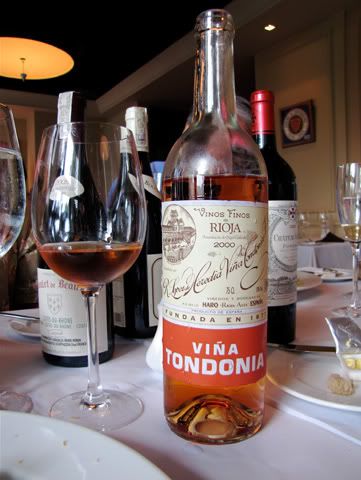 2000 R. López de Heredia Viña Tondonia Rosé Gran Reserva*
- My bottle, recently arrived from the winery. This is a bone-dry rosado with an austere, somewhat sternly masculine character, showing slight orange peel/rind in its strawberry, whisper of currants, slight citrus, bit of dried herb (lavender? tarragon?), and, past mid-mouth, almond skin. This is quite a particular rosado, not for everyone for sure. I think one must be an
aficionado
of, or otherwise tuned to the typically severe López de Heredia style. Those looking for usual fruity, playful rosé had best look elsewhere. I'll experiment with food pairings for this. My other bottle, a
2001 Domaine Faiveley Grand Cru Latricières Chambertin
, was spared, to be enjoyed another day.
*
Aaron and I import this and other wines of R. López de Heredia.
2000 Château Gazin
- Keiichi's bottle, also brought in from Tokyo. Whisper of mint (topnote) before getting to a darkly smoldering, deeply-veined wine of concentrated, slightly roasted-ripe/confited plum, black cherry, hint of kirsch, underlying loam, chocolate, espresso, licorice, violets and a bit of toasty oak. Raspberry surfaces past mid-mouth. Maybe just a notch or two under full body. Very nice. Notable structure and depth.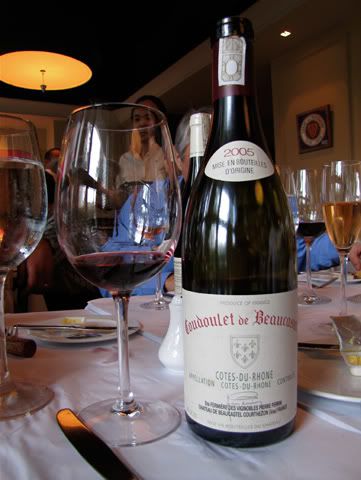 2005 Coudoulet de Beaucastel Côtes du Rhône
- J-Lab's bottle. Mellow, comfortably warm, soft, darkly ripe fruit, blackberry, very slight black pepper, bit of smokiness, tobacco, old leather and slight feral/animal notes towards the back and finish. This must have a good dose of mourvèdre in it. Nice enough. I'd have this with venison.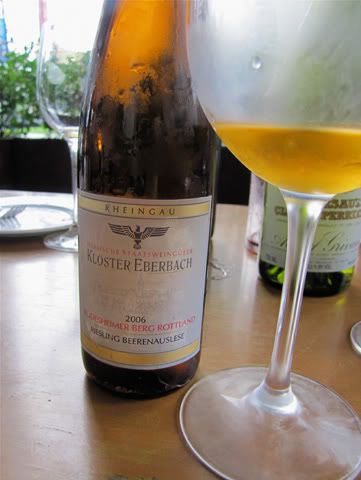 With a bit of cheese...
2006 Hessische Staatsweingüter Kloster Eberbach Rüdesheimer Berg Rottland Riesling Beerenauslese
- Whew! What a mouthful of a name! J-Lab's bottle, of course. Immediately pleasing, moderately sweet peach, apricot and orange marmalade. Acidity balances it nicely, lending some lift to the fruit. Good with the soft cheeses. Everybody liked this. Very approachable and readily pleasing if rather simple at this point. I certainly wouldn't mind tasting older versions to see if they are complex.
Johnny left ahead to prepare a stew; Kuni followed around a half hour later. J-Lab, Keiichi and I lingered, making dinner plans for when Keiichi is back in February. Great to see and drink with the guys again after a couple of weeks' hiatus.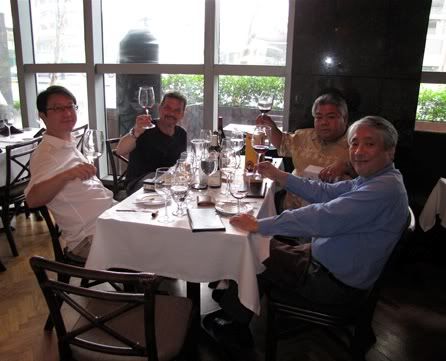 Happy New Year to all!