My blog shows that the last time I was at
Je Suis Gourmand
was the 15th of June 2009, but only to pick up some orders of foie gras terrine and thin apple tart for
dinner at home with the Vecins and Fuenteses
. Before that, I had dinner there last on the
6th June 2009 with the kids
, so that makes it over a month since I've been there. Well, Marc's recently-concluded vacation in France had something to do with that, to be sure.
In any event, lunch there yesterday, the 30th July 2009, was another 6-hour lunch organized by
Jerome Philippon
, a good friend who I haven't seen in a couple of months. We were 7 in all with my wife Catha, sis-in-law Mich,
bilas
Ron, J-Lab and Keiichi, aside from Jerome and myself. It was a nice get-together to catch up and to try some of his new wines, the highlight, to me, of which was to compare my (and many others') favorite rosé, the 2007 Tempier Bandol Rosé with the 2008 vintage recently arrived and available in Manila. For those unaware, Jerome's
Sommelier Selection
is the authorized distributor of Tempier for Asia (excluding Japan).
We started off with...
2008 Château de Roquefort Côtes de Provence Corail Rosé
- a fresh and commandingly structured, red-fruited rosé with oh-so-slight, yet distinctive, pepper and dried herb nuances. Very accessible, charming and easy to drink a lot of. I've had this several times in Je Suis Gourmand with Marc's cassoulet, couscous with trio of lamb (a particularly good pairing), etc. I've also had it in Ciçou as well with Cyrille's version of cassoulet. My two teen-agers like this too with Marc's escargots. At a mere P910 per bottle full retail at Sommelier Selection, it's a very good deal.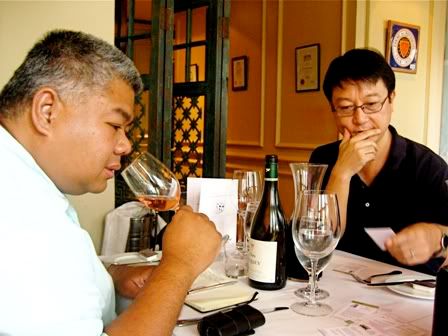 Then came the comparison I'd been long waiting for. I've gushed frequently about the 2007 Tempier rosé, simply adore the stuff and have gone through more bottles of it that I can remember. Now, thanks to Jerome, I got to try it side-by-side the newly-arrived 2008, both paired with my favorite
escargots bourguignonne
.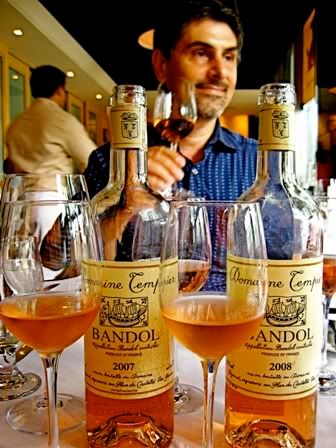 2007 & 2008 Domaine Temper Bandol Rosé
- Both marvelously attractive rosés in every way, from their color, clarity, brightness, to the clean, fresh, pure, vibrant fruit, underlying slight dried herbs, admirable structure, complexity and superb balance. At this point, between the two, the 2007's structure is marginally firmer, the
garrigue
notes are more pronounced, and has slightly, though noticeably, more of a masculine character and depth in its fruit. The 2008 has a joyful, playful, feminine, fruity character, its
garrigue
discreet, with a more apparent melon note to it. This 2008 has a most infectuous smile. Lovely wines, the both of them.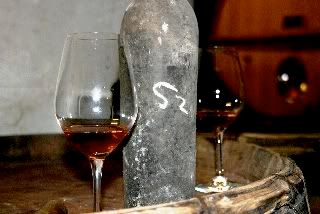 Jerome recounted to us his visit to Tempier a couple of years ago, how charming the countryside was, the hospitality of Tempiers owners as well. When he was there, he got to try, among others a 1952 Tempier Bandol Rosé - a rosé astoundingly still alive after 55 years.
At a shade over P2000/bottle full retail, the now locally available 2008 is not a cheap rosé by any means, but, as I always say, that is a small price to pay for simply the best rosé in the world.
With our main courses (J-Lab, Jerome, Keiichi and I got the delicious
Beef Onglet
), the reds, decanted for an hour or so by the time, made their respective entrances.
2005 Domaine Elian Da Ros Clos Baquey
- From the Côte du Marmandais in Southwest France, a blend of merlot, cabernet franc, abouriou (the local gamay grape) and cabernet sauvignon. This is the first time I've had this firmly structured, well-focused wine that presents flavors of blackcurrants, raspberry, cherry, bit of plum, violets and a precise touches of minerals, pepper and herbs. What struck me most about this wine was how nicely firm it was, how cleanly and neatly it presented itself and how very well it paired with my robust Beef Onglet. Classical cut, admirable balance and restraint for a wine from such a ripe vintage.
Loved this match. I'd definitely buy some to pair again with this dish. No price officially out on this yet, but I seem to recall Jerome saying it would be in the neighborhood of P2500/bottle.
2003 Château Lagarette Cuvée Renaissance
- I had this more with my cheese course. As I understand from Jerome, this estate has been around since the mid-19th century, and, since 1998 has been owned and run by the Minvielle family. Certified organic (1998) and biodynamic (2003), the vineyard is a tiny 4 hectares planted mainly to old vines (merlot, cabernet sauvignon and malbec) with a minor portion recently planted to cabernet franc.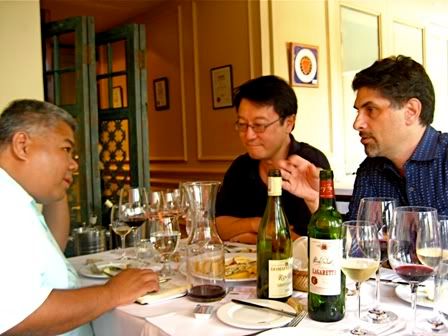 2003 was a roasted-ripe year for Bordeaux in general. This was apparent in the warm, lush, ripe/baked character of the soft, sweetish plum, cherry, bit of cassis and raspberry, hint of red spice and underlying espresso, with forward toasty-oak notes of caramel, clove, hint of toffee and cinammon. Comes off a bit modern to me - good for the fans of that style.
We continued with the cheese platters with a white from Jerome, and another red I ordered from the restaurant's wine list (also supplied by Sommelier Selection).
2006 Domaine Chèze Cuvée Ro-Rée St-Joseph
- J-Lab chose this wine. I recall I tried the 2005 verion of this at Je Suis Gourmand sometime in late mid-2008, but can't seem to find my notes on it. This was a firm, straightforward, medium-bodied wine with an earthy, somewhat rustic character to its blackberry, raspberry, blackcurrant, bit of underlying black coffee with slight pepper topnotes. Though still quite young, it showed well enough and was pretty good with the Tomme de Savoie and walnuts.
2005 Domaine Plante d'Or Cour Cheverny Cuvée Salamandre
- My wife recalled we went to or passed through Cheverny when we were in the Loire in July 2006. The name rings a bell, but very faintly. Likely we stopped nearby briefly when we visited Château de Chambord as Jerome told me that the appellation of Cour-Cheverny is just southeast of Blois. Made from a grape called romorantin, this wine is the first of its kind I have tried.
The fruits are hard to describe - very lightly honeyed quince, citrus, some fresh herbs, limestone with a mouth-watering slight bitterness towards the rear. Very interesting and it went well with the soft, creamy cheeses (the brie de Mieux I recall), not so much with bleu as the citrus notes seemed to interfere.
We then switched to a simple, light, refreshing
Domaine de la Sarazinière Clos des Bruyères Bourgogne Aligoté
. I think it was a 2006, but am not now sure. I had the 2006 sometime in
mid-September 2008 at a 7-½ hour marathon tasting lunch
with Jerome and some friends. Pleasant, charming, very quaffable wine.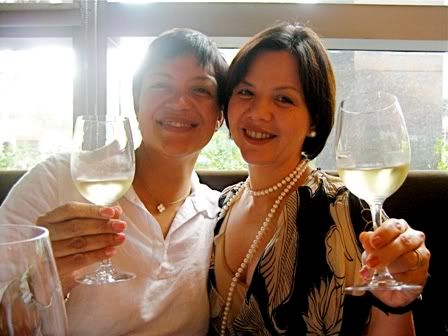 I then ordered a bottle of the
2006 Domaine Bott-Geyl Gewürztraminer Les Elements
, an old favorite gewürz that I've written about several times. I really like pairing it with Marc's terrine of foie gras and thin apple tart as well.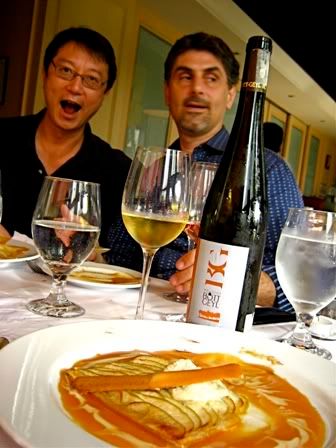 We all liked this wine a lot (especially my wife), and I think
J-Lab's notes
from that day are very on point:
Bott-Geyl Les Elements Gewurztraminer 2006 - I've enjoyed this wine quite a few times before. Lychee and roses. Quite sweet. Real easy to enjoy. Some people might be turned-off by the sweetness but I think this is excellent.
I add that it is great value for money as well at around P1600/bottle at retail.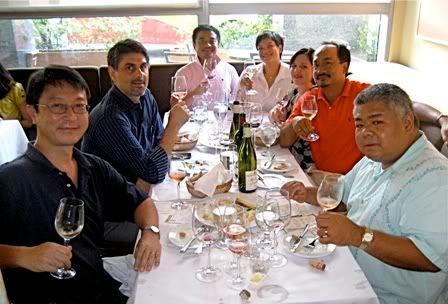 After some double espressos and coffees, our long tasting lunch came to a close at around 6pm or close to it. Many thanks again to Jerome for the wines and for organizing the lunch.
It was a lot of fun as usual and it was great to try finally the 2008 Tempier Bandol Rosé - alongside the 2007, no less. All the other wines were also very enjoyable, the Ro-Rée and the Clos Baquey deserving special mention. Merci beaucoup!