We woke up quite late after the
Soirée de la Commanderie du Bontemps
, barely making the breakfast buffet that came with our hotel package. I had some Eggs Benedict (with smoked salmon - not ham or bacon), grapefruit juice and a cup of coffee, then headed across the harbor back by ferry to Vinexpo Asia-Pacific 2010. Before I even got to the venue proper,
Sandra Chan
of the Spanish consulate in HK called for lunch at 1:00pm with
Carmel Yip
and
Dennis Ho
(the latter two respectively Editor and Publishing Manager of The Corporate Grocer & Caterer of HK).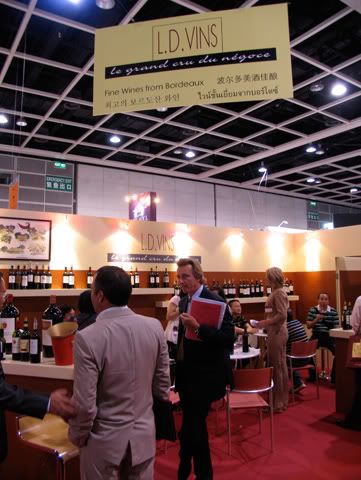 That left me with only 45 minutes to go around, so I went looking for Judy Leissner's Grace Vineyard (China) booth. During my search, I happened across the
L.D. Vins
booth and spied
Frédéric de Luze
busy entertaining several customers (
nb
: L.D. Vins is a negociant house owned by Frédéric aside from Château Paveil de Luze). I hadn't seen Frédéric for 2 years, the last time was at the previous HK Vinexpo in May 2008 since I didn't get to see him in Bordeaux last March.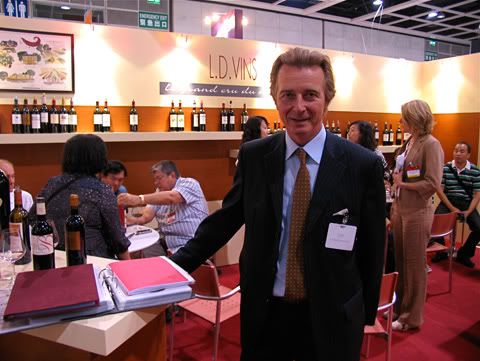 Frédéric, whom I met in Bordeaux through the Vigneron several years ago, actually holds the hereditary title of baron, but I've never seen or heard him use it. Baron Alfred de Luze purchased the estate which was to be known as Paveil de Luze back in 1862 and the estate, as well as the title, passed down to Frédéric.
I buy old Bordeaux from KL Wines in California mainly because I know a lot of their aged wines come from L.D. Vins, which, in turn, gets them ex-château - so I am confident with the provenance. We chatted briefly and I let him get back to his meetings, he assigned a nice young lady to attend to me in tasting some of his wines. I had to be quick as I didn't have much time before lunch.
2007 Château Paveil de Luze
- This is one of the riper and more concentrated 2007s I've tried. Full, moderately dense, minerally dark fruit, cassis, some dark plum, cherry, licorice, violets, bit of dried herbs, leather, underlying warm gravel/asphalt, bit of slight chocolate and cedar. The new oak is apparent, but nicely enough folded in; there is a marked modernity to this wine's character. Comparatively full-bodied, lush, its bold tannins quite well-rounded. Already approachable now, but will smoothen out and come together more in, probably, 3-5 more years.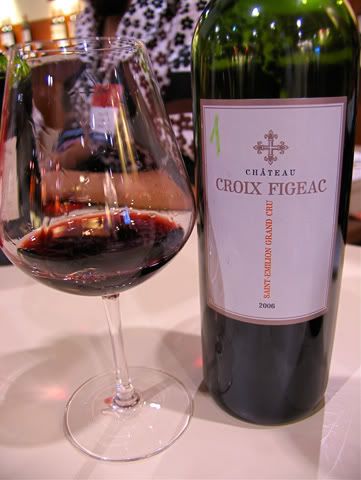 2006 Château Croix Figeac
- Sweetish, soft, ripe dark plum, cherry, dark minerals, bit of raspberry, slight anise, underlying vanilla/oak, chocolate. Lush mouthfeel, decent curves, readily apparent but relatively soft, rounded tannins. Very user friendly style. Straightforward, easy to drink, nice push. Pleasantly precocious.
1999 Château Cadet-Piola
- Nicely concentrated and ripe (somewhat atypical of the vintage), moderately dense, charmingly rustic and notably fresh and even juicy 10½ years from vintage. Ripe plum, black cherry, kirsch, raspberry over a bit of cassis, blackberry, cedar, slight dark minerality and tobacco leaf. Nicely mouth-filling, good heft. Notably good considering the vintage. It has a nice, honest, fun-loving character to it.
That was all I had time for, really. I thanked and said goodbye to Frédéric, who reminded me to "make sure to send me your report" (I surely will). I met up with Sandra, Carmel and Dennis at the Spanish/ICEX Information Center and we proceeded to the
Golden Bauhinia Cantonese Restaurant
within the Hong Kong Convention and Exhibition Centre (near the Expo Galleria Entrance; has a nice view of the harbor) - we couldn't wander far as it was a very busy time for everyone (but me), Carmel and Dennis actually had an important interview at the Dynasty's (China) showroom at 2:30pm. They did all the ordering.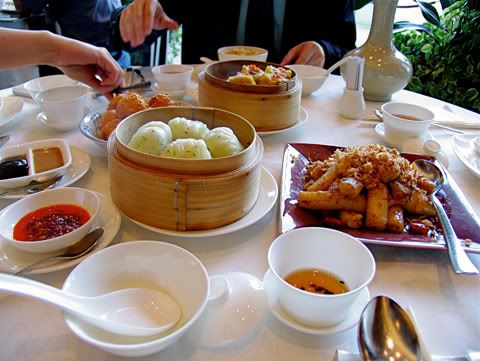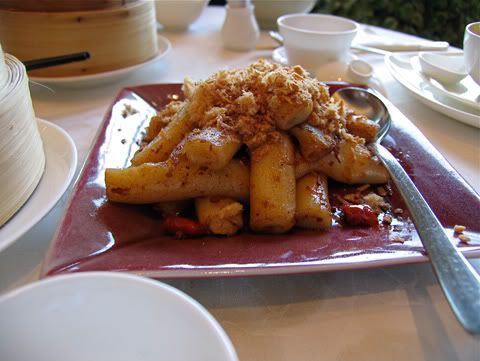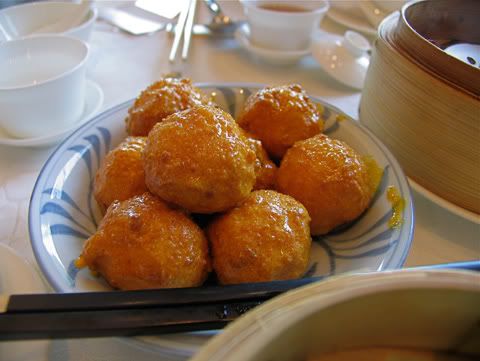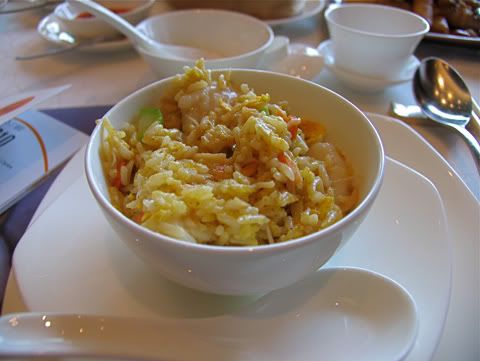 I didn't get to take photos of all the dishes as I was too busy enjoying the company and the food (very clean tasting, not oily, more refined than many other dim sum restaurants). I recall there was another dish of Chinese cabbage (similar to our local "pechay") in a creamy sauce that I didn't get to photograph. Good dim sum here with genteel surroundings and clientele.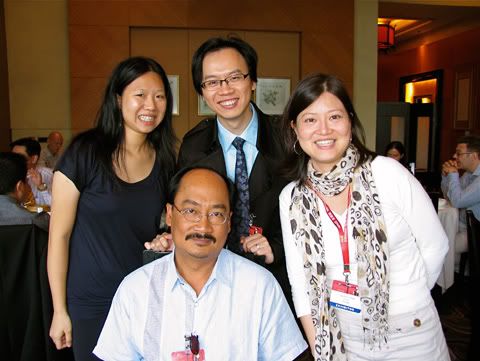 Me with (L-R) Carmel, Dennis & Sandra
Unfortunately, Sandra got called away before lunch ended but Carmel and Dennis kept me well entertained. By around 2pm, Carmel and Dennis also had to go prepare for the interview. They wouldn't let me pay a cent for lunch, my objections going unheeded - Carmel commanded that I put away my wallet as the waitstaff wouldn't indulge me anyway. I was quite embarrassed, but most appreciative. I only hope they make good their promises to visit Manila one day soon so I may reciprocate their graciousness.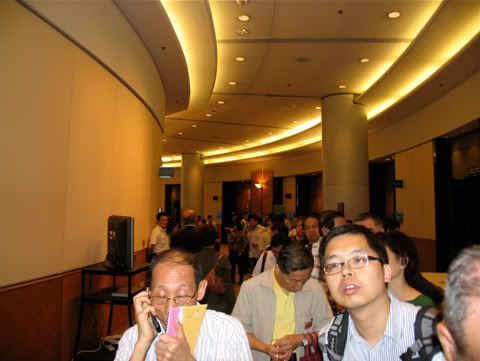 I then proceeded to the 2006/2007 St-Emilion Tasting and was, fortunately, a bit early and, so, near the head of what quickly transformed into a long waiting line to get in. I made a mental note to, next time (assuming I attend another Vinexpo in HK), go to the by-invitation tastings instead of the free-entrance ones (Anabelle Bardinet had given me an invitation for the St-Emilion tasting the day before but I woke up late and screwed up my entire schedule that day).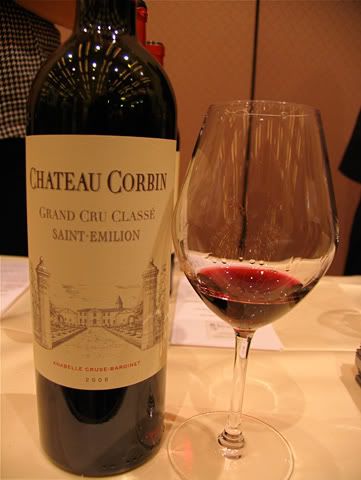 2006 Château Corbin
- I understand that this estate is one of the oldest in St-Emilion, the foundations of the château going back to the 15th century, rumored to be an important point in Sir Edward of Woodstock, a.k.a., "The Black Prince". Anabelle's great-grandparents purchased the estate in 1924, and she, an oenologist with a degree from the University of Bordeaux, has been running it since 1999 (noted by some reports as "the turning point" of Château Corbin).
Anabelle & Sebastien Bardinet present Corbin's 2006 and 2007 vintages.
Nicely medium-bodied, svelte, gracefully supple, ripe dark plum, black cherry, raspberry, cedar, touch of mint, underlying blackcurrant, mocha, vanilla bean and oak spice. Comes off with a casually nonchalant femininity, with precise and neat lines. Notable harmony and fine balance. Good finesse. Nicely done (
nb
: consistent with
my notes of a few days before at the Vigneron's place
).
2006 Château Canon-la-Gaffelière
- The ever dapper Count Stephan von Neipperg was very busy pouring for those crowding his table, but not too busy to indulge me with a quick pose with his 2006.
I tasted this at Vinexpo 2007 (Bordeaux) and noted it as one of my 2 standout St-Emilions together with Figeac
. It was, thus, a nice opportunity to re-taste this after almost 3 years.
Another confirmation of the good showing of 2006 right banks for me. Nicely ripe and concentrated with a stylishly modern flourish. There is creamy new oak to the plush, soft, dark fruit (black cherry, kirsch, raspberry, crème de cassis), violets, loam, slight cedar, as well as a dose of related vanilla, spice, underlying espresso and a bit of dark chocolate. Should be a crowd-pleaser of a wine.
2006 Château La Tour Figeac
- This came off as one of the more masculine St-Emilions of the tasting with sturdy structure, more push on the palate yet notably a bit backward in the fruit department. Ferrous notes and dark minerality mark its plum, red currant, cherry, blackberries, together with minor licorice, bit of violets and a slight minty topnote. Underneath lurk some black coffee and and oak spice. A notch or two under full-body, unapologetic and firmly muscled. Good show.
Estate owner Otto M. Rettenmaier expertly opens more of his bottles.
2006 Château Destieux
- Another masculinely cut, minerally St-Emilion, its black cherry, dark, somewhat stewed plum and blackberry laced with anise, iron, cedar, charcoal and loam notes. Firm in structure. Wood juts out a little bit, but this should easily be resolved in time. Good wine. Less stylish in character than the Canon-la-Gaffelière and, marginally, even La Tour Figeac, this is an honest, sturdy, unapologetic, take-me-as-I-am kind of wine.
I bade goodbye to Arnie, J-Lab, Jocel and Helen after that and headed off again to search for the Grace Vineyard booth as Carmel had told me it was near that of Dynasty Wines (China). Search as I did, though, I simply couldn't find it. In addition, I got waylaid when I came across the showroom of Château d'Esclans
*
and recognized Sacha Lichine pouring (I'd never met him before, but seen him in photos and read about him - he's kind of hard to miss with the flamboyant hair, considerable girth and booming New York accent).
*
Either J-Lab or the Stockbroker told me about the US$100 rosé of Sacha Lichine a while back (the "Garrus" bottling, just 6 barrels produced per vintage).
Claudio Aguayo, Managing Director of Viña El Principal from Chile, walked me through all the 2008 d'Esclans rosés (I'm not so sure how he is connected with Sacha Lichine though; but I promised to put him in touch with some distributors of Chilean wines in Manila). I mentioned to Claudio that the Stockbroker and I put together
a head-to-head tasting of the 2007 rosés of Domaines Tempier and Ott
- then some cheeky fellow (who I suspect was d'Esclans Consultant Oenologist Patrick Leon, but I'm not so sure) broke in and exclaimed to me half-jokingly that "We are
better
than Ott!!!" - which made me decide to hold a blind horizontal of the rosés of Tempier, Ott and d'Esclans as soon as I can.
2008 Château d'Esclans "Whispering Angel"
- Very refreshing and bright, well-focused and pure, incredibly light on its feet with very dry cantaloupe and strawberry, hints of cold steeliness and slate. Pristine lines, so pure and clean. Very nice. Sacha bellowed to me that if one drinks enough of this one will really hear the angels' voices.
2008 Château d'Esclans "Esclans"
- Quite similar but with more depth, marginal heft and firmer structure. The fruit seems more deeply-veined and concentrated as well, but without giving up any apparent freshness and purity in fruit. More spice on the nose.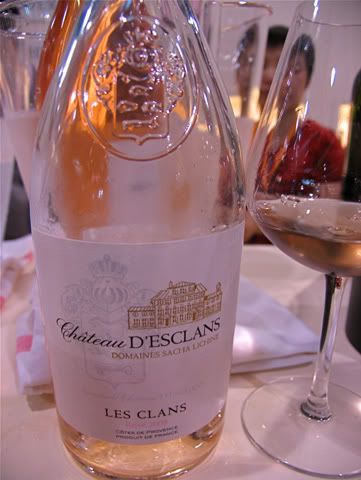 2008 Château d'Esclans "Les Clans"
- The jump in structure from the "Esclans" was pretty apparent, as were the wood notes. Readily sturdier and remarkable definition in the heftier fruit with some lavender, slight dried herbs and just a light touch more spice.
Up to the "Esclans", the wines reminded me more of the more feminine 2007 Domaines Ott Château Romassan Rosé Coeur de Grain, but this one brought to mind the more masculine and firmer structured 2007 Tempier Rosé (after a little over 2 years from vintage).
2008 Château d'Esclans "Garrus"
- Quite similar to the "Les Clans" but with, yet again, marginally more depth and heft, firmer structure and a bit more complexity. I guess having these side by side after a few years will show more pronounced differences. What is remarkable is how well freshness and vibrancy are maintained throughout the line of rosés. I note that the months spent in large barrels with battonage is obviously skillfully executed as the wood-related notes, though pretty apparent, are quite subtle and finely/delicately intertwined.
Now, the question arises: "Would I pay US$100/bottle for this?" Honestly, probably on the rare occasion, but I certainly wouldn't likely drink it as regularly as I do Tempier's rosés. Better than Tempier or Ott? Ott, yes; Tempier, I don't think so, but we will see at the blind tasting to come.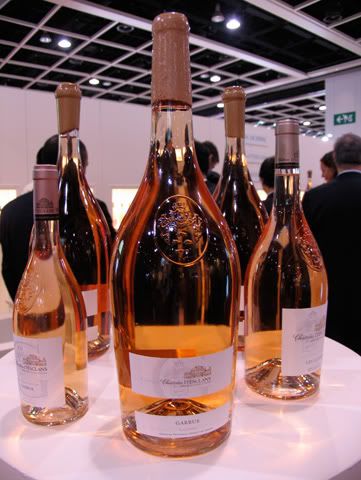 I then headed off again to search for the elusive Grace Vineyard booth, but, yet again, got waylaid as I passed by that of
Bodegas Protos
(D.O.Ribera del Duero)
. The wines I tasted here, even the crianza, are marked with good concentration, deep, ripe, moderately dense dark fruit, spicy/toasty oak and licorice, all in a muscular/masculine style.
2006 Protos Crianza
- The fruit (plum, black cherry, bit of raspberry liqueur and blackberry) is quite fresh, quite concentrated and hefty for a crianza, laced with black coffee, moderately creamy/toasty oak/vanilla/coconut cream, licorice with touches of cinnamon and clove. Though straightforward and still a bit young, it is already very approachable now.
2005 Protos Reserva
- This was pretty impressive. Lots of quiet, almost brooding depth in the deeply-veined, somewhat smoky, meaty, cinnamon/nutmeg/clove/licorice/sweet pipe tobacco-infused slightly confited/dried, soft fruit (plum, prune, black cherry, kirsch, bit of blueberry). Not quite full-bodied, but pretty close to it. Smooth, warming, quite concentrated, nice complexity, acid is just a bit low for me and alcohol a bit elevated, but all somehow are in good enough balance - this comes off as a stylishly modern Ribera del Duero. For whatever it is worth, I understand it was recently awarded a gold medal as best in its class during the last UK based International Wine & Spirits Competition.
2001 Protos Gran Reserva
- From an exceptional vintage in Ribera del Duero, this wine does its vintage justice. Quietly full-bodied with notable complexity, there is a lot going on in this wine. Good structure, masculine, confident push, notes of dark minerals, cocoa, tobacco, licorice, balsamico, cedar, violets, hint of ceps in the nicely rounded, deeply-veined fruit. Again, acid is a bit low for me and the wine comes off with a modern character, if not as stylishly as the 2005 Reserva.
2006 Protos Selección
- Very concentrated and extracted, the use of more French oak than American is quite noticeable. Very deeply-veined, indulgently lush, molten, dried/confited dark fruit, black cherry, raspberry, blackberry, blueberry, kirsch, licorice, underlying, dark minerals, incense, loam and black coffee, vanilla bean, bit of unsweetened dark chocolate (the minerality and licorice are a more prononced). Still quite young but showing a lot of complexity now. May already be enjoyed with hearty roasts of beef, lamb, venison; but will also reward patience.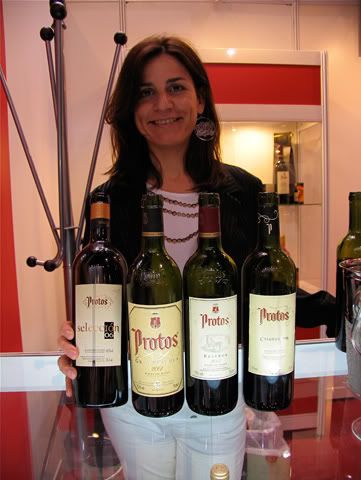 Protos Export Manager Luisa de Paz presented me the Protos line up
I then stopped by (late again) the Castilla-La Mancha tasting seminar but it was one of those more structured tasting/lectures where all were seated with wines already poured. The lecture/tasting was already on-going but Sandra got me in anyway. I noticed though that they were already halfway through, so I sat for a polite number of minutes then snuck out. As I said goodbye to Sandra, thanking her again for lunch, she introduced me to Iñigo Cañedo, director of Arum Estrategias Internacionalización, who would be making a stop in Manila after HK (married to a Filipina, he was to visit his ailing father-in-law).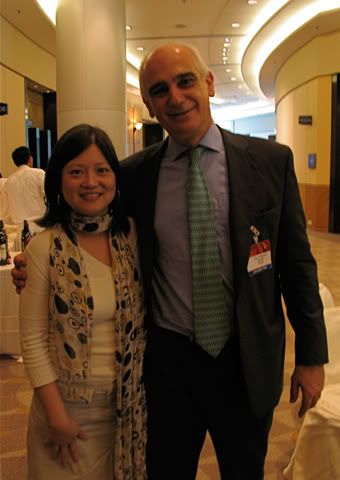 I then headed back to the hotel, hoping to take a quick nap before dinner. Danny Sy was taking my family and I out to a new favorite restaurant Under Bridge Spicy Crab. On my way out of the Vinexpo venue, I passed by the booth of
WINENOW
Magazine and saw
Mr. Lau Chi Sun
relaxing after a long day, quietly contemplating a small, slim glass of chilled cognac.
I shamelessly interrupted his reverie to thank him again for dinner of the 24th and to say goodbye. I also asked him if drinking a quick glass of chilled cognac is typical of the home region or if it was a style of drinking he just dreamed up. Apparently, according to him, it is a style of taking cognac now being introduced to Asia by some cognac producers. Makes sense to me. I can imagine it, chilled, as a bracing, stiff, late afternoon pick-me-up before segueing to a late dinner.