A month or two ago, Alex had recommended a typical Japanese yakiniku restaurant in Little Tokyo so we planned to have one of our craft beer and saké dinners there sometime last week (Jim was in the US for business at the time so couldn't join us). Since I also had to meet with Alicia and Cyrene for a project by Summit Books, I figured to combine the two since Alicia and Cyrene really wanted to check out Urameshi-ya anyway.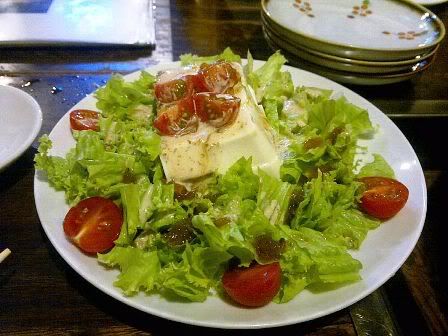 I had read many good things about their
Tofu Salad
. I'm not really into tofu dishes, but tried it out because of the good reviews. I must say that it's pretty good - the tofu silky-creamy, the greens crisp and fresh, the dressing and cherry tomatoes sweetly tangy, bright and refreshing. Very nice to start with. Only Alex had been here before (several times, I'd say, since the waitstaff obviously knew him), and, since he knows Japanese cuisine much better than us, we asked him to do all the ordering.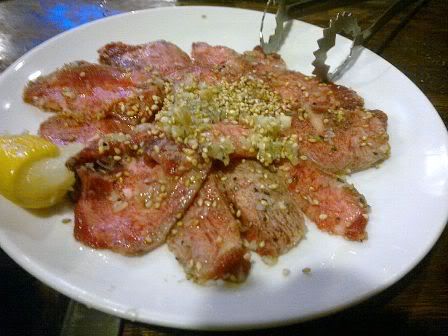 Beef Tongue. Very nice.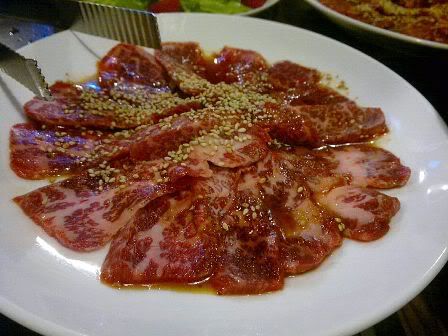 Jyo Karubi
(fatty beef)
.
Excellent.
W
e had over a dozen orders of this.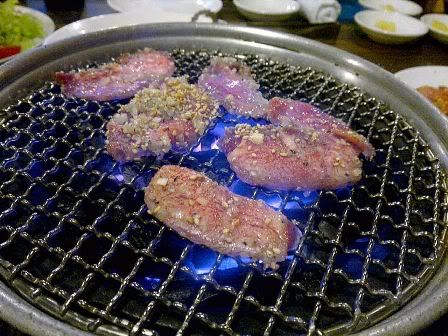 Beef Tongue on the brazier.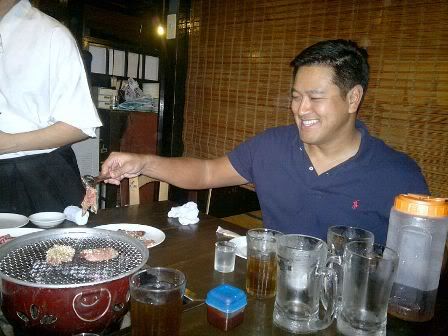 Alex can cook! We teased him that he should get married already.
Chu-toro
Sahimi
(3 orders)
, cross-ordered from a nearby restaurant. Evidently better than the ubiquitous, run-of-the-mill
maguro
, but nothing great. Still, at a mere P650/order, it's good to go.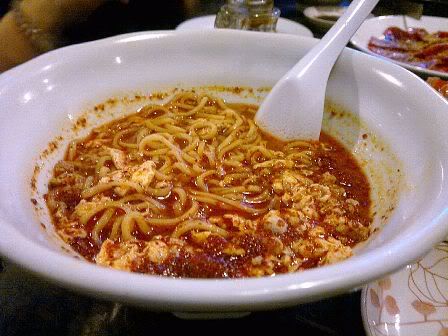 Moderately spicy Emma Ramen (3 orders). Nice in itself and for a change of flavors/textures.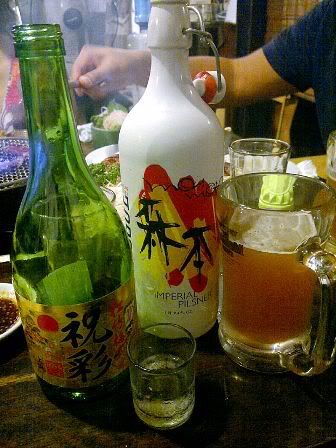 We got a couple of bottles of what the waitresses said were the restaurant's best sakés (none of us read Japanese, so I can't mention the brands/types of sakés we had). Both were quite acceptable, though nothing really to write home about. At a reasonable P1800/bottle, however, they were more than acceptable for our
yakiniku
meal.
Of course, we very much enjoyed the two 750ml bottles of
Rogue Morimoto Imperial Pilsner
that I brought along. I've written at least twice about this signature Iron Chef imperial pilsner before, so no need to repeat myself. Suffice it to state that I always ensure to bring bottles of this, as well as the Hitachino Nest White Ale (of which I am now all out of) for Japanese meals. We actually went through both bottles of the imperial pilsners pretty fast (though Alicia just stuck to the saké) - I should've brought 3.

Kampai!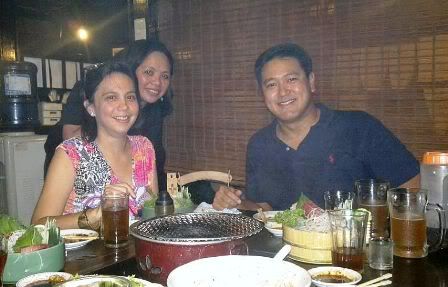 Alicia, Cyrene, & Alex.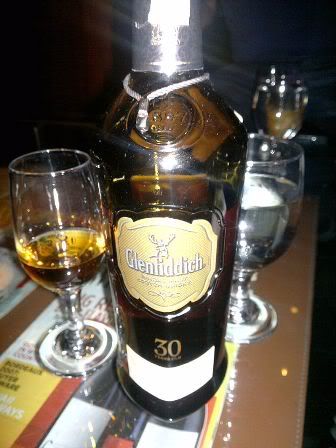 Though Alex had promised a night of "light drinking" (I really should know better by now), I agreed to his suggestion of a nightcap of "a little single malt and a cigar" at
Kipling's
(the cigar and single malt bar of the Mandarin Oriental Hotel Manila), where he treated me to some of his bottle of
Glenfiddich 30 Years
(Alicia, opted to take her leave at Urameshi-ya, so only Cyrene joined us). With this, and a double espresso after, I had my usual
Cohiba Lancero
.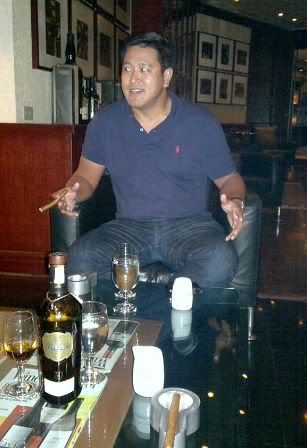 In the above photo, Alex attempted to explain how he doesn't deserve his reputation of always getting those around him drunk as skunks - which spiel he delivered just before I discovered that he had surreptitiously spiked my double espresso with more of his single malt.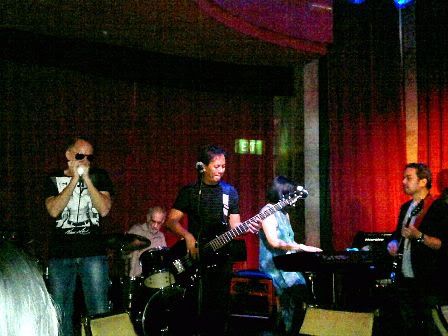 Thereafter, Alex tempted us with "one for the road" at the hotel's
Martinis Bar
, and, foolishly, I agreed on the condition that the last drink would be champagne - to which Alex obliged with a bottle of
Moët & Chandon
. It just so happened that old college buddy, Johnny Besa, and his band
The Blue Rats
, were playing there that night - and I caught a nice rendition of "Tobacco Road" as we walked in (they play there every Thursday night I learned). Unfortunately, Alex also ordered several very dry martinis for which he called "bottoms up!". Since I can't really take anything with gin in it (I dislike its taste and it makes my stomach very acidic), you can imagine that this phase was quite difficult for me.
Be it as it may, it was a very fun night - yet another one of fine food, craft beers, sakés, and friends. Thanks for the single malt and the bubbly, Alex (never mind those martinis)! Until the next!