Saturday Dinner, 25th September 2010
:
Dinner at my father's place for my brother's mom-in-law who was visiting from Tokyo to represent the Kozan School in the recently concluded Ikebana International 11th Asian Regional Conference at Shangri-La Makati. Dinner was Spanish fare, the wines also Spanish: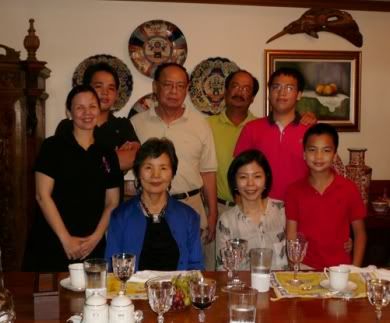 With appetizers of assorted cheeses,
jamón Serrano
, etc.
2004 Freixenet Cuvée D.S. Gran Reserva Cava
- Bright, crisply dry, slightly floral white grapefruit, green apple, hints of sourdough and chalky minerality. One of the more complex cavas I regularly drink. I just wished my dad also served some chistorras to go with this. Available at Aaron's
ADP Industries
at P1800/bottle full retail.
With
Chili-Garlic Prawns
and
Bacalao à la Vizcaina
.
2009 Txomin Etxaniz Txakoli
- Typical Getarian txakoli: bone-dry, light, fresh and minerally with tartish green apple and lime/citrus flavors, faint saline notes, healthy acidity and a slight appetite-enhancing bitterness. Excellent with the Bacalao and a fair match with the Chili-Garlic Prawns. Now available at Terry Selection for a mere P870/bottle at full retail.
With
Lengua con Setas
and
Solomillo de Vaca
.
1999 Bodegas Olarra Cerro Añon Rioja Gran Reserva
- One of the last few bottles of this in my dad's cav. Perfumed nose of violets, cherry, kirsch, deep/ripe strawberries, vanilla bean and slight red spice. Slightly over medium-bodied, very smooth, bit of creaminess mid-palate, the scents mirrored on the palate. Very, very nice. Notable poise and harmony. The vanilla notes were a little too overt because I didn't decant it for aeration unlike other times I open these bottles.
My father and I purchased the last couple of cases of this from Terry Selection many months ago. There is no more of this vintage - but the one being sold now, the 2001, is an excellent Riojan vintage.
Sunday Lunch w/ Catha & the kids, 26th September 2010, @ Caffé Caruso
:
With our usual
Antipasti Caldi Platter
, a
Pizza Napolitana
,
Insalata di Rucola
, assorted pastas (Spaghetti with Italian Sausage for me),
Veal Scallopini
and
Veal Como
.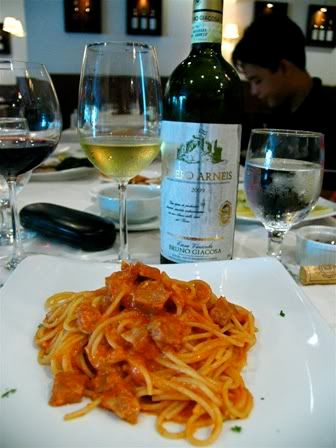 2009 Bruno Giacosa Roero Arneis
- Not locally available, Miguel got me some bottles of this last time he was in Italy. I love this stuff with antipasti and certain pastas ever since I tried the 2005 version from the Stockbroker over
lunch at Pepato back in late January 2009
. "Arneis" is the grape (a.k.a., nebbiolo blanco) and "Roero" is the hilly area in Piedmont (northwest of Alba) wherefrom hails this wine.
Slight hints of cool limestone and seashell infuse bright, vibrant, mild grapefruit, bit of pear, apple, citrus with an appetizing bitter-almond nuance. Nicely dry and very food friendly even with the
Veal Como
. Love it. The Stockbroker's
PWX distributes Giacosa's
wines (an excellent producer, by the way), but just the reds so far. I hope he brings some of their Roero arneis in as well in the future.
The Stockbroker also happened to be there for lunch with his family and sent me a glass of what I recall he said was a Napa cabernet sauvignon with a bit of sangiovese and syrah in it. I do not recall the vintage, but it was called
Bacio Divino
- Very lush, fleshy, I could even say opulent, full-bodied, lowish in acid, crème de cassis (emphasis on the crème), soft, dark, sweetishly-ripe red berries, bit of underlying damp earth and mocha, evident creamy vanilla (from new French oak barrels almost surely). Lavish, forward and eager to please, I expect this would be easily accessible to many. I don't know, though, if PWX carries this or it is from the Stockbroker's own collection.