Dinner of Friday before last, the 21st September 2012, was at
Sala Restaurant
for a Champagne Laurent-Perrier Pairing Dinner organized by Straits Wine Company Manila. I've done a couple of distributor-organized champagne dinners before,
the last one featuring the house of Veuve Clicquot Ponsardin back on the 2nd December 2009
. Even before then, I was of the opinion that champagne, though great as
apéritifs,
to finish off a meal, and/or with certain lighter fare, just can't hack it when we start talking more substantial main courses. Well, not for me, anyway,
In any event, I try my best to keep an open mind. One never knows. Besides, two of the Usual Suspects, J-Lab and Richard, said they'd attend; so I figured, with their presence and Colin Mackay's food, it would be a fun enough evening.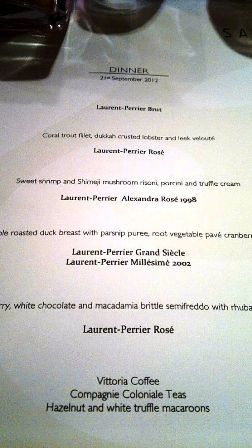 The Menu
I was running late that day, coming from a client's office, passing by yet another client's office, before making a 5:30pm tasting at Sommelier Selection for some bubbly and to meet the current French ambassador and his wife. I got caught up chatting about food, restaurants, and wine (of course) with Jerome Philippon and Herve Laumond, and, thus, got caught up in traffic (the ambassador and his wife arrived late, but I still managed to meet them before I had to leave). The first course was already being served as I walked into the subject dinner.
1st Course: Coral Trout Fillet, Dukkah-Crusted Prawn, Leek Velouté paired with NV Laurent-Perrier Cuvée Rosé Brut
- This is bright enough in its strawberry, raspberry, citrus, slight orange peel and currants, and faint minerality. Fleeting mousse and notably fine, persistent beading. A pleasant and charming nv rosé, if rather straightforward and simple for me. Good, surely, but with the nv rosés of Billecart Salmon, Drappier, Ayala, etc. readily available at materially lower retail prices, unless one can easily tell the difference between them blind
and
choose the subject bubbly as one's favorite, I see no good reason for spending more.
2nd Course:
Sweet Shrimp & Shimeji Mushroom Risoni, Porcini & Truffle Cream. The truffle oil's pungency made it difficult to smell the pairing champagne, but the dish itself was absolutely superb - the flavors all on point, seasoning perfect, the pasta perfectly al dente.
This was paired with what for me and most everyone else was the star of the evening, the
1998 Laurent-Perrier
Grand Siècle
Rosé Cuvée Alexandra - which was, for me, easily and by far the best bubbly of all that night.
This deeply complex, yet approachable and evidently refined bubbly is the latest release of this limited
cuvée
which was named after the late Bernard de Nonancourt's daughter, Alexandra. Beautifully rounded, strawberry, cherry, ripe apricot, with discreet mineral undertones and added rose petal and orange peel notes. Very harmonious. Pretty stunning, actually. This is a beauty of a champagne.
I understand that this retails at P23,000/bottle, which is materially more than one has to pay for Salon in these parts. Though I love this champagne, the price disconnect, however, is too much to ignore. One can readily buy this in the US for well under $300/bottle, but, if one doesn't want or can't be bothered to bring it in one's self, it is available at Straits Wine along Pasong Tamo Extension, Makati.
Third Course:
Roasted Duck Breast with Parsnip Purée, French Beans, Root Vegetable Pavé & Cranberries. The pairing Laurent-Perrier Grand Siècle, though nice enough, was a study in mismatch. I continued with another glass of the lovely 1998 Laurent-Perrier Grand Siècle Rosé Cuvée Alexandra instead.
The duck main course was, like the risoni, spot on in all aspects.
Organizers of wine events are best advised to look to Colin for their dinners. He has, time and again, proven that he can deliver a special menu to a packed house with absolutely no dip in quality and attention to detail, not that I've ever experienced anyway - and I've been to
many
wine events in Sala.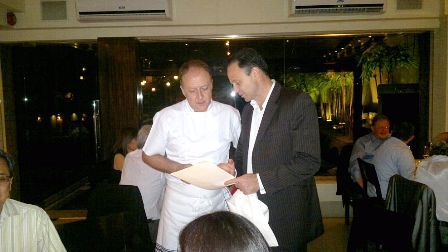 Colin Mackay & Laurent-Perrier Export Manager-Asia, Ludovic de Lageard.
The
2002 Laurent-Perrier Brut Millésimé
followed- Green apple, pear, white peach, slight grapefruit, toastiness, hints of the lees, this shows good potential but is still quite tightly wound. Notable neatness, focus and precision here. Will look into this again around 3-5 years down the road and see what is up then.
Dessert was
Strawberry, White Chocolate, & Macadamia Brittle Semifreddo with Rhubarb,
refreshing yet substantial yet light on the palate and belly, its flavors dancing light-footedly on the tongue. Reminiscent in style of Colin's signature
Mango & Passionfruit Pavlova
. Very nice.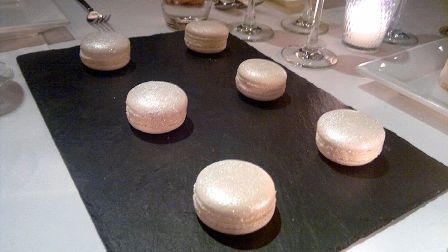 Petits fours of heavenly Hazelnut & White Truffle Macarons.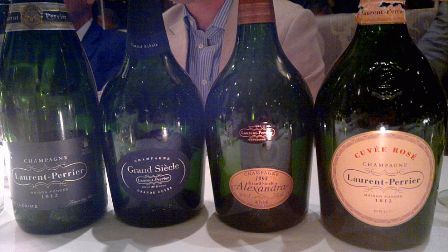 The night's bubblies.
J-Lab, Freddie, & Richard with Ludovic de Lageard.
The evening ended before 10pm, which was way too early for J-Lab, Richard, & I, so we headed off to
Masetto's Bar "M"
for some single malts and snacks, and finally calling it a night at around half past midnight. Pleasant evening. Until the next!