A little over a month ago, on Friday, the 28th October 2011, I treated Miguel and Rene to lunch at
Impressions
in commemoration of the 1st year of my legal consultancy for LBC Express. Santi and Enky were supposed to join us but Santi got way too busy that noontime and Enky suddenly had another lunch to attend. This was second time at Impressions, the first time having been in
a dinner celebration of Catha's birthday in late August 2011
.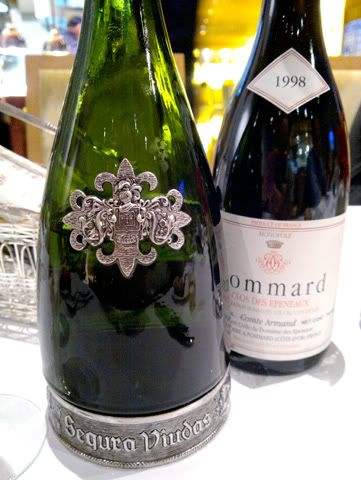 Naturally, we started off with a bit of bubbly, in the form of Miguel's bottle of
Segura Viudas Cava Reserva Heredad Accolades
. My
notes from a year ago
are still applicable:
Segura Viudas Reserva Heredad Accolades - From Aaron. A quick look at the producer's website shows that:



Segura Viudas Reserva Heredad is a limited production méthode champenoise wine originally reserved for members of the Segura family and their friends. Reserva Heredad is made exclusively from grapes grown in the estate's vineyards at Torrelavit in the Alt Penedès region of Spain. Only the first pressing of the Macabeo and Parellada grapes goes into the making of the cuvée. The yeast is added and the wine is allowed to develop in the bottle for up to four years.

Medium bodied and mellow with a perfumed bouquet, character and depth. A good fruit intensity on the palate and a long and slightly yeasty finish. Reserva Heredad comes in an exquisite hand-blown bottle with a slender, tapered neck. The bottle is emblazoned with the pewter crest of Segura Viudas and rests on a pewter base inscribed with grapes.


Further, this is made up of macabeo (67%) and parellada (33%), so, apparently, there is none of the usual xarel-lo in this cava. Fuller, heftier, relatively creamy and notably round, its fruit, like the Reserva Real's, has a slight dried/candied character to it. The Reserva Real has, to my recollection, a bit more depth, complexity and heft, but the subject cava does, in my opinion, have marked similarities. I liked this a lot and certainly wouldn't mind buying some for the house. Very nice.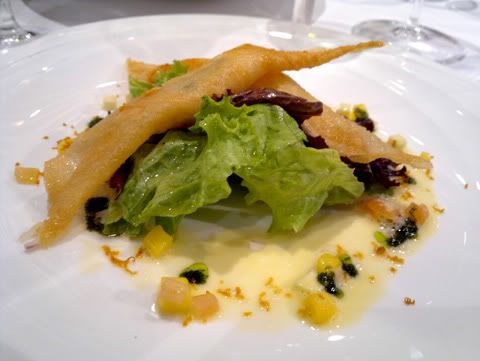 My 1st course:
Crispy Prawn Wrapped in Fresh Herbs, Rougail Salad and Citrus Dressing
.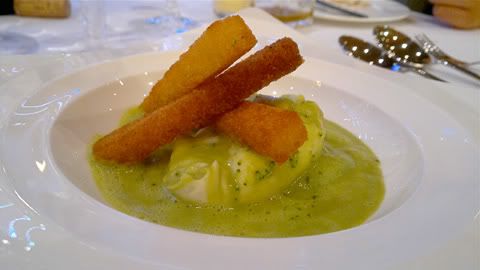 Mig & Rene each had the
Soft Boiled Farm Egg w/ Sea Urchin, Green Pea Broth & Mashed Broccoli
for theirs.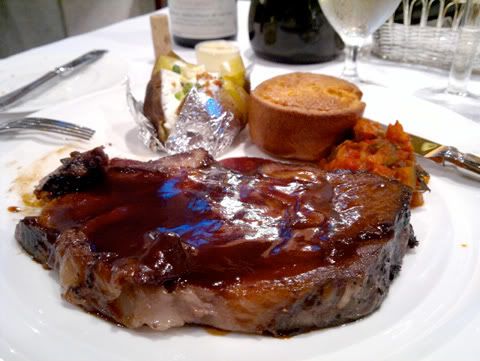 For our main courses, we each had the
Roast Rib-Eye Beef
.
Excellent, especially the rich, savory glaze.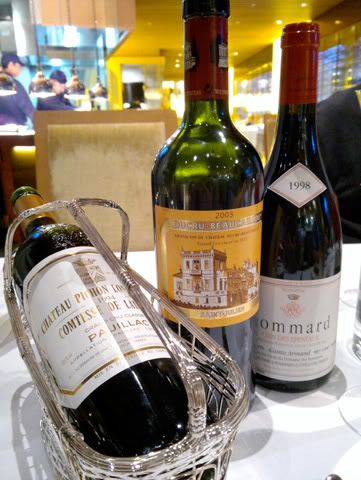 For the rich beef, we opened two bottles of Bordeaux rouge:
1994 Château Pichon Longueville Comtesse de Lalande
- Having had this just a month and a half before
during my 2nd son's birthday dinner
, my notes then are as follows:
To my mind, vintage 1994 is an under-appreciated year for Bordeaux, unfairly and pre-maturely judged by many. Many bottles I've had over the past 3-4 years have shown that there are, indeed, gems from this misunderstood year, the subject wine and those of Châteaux Haut Brion, Angelus, Vieux Château Certan and Léoville Barton, to name a few, included.

The wine's notable depth and velvety dark fruit married well with our respective main courses of French Pigeon (above) and

24-Hour Steak

(below), buttressed by the former's firm structure and fine, age-resolved tannins. Its balancing acidity and clean lines gave good cut to the rich dishes; its cedar-violet finish gracefully lingering nostalgic.
2003 Château Ducru Beaucaillou
- From Rene, via Clem Nieto. Smokey, roasted-ripe blackcurrants, black cherries and a bit of raspberry, slight underlying tar and pencil lead shavings, bit of mocha, violets and cedar. Full-bodied (a bit on the alcoholic and cumbersome side after the '94 Pichon Lalande), forward, roasted-ripe fruit. Structure is actually pretty good, but the wine's fruit was a bit too sweetly ripe and the alcohol a bit obtrusive for my taste. Rene seemed to like it well enough though.
We got a cheese plate to share in order to finish up the reds. Enky had caught up with us by then and joined us for desserts, which were: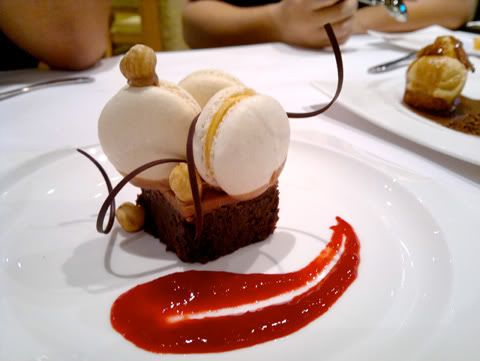 Majestique Chocolate Cake,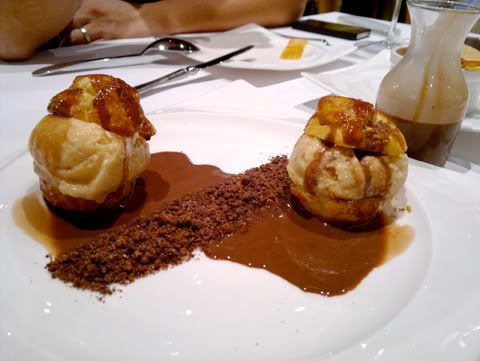 Chocolate-Peanut Butter Profiteroles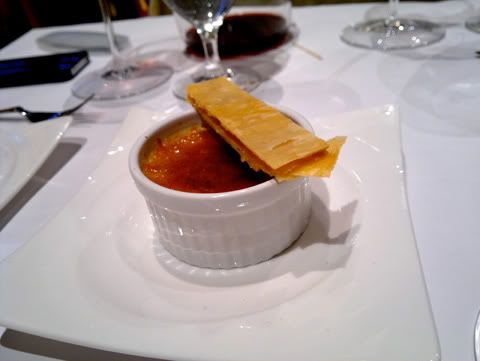 and
Salted Caramel Crème Brûlée
.
Until the next!