Most of my friends well know my general aversion to eating chicken - I find it a boring fowl and would
much
rather have duck, pigeon or goose at any given time. A notable exception, however, would be Chicken Parmesan (specifically Kenny Quintal's recipe thereof).
Last night, 25th July 2010, was dinner at my dad's and the main course was to be
Rosemary Roasted Cornish Game Hens
with roasted potatoes (the former are really just small, stocky, fattened young chickens slaughtered at 5 weeks of age - not really game nor hens nor from Cornwall). My youngest sis and dad's cook prepared all the dishes (the others being
Vegetable Spaghetti
and
Gorgonzola-Walnut Mesclun Salad
) except for dessert. With our meal, I chose from dad's wine cav something I've not had before: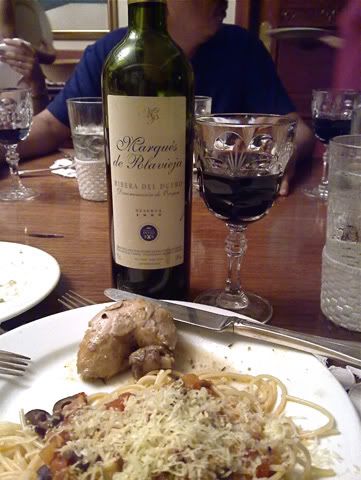 1999 Marqués de Polavieja

*

Reserva (Ribera del Duero)
- A brand by the 133 year-old sherry producer Bodegas Williams & Humbert, this is, as I understand, made up of tempranillo with a smaller percentage of garnacha, aged for 12-18 months in French and American oak and 12 months in bottle.
Moderately full-bodied, ripely and darkly fruited (cherry, raspberry, underlying blackcurrant) with added notes of slight red spice, underlying leather, violets, licorice, bit of cedar, vanilla. Acidity is low, the fruit is soft and quite smooth; the wine has moderate-to-good push/drive. Straightforward, not really complex at all; well-concentrated and notably extracted (comes off as quite contrived, actually). That all said, if this is priced at around P1500-P1700/bottle, I'd say it would be a buy for a casual Ribera del Duero.
*
nb
:
Unrelated bit of trivia - there was a Governor-General of the Philippines named Camilo Garcia de Polavieja under whose watch Rizal was executed.
Thereafter, we had a blind comparison of 2 commercial
leche flans
.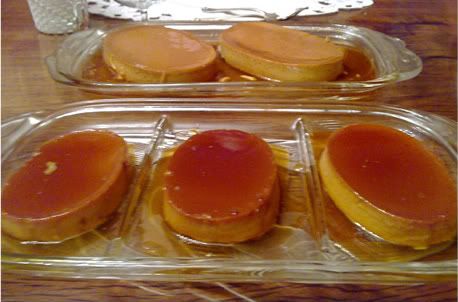 The lighter-colored ones at the top of the photo are leche flans "A", while the ones at the bottom are leche flans "B".
Leche Flan "A"
- Lightly caramelized, markedly less sweet, not very creamy in texture (they used a lot of gelatin in this I think), a bit of an "eggy" aftertaste. Light on the palate.
Leche Flan "B"
- Darkly caramelized (just short of bitterness), very creamy (a lot more milk and egg yolks for sure), sweeter. Heavy on palate. Immediately more enjoyable, but I can't eat too much of this as palate fatigue would quickly set in.
Leche Flan "B" won with 6 votes to 3; Hisako, Catha and Dad voted for Leche Flan "A" while the rest of us went for "B". It turned out Leche Flan "A" was purchased at the Saturday Market at Alabang Country Club and Leche Flan "B" was purchased from Shopwise.
Fresh fruits, coffees and snifters of cognac rounded off the meal.