Dinner of Thursday, the 2nd May 2013, was at the new and much talked about
VASK
in Bonifacio Global City. We were there upon the invitation of Juan Carlos & Mari de Terry who treated Catha & I. It was just the four of us. JC, as I saw, supplies some of Vask's wines (even from a distance, I recognized some displayed bottles). As I perceived, JC did not order any specific dishes (save the foie gras); rather, he let the chef, Jose Luis Gonzalez, do the choosing.
We were to meet up at Terry's 2º Piso at around 7:15pm and proceed to Vask. I just came out of a meeting in Pasay at a little past 6pm, so headed straight to Terry's a bit before 7pm. Not having had lunch yet, I finished off 100gms. of
Jamón de Trevélez Gran Reserva
with some bread and a glass of house white. JC eventually joined me while waiting for Mari & Catha to arrive.
Chef Jose Luis (to whom I was first introduced by common friend, Pepper Teehankee,
during the Sileni wine dinner of JC several months ago
), a
compatriota
of JC, has a most impressive resumé, in that he has worked at no less than El Bulli,
Arzak
, Mugaritz, and Celler Can Roca. Marketing-wise, such a resumé can be both boon and bane, as expectations are extremely high. Like everyone else, I suppose, mine were. In other words, I was looking to be "wowed" - i.e., to enjoy at least a comparable level of cuisine as those in the mentioned star-studded bastions of Spanish cuisine - which, looking back, admittedly, is not fair - after all, we weren't going to the restaurants he used to work at, which use different - and much more expensive ingredients. More on that later.
A
Shrimp Ceviche
of sorts, nicely fresh and summery. The
brunoise
was rather chunky, which interfered somewhat with fully appreciating the fresh shrimps' texture - but that chunkiness was likely by design for a touch of rusticity (well, maybe, anyway). With this we started on a bottle of (all wines brought by JC) young, vibrant, cold-stony, mineral-led
2011 J-P Marchand Chablis 1er Cru Côte de Lechet
. Nice typicity, appetizing dryness, and good acid balance.
This dish of
Bacalao
was very clean tasting - not much of the saltiness or pungency that may throw off some who are not familiar with traditional preparation. A bit heavy on the rich emulsion topping though, which, to me, masked a lot of the fish's natural flavors. Thankfully, we had the aforementioned white to refresh our palates between rather palate-cumbersome bites.
The
Calamares à la Plancha
I enjoyed a lot. Nice texture and a remarkable smokiness without the often-accompanying burnt notes of a lot of other establishments' renditions. Notable precision in execution. Simple, but memorably delicious. The accompanying, pale green, gooey dipping sauce, however, was less than visually pleasing, and, save for the added heat in the finish, added nothing to the calamares - which was more than fine on its own.
The Mejillónes were submerged in a very dense, thick, gluey, quite cumbersome sauce that I could barely taste through. Pity. Those mussels have such a nice natural flavor otherwise. The Croquetas de Pollo were nicely, cleanly executed. Good chicken croquetas which should please most everyone. I, generally, don't eat chicken if I can help it - much preferring more flavorsome fowl such as duck, pigeon, and goose - but that's just me.
After this dish, I was done with my share of the Côte de Lechet and started on JC's bottle of
2010 Château Petrus Gaïa
- this had been breathing in my glass for around 20 minute by then.
Big, bold, concentrated dark fruit/berries, a good dose of licorice, with big, rounded-ripe tannins - pretty typical of 2010 Bdx as far as I've had - not that I've had more than a handful since I wasn't able to attend any en primeur or Vinexpo tastings featuring vintage 2010.
From whatever of 2010 Bordeaux I've had, though, they are (generally) markedly richer, hotly riper, and more stylish and forward than the equally highly regarded vintage 2009.
¡Salud!
Two renditions of squid then followed (or was the one on the right cuttlefish?). The batter of the one on the left was a bit raw inside, sad to say. I can't say anything good about it, though I would like to. The one on the right I enjoyed and reminded me a lot of the similar looking offerings in Hong Kong dimsum houses. Nice - I did like it (both texture and flavor), but it was certainly not what I expected from such an establishment.
The above-depicted
Gambas
were nice enough, and I can certainly imagine popping a lot of them with a good, chilled verdejo, viura, or even Sancerre, or, some nice craft
witbiers
or IPAs of Jim.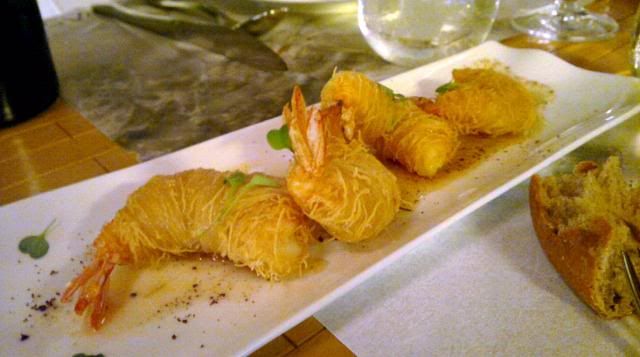 Catha favored the Kadaif-Encrusted Prawns.
As earlier mentioned, the only dish JC specifically requested was one with foie gras, to go with the late harvest white he brought along. The kitchen responded with the above-depicted
Foie Gras on Mango
.
The dollop of foie gras sat atop a circle of mango which was just a bit under-ripe (kalburo, it tasted to me), which made the otherwise nice little tidbit a bit awkward.
The pairing wine was a
2008 Oremus Tokaji Late Harvest
- a delightfully light-footed, well-focused, bright, almost zippy, elegantly honeyed, Barsac-reminiscent wine. I've pretty much stopped having Sauternes (this isn't a Sauternes, rather, a late harvest tokaji by Oremus, which is Vega Sicilia's Hungarian venture) in the middle of or early in a meal, as Sauternes at that stage leaves the palate a bit shot for transitioning to reds with the main course. This subject wine, however, is a very good alternative for a foie gras course, by reason of its earlier mentioned traits.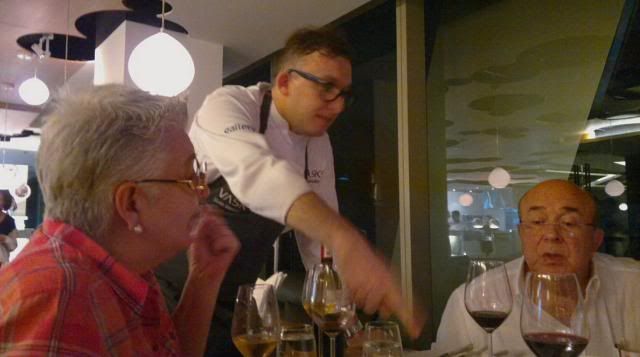 Jose Luis explains the next trio of dishes.
An appetizing looking trio, at that.
This octopus dish is, I'd imagine, a modern/stylish take/stretch on pulpo à la Gallega, set atop a heavy mayonnaise (I think the same as what topped the earlier-mentioned bacalao) and generously sprinkled with a toasted paprika blend. A few friends weighed in on this dish, one of whom grew up in Spain and has actually eaten at all the rarefied restaurants where the chef has worked in the past - and, well, let's just say an older school, traditional pulpo à la Gallega is preferred by us fuddy-duddies.
The Paella Negra con Vieiras was deeply flavored, rich, and substantial. The scallops that adorned the paella were nicely moist. A bit more caramelization on the top surface would have been nicer though. As regards the paella negra itself, past mid-mouth and to the finish, there was a bit of herbal-citrus flavor that I found a bit strangely distracting, but, in all, pretty good.
The Callos was my favorite of the trio. A little more concentration and resulting viscosity in the sauce, and it would've been perfect for me.
Torrijas de Brioche w/ Vanilla, Chocolate, & Licorice Ice Cream
. Torrijas is Spain's take on France's
pain perdue
, which we English speakers know as "French Toast". The chef made his using brioche, which I thought was very nice indeed (
nb
:
I've had some in Spain made out of croissants
, and it was just too rich and cumbersome for my taste). The licorice ice cream is quite gentle, though unmistakable. I, personally, do not favor licorice in any form of dessert, but Catha liked it. All of us enjoyed the
torrijas
, and both platters served were quickly wiped out.
The meal was brought to an end with some indulgent, but very nice chocolate-and nut
petits fours
. Chocolate lovers shouldn't miss these.
As to whether or not Vask lives up to its hype - I'll just say that
considering we are in Manila, the surprisingly reasonable prices Vask charges, and the yuppy-directed décor that the owners obviously spent on
, I believe Vask reasonably lives up to its hype. If the dishes were materially more expensive, then I'd have something else to say - but, as it is, ya está. Many thanks again, JC & Mari! Next time, my turn for Japanese. Until the next!